As the seasons change, we are often reminded how lucky we are to live in a place that has such beauty at our doorstep. Living near the foothills of the Blue Ridge Mountains is a gift that keeps on giving. The Swift Run Gap entrance of Skyline Drive in Shenandoah National Park is less than 18 miles from our home. If the weather is nice, you can find us there nearly every weekend!

Shenandoah is so vast that trying to figure out what will work well for you and your family can become overwhelming quickly. There are over 500 miles of hiking trails in the park including the iconic Old Rag Mountain. I have compiled a list of kid-friendly hikes that are great for parents too! I rated them based on my family's experience as hikers. Please assess your situation before attempting any of the hikes listed below. Also, come back often! I will always be updating this list and adding more photos as we take more hikes!
*The product links included in this post are Affiliate links. This means, at no extra cost to you, I will receive a commission if you click through and make a purchase.

Black Rock Summit – Super Easy
Black Rock Summit is a quick 1-mile excursion that brings you to a glorious geological structure called a talus slope. This hike may be one of the easiest in the park but the views are truly spectacular and it follows the Appalachian Trail! If you are feeling adventurous, scramble up to the top of the rocks to get an even better view of the Blue Ridge. Asher and I did some scrambling! We got almost the whole way to the top before we decided to turn around and save it for another day. The boulder field is pretty high, so the view at the top must be even more phenomenal. This hike is perfect for every experience level… even Brooks can run around for most of it! This would be a great hike for sunrise or sunset.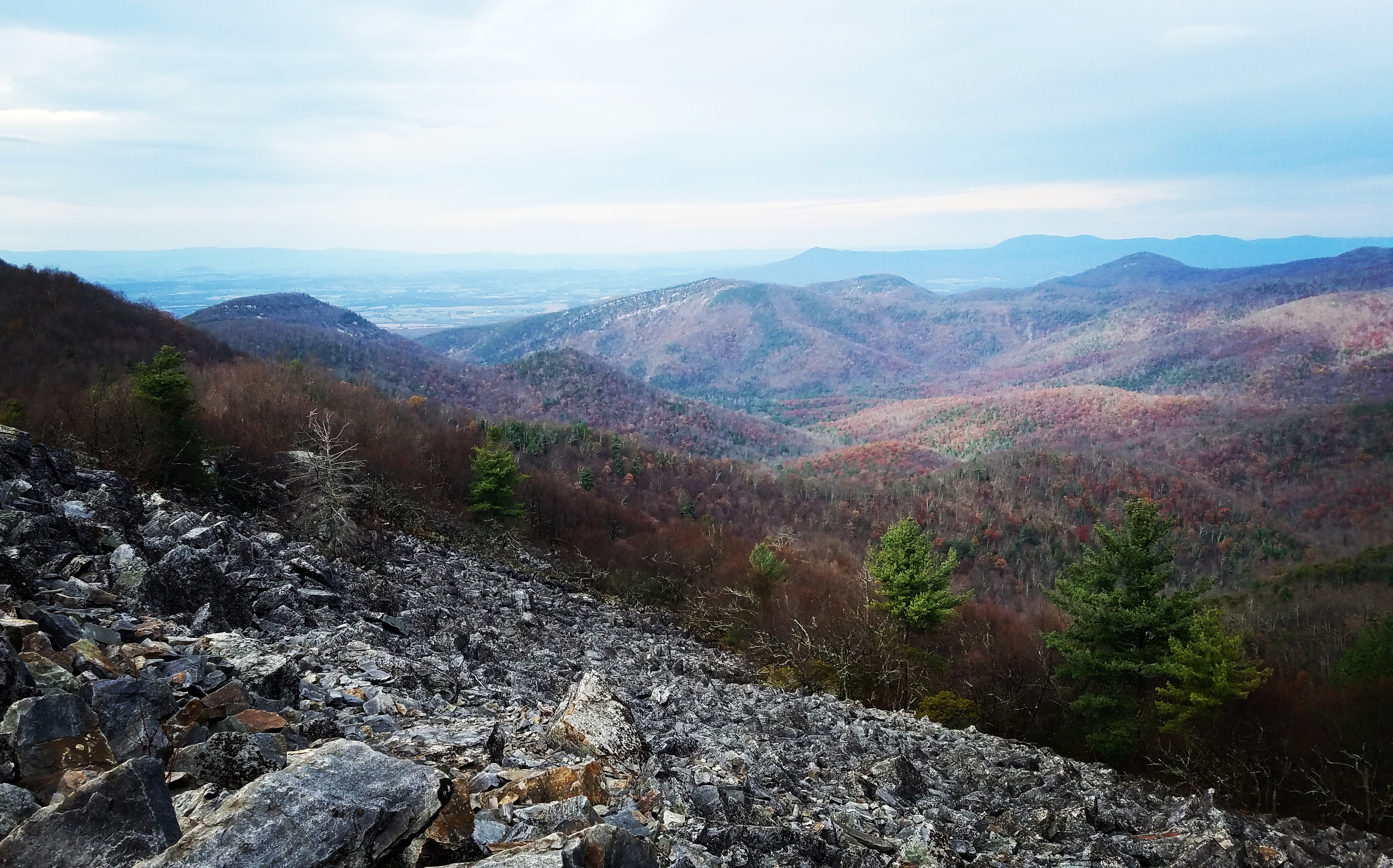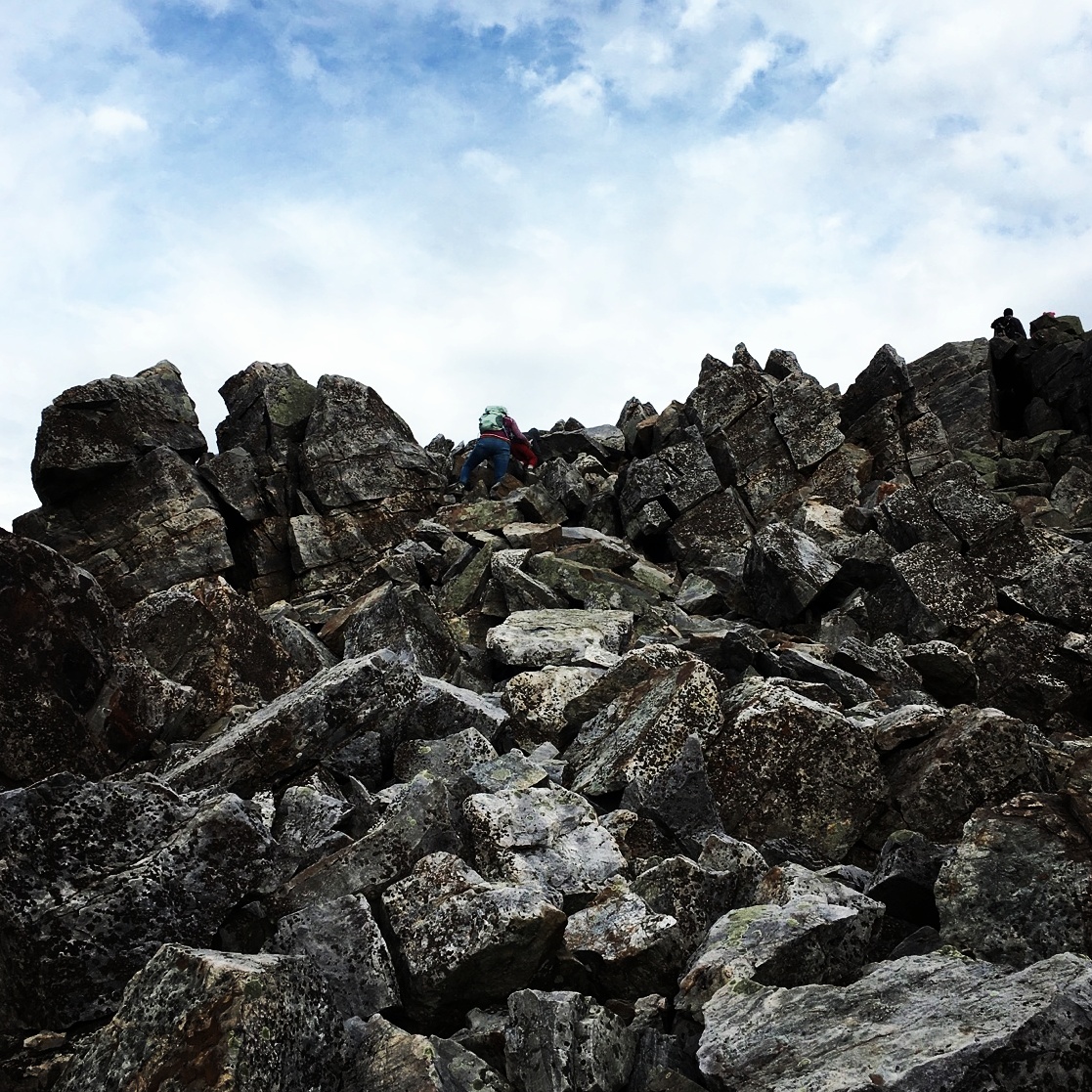 Dark Hollow Falls – Easy to Moderate
Dark Hollow Falls is 1.5 miles out and back, which translates to .75 miles straight down and .75 miles back up. Your calves are going to burn for this one! It is one of the most popular waterfall hikes in the park for good reason. The cascading waterfalls at the bottom are a sight to be seen! It is a heavily trafficked hike so plan to arrive early for parking. There are a few sections of waterfalls that help spread out the crowd. This is a great place to take your shoes off and dip your toes in the cool mountain water!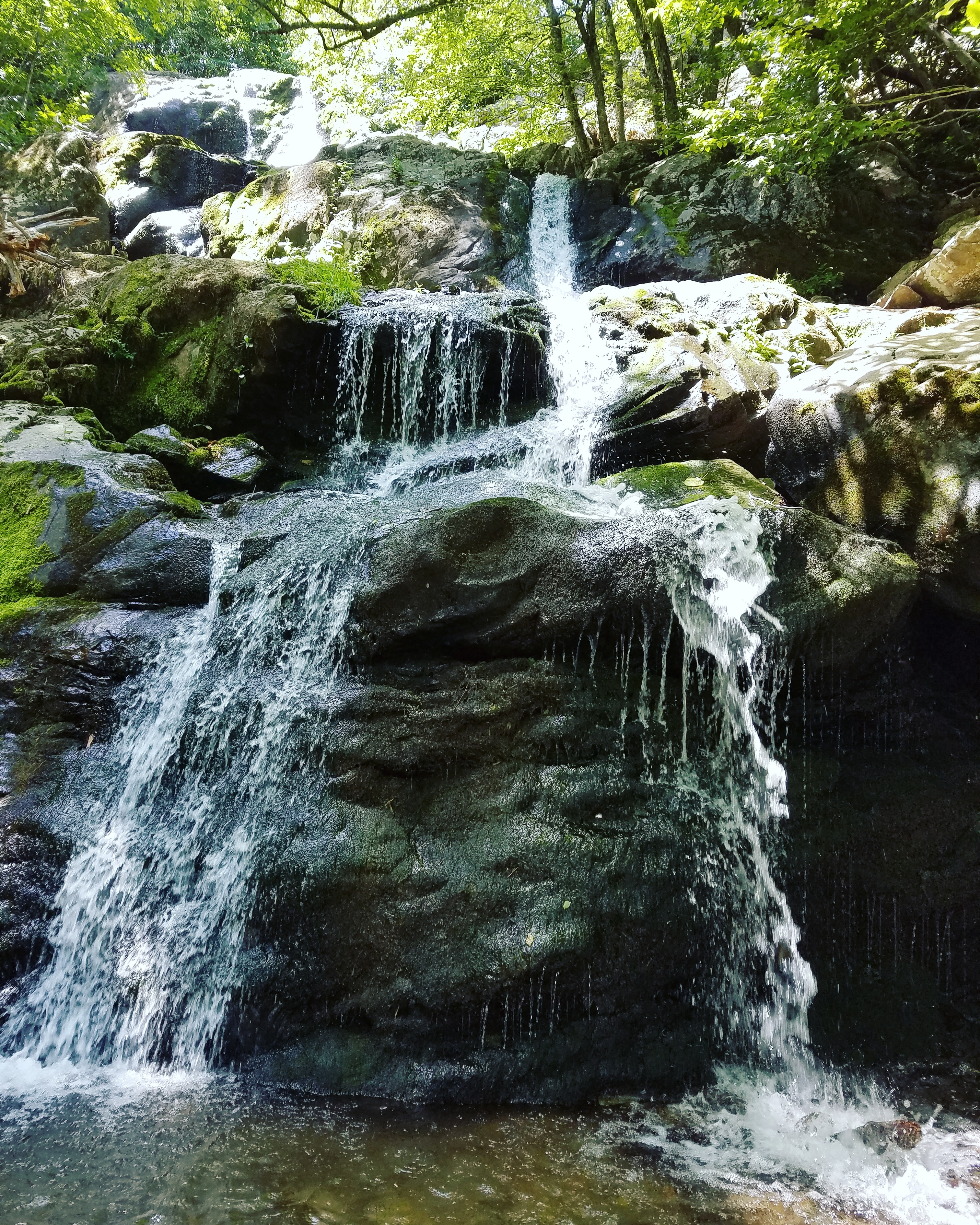 Rose River Falls Trail – Adventurous
This trail is perfect for kids as long as you take extra caution near the falls. We parked across the street at Fishers Gap Overlook and walked across to the trailhead. There is a fire road that takes you to the Dark Hollow Falls area, but you turn left quickly once crossing the road to access the Rose River Trail. With any waterfall trail in SNP, plan for an easy downhill for the first half, and a tougher uphill to finish it off. We headed down the trail for a little under 1 mile before paralleling the Rose River. It is a wide, beautiful trail that is moderately traveled. This is a pet-friendly trail so it is a great alternative to Dark Hollow Falls for those who like to hike with their dogs. We thoroughly enjoyed this trail because we could let Brooks out to walk around without having to worry about him falling off a cliff. Once we got closer to the river, we were more vigilant about keeping Asher close. Brooks got back into our Kelty Journey 2.0 backpack and I held Asher's hand for a small portion of it because the side became very steep for roughly a 1/4 mile. When we reached the falls, we opted to trek down to the base where it was quite steep and wet. It took patience and a confident footing to get to the bottom. You could avoid this if you just want to admire the falls from the top. On the way back up, we were feeling the burn. Kyle usually keeps Brooks on the backpack for a large portion of our hikes. I tried to take it over for a while but only managed about a half mile before passing him back. Thankfully, there is quite a large portion of the trail that Brooks can walk on his own for as long as our patience lasts.
I rate this trail "Adventurous" because of the very steep edges that I mentioned leading up to the waterfalls.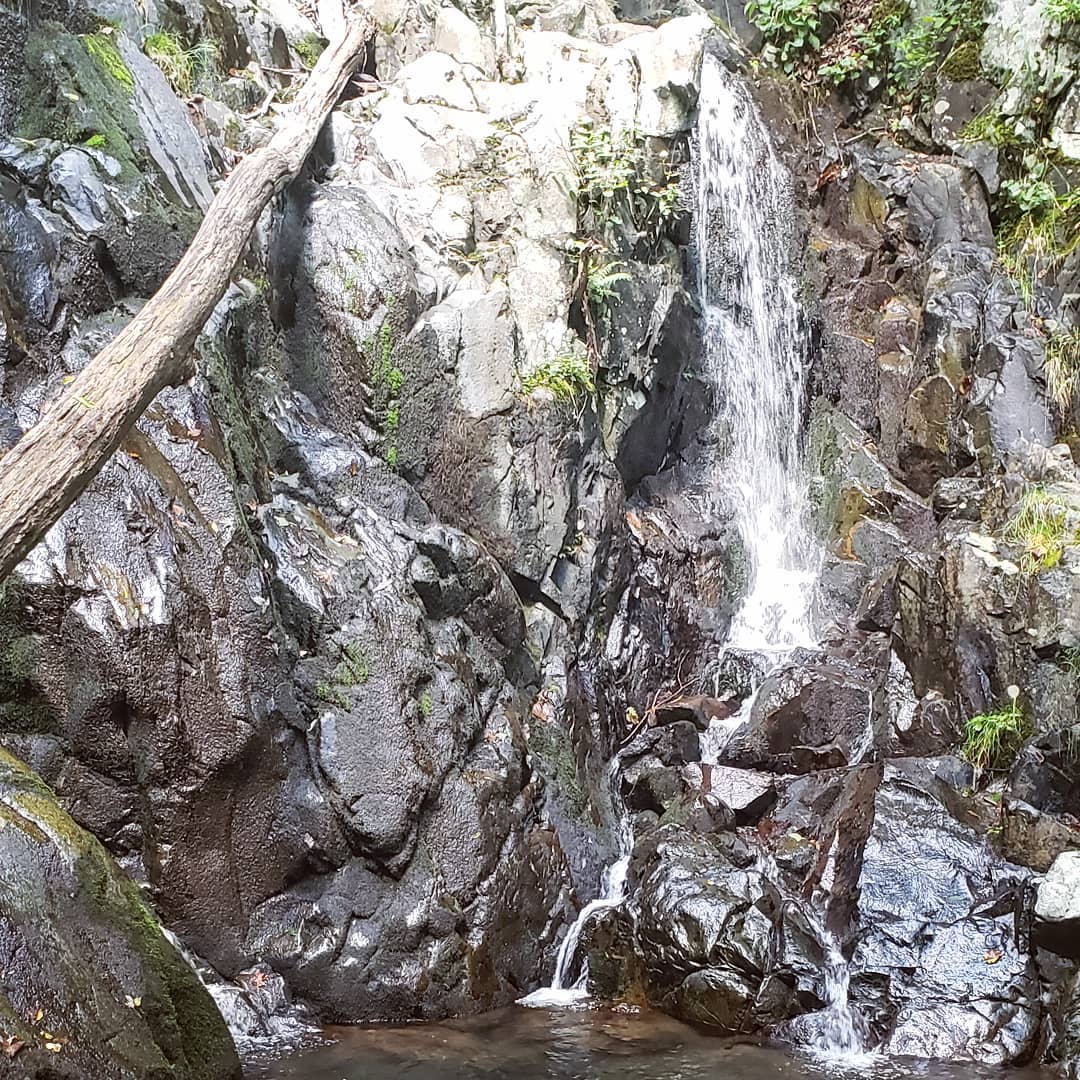 Doyles River Falls – Adventurous
This is one of my favorite waterfall hikes! It is about 3.5 miles out and back. You know the drill by now… an easy downhill and a doozy of a climb back up! There are 2 waterfalls to see at the bottom. Lower Doyles Falls is 63′ and Upper Doyles Falls is 28′. Our friends came along with us on this hike so all the kids had a great time searching for bugs and snakes on the trail! When we reached the bottom of the falls, we dipped our feet in the cold water for a while before returning. This would be a great place to pack a picnic and sit on the rocks at the base of the falls!
I would rate this hike Adventurous mostly due to distance. It is a bit long depending on how old your kids are and how much they have hiked in the past!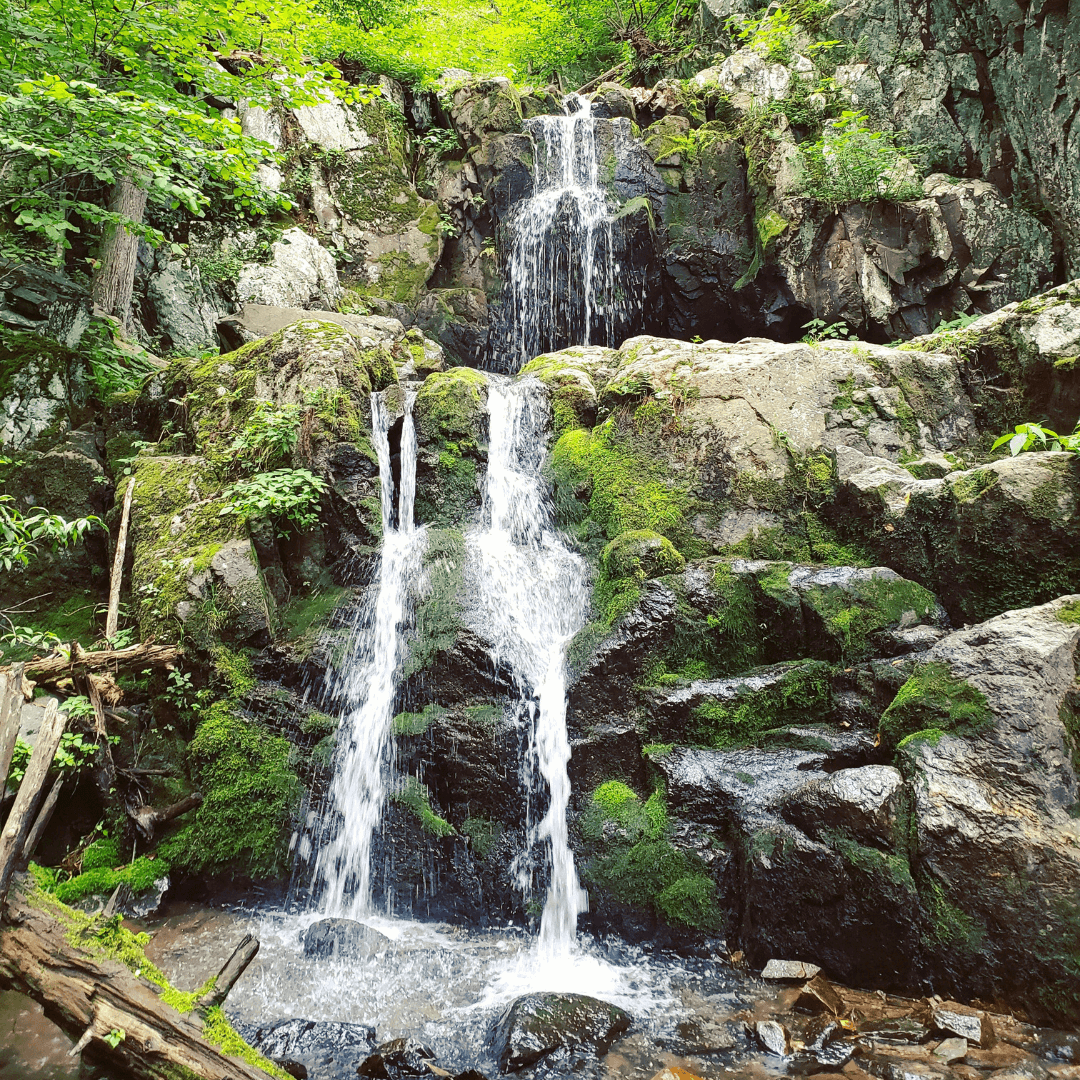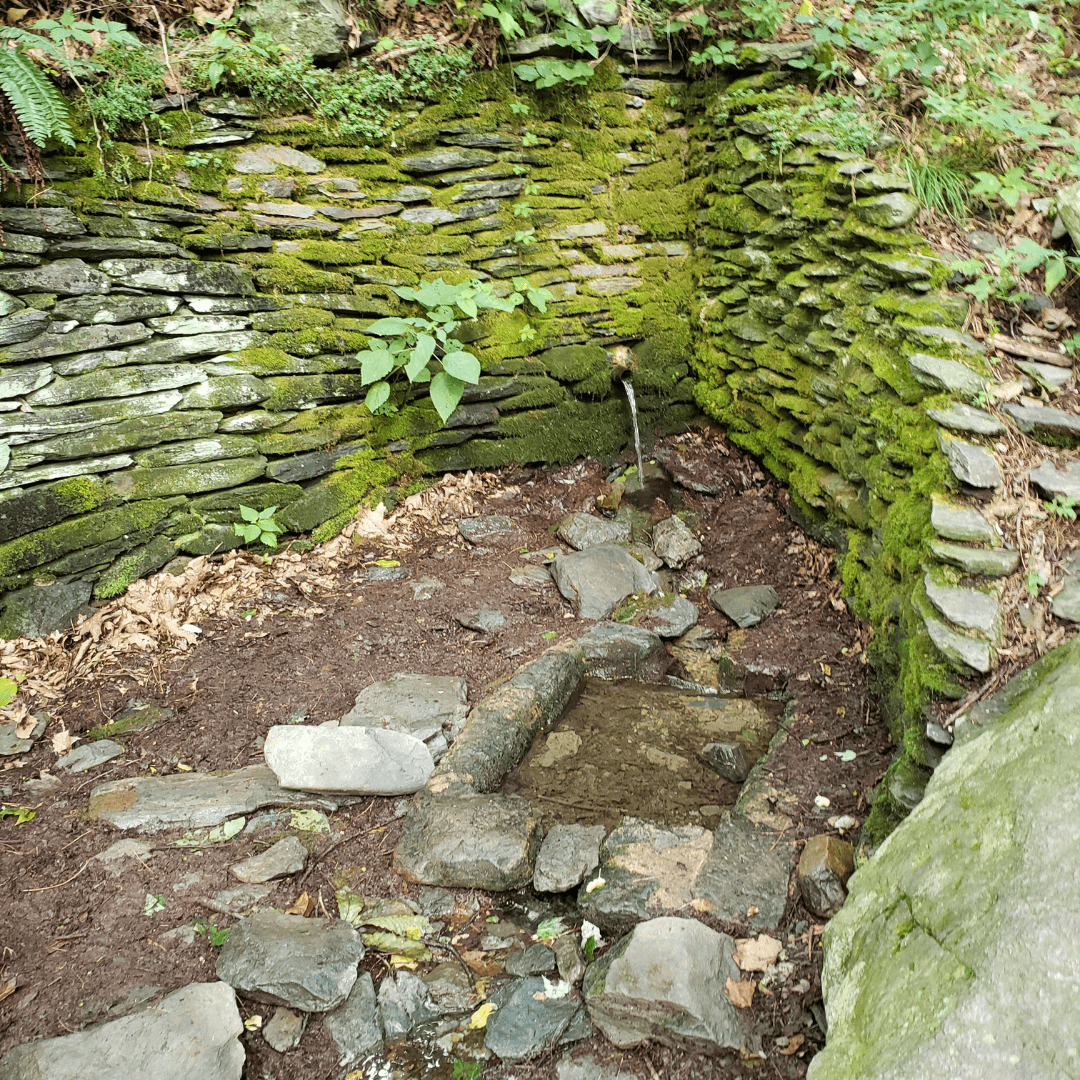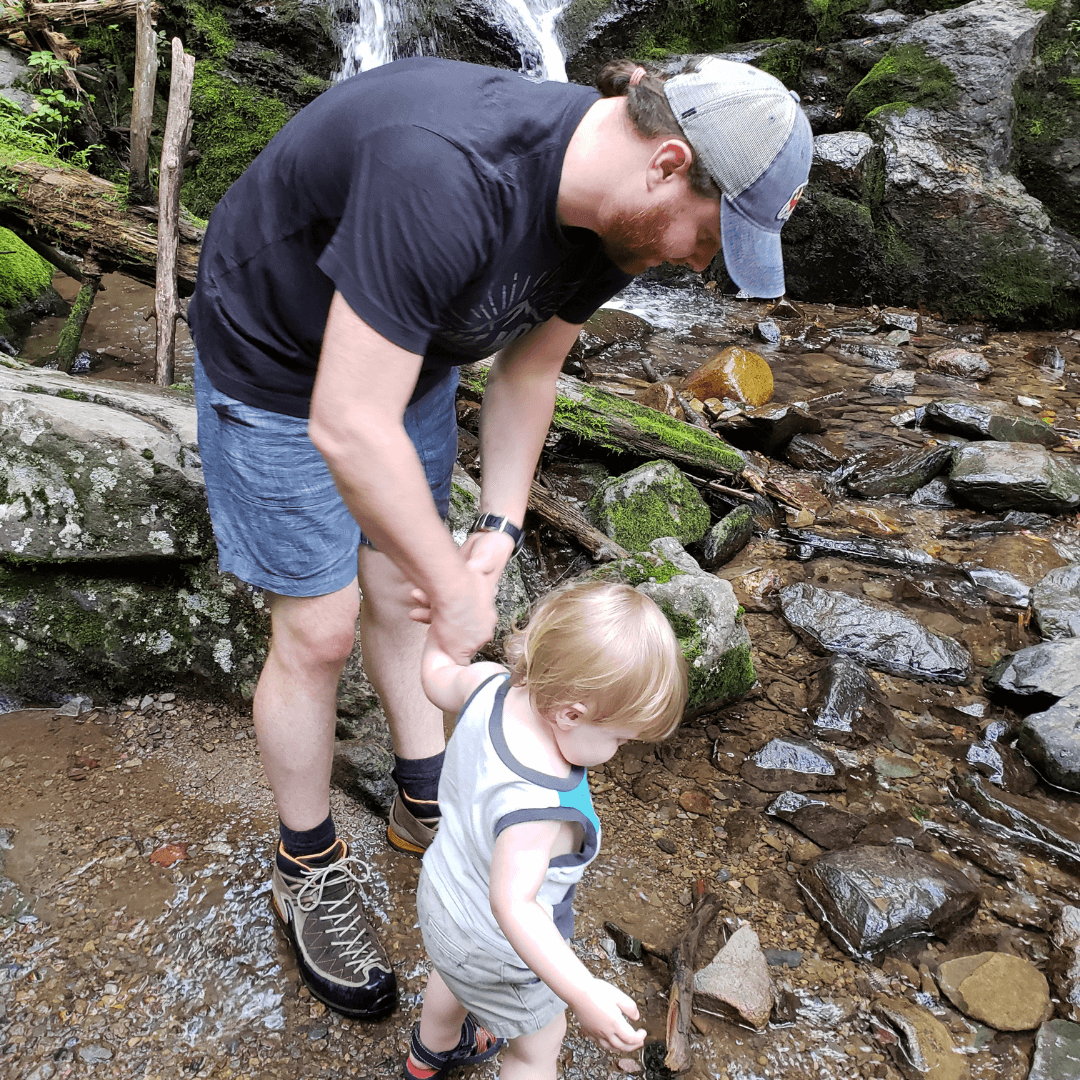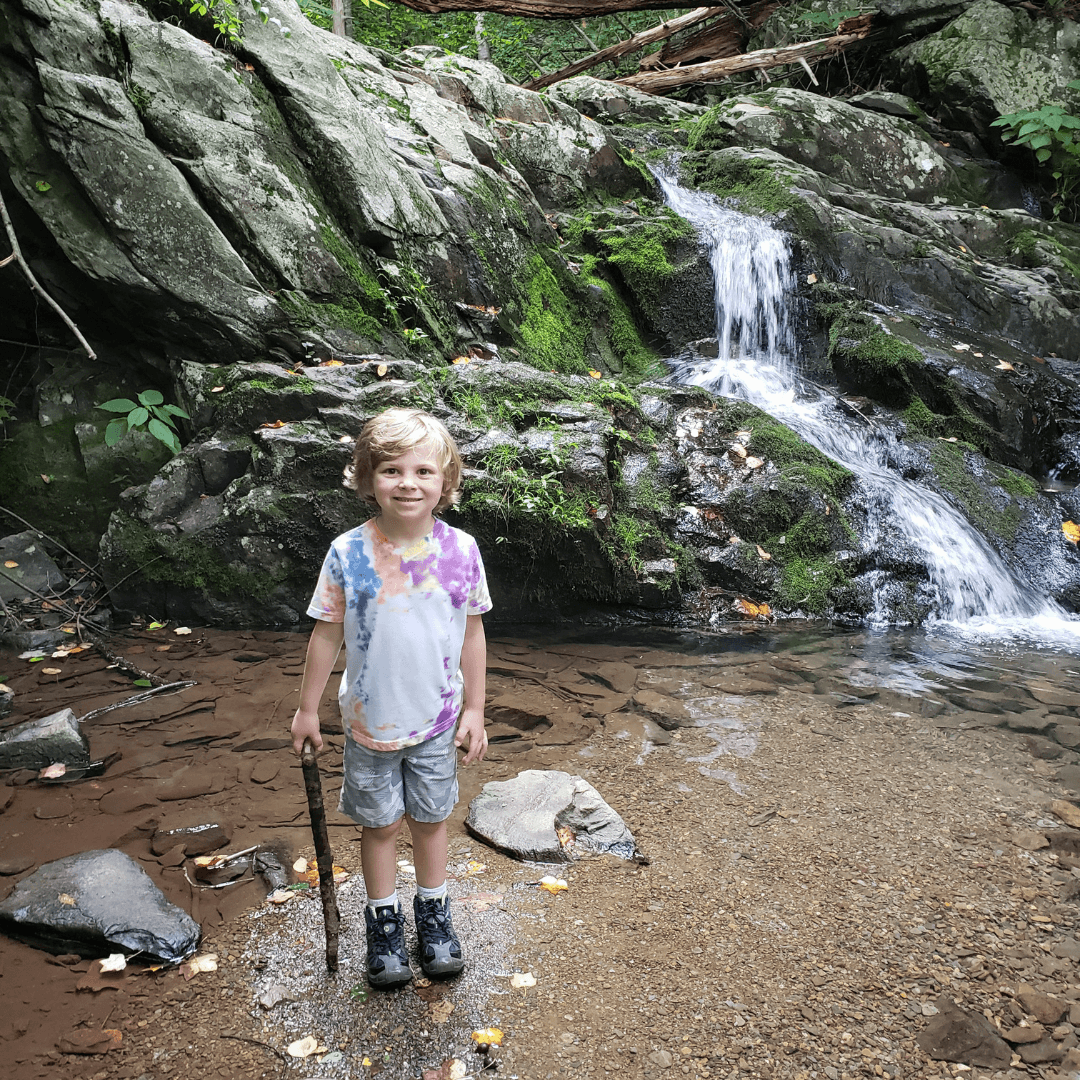 Hightop Mountain Trail – Moderate
Hightop Mountain trail is another great one to let the kids loose. This trail twists and turns it's way past large geological structures to a beautiful vista. The trail in its entirety is over 5 miles long. Instead of parking out on the road at the entrance, we opted to park at the Hightop Mountain Parking Area which shortens the hike to around 3 miles. At times, this trail seemed otherworldly. There were large beautiful rocks that dwarfed all of us and beautiful sections of the trail that made me feel like I was in a fairy tale. There were a few steeper sections that rocks were a bit loose but nothing too concerning. This is another great trail if you want a moderate hike with a great payoff for the view.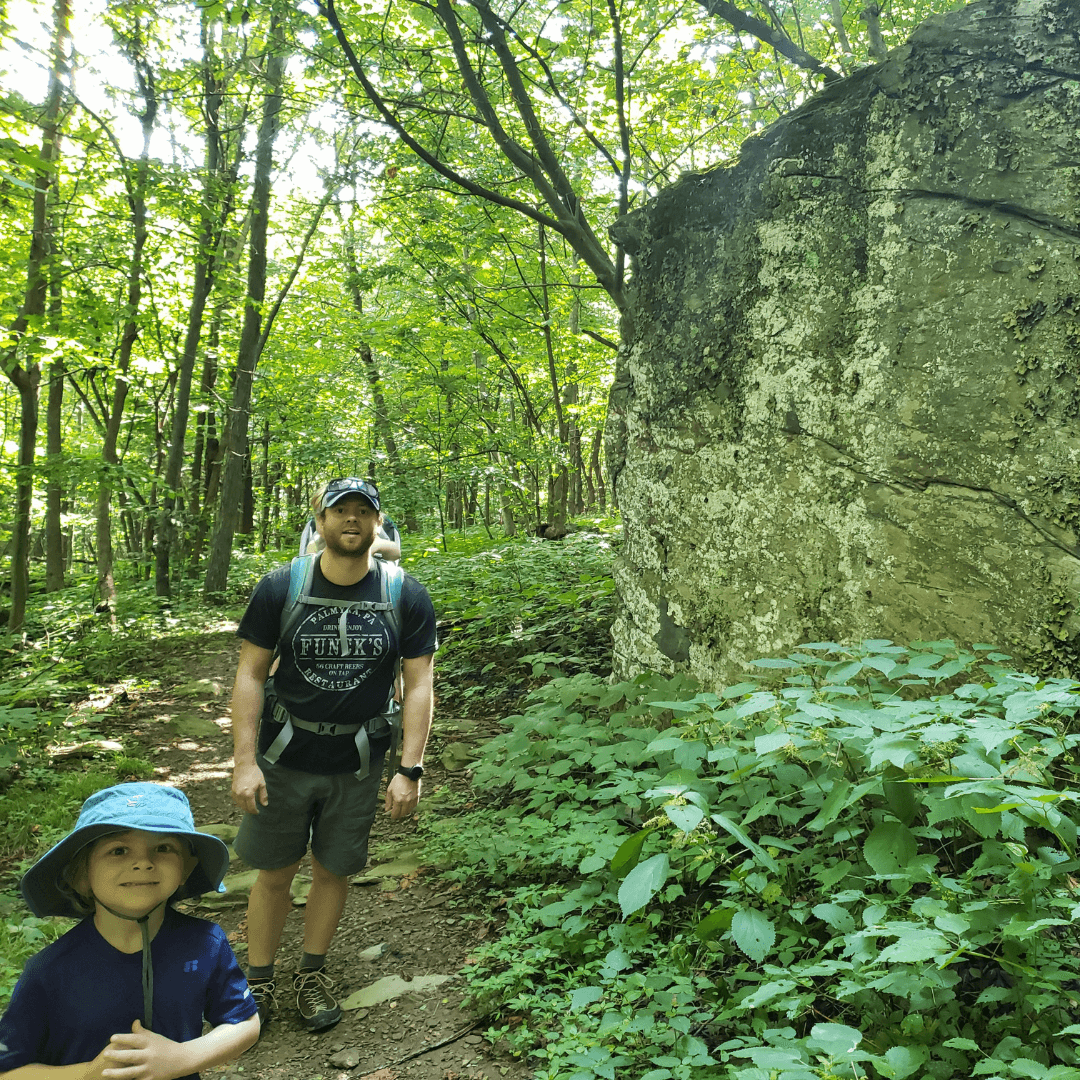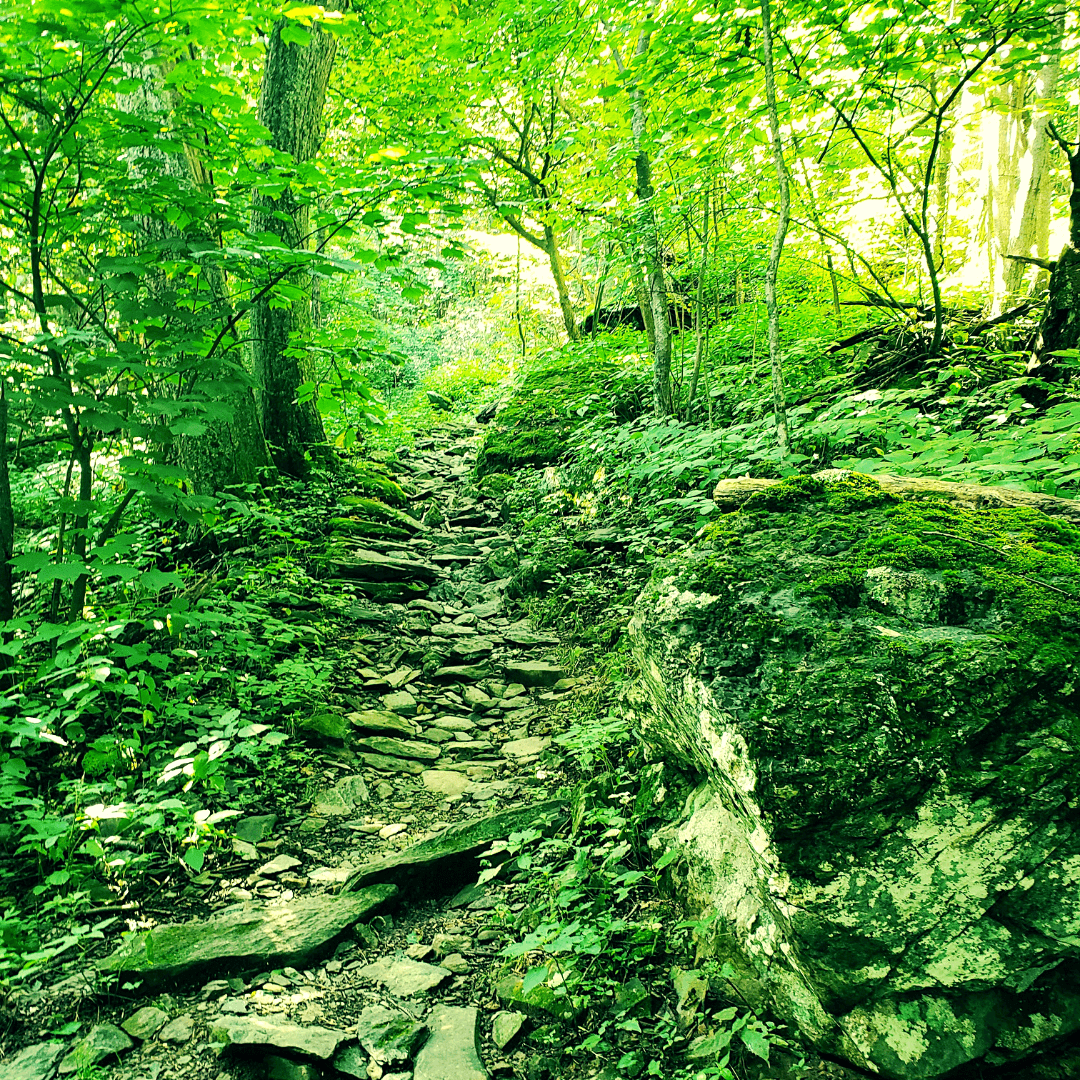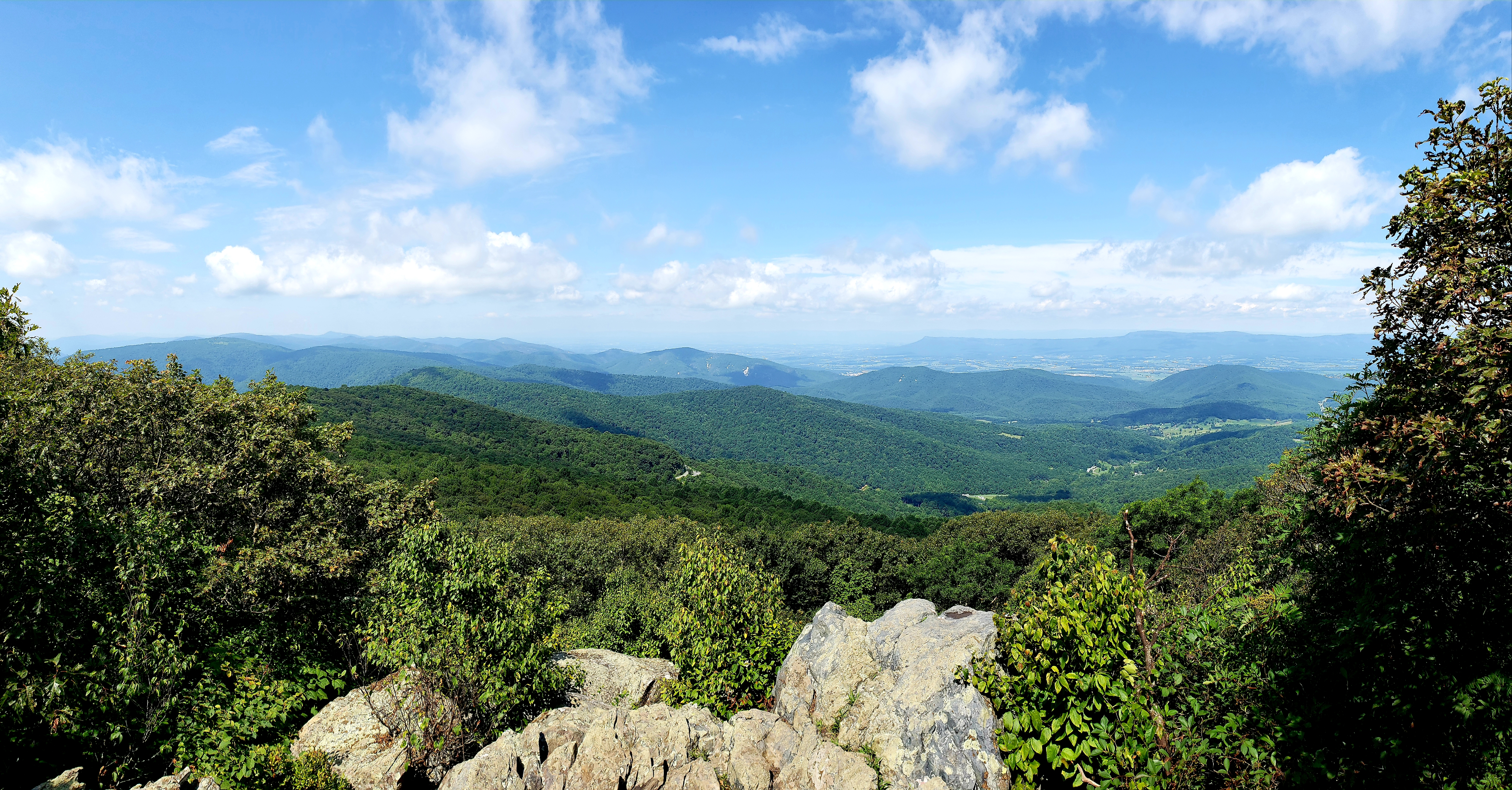 Turk Mountain Summit Trail – Moderate to Adventurous
It took us 3 trips to Shenandoah to get this 2.5 mile trail right! The first time, we took a horse path instead and got seed ticks. The second time, we turned right instead of left and hiked the 4 miles of the Turk Branch Trail for a good workout. This is apparently a common mistake so when you park on the East side of Skyline Drive at Turk Gap Parking area, cross the street and take the trail to the left. Eventually we got it right. Overall, this trail is great for kids! Before you reach the summit, there is a section that you can stop and take a look at that has a small cave and enormous rock formations. Toward the top, it becomes steep in a few sections so you might need to hold your children's hands pending their age and ability. Once you reach the end, there is a long boulder field that takes you out to an amazing view. Here is the only portion of the trail that I felt was adventurous. I kept Asher very close and Kyle held on to Brooks over the rocks. Once we found a good spot to sit down, we were able to take in the impressive view. It is a popular trail and pet friendly. So while you aren't likely to find yourself in solitude here, there is plenty of space to share and enjoy! I am looking forward to visiting this trail again when the lush, green landscape returns!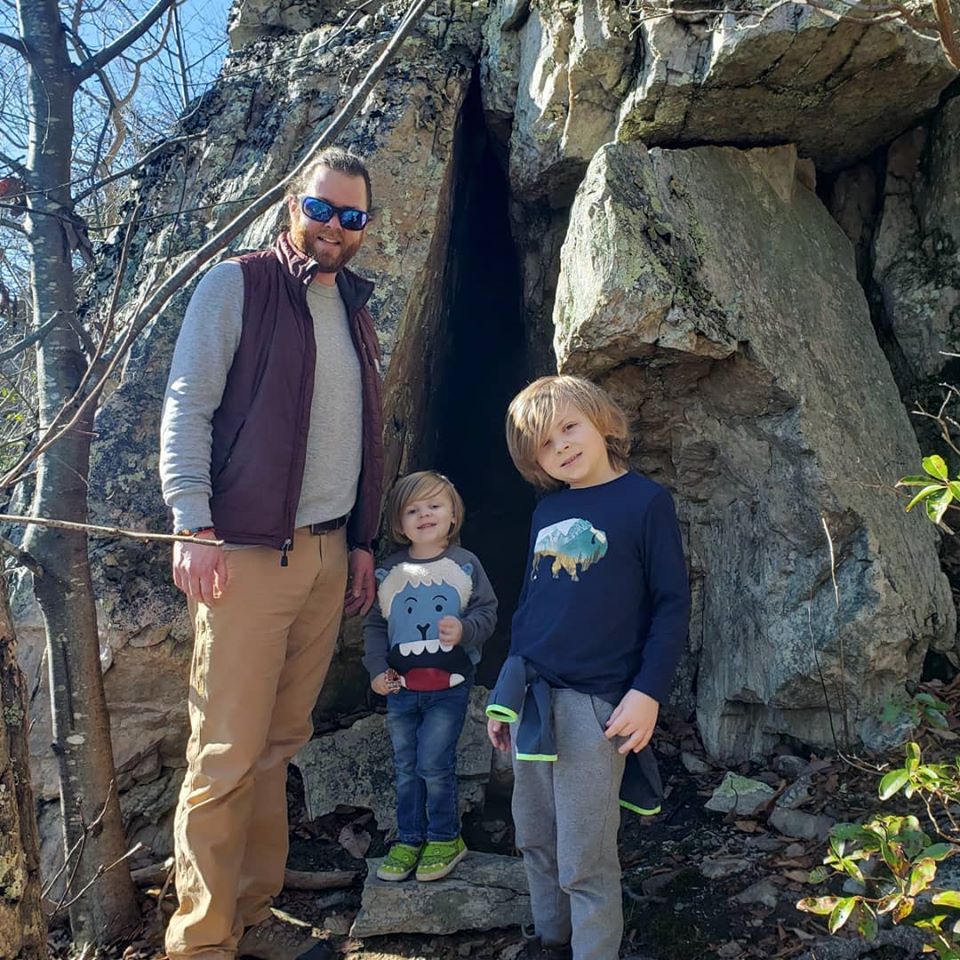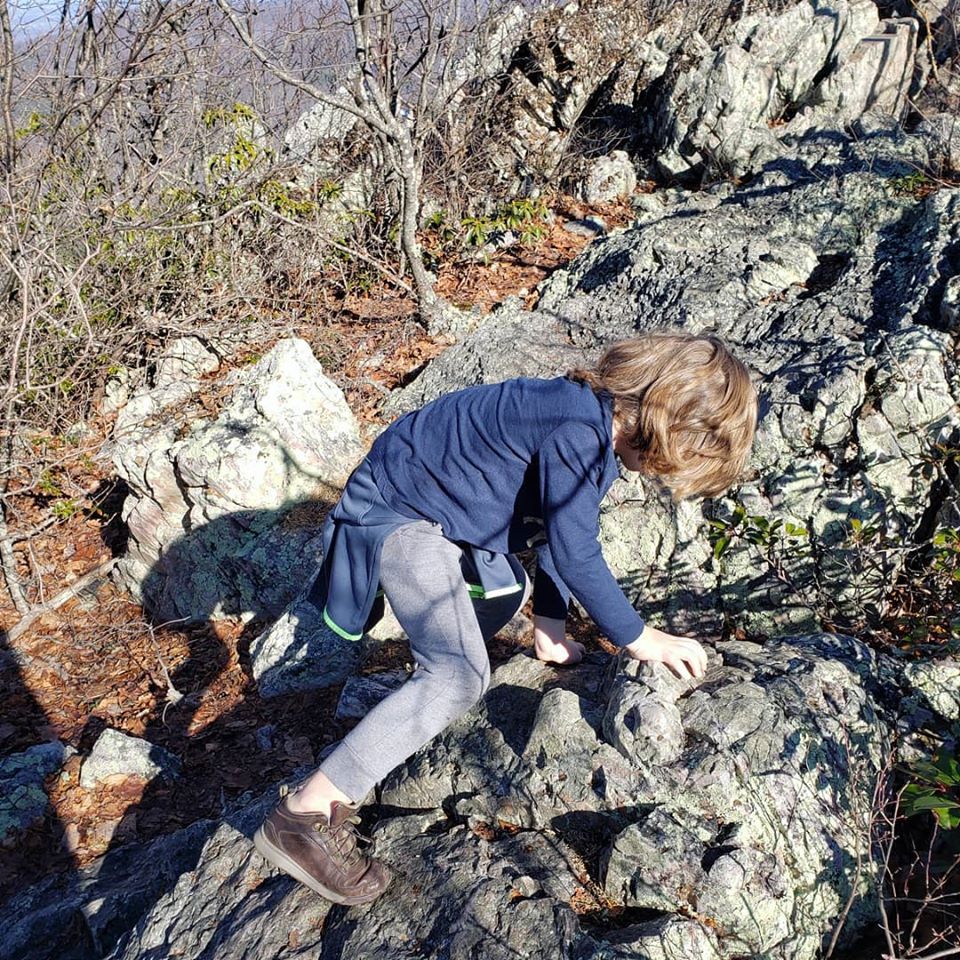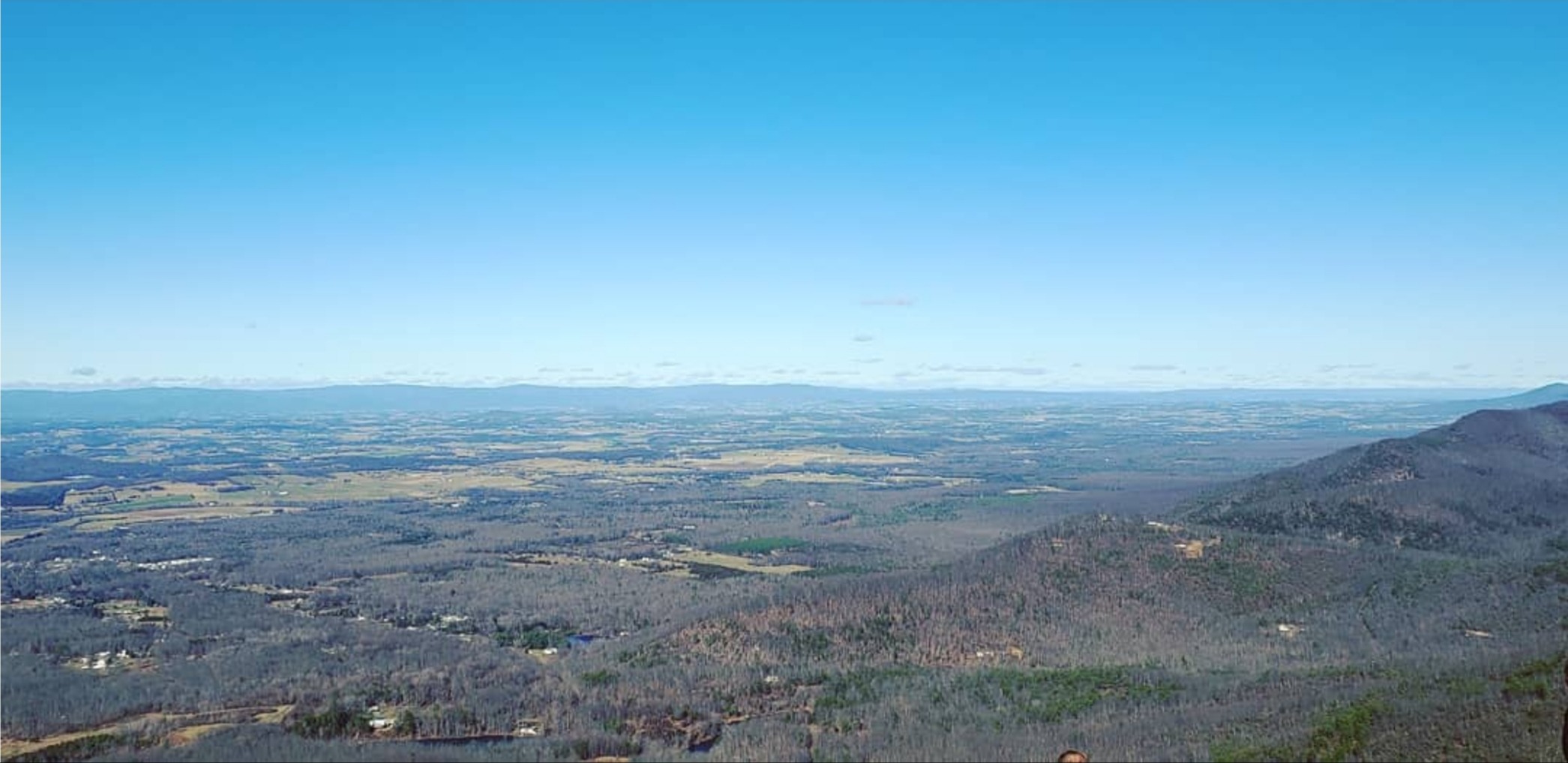 Bearfence Mountain Trail – Super Adventurous
Bearfence Mountain is an incredible hike with a magnificent view. However, it is NOT for the faint of heart. We have done this hike two times since we have been here and each time I was stressing a bit! It is a 1-mile loop, but don't let the distance fool you. This 1 mile will take you quite a bit of extra time due to the intense rock scrambling and making sure that your children are safe if you feel confident taking them along. It is SO exciting and the 360-degree view at the top is one-of-a-kind. Honestly, I do this trail for Asher. The look on his face each time he has completed a hike like Bearfence is worth its weight in gold. His confidence grows with each trail he conquers. He is cool, calm and collected, often reminding me to settle down, ha! Trails like Bearfence push me out of my comfort zone and I am truly thankful that my family and I choose these types of adventures to share. That being said, if you are not confident in your climbing abilities, take a right, and hike up that side of the trail to stay off the rock scrambles. It is still a beautiful and rewarding hike!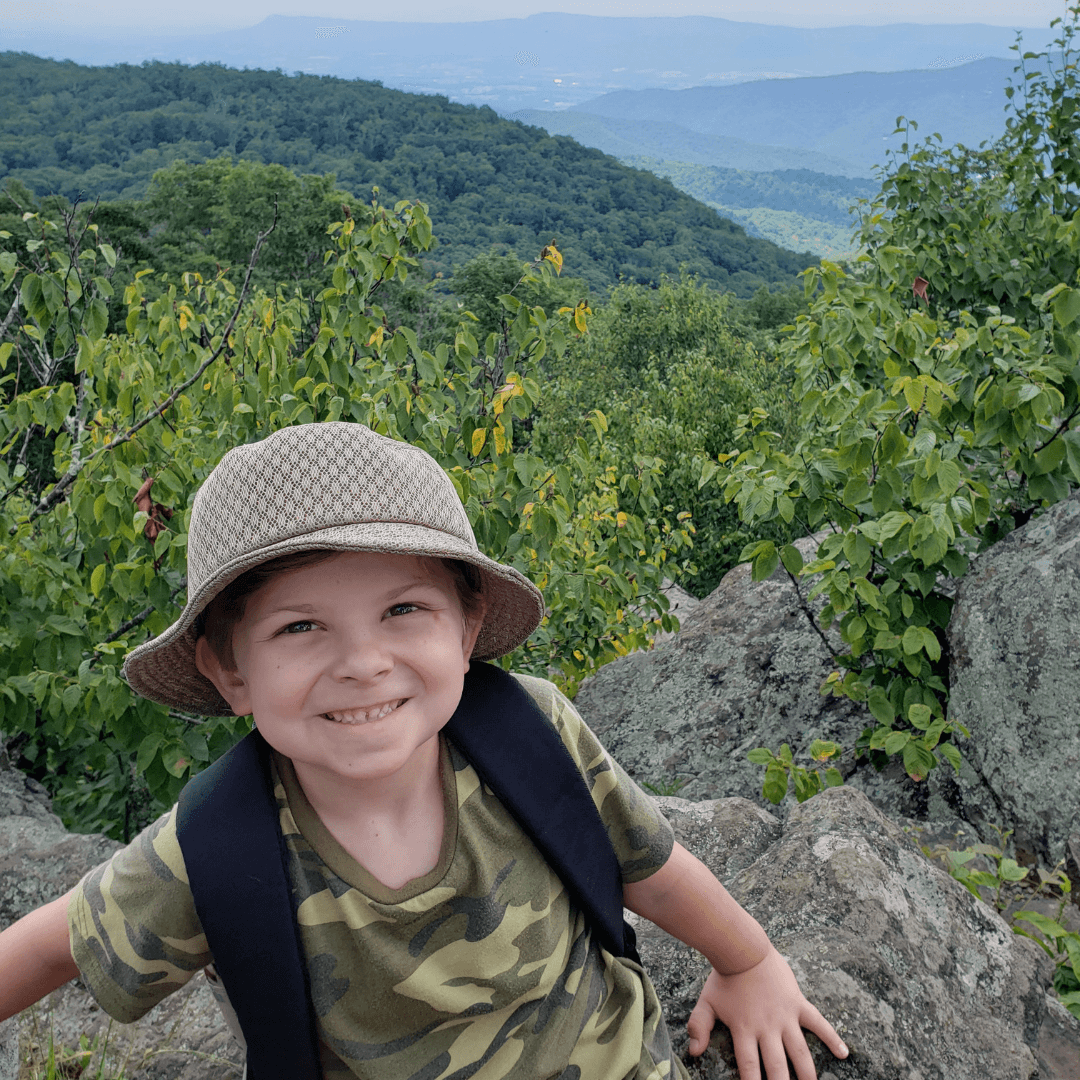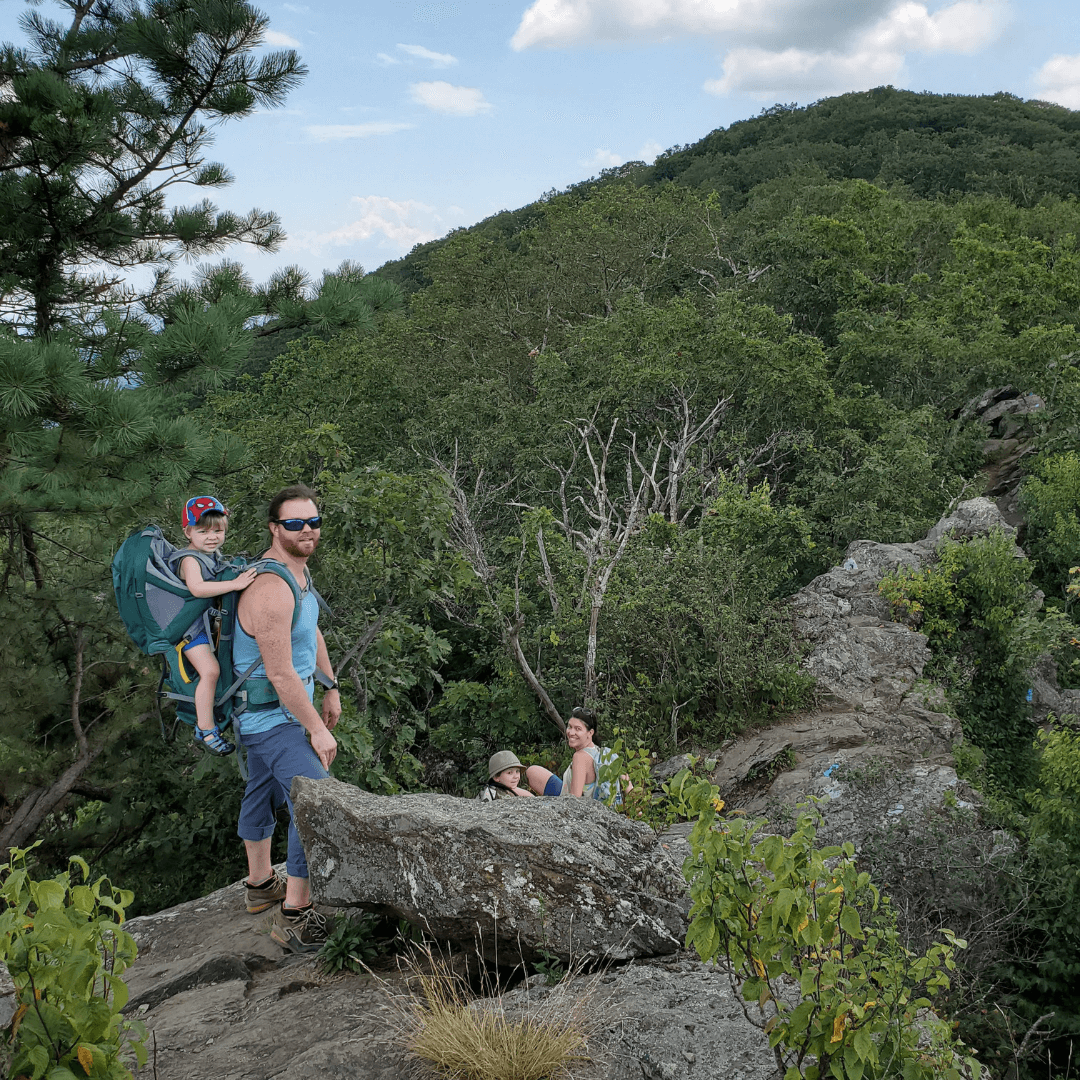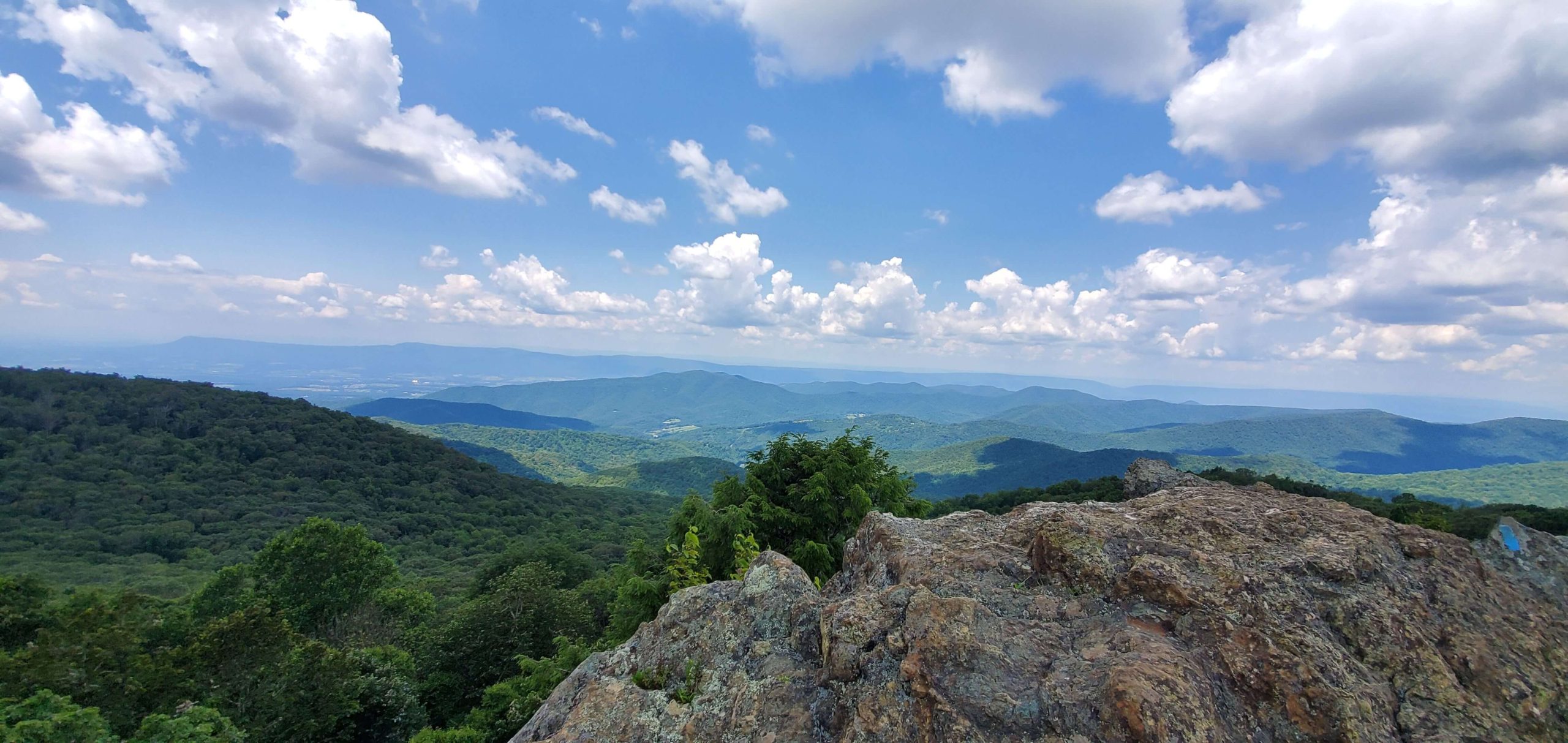 Hawksbill Mountain – Easy to Moderate
Hawksbill Mountain happens to be the highest point in Shenandoah National Park at 4,050 feet! There are 2 ways to reach this peak. We took the 1.7 mile, 690 foot elevation gain hike referred to as "Lower Hawksbill". There is also "Upper Hawksbill Loop", which is a 2.9 mile, 860 foot elevation gain hike that connects to the Appalachian Trail and eventually reaches the same location. Lower Hawksbill is a straight-forward, steep hike. You go straight up those 690 feet over the course of .85 miles. It is a rocky trail but has plenty of space. Our youngest was able to walk most of it. At the top there is an old picnic shelter. Just beyond the building is the first lookout point. A few steps to the right, you'll find a large outcropping of rocks to check out the next viewpoint. There is a really nice platform with 2 large compasses that tell you what you are looking at while taking in the 270 degree view! We visited on cold day, so we only passed a few people. I imagine this trail could get pretty busy during peak weather days. This trail will get your heart rate up quickly but it has an amazing payoff at the end and it's pet-friendly!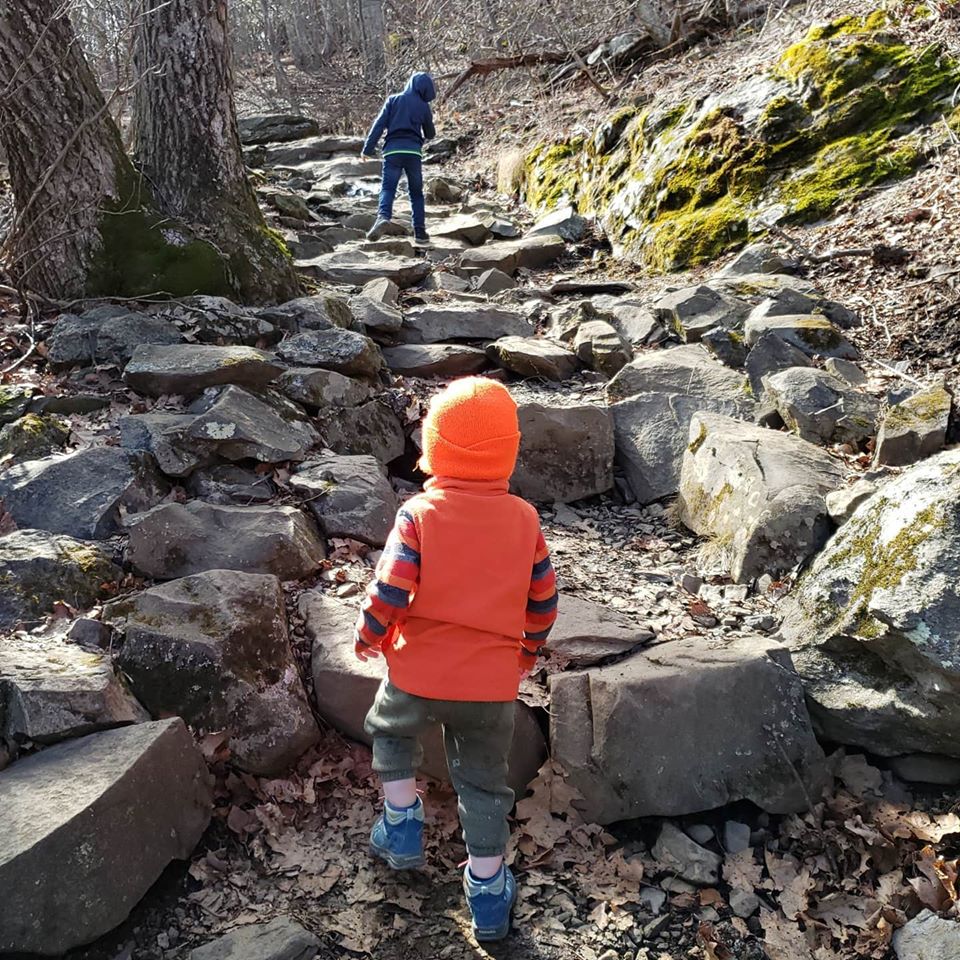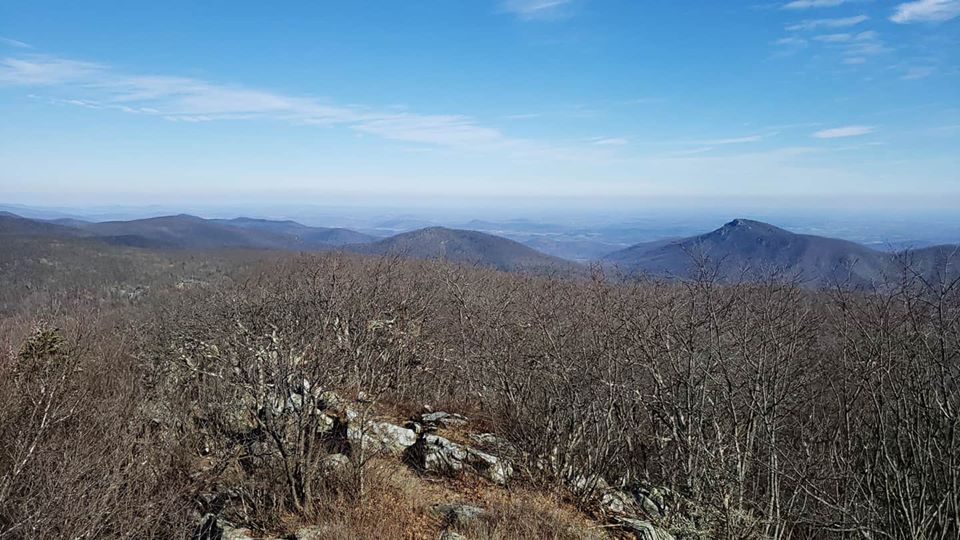 Stony Man Summit – Moderate to Adventurous
The popular Stony Man trail is the furthest North we have hiked so far! It has a few different mileage options depending on your goal. You can reach a magnificent, lower outcrop of rocks with a fantastic view in less than 1 mile. This overlook is called Little Stony Man Cliffs. Just shy of a 1/2 mile from the parking lot, you will reach a fork. If you turn left, you head to Stony Man Summit. If you turn right, you will begin Passamaquoddy Trail. Just a little bit further and you will reach the magnificent lower set of Cliffs.
From Little Stony Man Cliffs, you can continue on the Passamaquoddy Trail to reach the Furnace Spring Trail, then Stony Man Horse Trail, which will loop you around to the Stony Man Summit. This entire loop is about 3.5 miles. If you prefer to reach the Stony Man Summit a bit quicker, turn left from the fork I mentioned in the beginning by following the Appalachian Trail. This way will be about 1.6 miles out to the Summit. If it sounds a bit confusing, take a look at the map below. Please note, we parked at the Little Stony Man Parking lot on the top right corner on the map.
We walked up to the Little Stony Man Cliffs, then backtracked to the AT to reach the Stony Man Summit. Our entire hike was about 3.75 miles. Given the cliff edges that you can walk right up to, I have to rate this moderate to adventurous. There were a few small areas that were steep alongside the trail toward the beginning and over by the Little Stony Man Cliffs, nothing a little bit of hand-holding couldn't fix! The AT the whole way to the Stony Man Summit was great to let the kids run around. We plan to go back to do the whole loop soon, so I'll update accordingly!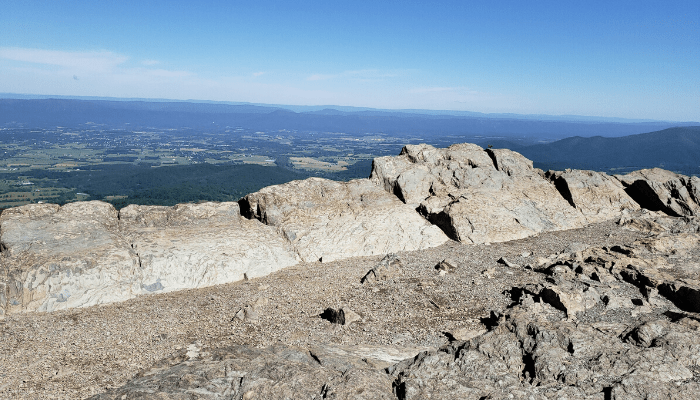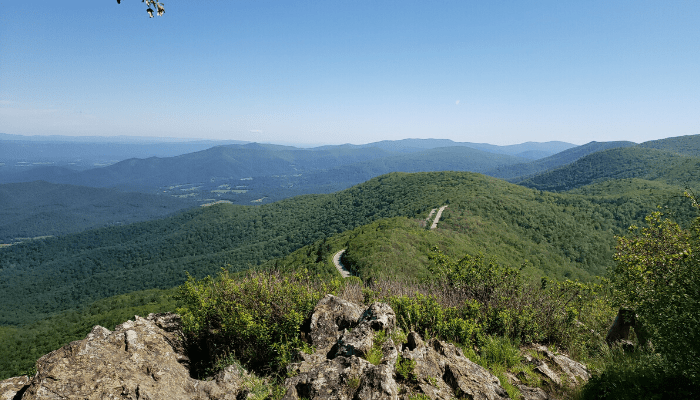 Story of the Forest – Easy
This 1.8-mile circuit trail is near the base of Big Meadows campground and lodge in the South District. There is a visitor center, gift shop, grocery store, and the only gas station inside the park. It is a popular area due to its convenience and proximity to highly-desired trails like Dark Hollow Falls. Story of the Forest starts at the South End of the visitor center parking lot. It is a low elevation gain, easy walk for all age and experience ranges. There were two bridges to cross and an air quality station with an information board to read.
This hike doesn't have a wild view or epic waterfall payoff. It is a beautiful, calm, and quiet walk through the woods. Sometimes, that is just what we need!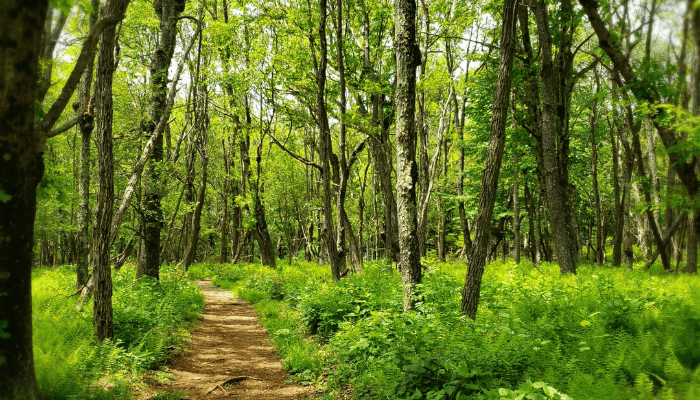 Sometimes after a nice, rewarding hike, we like to stop by one of the many local vineyards on our way home! I have compiled a list of family-friendly wineries on the Monticello Wine Trail. Check it out here!