Whether you are new to hiking or a seasoned professional, it will quickly become apparent that the gear you choose can make or break a good day! No one wants extra fabric where it isn't welcome or not enough so that you are yanking around on your clothing for the whole hike instead of enjoying the scenery. (We've all been there!)
We were each gifted a pair of the KÜHL Hiking shorts of our choice. One pair from the Men's Hiking Shorts category, and one pair from the Women's Hiking Shorts category. We were able to choose the style, color and size. Then, an awesome rep by the name of Ivan, sent them to us check out! Thanks Ivan!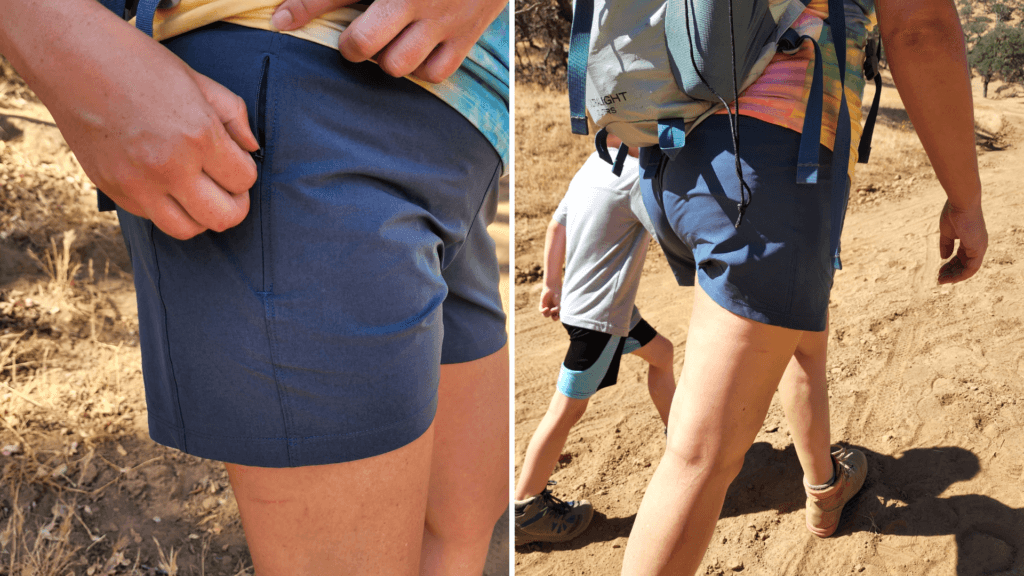 I am new to KÜHL. I have seen the brand before in Kyle's closet but have not tried anything myself until now. It was exciting to look through all of their hiking short styles. I was quickly drawn to the Women's Freeflex™ Short. I chose the color "Rainstorm" in size Large with a 4″ inseam. I'll start by saying that I have been looking for a good pair of hiking shorts for a while now! I have always had a hard time with feeling comfortable and confident in shorts but these did the trick. The color and inseam on this particular pair sold me right away! With the best of hiking season just beginning in California, I'm happy to say that I found a pair I would love to wear for every hike!
The Freeflex™ material is 50% polyester and 50% New Polyester with a Polyester/Spandex blend for the stretch waist, which was a top priority for me. It is machine washable (cold, delicate cycle) and you can tumble dry them on low in the dryer. They are lightweight, quick-drying, and very comfortable with UPF 50+. I love the zipper pockets and would truly recommend this as a go-to hiking short for women.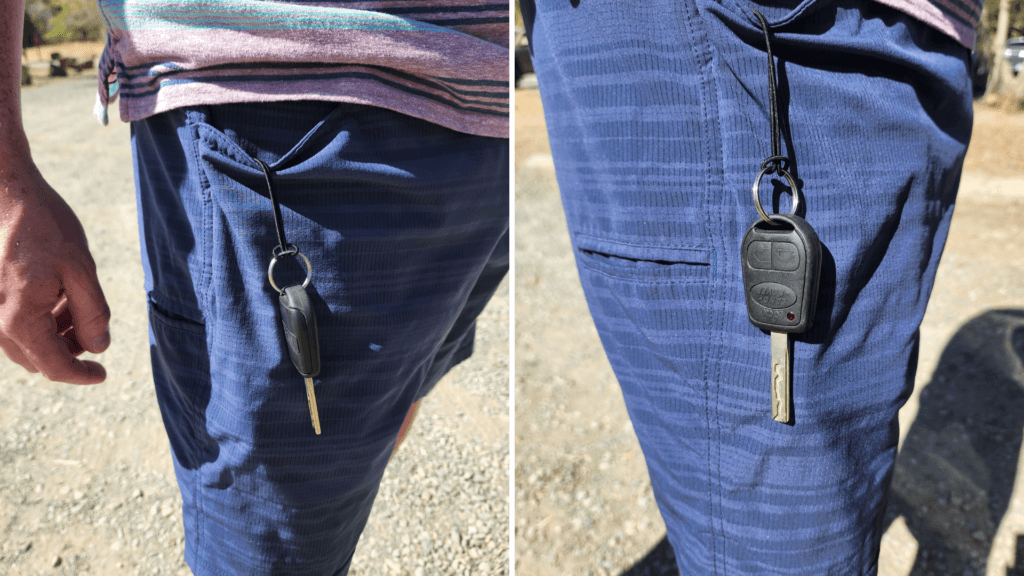 Kyle was gifted the Men's Upriser Short in "Stripe Grizzly", a 35″ waist and an 8″ inseam. For his next pair, he will consider ordering a 34″ inch waist instead. I mentioned above that Kyle is familiar with KÜHL and has a few shirts that he really likes. He was really happy to hear that he was going to get to try out a pair of shorts! What he liked most about these was the striped color, feel of the fabric, and the neat tie on the inside of his pocket that he could safely secure his car keys to. They look SO good on him!
These Upriser shorts are 100% polyester, perforated for breathability, moisture-wicking and quick-drying. They are also machine-washable and you can tumble dry them on low in the dryer.
I would love to hear if you have any experience with KÜHL and tell us about it in the comments below! If you aren't familiar with this brand, consider checking them out for your next hiking apparel purchase. Not only were we both impressed with the quality, but the company itself aligns with our beliefs regarding clothing manufacturing and processes.
From their website: 
"KÜHL will never settle for second best. We source only the finest materials from environmentally conscious and ethically minded partners. In addition, our production facilities must also meet high standards in their practices and procedures. Finally, as an independent, fiscal responsibility is crucial to survival. KÜHL will not over-produce. Over production is a waste of working capital, resources, and is overall, environmentally unsound. We make a great product for a fair price."
If you know us, you know that this is the exact type of company that we want to support.
You can learn more about KÜHL and their great outdoor apparel at their website KUHL.com and let me know if you have any questions!
* The Hable Way LLC is an Affiliate of companies that you can purchase KÜHL products from, such as REI and Backcountry. All opinions of these product are our own. We may earn a commission if you click through and purchase items from their websites using our links or codes. Thanks for your support!