Every year for my birthday in August, we take a quick weekend trip to a destination that is a reasonable distance from home. This year we visited Charleston, South Carolina. Kyle had to work there earlier in the year and went on and on about how he wanted to take us to visit. Conveniently, Kyle's dad lives in Greenville, SC and his birthday is two days before mine! We thought it would be the perfect time to visit him and take our trip to Charleston.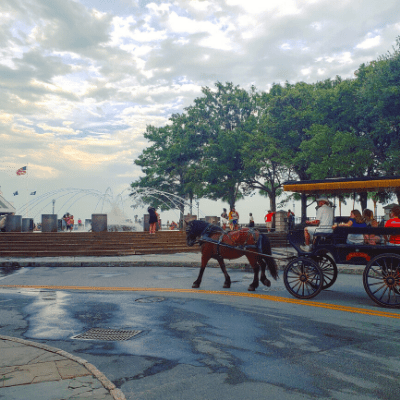 We arrived in Charleston at 3 PM on Saturday. We had to wait until check-in time for the hotel to do anything because we had our dog, Ozzie with us! He comes along on my birthday trips because the week before is Mecum Harrisburg. Mecum is an auto auction that Kyle and I drive cars for every year. I'd hate to have to put him in a kennel two weeks in a row.

Once we got Ozzie comfortable at the hotel, we were off to find some southern charm! We opted to drive down to King Street to find some good food and shops. The horse-drawn carriages and palm-lined streets kept us walking around quite a bit longer than expected before stopping for some New York City Pizza. Yep, you read that right, we chose pizza in Charleston. At least we had some local beer to go along with it.
Sunday was all about the beach! I wanted to be sure we got to play in the sand and get smashed by some waves. When I ask social media friends for recommendations, they always deliver! So that's how we found Folly Beach. It was perfect, not too crowded! We arrived at 10 AM. We started by searching for seashells and playing in the water. Instead of making sandcastles, we made sandy racetracks for the boys' matchbox cars. Asher is my water baby, so all he wanted to do was play in the ocean. Brooks, on the other hand, preferred covering his entire body in sand and then refusing to clean it off in the water.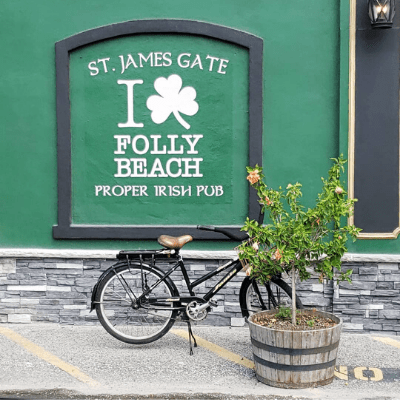 After a few hours' worth of fun, we headed out around Noon. While I could spend hours on end at the beach, I had to rein it in a bit for the kids. The road into Folly Beach was packed with cars heading in by this time. So I will assume that this lovely beach may get crowded sometimes. Conveniently, there is a Harris Teeter grocery store on the main road not too far from Folly Beach. We grabbed some lunch to take home and headed back to the hotel to hang out with Ozzie. After Brooks took a huge nap, we were off again. This time, I talked everyone into going to Patriots Point Naval and Maritime Museum. I seriously had to drag them there, even Kyle! Their tune changed when they got to see the massive aircraft carrier that we would get to explore. This place is quite a sight to be seen. The parking is only $5 per day. Of course, the heat index was over 100 degrees that day. Don't you all pick the hottest day of the summer to trek through ships with confined rooms, most of which lack air conditioning, too? The first ship we toured was the USS Laffey DD-724. This ship was nicknamed "The Ship That Would Not Die". The History Channel has an informational film about the destroyer that you can watch right in one of the ship rooms (that does happen to have AC!). It goes into great detail about it's incredible timeline of events.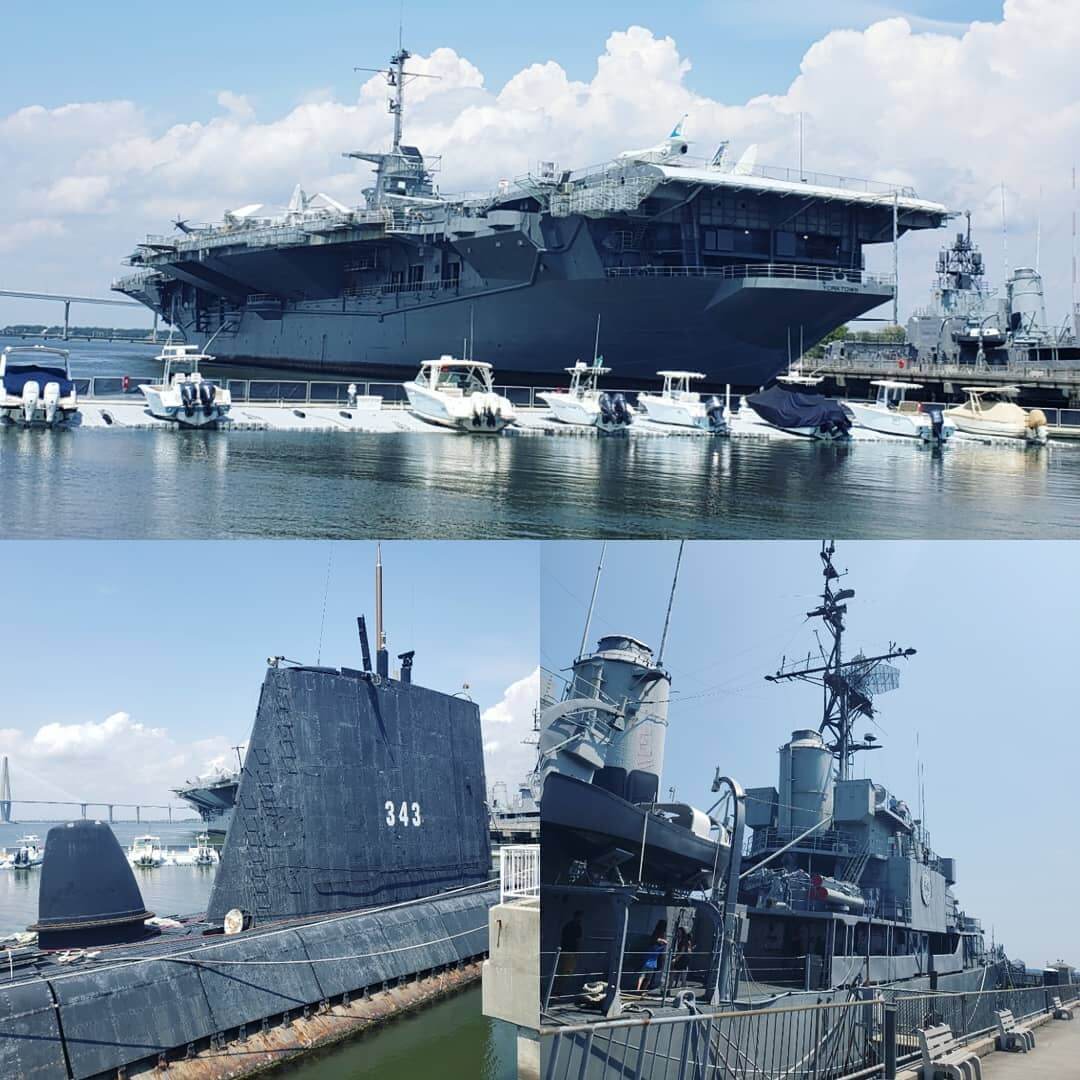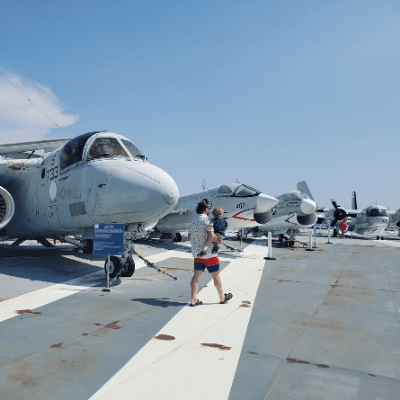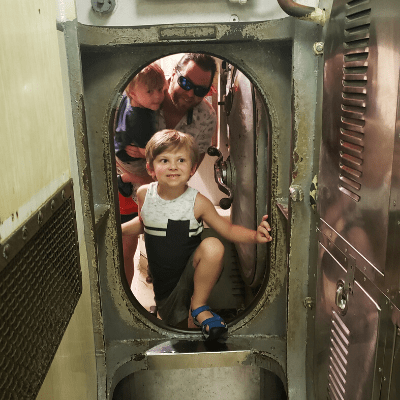 Next up: USS Clamagore Submarine SS-343. I am a bit claustrophobic when it comes to small spaces like submarines. I am extra claustrophobic when these small spaces are partially submerged underwater. As you can see, I attempted to go through. Above, is my family walking through one of the small doors of the submarine. That was the one and only picture I could manage to take inside! Eventually my phobia got the best of me so I hightailed it to the end and waited for them there! Last, but not least, was the USS Yorktown CV-10. Once you step inside this massive aircraft carrier, it is easy to forget that it is a ship floating in the water. Now a National Historic Landmark, this ship earned 11 battle stars and a Presidential Unit Citation. Our favorite part of this ship was climbing to the top to reach the flight deck. While I could barely believe how large this carrier is, it was even more incredible to see how many large airplanes were sitting on top of it! Plan a visit to see these incredible pieces of history! Also, plan to exit through the gift shop. Well played Naval & Maritime Museum.

After being out in the heat for a few hours, we opted to take a rest in the hotel until dinner time. We were tired out by then so we decided to stay close to our hotel for dinner. We stayed at Towneplace Suites by Marriott in Mount Pleasant. Quick shout out to Marriott for not only being dog-friendly but for being nondiscriminatory of the breed. Thankfully, there were plenty of choices to eat nearby. We chose the original Sticky Fingers. It is a barbecue restaurant that began in Mount Pleasant! Full bellies and happy kids… it was perfect!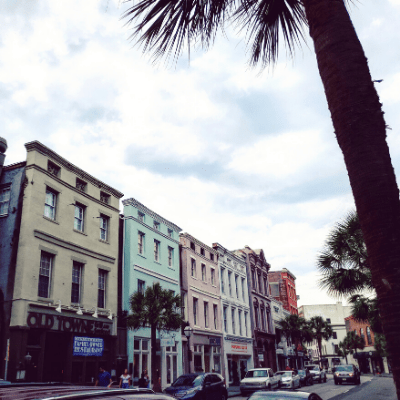 Kyle and I love vibrant, historic cities. I knew Charleston would be beautiful but it was still a pleasant surprise. We already talked about how soon we can return. Comment below to let me know what we should add to our itinerary for our next visit to Charleston!