So you are wondering how to spend a weekend in Half Moon Bay with your kids?! In the 2 years that we have lived in California, Half Moon Bay has been one of our top destinations for long weekend getaways! It started as a quick trip to the coast to see the ocean and have some lunch but I fell in love. Now I talk my family into going back as often as possible. I have also taken friends and extended family there to see it when they visit!
Half Moon Bay is world-famous for Maverick's Beach, drawing in the world's best big wave surfers to come ride waves that routinely crest at over 25 feet in the winter. Due to the unique sea floor, the waves are capable of topping out at over 60 feet in the right conditions.
There are SO many wonderful things to do in Half Moon Bay and each time we go, we find something new. Here are a few of my favorite lodging, dining & activity recommendations!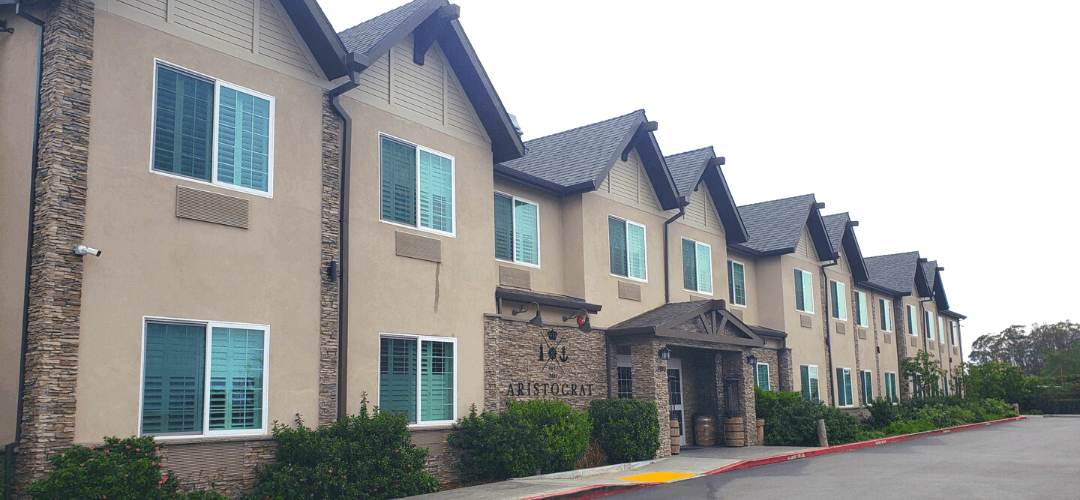 The Aristocrat Hotel, BW Signature Collection
We were limited to pet friendly locations for our first few years in CA and thought the Aristocrat would be the perfect place. It was first opened in 2018 and has coastal, British vibe giving it a very clean and modern feel. It is located just south of downtown Half Moon Bay, and minutes North of the picturesque, champion golf courses of Half Moon Bay Golf Links that surrounds the Ritz Carlton.
There is an English pub in the same parking lot which is very convenient if you are getting into town around dinner time. It is also within walking distance to beautiful open space that takes you to a beautiful viewpoint on cliffs overlooking the Pacific ocean that is perfect for sunset. 
They have great amenities such as a nice complimentary breakfast spread, a gym, and laundry! Brooks always says he wants to go to the "place with the big pumpkin" because they have a 10,000 lb pumpkin in front of the hotel.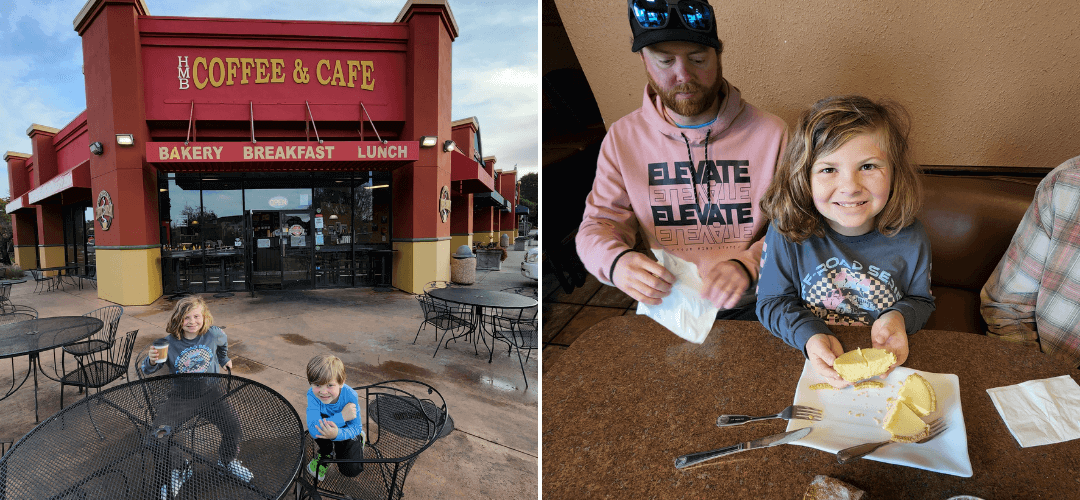 Get a cup of Coffee and Breakfast at Half Moon Bay Coffee Co.
This is my current favorite spot in town to get a tasty cup of coffee. We generally stop here on our way to Devil's Slide Trail. There are tons of breakfast options and it is a great place to sit down and enjoy some coffee before beginning your day.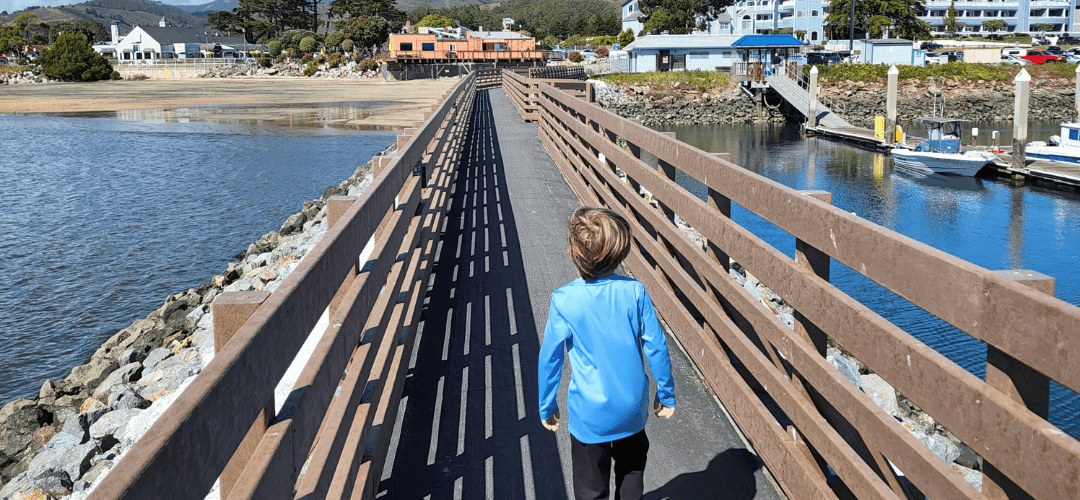 Stop For Lunch at Half Moon Bay Brewing Co.
The first time we visited Half Moon Bay, we took a day trip from Livermore, back when we lived in the hotel. We came with the intent to see the ocean and have some lunch. We quickly found Half Moon Bay Brewing Co. It was a nice place to eat with outdoor seating near the water. It is in a great location, so after lunch you can do some shopping near by, stroll along the water, or take a walk down the pier.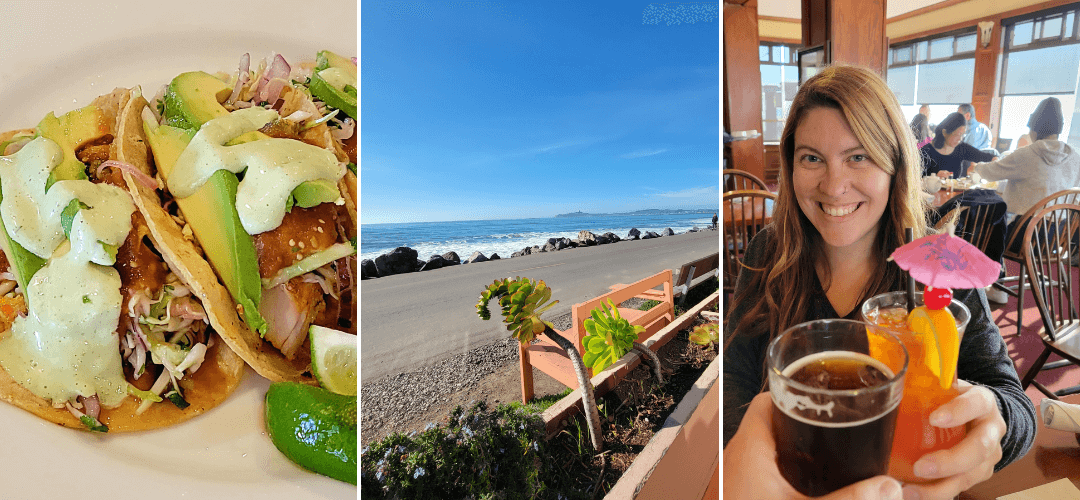 Have Dinner at Miramar Beach Restaurant
Another great waterfront option is the Miramar! It has a really neat history as it was originally designed as a speakeasy during prohibition with revolving kitchen cabinets and other secret compartments! Being a notorious drop off point for illegal liquor, it was raided on numerous occasions. Smugglers brought their alcohol from Canada and shipped it down the coast to Half Moon Bay. Small boats referred to as Rum Runners would meet the larger ships off the coast and transfer the illegal cargo to shore. Half Moon Bay was considered the ideal location to transfer the illegal cargo because it was small and isolated but close enough to San Francisco to transport it by car. 
The Miramar is one of only a handful of buildings left from that time period and they have a great collection of old photos to look at around the restaurant. It is in a beautiful location right across the street from the water where you can have some great food and delicious cocktails.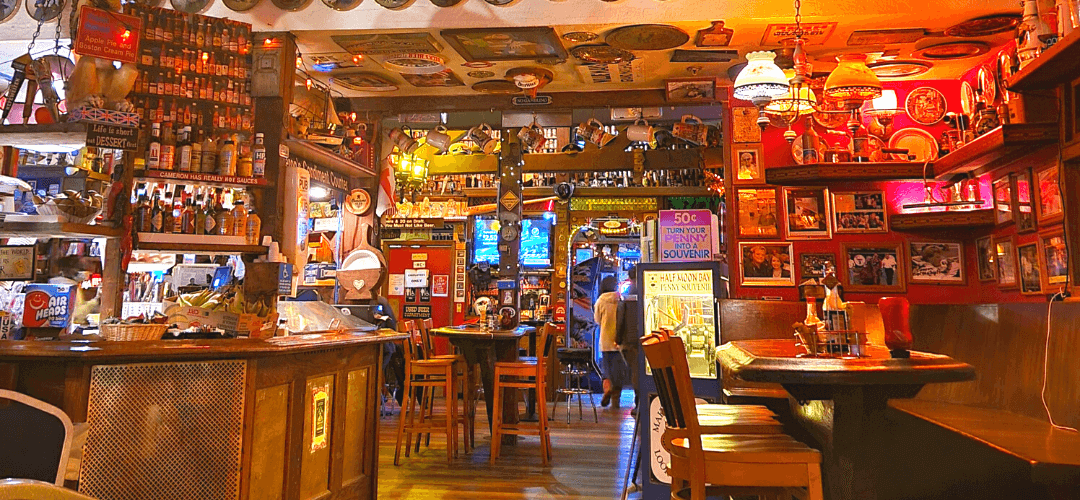 Swing by the Cameron's Pub for the Fish and Chips
Cameron's Pub is located right next to the Aristocrat Hotel that we frequently stay at. It has a huge red double decker bus outside and the restaurant is filled with an eclectic array of mementos that make you feel like you are really at a pub in England. The food and service has always been consistent in our almost 2 years of visits!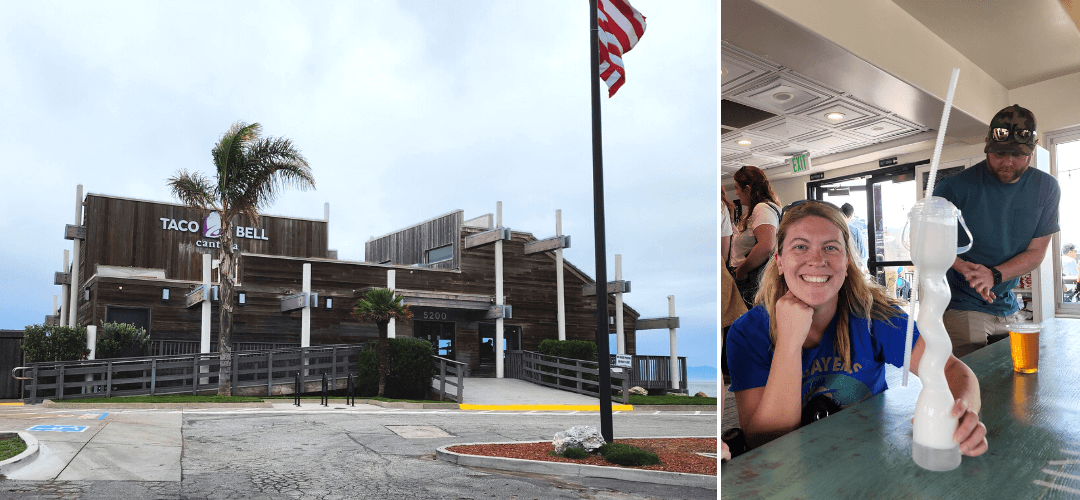 Grab a Margarita at the famous Taco Bell Cantina in Pacifica
Whether you like margaritas or not, this Taco Bell Cantina is so neat! There are quite a few cantina's throughout the country but this one is especially unique as it is situated right on Pacifica State Beach. It has a window for surfers to come up from the water and order food too.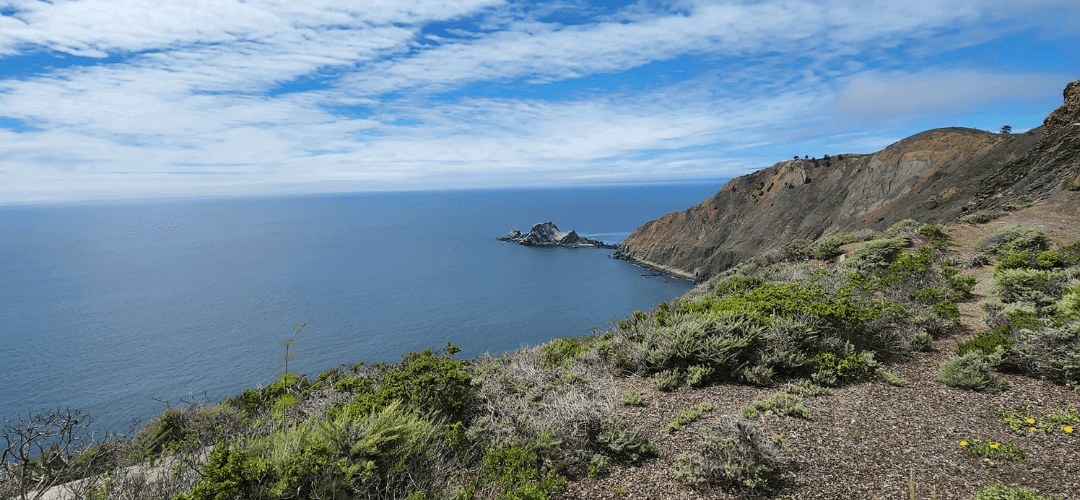 Take a walk Down Devil's Slide Trail
Devil's Slide Trail is hands-down, my favorite place to see near Half Moon Bay. It is the first place I take any friends or family members that visit the area and usually our first stop when we get into town. It is a 1.3 mile section of former Highway 1 that takes you along the edge of the Pacific ocean from a few hundred feet above. There are benches and observation areas to take in the incredible views and a few interpretive signs that gives you information about the area and marine life you may see.
You can see all sorts of wildlife here including whales, birds, seals and more. On a recent trip we saw a Peregrine Falcon! This is where I saw my first whale so it will always have a special place in my heart!
Take the stairs down to Gray Whale Cove State Beach
This spot requires some extra patience and care. The parking lot to get to it is across Highway 1. It is a popular location also due to trail access on the same side as the parking lot so, in general, the traffic passing through knows that there are a lot of slow moving vehicles and pedestrians present in this area. Once you cross the street, the wooden stairs will take you down to the beach.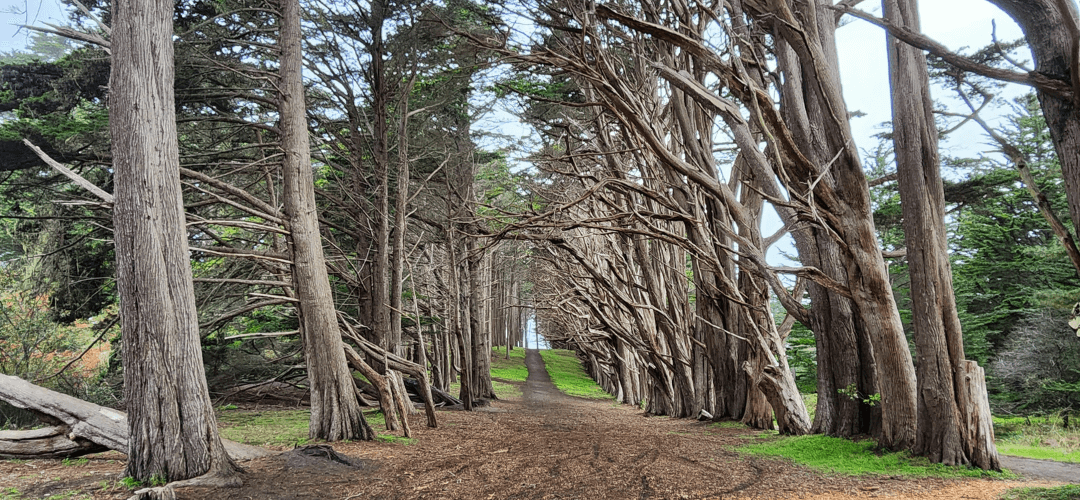 Visit Fitzgerald Marine Preserve & Seal Cove Cypress Tree Tunnel
This is another favorite of ours that we can't leave Half Moon Bay until we see every time! The Cypress tree tunnel is at Fitzgerald Marine Preserve, also known for good "tide pooling". Tide pools occur when the tide recedes and leaves seawater in the crevices and low lying areas between rocks, showing off a whole usually hidden ecosystem to carefully explore. 
There are a few paths you can take to loop around through the cypress trees and along the coast and it is absolutely breathtaking.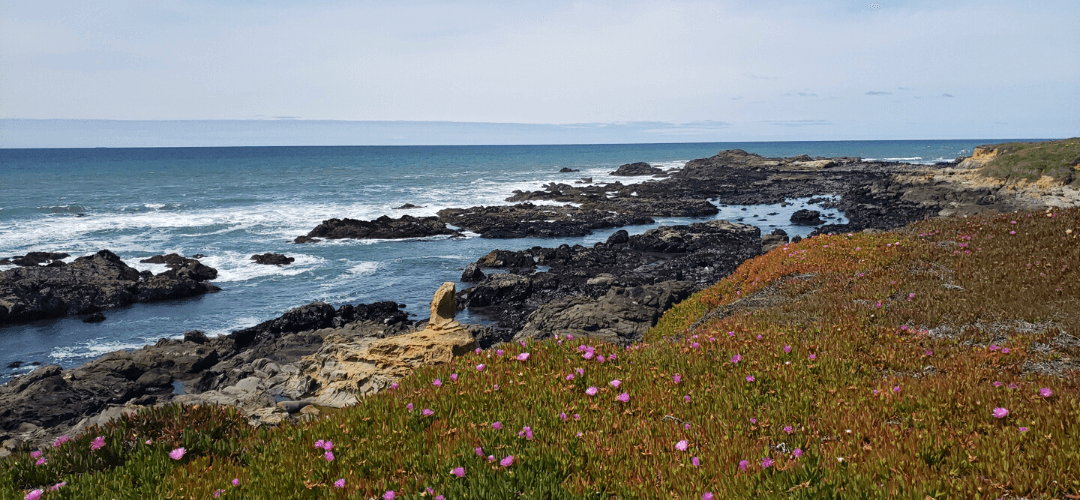 Take a Drive Down Highway 1 to Pescadero
On our first stay in Half Moon Bay, we arrived early so we needed to find something to do until we could check in. We drove South, past our hotel and followed the coastline through Pescadero. It is absolutely beautiful. There are lots of different places to pull off and take walks along the water or sit on one of the benches and soak in the gorgeous view.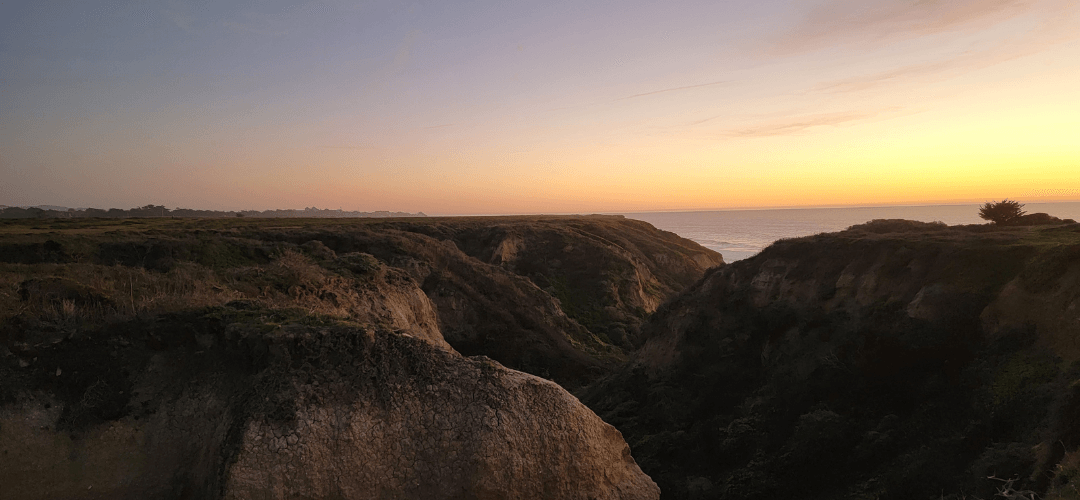 Take in a Beautiful Sunset at Wavecrest Open Space
This glorious location is within walking distance of our usual hotel accommodations! It is a nice walk to the cliffs and worth every step no matter what time of day. We usually try to fit in at least one walk out to the coast here each trip. If you plan correctly, you can make your way out to see one of the most beautiful sunsets ever.
I can't wait to go back and discover even more wonderful stuff to do in Half Moon Bay! Let us know in the comments if you have visited Half Moon Bay and what your favorite thing to do is!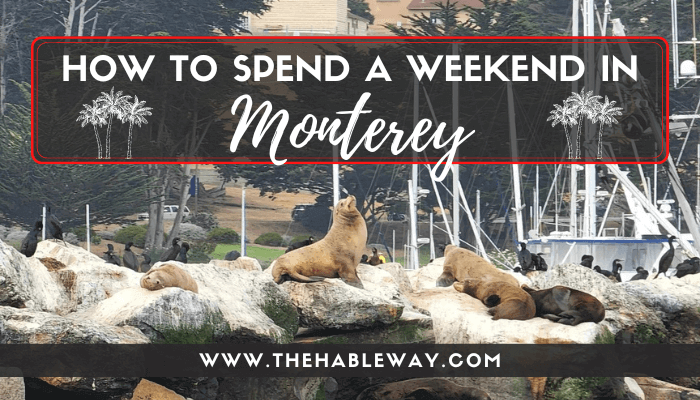 Prior to living in California, every time I heard of Monterey or really anywhere on the California coast, I thought it had to be what dreams are made of! It turns out that I was right. 
Read More »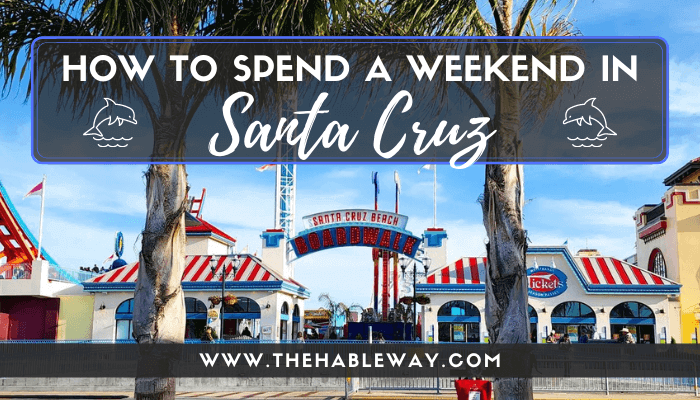 If you are looking for a great family trip, look no further than the Central CA Coast! Santa Cruz is a fun place to visit. With plenty of options for lunch, shopping and fun at the boardwalk,
Read More »