If you are looking for a great family trip, look no further than the Central CA Coast! Santa Cruz is a fun place to visit. With plenty of options for lunch, shopping and fun at the boardwalk, you could spend tons of time here without getting bored! 
We recently spent the weekend in Santa Cruz and were able to hit so many amazing, iconic spots in a short time. Here are our recommendations for a weekend in Santa Cruz!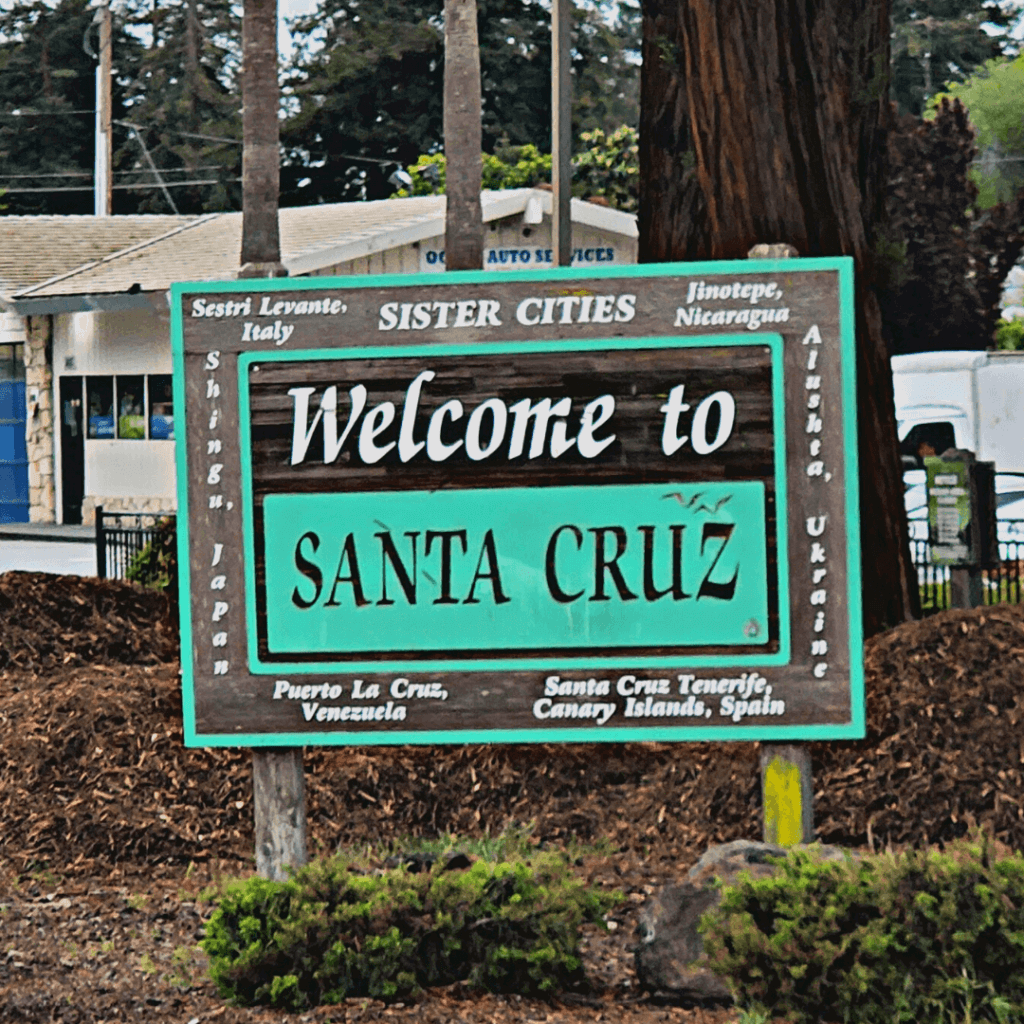 The Hable Way is an affiliate of Hilton and partner with Get Your Guide. If you click through any of the external links and make a purchase, we may be compensated by these companies at no extra cost to you.
This hotel is nestled in the foothills of the Santa Cruz mountains. It is beautiful inside and out. Though it is a little bit further out of town, it is convenient to everything that Santa Cruz has to offer. It is located just minutes from Henry Cowell Redwoods State Park and about 15 minutes from the Santa Cruz Beach Boardwalk. It is spacious, clean, and one of the most important things to us at the moment: pet friendly!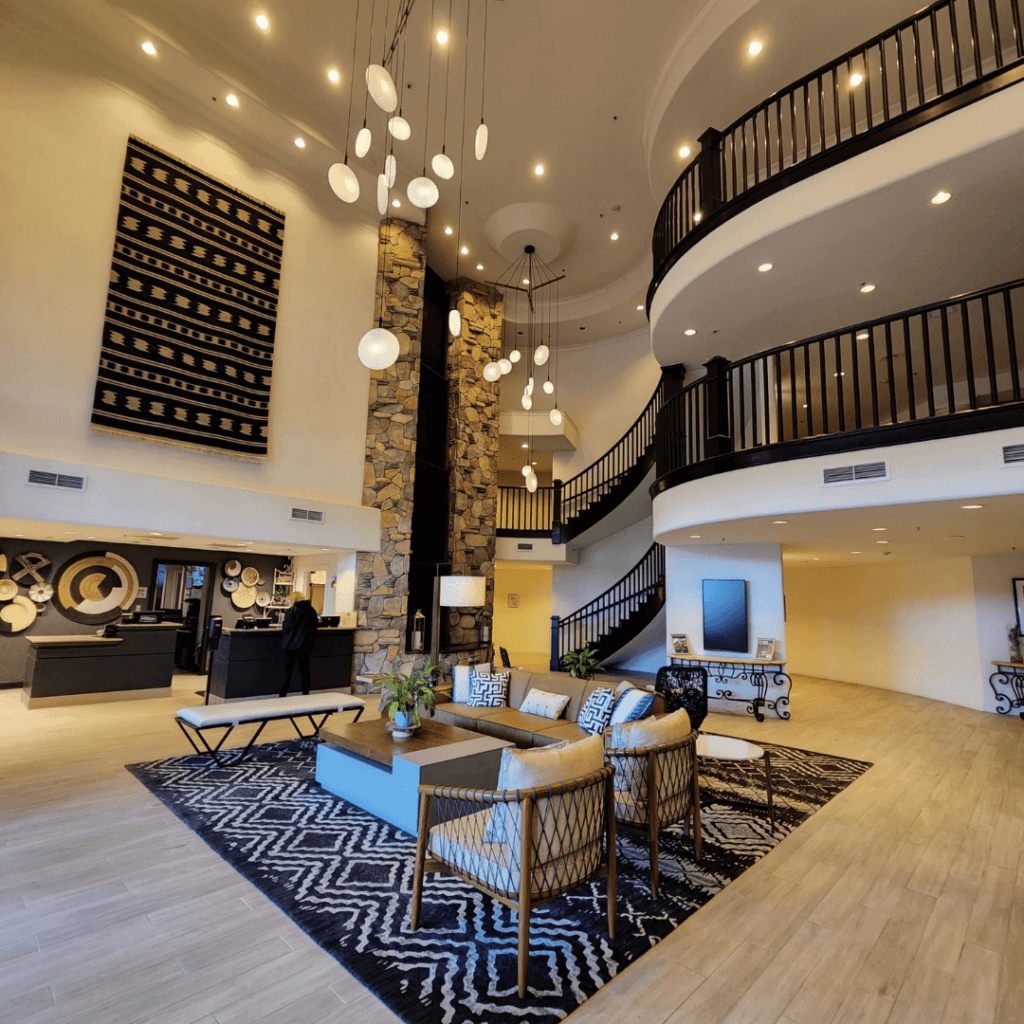 • Free Parking
• Free WiFi
• Nonsmoking Rooms
• Digital Key
• On-site Restaurant
• Outdoor Pool
• Fitness Center
• Pet Friendly Rooms
• Room Service
• Business Center & Meeting Rooms
We planned to arrive just before dinner time so we could get settled in, then head down to the dining area located inside the hotel. It has a bar area and plenty of seating. The food was delicious and the staff was very friendly and attentive!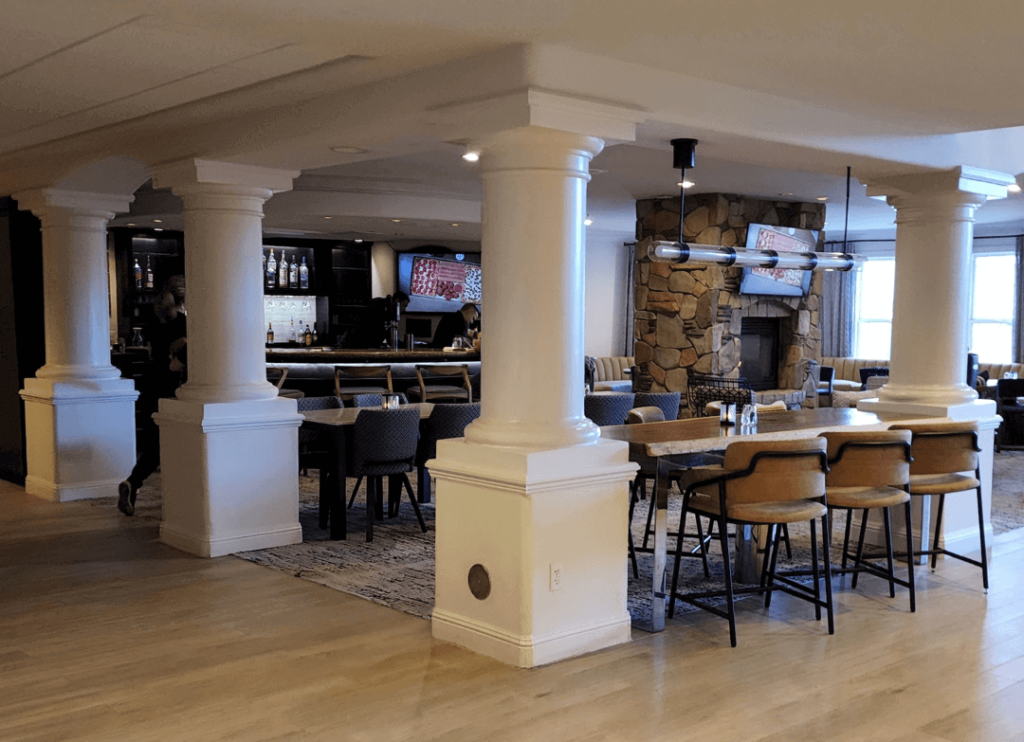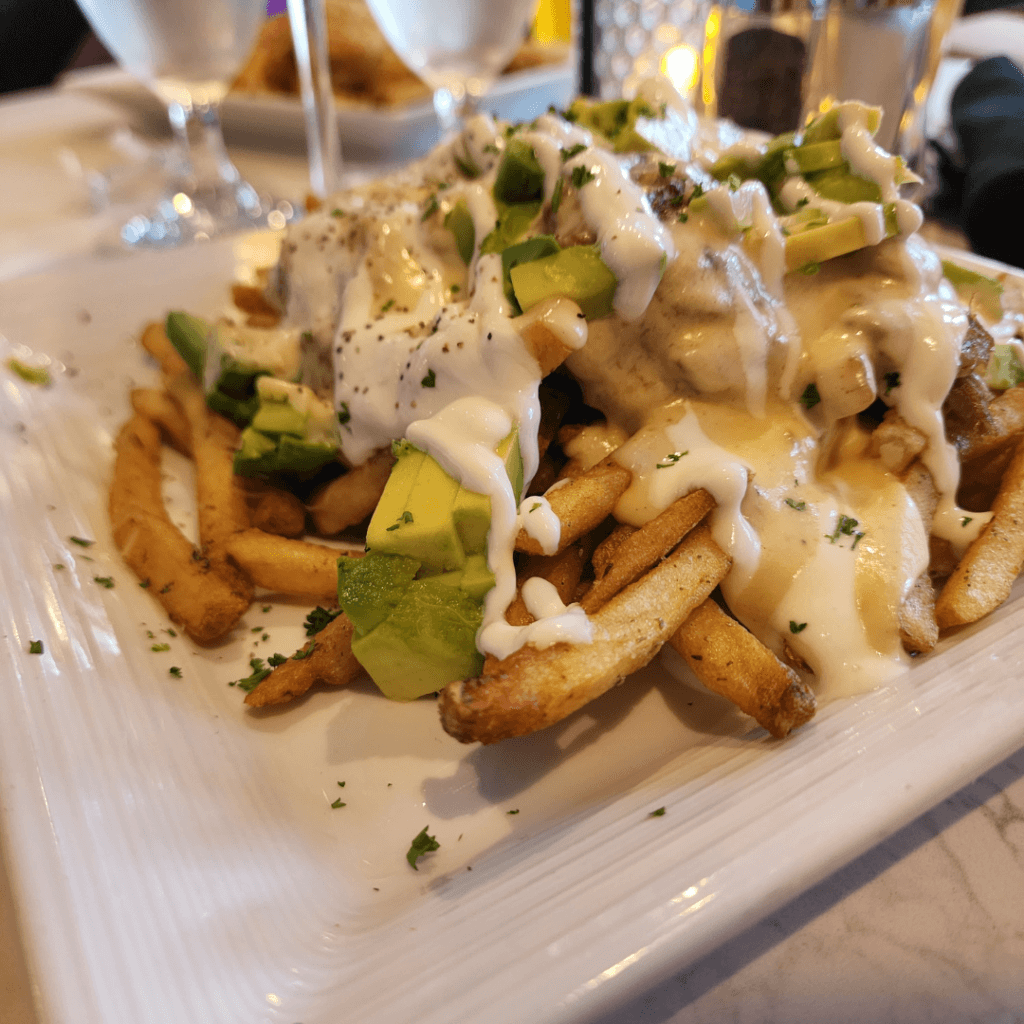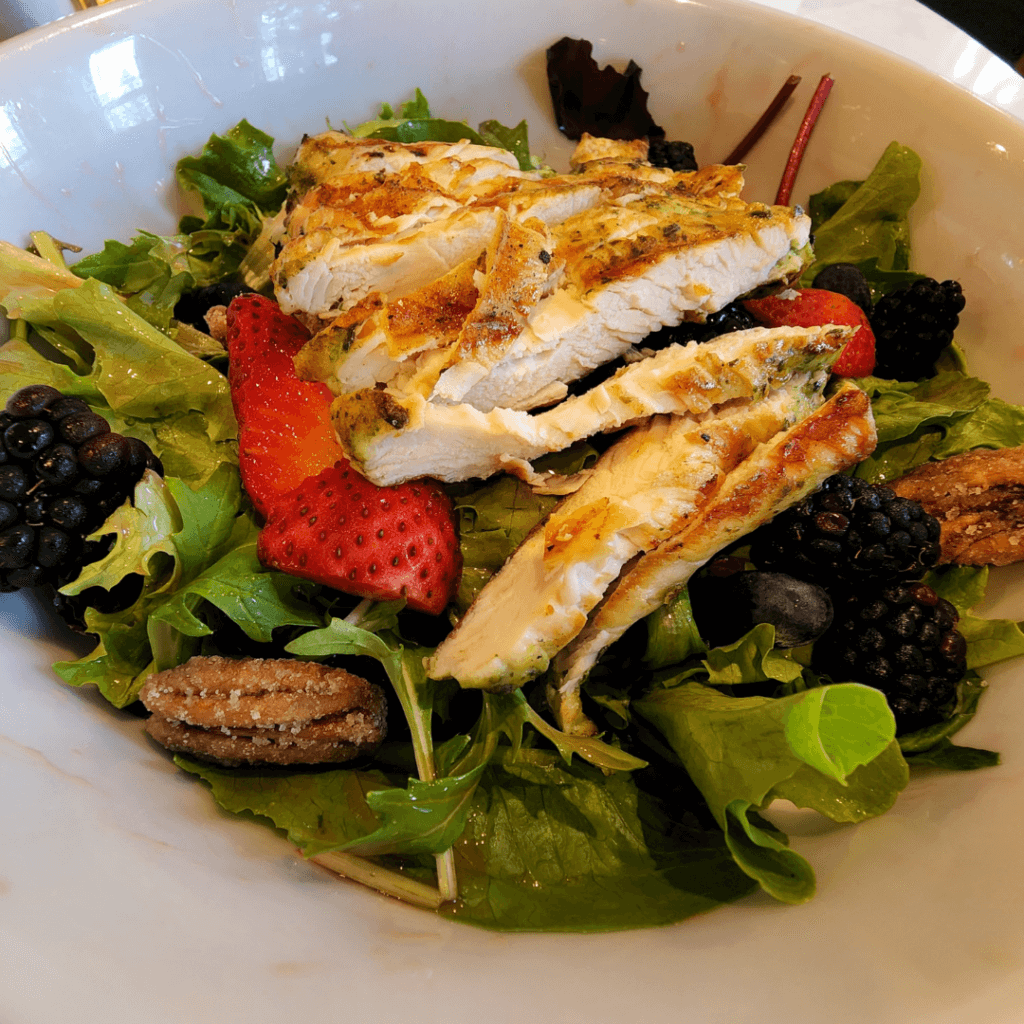 At the bottom of the hill, across the street from the entrance to the hotel, is a small collection of restaurants and cafes. We stopped in to Scott's Valley Coffee to get some hot beverages and enjoyed it enough to head back the next morning on our way out of town for more coffee and pastries! It is conveniently located next to a Mountain Mike's Pizza and a delicious-smelling Indian Bistro.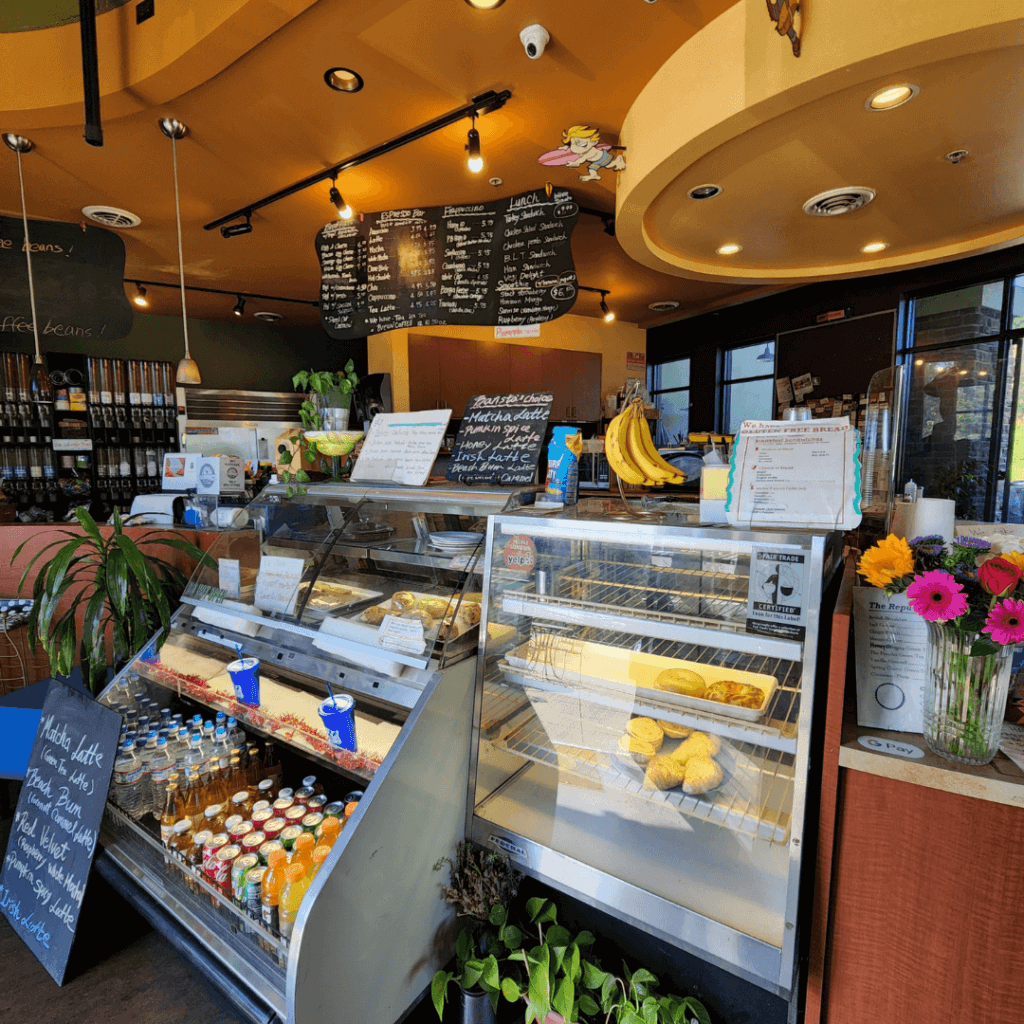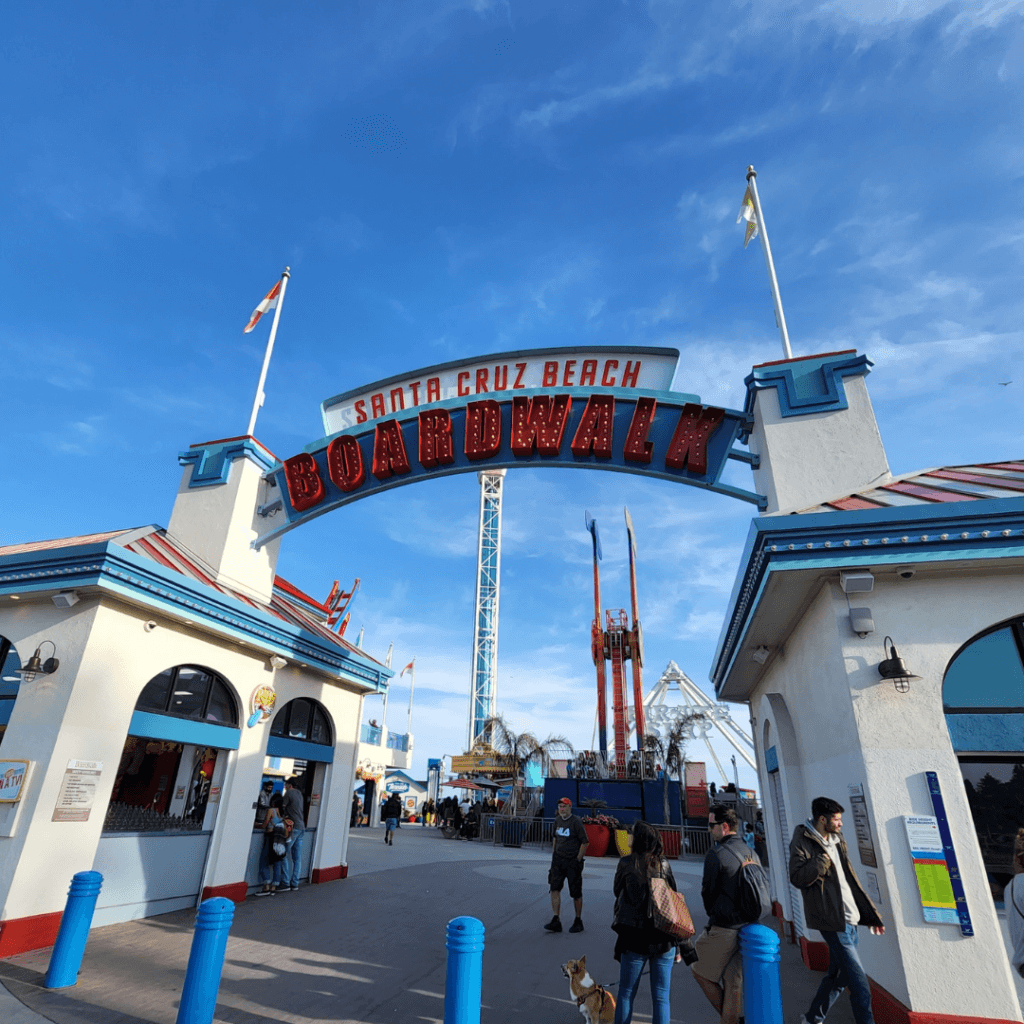 Spend a few hours at the Santa Cruz Beach Boardwalk
The Beach Boardwalk is SO much fun for all ages! We only spent a short amount of time here and absolutely cannot wait to go back. It happens to be California's oldest surviving amusement park and one of only a few seaside parks on the West coast. Check out more about the Beach Boardwalk here!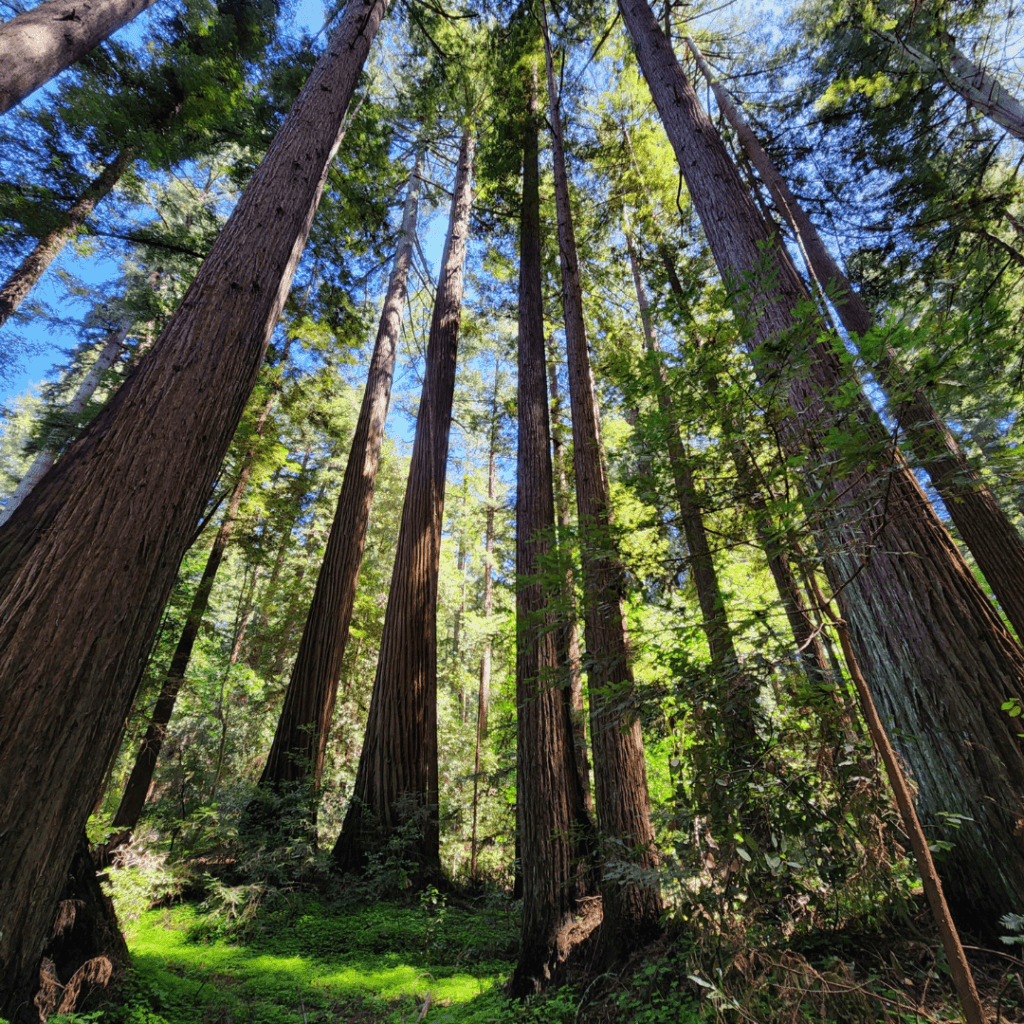 Take a hike at Henry Cowell Redwoods State Park
Henry Cowell is a beautiful state park on the edge of Santa Cruz. I had no idea what we were walking into and it did not disappoint! We took the Redwood Grove Loop Trail which is about a mile around and filled to the brim with big trees! This is a very easy, accessible way to see Redwoods in California.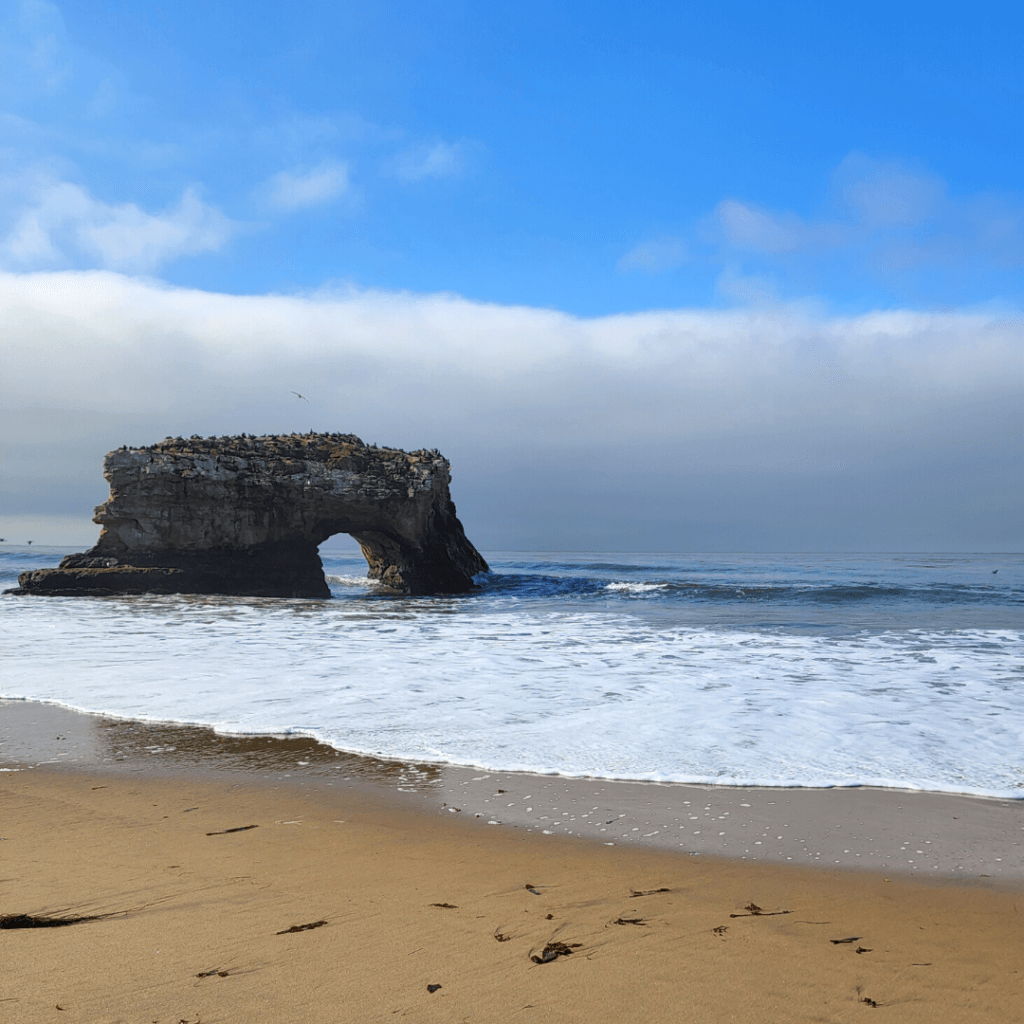 Visit Natural Bridges State Beach
The iconic Natural Bridges State Beach is a well known place for watching birds, whales and other sea life. In the Fall and Winter, it is a great place to see monarch butterfly migrations. There are hiking trails, picnic areas and a great sandy beach to take in the scenery.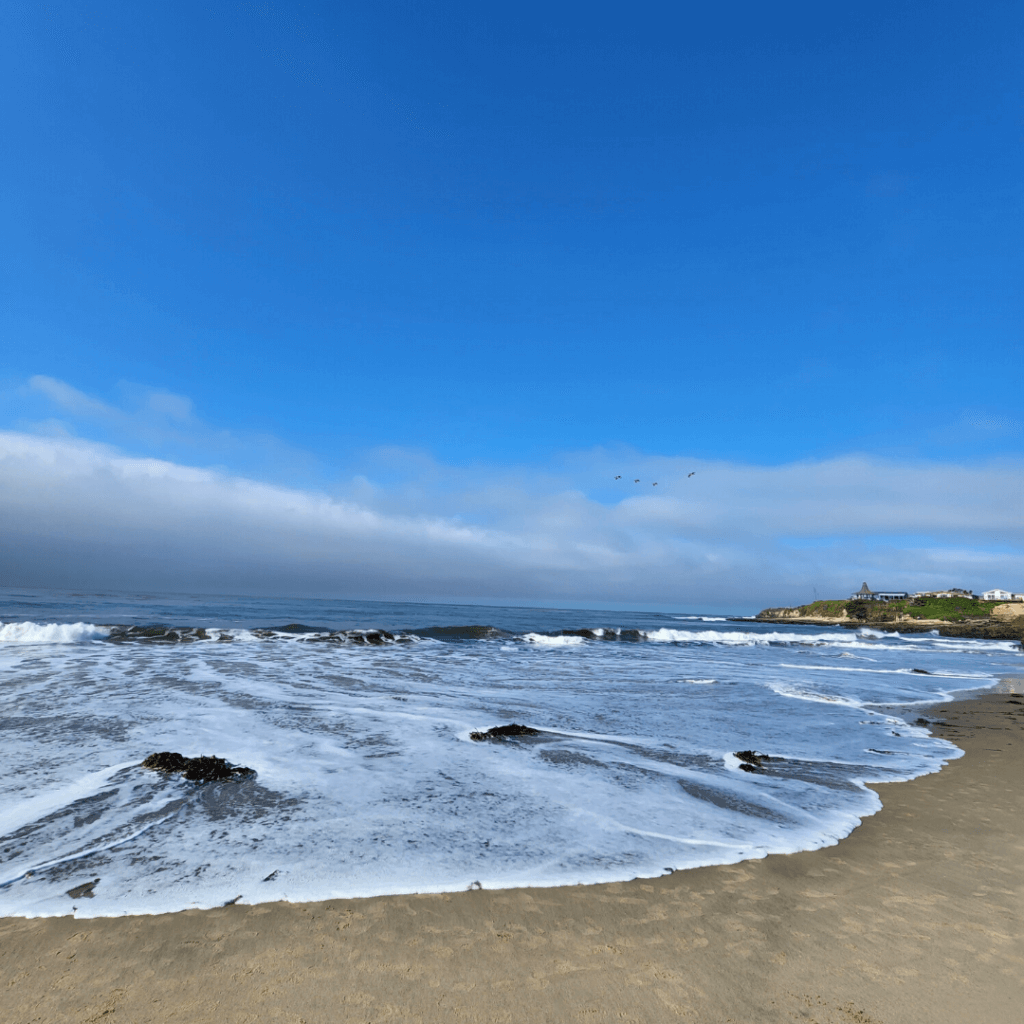 Santa Cruz County has 29 miles of coastline! Whether you want to swim and play, or relax and take in the dramatic views, there are plenty of options. Pick your perfect beach in Santa Cruz here.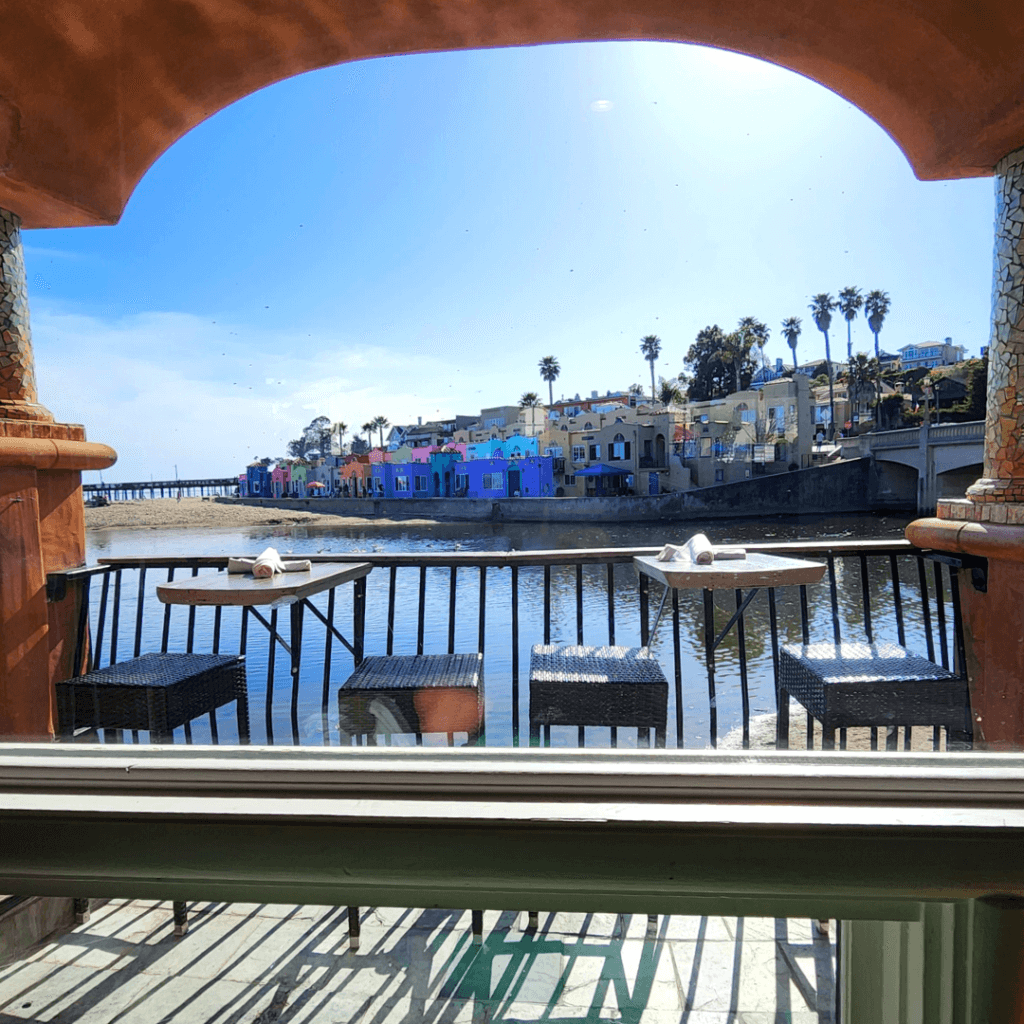 Dine and Shop in Capitola
I really wanted to see the colorful houses in Capitola Village on this last trip. It just so happened that where we sat down for dinner, we got a front row seat! As small as the town is, it is bustling with great dining, shopping and beautiful views of the coast!
Talk a walk down the Santa Cruz Wharf
Stretching a half mile into Monterey Bay at 2,745 feet, it is the longest wooden pier in the United States. You can drive your car onto the pier and park or walk from a nearby parking area. There are options for lunch and shopping right on the pier. Be sure to walk the whole way to the end to see the famous barking sea lions! Learn more about fun things to do at the Santa Cruz Wharf.
Santa Cruz would be an excellent choice for your next family getaway! It is just one of the million things you can do in the San Francisco Bay Area. Check out some other ideas in the post below!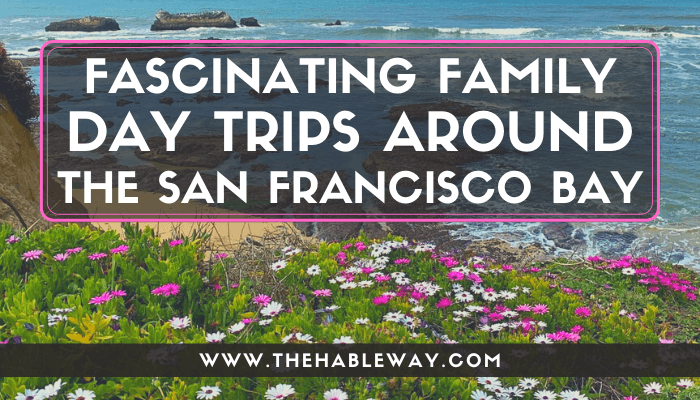 Fascinating family day trips around the Bay Area are easy to come by if you know where to begin! 2021 was the first year that
Read More »