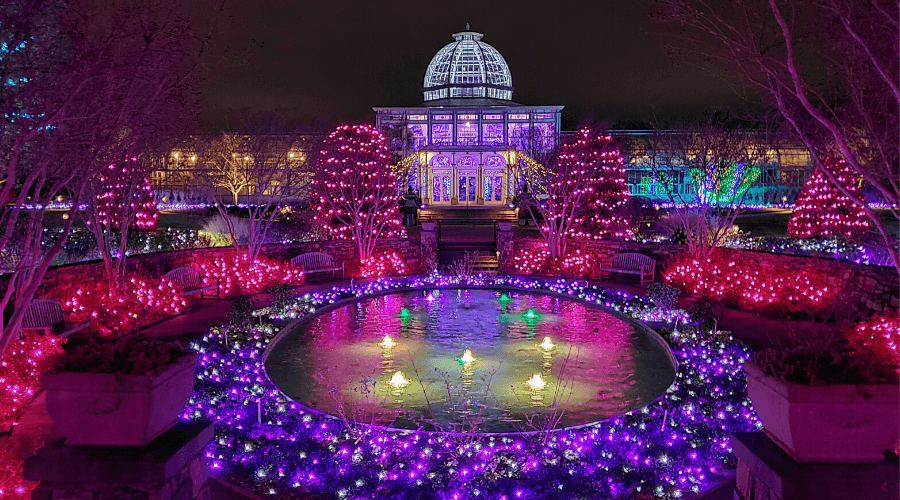 My favorite Christmas tradition includes a cool, crisp evening with hot cocoa in hand, wandering through millions of Christmas lights with my family. Having moved so often over the past few years, the venue has changed. Regardless, I have always been able to find an incredible display of lights for us to enjoy! Thankfully, for this year, I found the Lewis Ginter Botanical Garden in Richmond, Virginia. Our first experience there was late in the Summer. They showcased the Nature Connects®: Art with LEGO® Bricks exhibit by Sean Kenney. He is an award-winning creator best known for his collection of nature-inspired LEGO® masterpieces. After thoroughly enjoying the LEGO® exhibit, I was given the opportunity to return to the garden for a preview of their Dominion Energy® GardenFest of Lights.
For 2019, in commemoration of the first manned mission to land on the Moon, the theme was "Magic in the Air". The displays are inspired by a blend of the garden's natural beauty and items that fly. Walking along the paths, you will come upon fantastic creatures like flying pigs and a pegasus. After passing through the Children's Garden, You can take a walk up to the top of the CWDKids Tree House for an incredible view of the conservatory! At every turn, there is a unique collection of lights transformed into displays of man-made inventions, natural wonders, and mythical creatures. The kids will love finding their way through the large maze in Anderson Meadow! Be sure to stop in the Kelly Education Center to see the large trains in motion! The hallway back to the model train room is lined with beautifully decorated trees by local elementary school students. There is a large Holiday tree in the library and a "pollinators and flowers" themed tree in the reading room!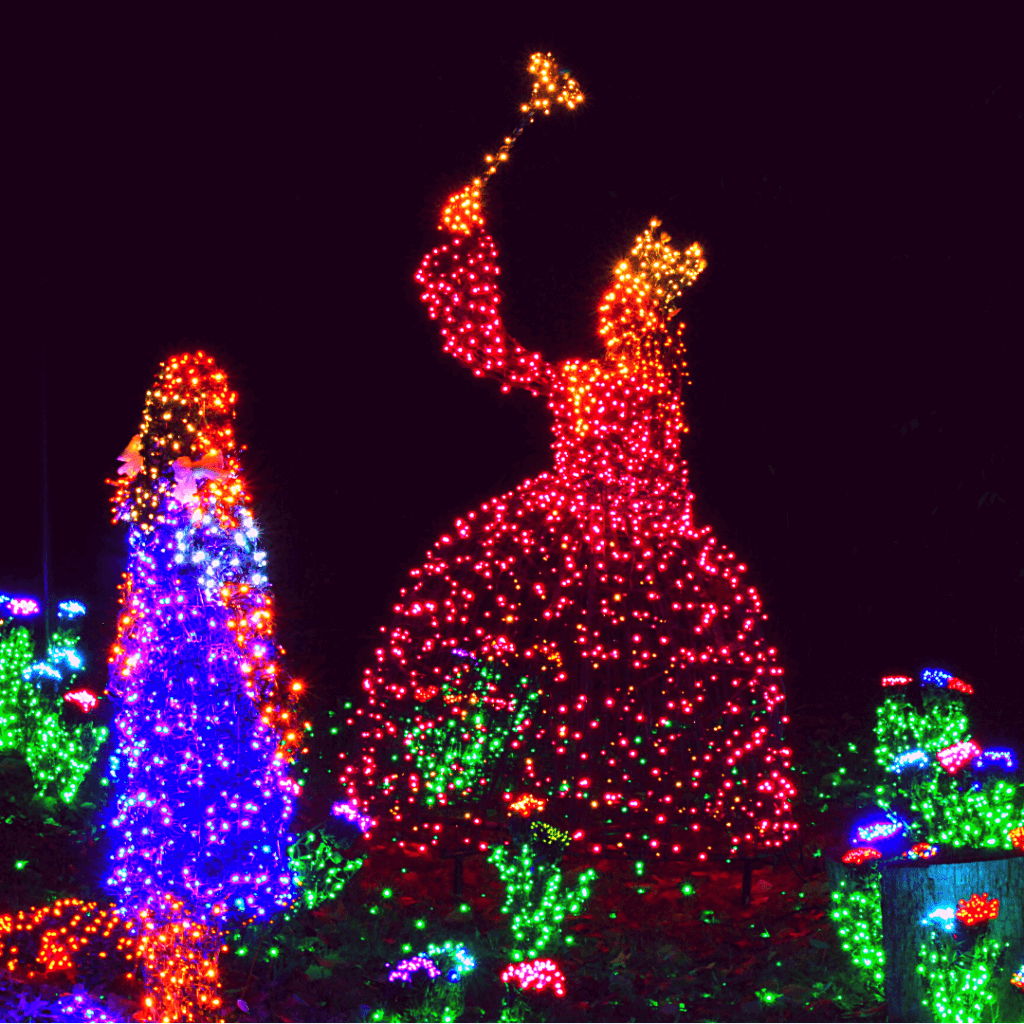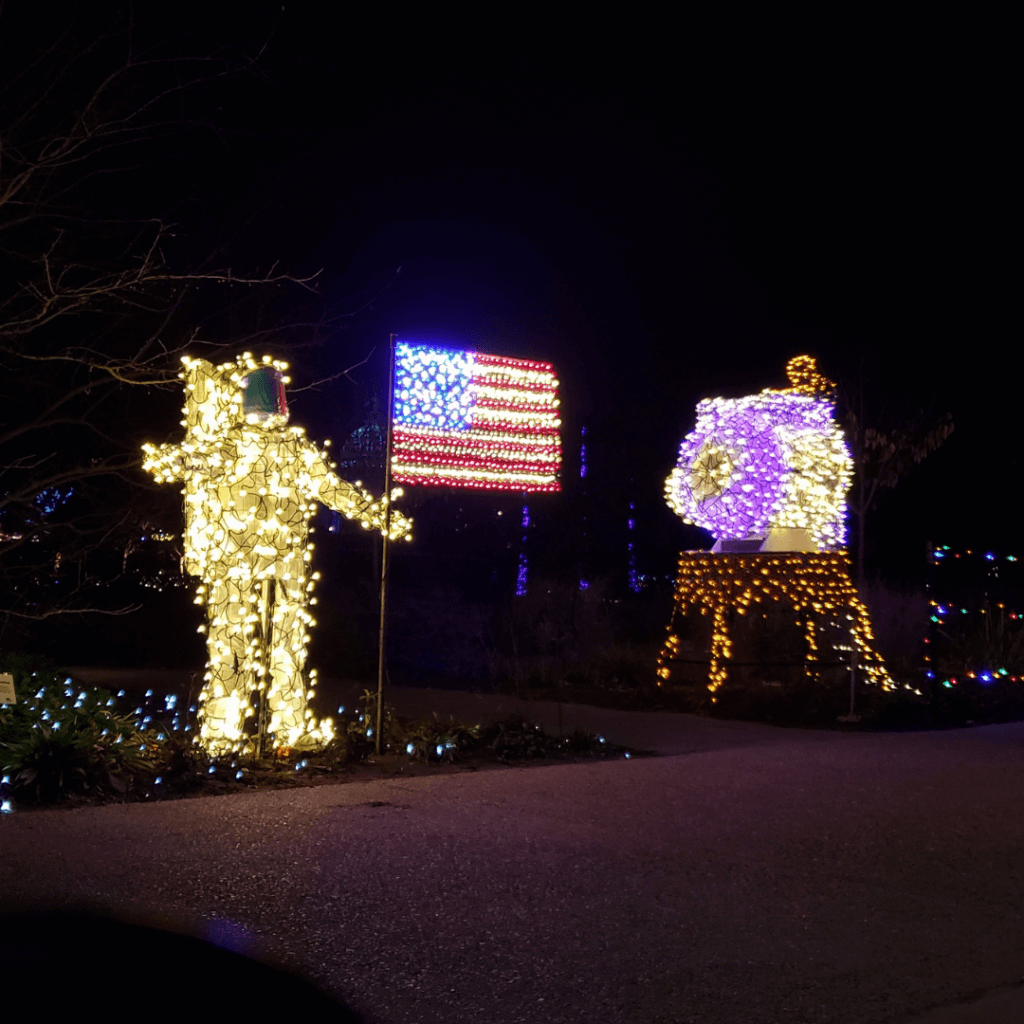 Throughout the evening of the preview, only a few others were walking around the garden at the time. It was a unique, magical experience. I stopped to pinch myself a few times to be sure it was real. Though 1 million lights are quite a spectacle, they have snowflake glasses available for purchase to put a festive spin on the evening! If you need a warm-up outside, they have Espresso A-Go-Go hot chocolate and smores available for purchase & the Kelleher warming fire to gather around.
If you are in or near Richmond over the winter holidays, the GardenFest of Lights should not be missed! Get your friends and family together for a magical night of lights and imagination! Last but not least, we must give a standing ovation to the hundreds of volunteers who work throughout the year to help make this happen!  Check the schedule for highlights and special event nights, including GardenFest for Fido and a New Years' Eve Family Frolic!
I highly suggest visiting this botanical garden anytime of year. Check out our visit from the Summer where we got to see life size LEGO creations here.  
The Dominion Energy GardenFest of Lights begins November 20th, 2023 and runs through January 7, 2024! Click here for more info: Rhythms of Nature