Moving across the country with kids (and a dog) is quite an endeavor. At just over 3,000 miles, we are striving to complete it in 9-10 days with 2 or 3 of those days with no driving. It will take extra care and consideration to survive the long drive without collectively losing our minds. 
Thankfully, my boys are used to going on long car rides. However, It will be the most distant road trip we have ever taken!
To make it easier, I prepared a list of survival tips for the whole family to utilize on the trip from Virginia to California. These tips will help for any long drive you are planning to take, whether it is a few hours, or a few days!  
If you aren't caught up, head over to Part 1 and Part 2 of this moving adventure!
5 Tips To Help Everyone Survive A Cross Country Road Trip
1. Involve the Whole Family in Logistics Conversations Ahead of Time
Sometimes, it is hard for kids (and adults) to fathom just how far 3,000 miles is. Preparing them ahead of time will help with expectations on the road. Hopefully, it can lessen the "are we there yet?!" conversations… but it probably won't 😉
In our instance, we will be stopping at a few familiar destinations by visiting family members on our route. Weaving in these faces and places along the way will give them something to look forward to and provide a mental break from dealing with so many unknowns. At 4 years old, Brooks will be less likely to understand but Asher (8) is starting to learn more about how time feels so it should be fun for him to experiment with on the drive.
2. Get Them Excited About Planned Stops Along Your Route
There will be plenty of places that we will be stopping that we aren't familiar with, so we look to Google Maps! We are going to sit down and look at town photos of our planned stops along the way. The kids can help find a park to stretch their legs and lunch options in each town! My kids get excited when they see something in real life that they have only seen in pictures. It is the perfect opportunity to build excitement instead of fear.
3. Have The Kids Help Pack & Make a "Favorites" Backpack & Bin
Once we reach our destination, we will not have a fixed address for the first few weeks. A majority of our belongings will be in storage for at least a month. It makes the packing process complex. The last thing we want to do is shove all the kids' favorite things in a storage container and give them weeks of no access to what will make them feel happy and comfortable in a new setting.
On even the smallest road trips, we make sure to give the kids a chance to put their favorite toys, books, and stuffed animals in a backpack to keep with them in the car. In this instance, we will also give them each a bin to put their favorite items in to have when we arrive at our destination. 
I will take this same approach with our clothing. I don't feel that we have an excessive amount of clothing. However, I will make sure they have a few of their favorite items easily accessible in the event that we need to put our extras in storage.
HEED THIS (SILLY) WARNING! After a few days on the road, the car tends to get a little wild and less organized. It kind of reminds me of the school drop off line, hoping nothing flies out of the car with Asher on his way out! DON'T park the car right next to a storm drain or it will suck those favorite items right out of existence with no chance of survival. Driving to New Mexico in 2017, we stopped in Hot Springs, Arkansas. After a long day of driving, Kyle goes to open the door to let Asher out and a storm drain swallowed Asher's cat ear muffs whole. It happened so fast, they didn't stand a chance.
4. Make A List of Must-Have's For Arrival
I hate to admit it, but must-haves are way different than favorites! These are the items that you need to survive living in a hotel or AirBnB for a month. We are talking toothbrushes, toothpaste, a ridiculous amount of underwear, clothing, phone chargers, tons of snacks, dog treats & food… you get the idea. I'll be working on this list until we leave so I will update you with how long it is closer to the date. You know I'll forget something, so if you have any ideas, comment below!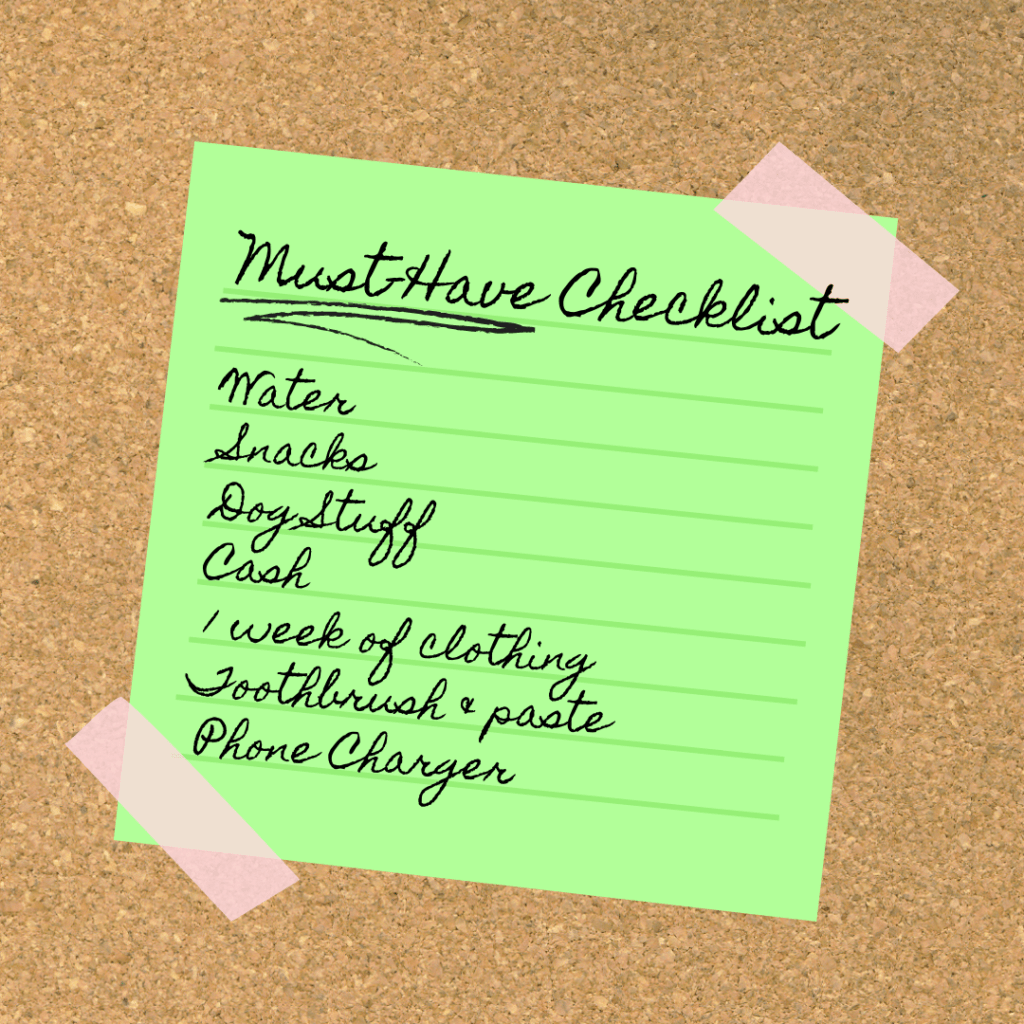 5. Snacks. You Can NEVER Have Too Many Snacks!
The heading speaks for itself. Snacks are a must-have that deserves it's own section and you can never have enough of them. Some of our favorites are peanuts, white cheddar popcorn, fig bars, and fruit snacks. If you go for the big bags of popcorn or anything similar, take a few paper cups along with you so that you can portion small servings for everyone. This will keep from passing the bag back and forth and having one of the kids flip it over and dump it out everywhere! 😉
Save these tips for the next time you are headed out for a long road trip! Be sure to follow our move on Instagram here.