Let's talk logistics! If you aren't caught up, head over to read the first part of "Moving Across The Country here. Now, we need to figure out how to move everything that we own, and ourselves, 3,000 miles away!
We have moved quite a few times in the past eight years. From VA to a few places in PA, to NJ to WV to VA, now to CA. Our destinations were close enough to use U-Haul with the help of some great friends, or Kyle's job would handle all of it. This time, we didn't get a physical relocation package, only monetary assistance. So I have to do real research this time to pick the right company to move our stuff.
For our belongings, below, you will see the basic quotes we received from PODS, U-Pack, and 1-800-Pack-Rat. Not shown, PODS has the most transparent line by line cost per move via quote. It was a bit harder to determine U-Packs storage cost. Seeing that the competitors were similar, I averaged U-Pack at the same cost. Pack-Rat seemed to be eager to price match which is always a good thing! As of now, one month till settlement, we still don't have a place to land. That makes it unclear how long we will need to utilize storage. It is easy to see how these quotes could jump a few hundred dollars.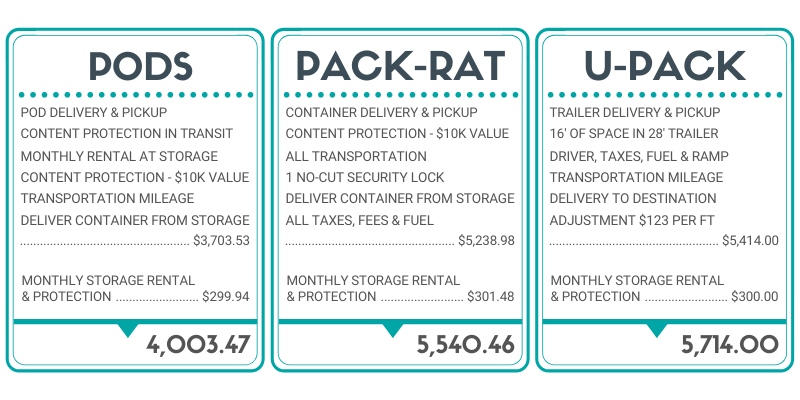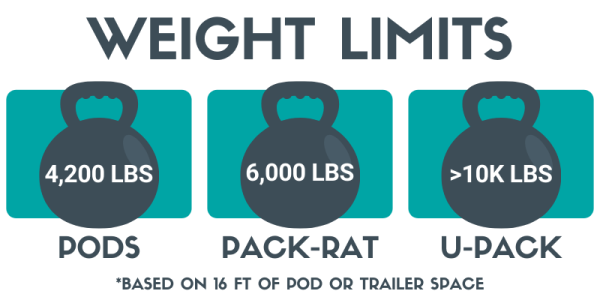 Based on the number of belongings we shed while preparing for this move, we are currently leaning towards PODS or Pack-Rat. Initially, we were concerned about the weight limit of 4,200 lbs. for a 16 foot POD. We are planning to tow an additional enclosed U-Haul trailer for things of value to us. We considered buying a trailer, but wading through all the scammers on Craigslist was getting old. Given our plethora of unknowns, we don't want to worry about storage for something so big and awkward thus, U-Haul it is. We have an extra 2,500 lbs. there which puts us at a little over 6,500 lbs to work with if we use PODS and 8,500 lbs if we use Pack-Rat. We have nixed U-Pack simply because we've huffed up and down ramps with heavy stuff too many times to ever want to go that route again. Now, with PODS and the extra fee of the U-Haul trailer, the total will be closer to Pack-Rat. Either way, we will utilize a U-Haul trailer to keep some of our important items with us instead of in a storage container that I can't keep track of!  I'll lay out more of those details when the time for action comes closer.
Check out the YouTube video that had us considering PODS!
UPDATE!! Kyle connected with a great guy named Gordon at Pack-Rat. He was very helpful and also matched the price very closely to PODS. So as of December 28, we are going with 1-800-Pack-Rat and have over 8,000 lbs. to work with now!
I'm no dummy. I knew when we got here and started unpacking, I couldn't get rid of all of the packing supplies. The tons of boxes, thousands of sheets of packing paper, even the tape, I kept ALL of it! Kyle wonders why I'm such a box hoarder, but need you really ask why?! Below are some of the top items that you absolutely need when moving. It took us far too many moves before we got a good set of shoulder straps. Besides that, you can never have too much paper, tape or stretchy plastic wrap for furniture.
I'm pretty excited to use the extra large storage bags. I'll let you know how they work out!
Now For The Fun Part... Road Trip!!
The most precious cargo is next on the list… us! We are planning to drive our 2006 Range Rover (Westminster!) from VA to CA. It is the only vehicle we will own by the time we get to California. We have done plenty of road trips in it and feel confident and comfortable in it for long-haul drives. Kyle is a master mechanic at heart and keeps our vehicles well maintained. We have a Honda CRV that we will be dropping off in SC at Kyle's dad's house to finish the first leg of the drive.
It's time to map the road trip! Previously, we planned to keep the house until Spring to avoid a cross country drive in the winter. Then have Kyle come back and get us. This method would put Asher, Brooks, Ozzie, and I in Virginia without Kyle for the better of 6 months. Kyle, Ozzie, and I have done this before without kids. When we transitioned out of Virginia the first time, Kyle moved back to Pennsylvania while I lived in VA with the dogs, pregnant with Asher. We visited each other as often as we could, definitely not the most fun I've ever had. It was peaceful and quiet though! Now that we have Asher and Brooks, I'd hate for them to only see Kyle a few times over those few months. As Ozzie is getting up there in age, I'd feel better if Kyle was around to assist him if he needs any help too.
Add a pandemic and everything gets more complicated. It puts a restraint on the discovery portion of the drive. I'm usually ok to fly by the seat of my pants, but between hotel capacities, bully breed-(un)friendliness (which is getting REALLY OLD), and dining options, I'd like to organize more of a plan for this trip. With some extra attention to detail, we will find some great destinations along the way!