Have you ever been up close and personal with an elk?… had a buffalo put his big head right in your car window or feed a Zebra? Just south of Lexington in Natural Bridge, Virginia lies a unique 180-acre safari park nestled in the Blue Ridge Mountains. This 180-acre property is comprised of a drive-thru safari, walk-thru village, gift shop and cafe. The Virginia Safari Park is a fun, exciting way to see wild animals and safely interact with them. It is a day-trip you most certainly won't forget!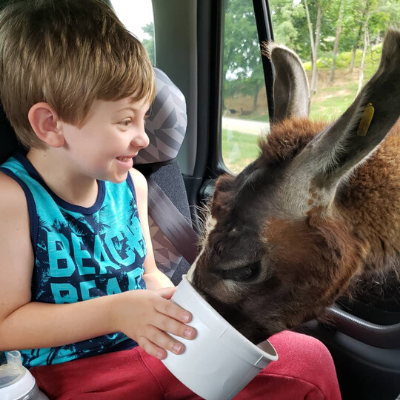 When you arrive at the park, you go through gates to purchase tickets. Each ticket is for the entire park regardless of what you decide to participate in and is based on the ages of all occupants in your vehicle. This is also where you purchase and receive the buckets of food to feed the animals.
You can either stay straight and go right into the drive-thru safari, or you can turn right or left for parking to visit the other attractions first. We are always excited to get into the drive-thru portion so we head straight for the entrance. There are employees there to keep the animals from crowding the beginning of the safari. The animals know the drill and will walk right up to your car looking for their snacks. Put your windows down and hold onto those buckets! The animals are strong (even the little ones!) and will push their heads into the buckets sometimes knocking them out of your hands.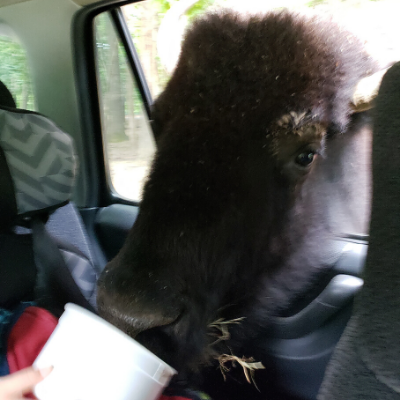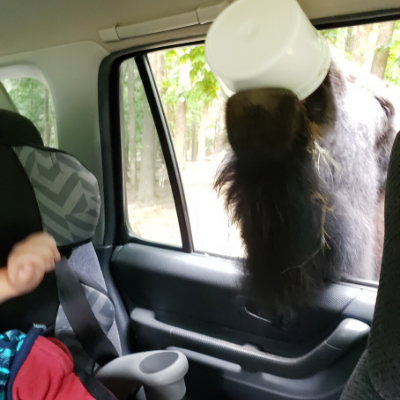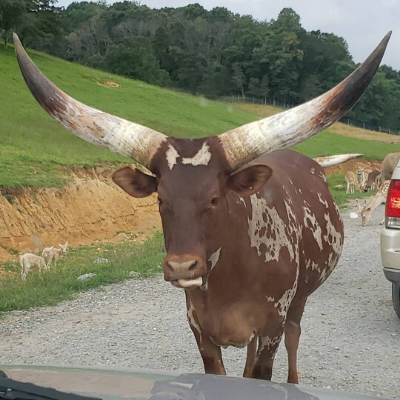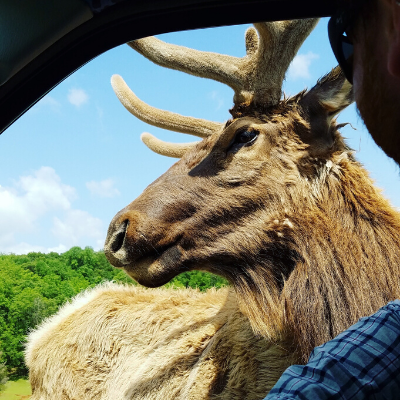 The drive-thru safari is approximately 3 miles long. Some vehicles like to spend longer with each animal, so you are allowed to carefully drive around other vehicles where it is safe to do so. There is plenty of space for everyone and hundreds of animals that are interested in your food buckets! Some of the animals will stop right in front of you or lean on your car a bit, so go slow and don't bring your fancy ride to this establishment if you plan on driving through yourself. They also have an option to ride a wagon for an additional $8/person if you would prefer to utilize that and it includes 1 bucket of food.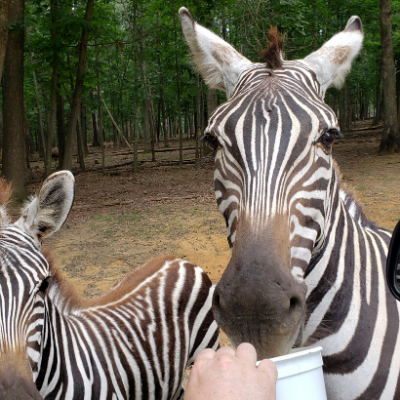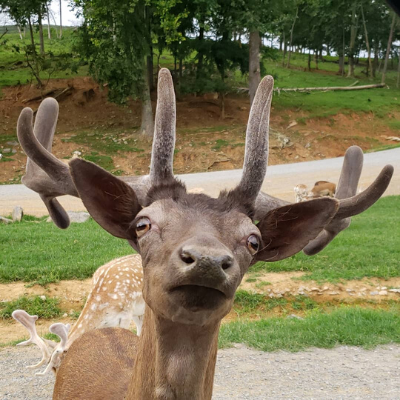 After you are done driving through the Safari, you can park your vehicle and walk through the rest of the village. This 10-acre area has a wonderful array of animals. You can feed a giraffe, pet the cute little goats, stroll through the aviary, or walk among kangaroos. You won't see me in the aviary, but it does look a like a lot of fun for everyone else, ha! Be sure to stop by the back corner of the village to say hello to the giant tortoise.

The experience of having these wild animals right in front of you, eating from your food bucket is impossible to describe. If you find yourself in the area or just passing through on Interstate 81 in Virginia, this is a must-see. The Virginia Safari Park opens for the season at the beginning of March. Start planning your trip now! If you are in the area, be sure to check out my list of Virginia's Natural Wonders including the nearby Natural Bridge State Park!
Virginia Safari Park Conservation Efforts:
Virginia Safari Park is a ZAA Accredited facility. We have a deep respect for wildlife and I feel it is important to share their conservation efforts with you. Here is a paragraph directly from their website regarding this:

"Virginia Safari Park is dedicated to wildlife conservation through public education, captive breeding programs, habitat preservation, and providing financial aid and assistance to projects in the wild. Virginia Safari Park is one of three zoological facilities operated by the Zoofari Parks Corporation, working in conjunction with the Gulf Breeze Zoo and the Alabama Safari Park to provide aid to over 25 countries around the world. Trying to solve the world's continually changing wildlife concerns, Virginia Safari Park collaborates with other zoos and field experts to support Rhinoceros and Elephant anti-poaching units, install artificial nest sites for wild Penguins, and translocate Giraffe across the Nile to boost sustainable genetics. Conservation is important not just for the species in foreign countries but also for many of our local animal friends. Our goal is to assist in the conservation of local and national species by giving them as much attention as we do to the larger, more well-known species. Virginia Safari Park is privately owned and receives no state or federal tax support. Funding for conservation programs is made possible through the continued support of zoo guests. Conservation is fundamental in our daily operations and visitors are encouraged to join us in making a difference on this journey."