The East Bay Regional Parks District is beautiful system of 73 parks in Alameda and Contra Costa Counties in the San Francisco Bay Area of Northern California. The parks are collectively comprised of over 125,000 acres, 1,250 miles of trails, and 55 miles of shoreline.
One of the first things we did when we got to California is look for new places to hike. It is our favorite thing to do as a family and we have been completely in awe of the beautiful, well-thought-out recreational space we have found here.
We have traversed quite a few parks already and will be adding more as often as possible! If you would like to see more photos of these hikes or get the first look at new ones, head over to Instagram or Facebook to follow along.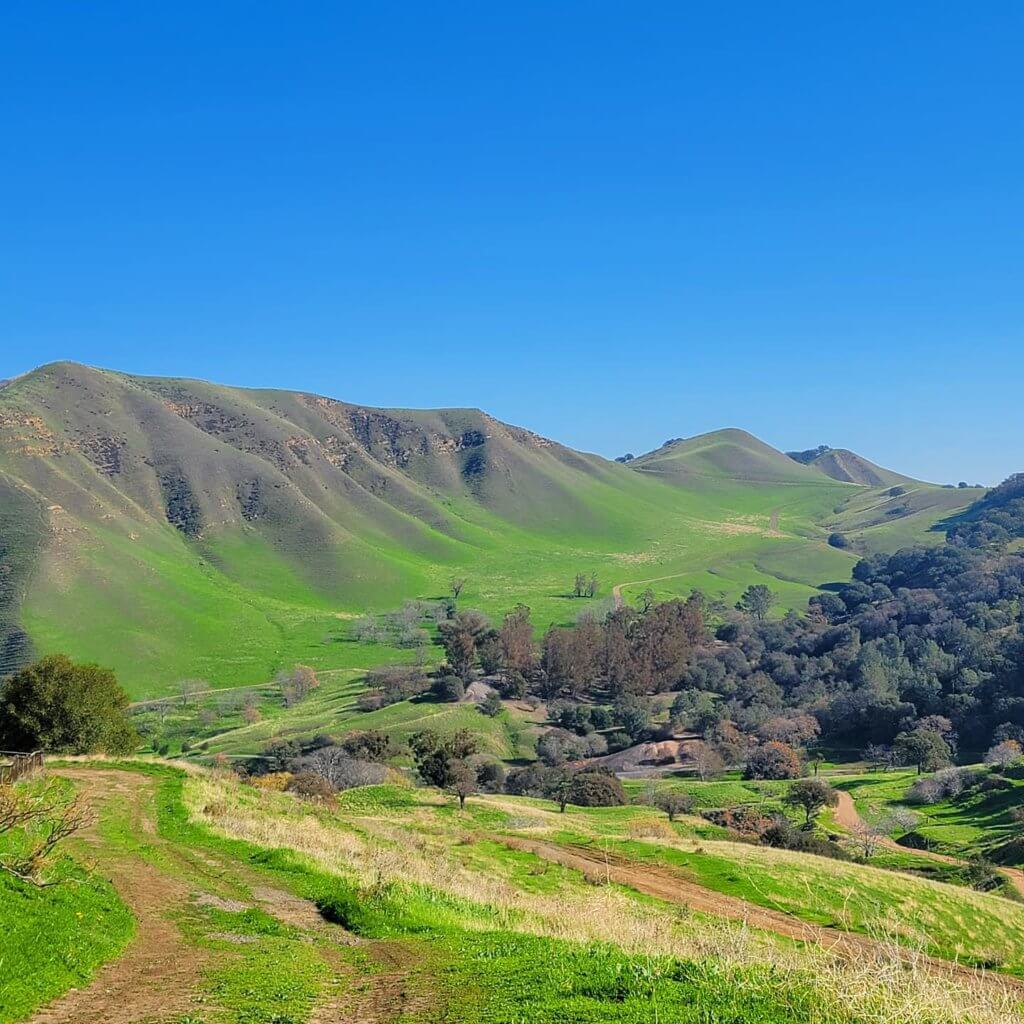 Black Diamond Mines Regional Preserve
Manhattan Canyon Trail ~2.2 miles
This trail can be either out and back or a lollipop that starts near the Greathouse Visitor Center. As you walk toward the large Rose Hill Cemetery, you take a left and begin your ascent. It is an exciting hike that takes you to the edge of the steep landscape in some spots with beautiful views. You will want to take one of the paper maps that they have at the trailhead with you, as it got a little bit confusing out where you have to make a few turns to continue in the correct direction!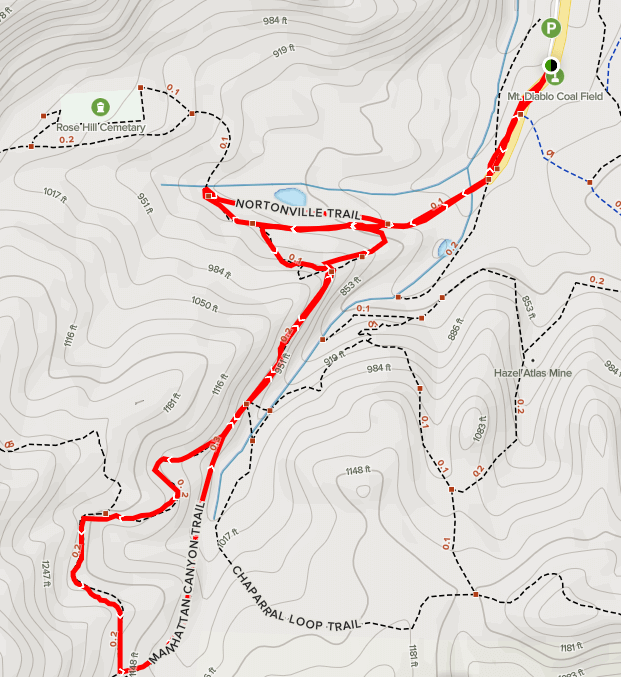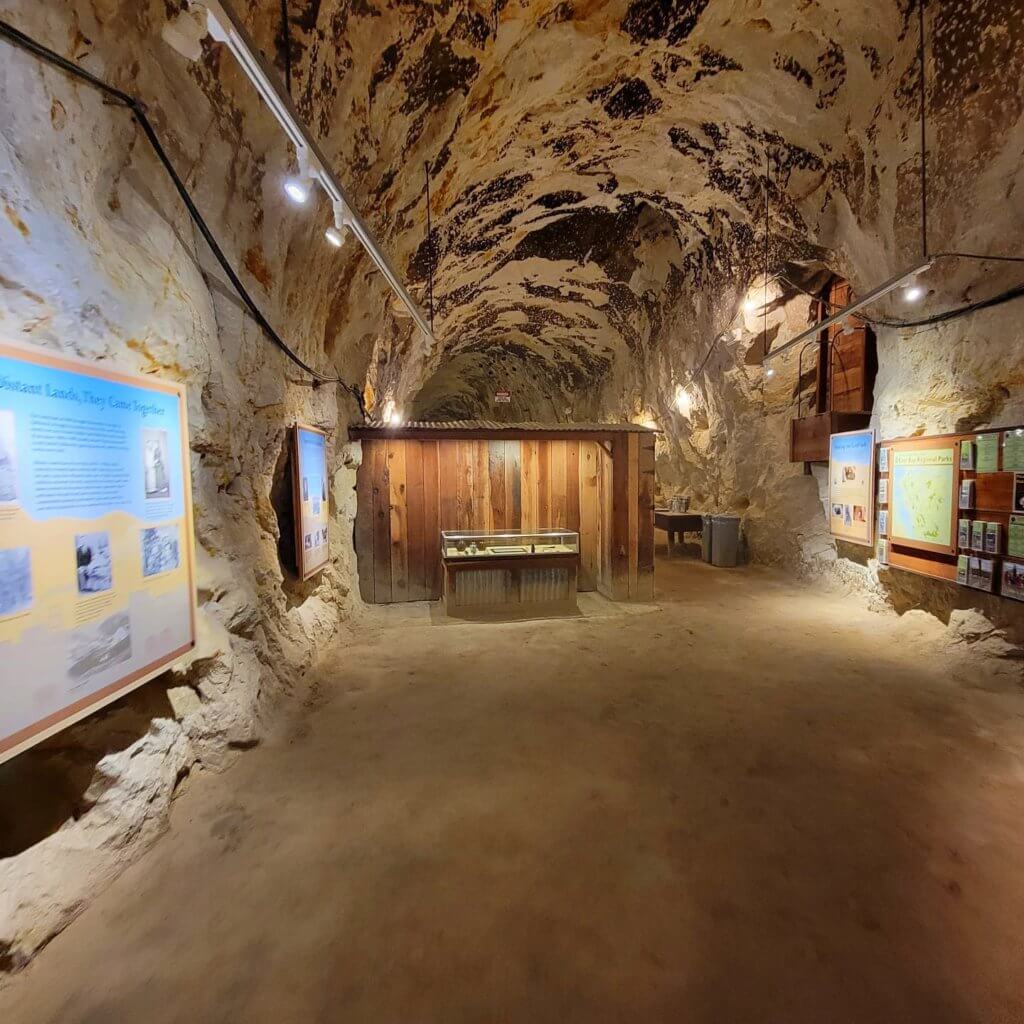 Black Diamond Mines Regional Preserve
Greathouse Visitor Center
The Greathouse Visitor Center is an underground chamber that was excavated in the 1920's. It has artifacts and displays showcasing the history of the area's coal and sand mining. There is a Hazel-Atlas Silica Mine Tour that lasts 1 hour and a Coal Mine Experience Tour that lasts 30 minutes. Each are guided tours and explore the fascinating history surrounding the inner workings and geology of each mining era.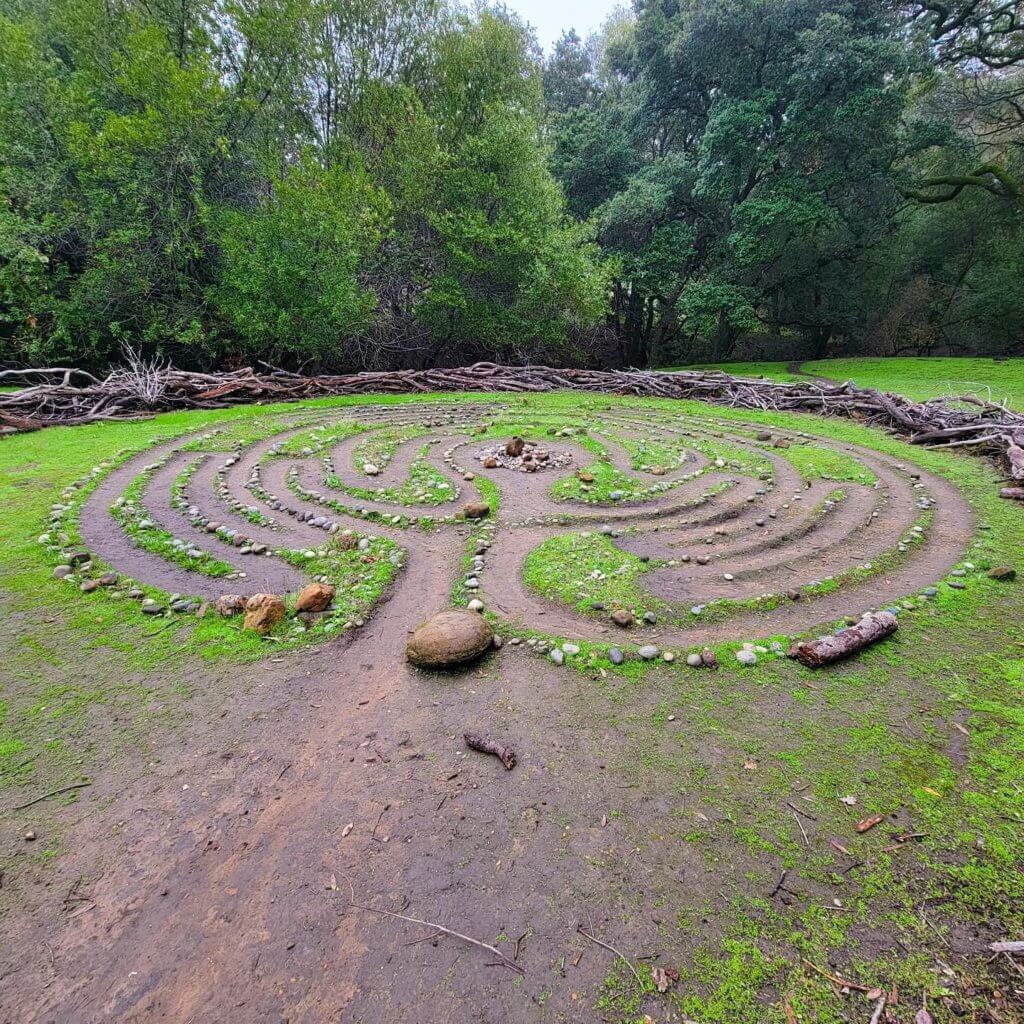 The walk to this Labyrinth is a quick step away from the Alhambra staging area parking lot. It is easy to miss if you didn't pay attention to the directions though (like we did)! You will start down the Alhambra Creek Trail with the hills to your right and the woods to your left. When you see the horse/cattle watering trough, turn left into the woods. Go straight across to the other side and it will open up into a meadow. If you look straight ahead, you'll see the Labyrinth!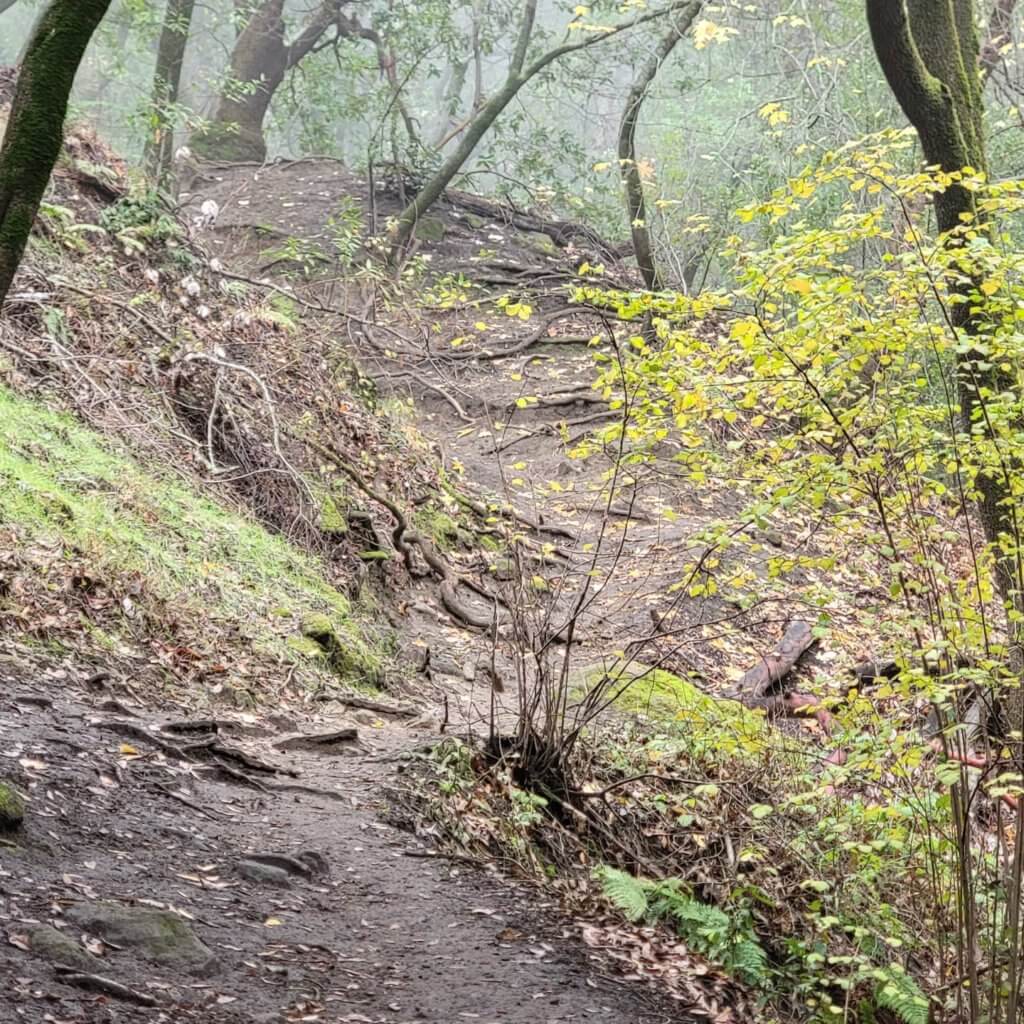 Alhambra Creek Trail ~2.4 miles
The day we finally visited Briones, there was a spooky ambience with all the fog. It was so cool (and muddy). This is another trail where you can go out and back, or you can form a loop by turning onto the Diablo View Trail. You can take the trail on either side of the creek, either through the woods or out on what looked like a fire road. We decided to take the trail through the woods, and at the end of the creek trail, turn back the same way on the fire road.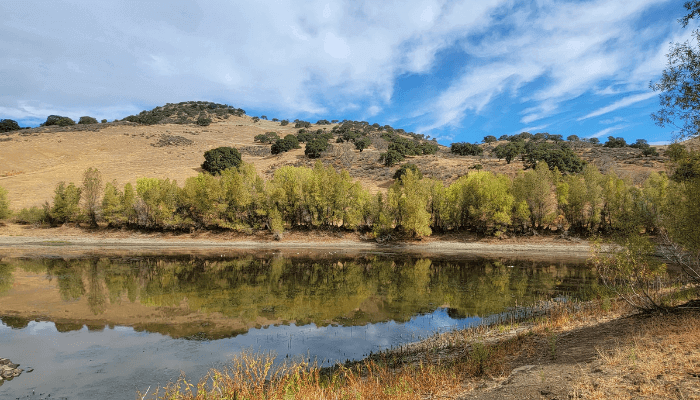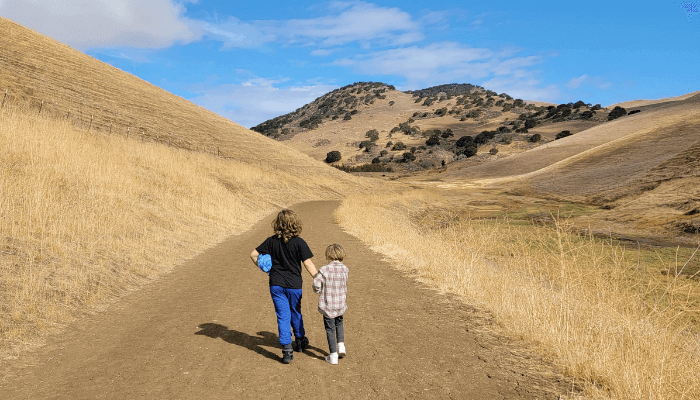 Brushy Peak Regional Preserve
West Side Loop Trail ~2.3 miles
From the Laughlin Ranch Staging Area, we crossed the road and started down the path on the West Side Loop. It was a little over 2 miles & had a few steep spots to warm up your calves. The view from the top was worth the effort! In the dryness of the season we were in when we hiked there, we were pleasantly surprised to find a pond. There are federally-protected species present including the California Red-Legged Frog & California Tiger Salamander. This is a great hike for kids as long as you keep them close at the top!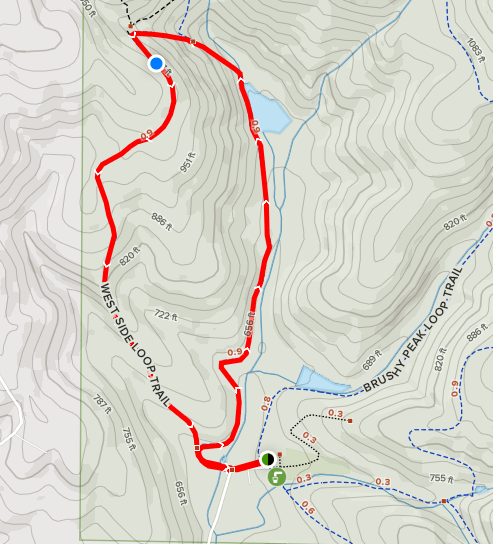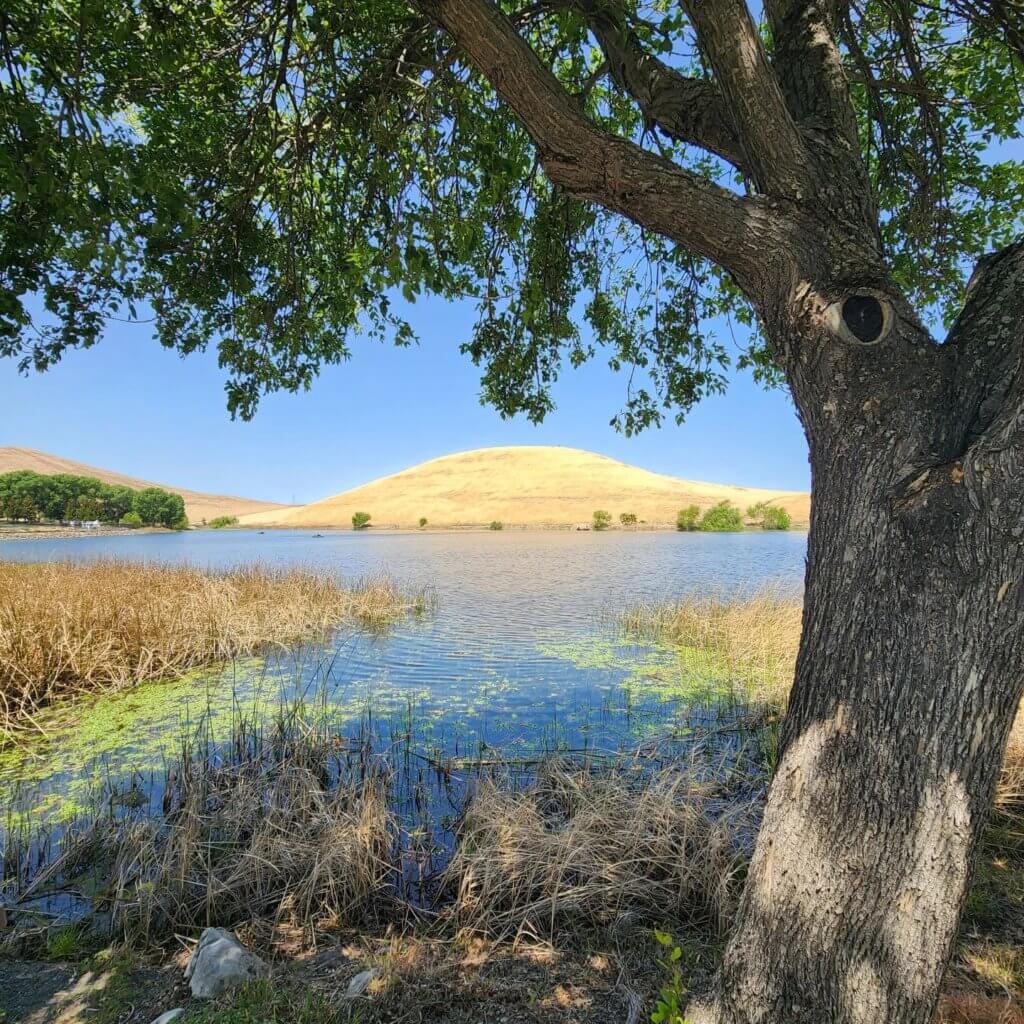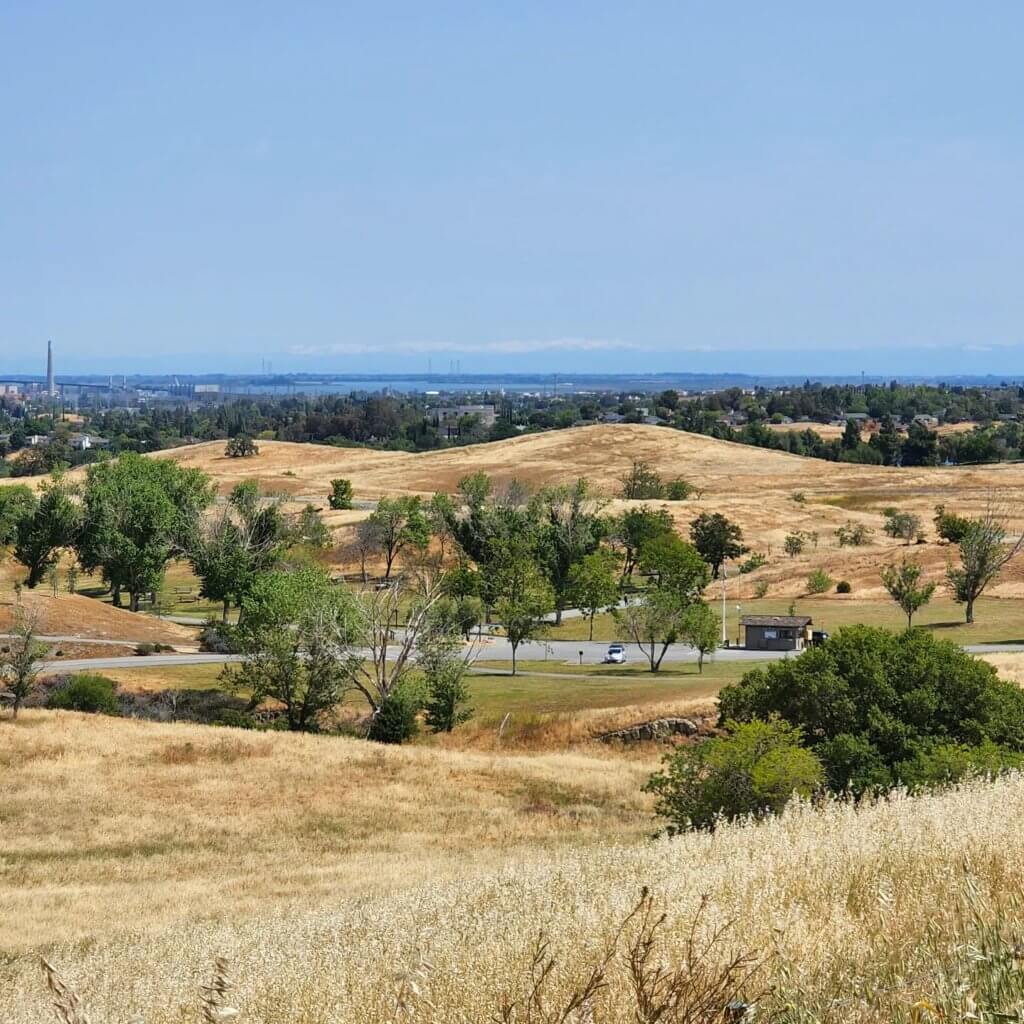 Contra Loma Regional Park
Lake View Trail to West Shore Loop
Contra Loma is a great place to spend the morning! There are plenty of picnic areas, fishing, hiking and a seasonal pool. There is a parking lot in between Contra Loma and Black Diamond Mines before you reach the entrance kiosk with about 40 or 50 parking spaces. If you head to the left, you can head into Black Diamond Mines on the Old Homestead Loop. If you head to the right up the Frederickson Trail, a path along side the road, you will come to a gate where you can head into the hills by way of the Lake View Trail. This trail takes you to the top, overlooking the reservoir. On a clear day you can see the snow capped mountains of the Sierra's. Head down to the reservoir for a picnic when you are done hiking!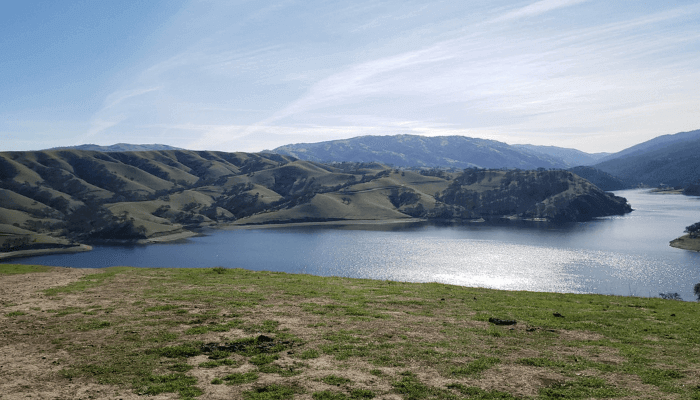 Eastern Shore Trail From Arroyo Road Staging Area
Del Valle is a mountain bikers heaven. Luckily, there is plenty of space for everyone else too! From the Arroyo Road Parking Area, we took the Eastern Shore Trail. There are a lot of bike and horse paths that you can walk along, and plenty of space to share with others, so it is not pertinent that you stay on trail in this area of the park.  The initial climb was a doozy but well worth the view overlooking the Lake.
We have only spent time hiking at Del Valle. You can camp, boat, and fish there as well. Depending on a few factors, there is also swimming and kayaking during certain times of year. When you are done with your outdoor activities, head to downtown Livermore for lunch or one the area's numerous wineries for top rated local wines!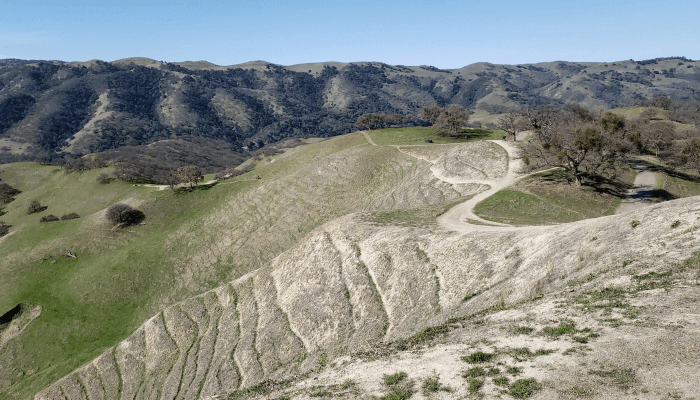 This trail can be accessed from the side of Del Valle Road. There is a large shoulder on either side of the road where all the cars park. It puts you into the same network of trails in Del Valle Regional Park but much further from the lake than the Eastern Shore Trail. There are an endless number of routes you can take through Del Valle to make it fun for everyone. Cows are clustered around the area so be sure to read up on the signs that tell you how to carefully coexist with them out on the trails.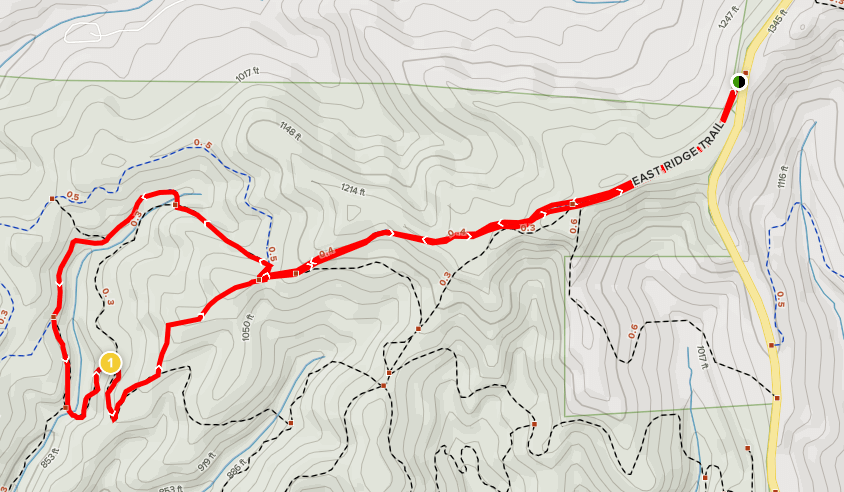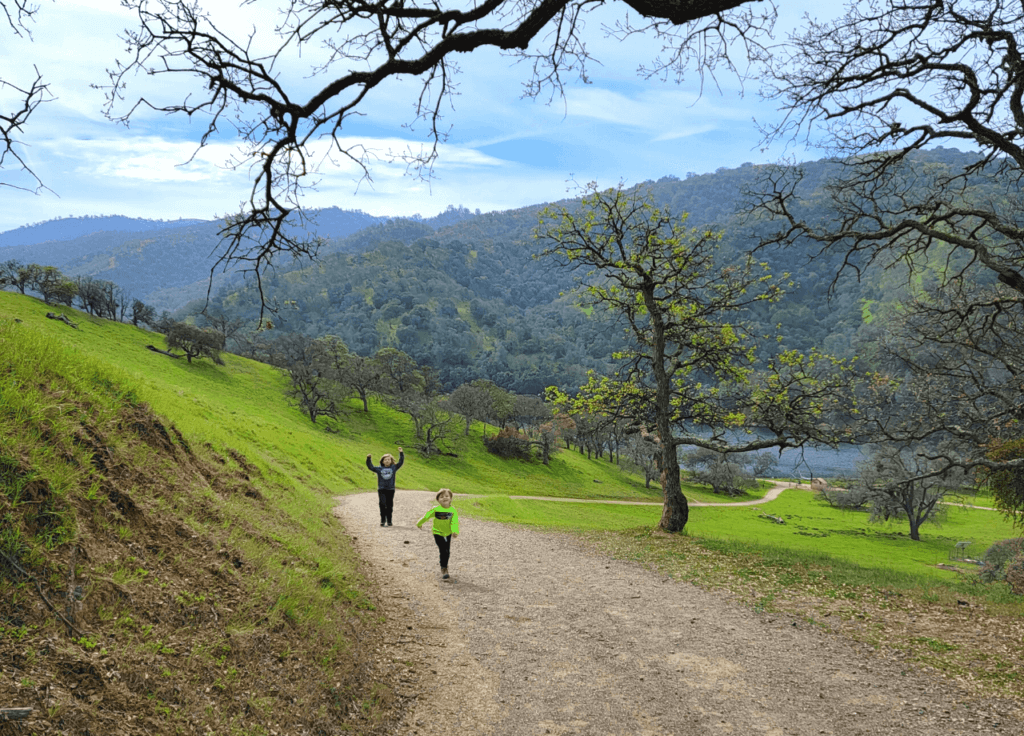 East Shore Trail to Hetch Hetchy to Ridgeline to Squirrel Gulch Trail
This loop is very eclectic! It has something for everyone. We started by taking the East Shore trail by the water, then headed up the hill on Hetch Hetchy. You make your way to the top onto Ridgeline Trail to see beautiful views from all around. You won't see the lake right away but small portions of it will come into view eventually. The Squirrel Gulch Trail is extremely steep, quite possibly the steepest trail I've been on. It would not be ideal for small children. My 5 year old did it on his own but stayed to the side and went very slowly. This full loop was 4.5 miles. You can take a few different routes in this area of Del Valle to alter the mileage or skip the steep spots!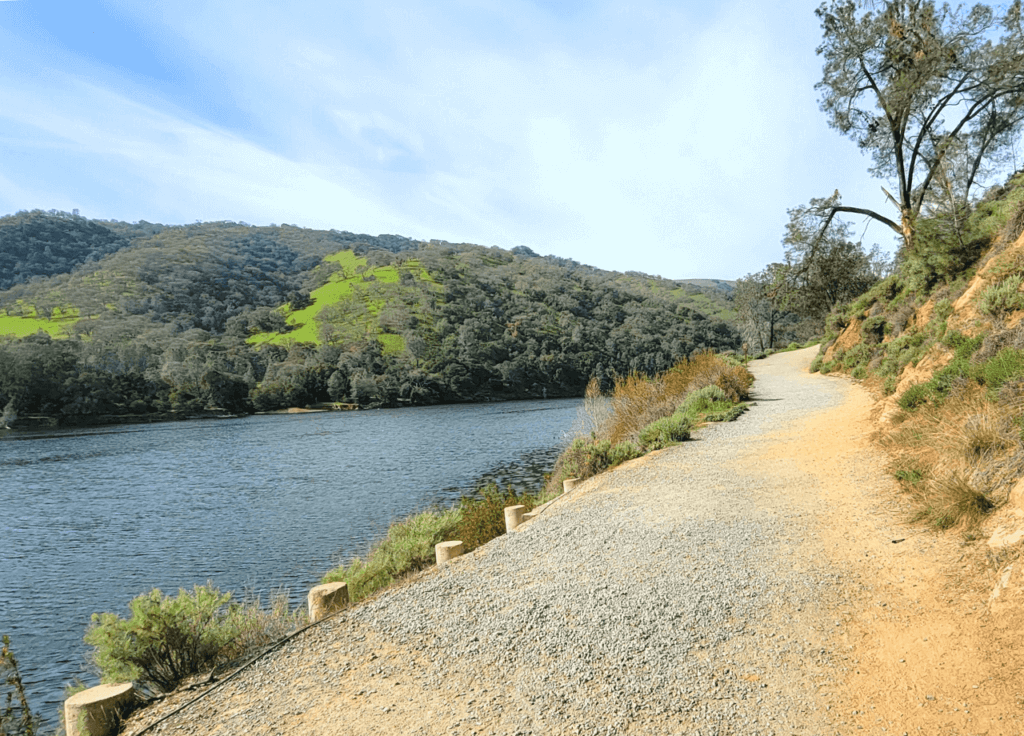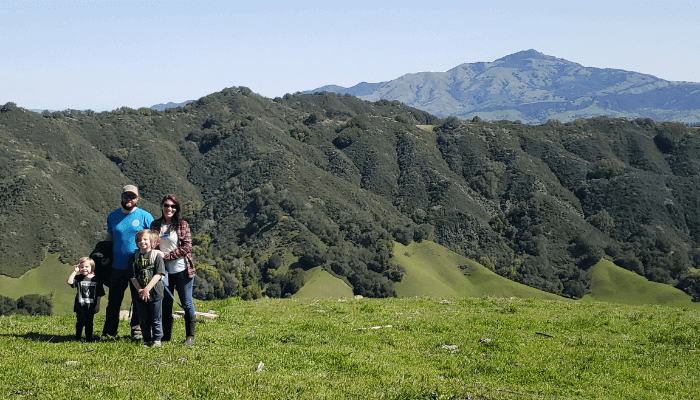 Las Trampas Regional Wilderness Park
From the Las Trampas Parking Lot at the end of Bollinger Canyon Road, you can head right through the cattle gates and start your ascent. This trail is more like a road for a large portion of the trail. There are a few spots where you can hop off the main path and into the woods. After your leg burning walk up, the view is phenomenal! You can continue Rocky Ridge View Trail up onto the Ridge View Loop going either direction to make the hike longer or turn around and head back down the hill.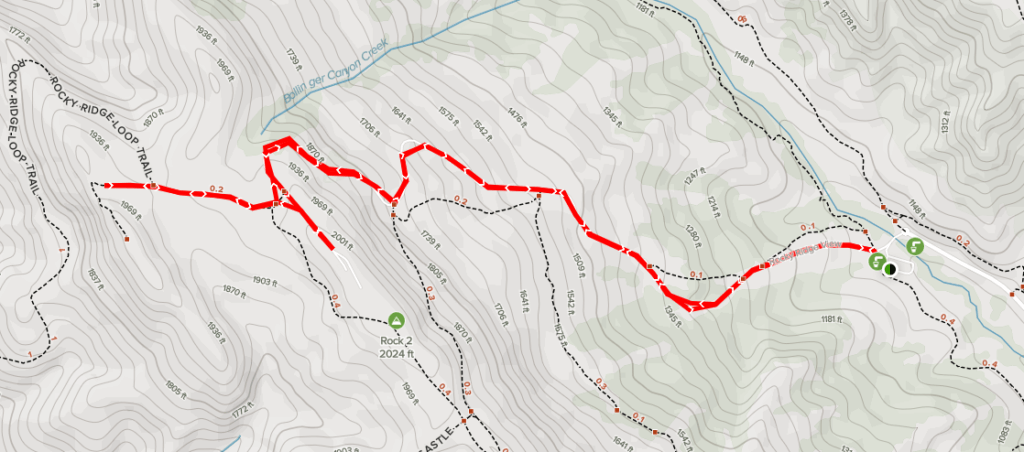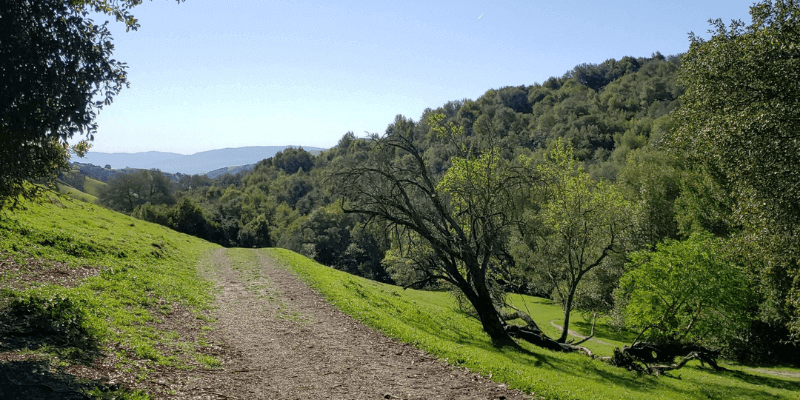 Las Trampas Regional Wilderness Park
Bollinger Creek Loop Trail ~2 miles

Access to this trail is a short walk away from the parking lot. It begins right where the road ends and turns into the parking lot. Instead of doing the entire loop on the map, we took turned left and took the little short cut that takes you through the woods. and turned left again to follow the trail back through the woods to the parking lot. The kids loved this one. Check out the video below to see why!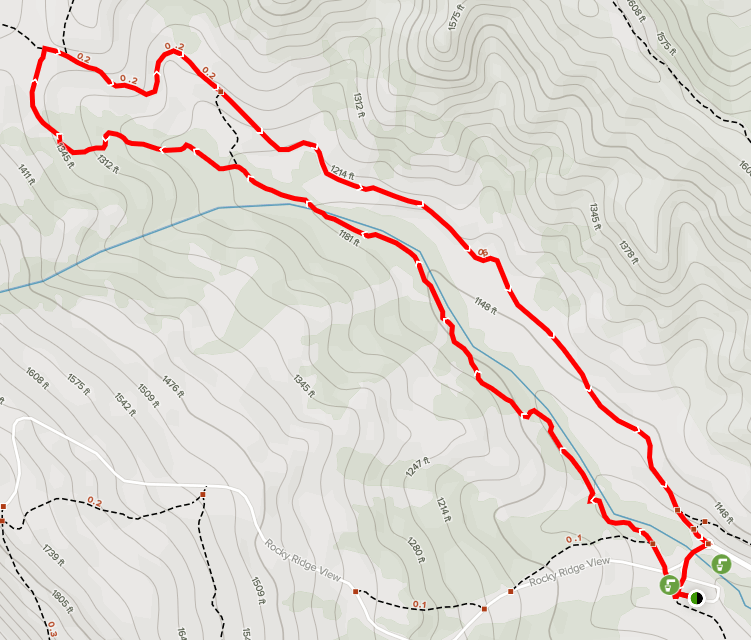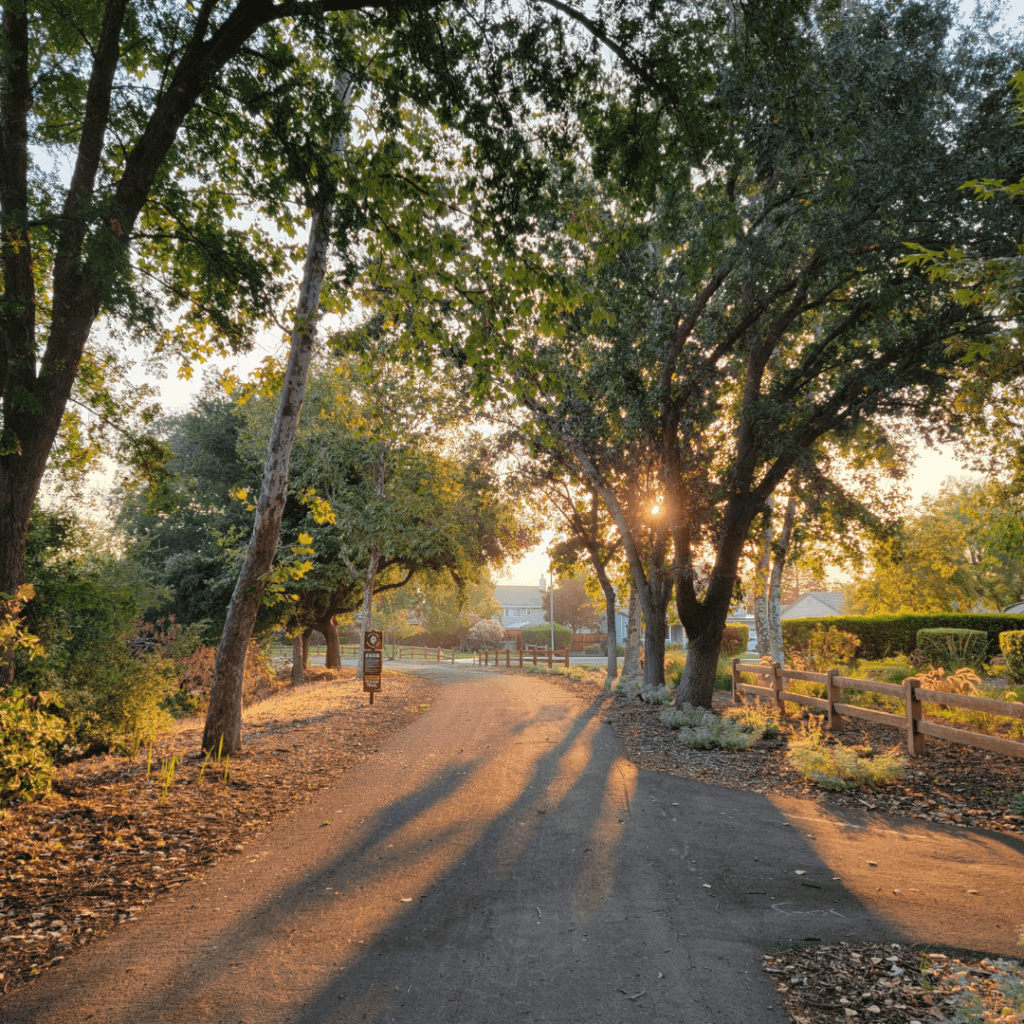 Marsh Creek Regional Trail
Central Blvd to Creekside Park
We take a small portion of southern most section of this trail nearly everyday! The whole trail runs from the bottom of Brentwood to the shores of Oakley. It is paved and passes through Creekside Park for the kids to stop and play. We have not discovered the Mid and Northern sections of this trail yet but I'm sure it is just a nice!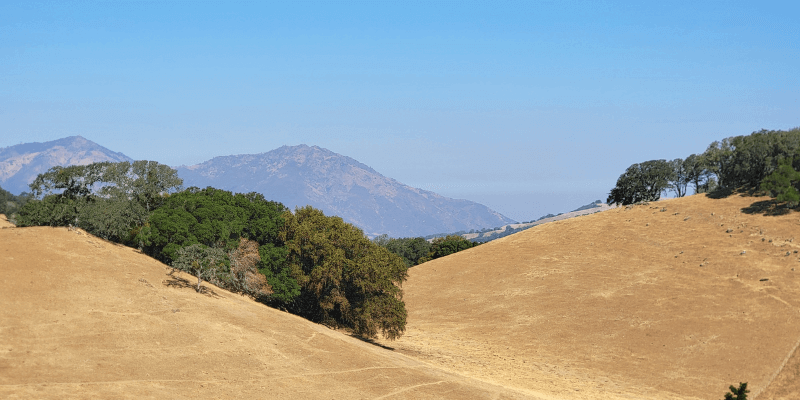 Morgan Territory Regional Preserve
Volvon to Blue Oak to Volvon to Condor Trail
This trail is great for letting the kids run! There was plenty of wide open space with  very minimal shade trees, as you can see in the photos. I would not suggest going here on a super hot day. We did a slightly smaller loop than the map shown. There is a beautiful view of Mount Diablo! The drive to Morgan Territory Road Staging Area is just as exciting as the hike! Fill up your water, grab a map and enjoy this beautiful, desolate trail system!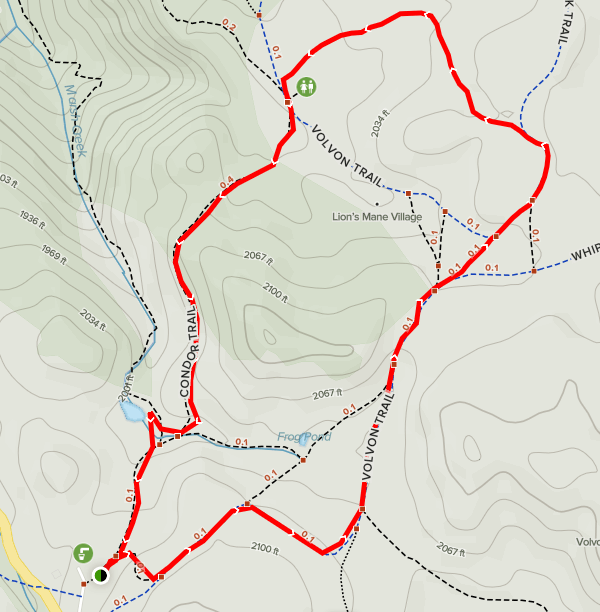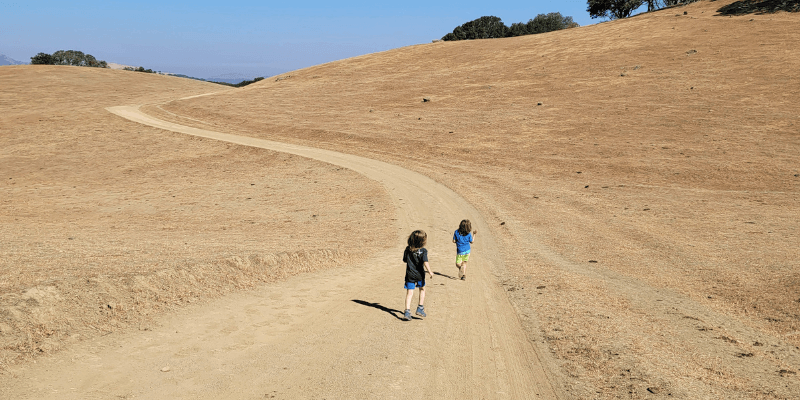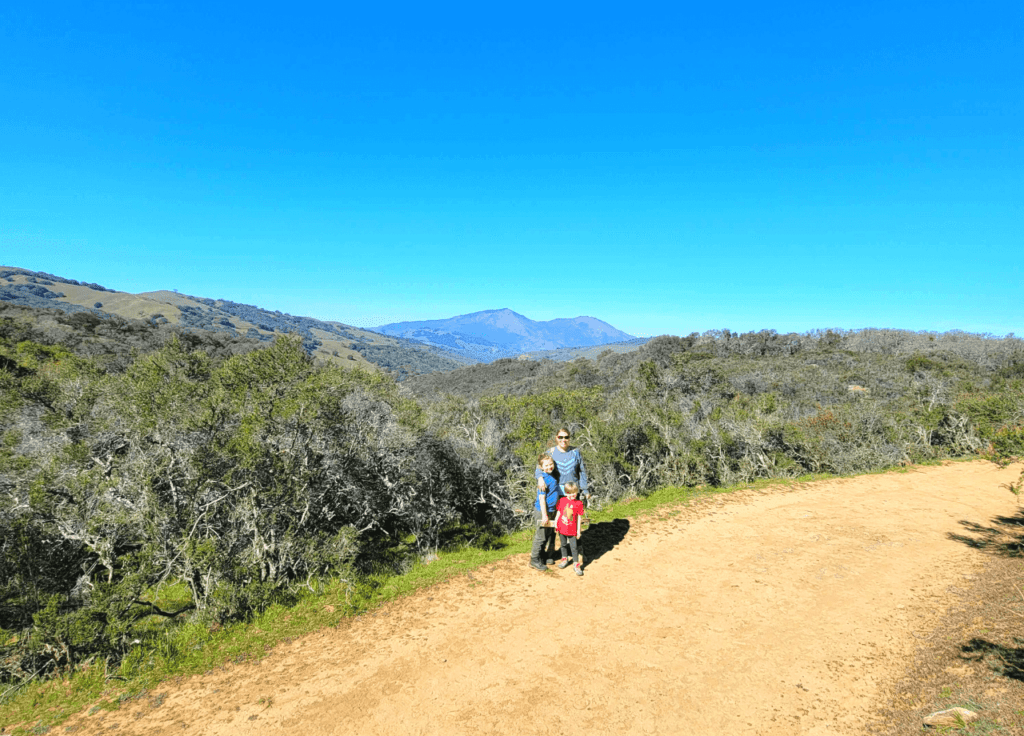 Morgan Territory Regional Preserve
Condor to Volvon to Stone Corral to Coyote Trail • 5 miles
This feels like a completely different place in the Winter/Spring when the landscape is green! The drive to Morgan Territory is equally as exciting as the hikes are. Previously, we only gone North out of the parking lot toward Brentwood/Antioch. This time we drove down to Livermore to see what the road was like heading out that way. It is absolutely gorgeous but also single lane for a long time. There are plenty of areas to move over or squeeze through but take your time and you'll be good to go. 
We did a big a 5 big mile loop that gave us incredible views of Mt Diablo on a few occasions. It also had quite a variety of terrain. The later portion of the Coyote trail gets very steep and has a few drop offs where you'll want to hang on to the kids hands. If we do this hike again, we will do it backwards. It felt like we ventured through so many different worlds all on one hike, simply amazing. Also, cows… keep your distance and watch where you step!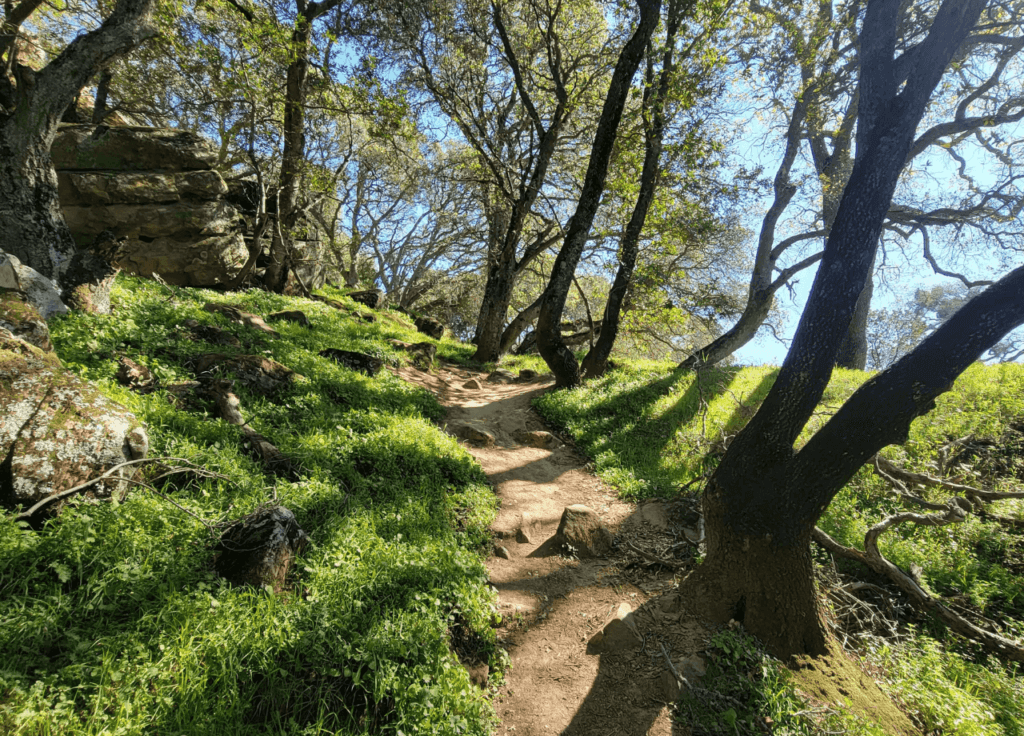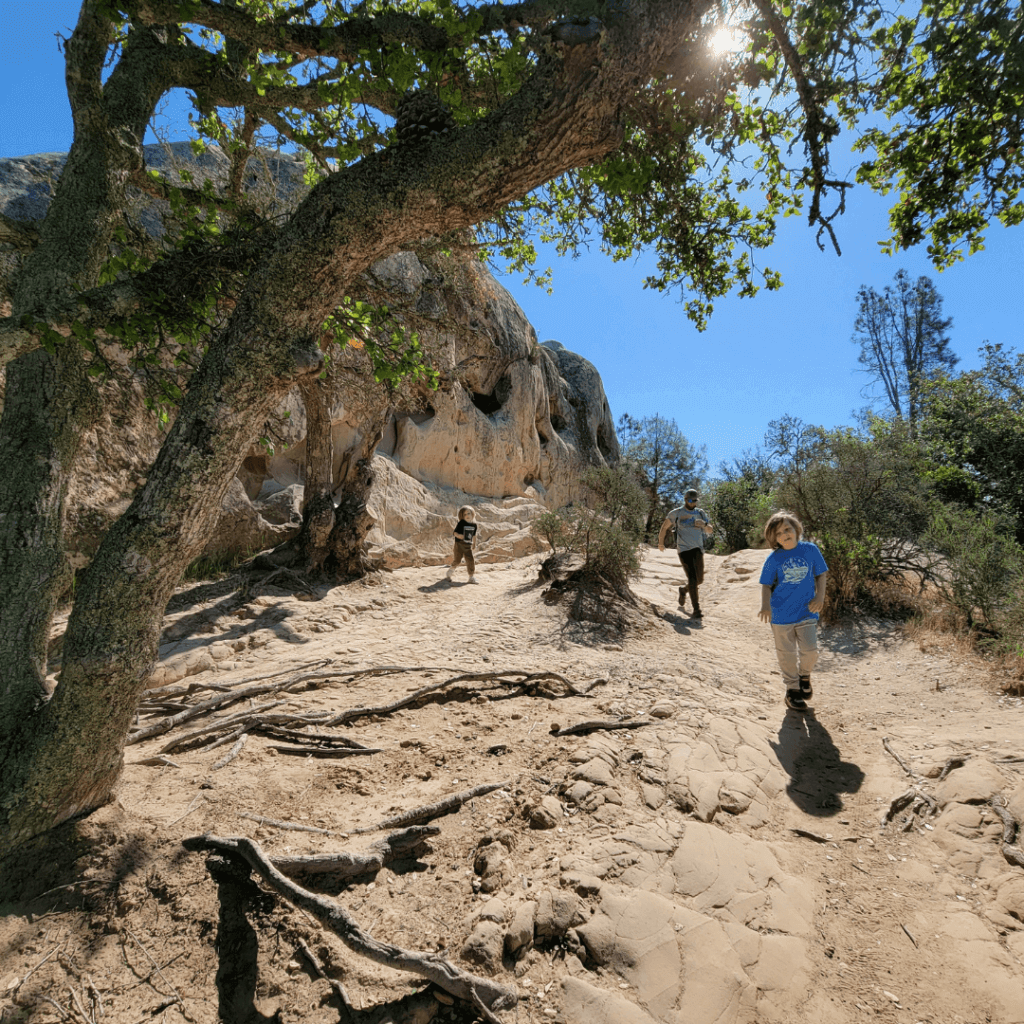 Mt Diablo is a State Park and not part of the East Bay Regional Park System but I had to include it because it's awesome and right in the middle anyway! Rock City is an awesome place for kids. The Rock City, Wind Caves & Sentinel Rock is technically a loop but there are a lot of places to stop off and check out, or meander off trail so I'd keep a map with you for this one. It is pretty simple but we weren't quite sure what to do the first time we were there and could have used a little more guidance than we armed ourselves with. It is a super fun place to walk, picnic or just hang out and look at the wind caves! If you have friends or family visiting, this is a great place to show them!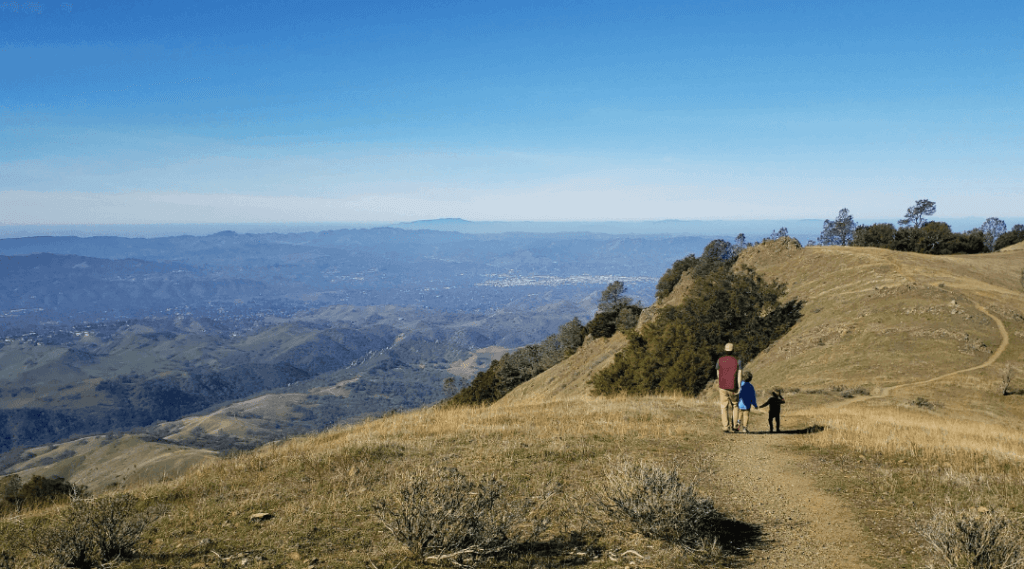 Juniper Trail to Moss Rock Ridge
I need to confirm some details about this hike but I can confirm we were on the Juniper Trail to start. I believe turned left to head out to Moss Rock Ridge. I'll double check before adding anything else about this amazing hike!!!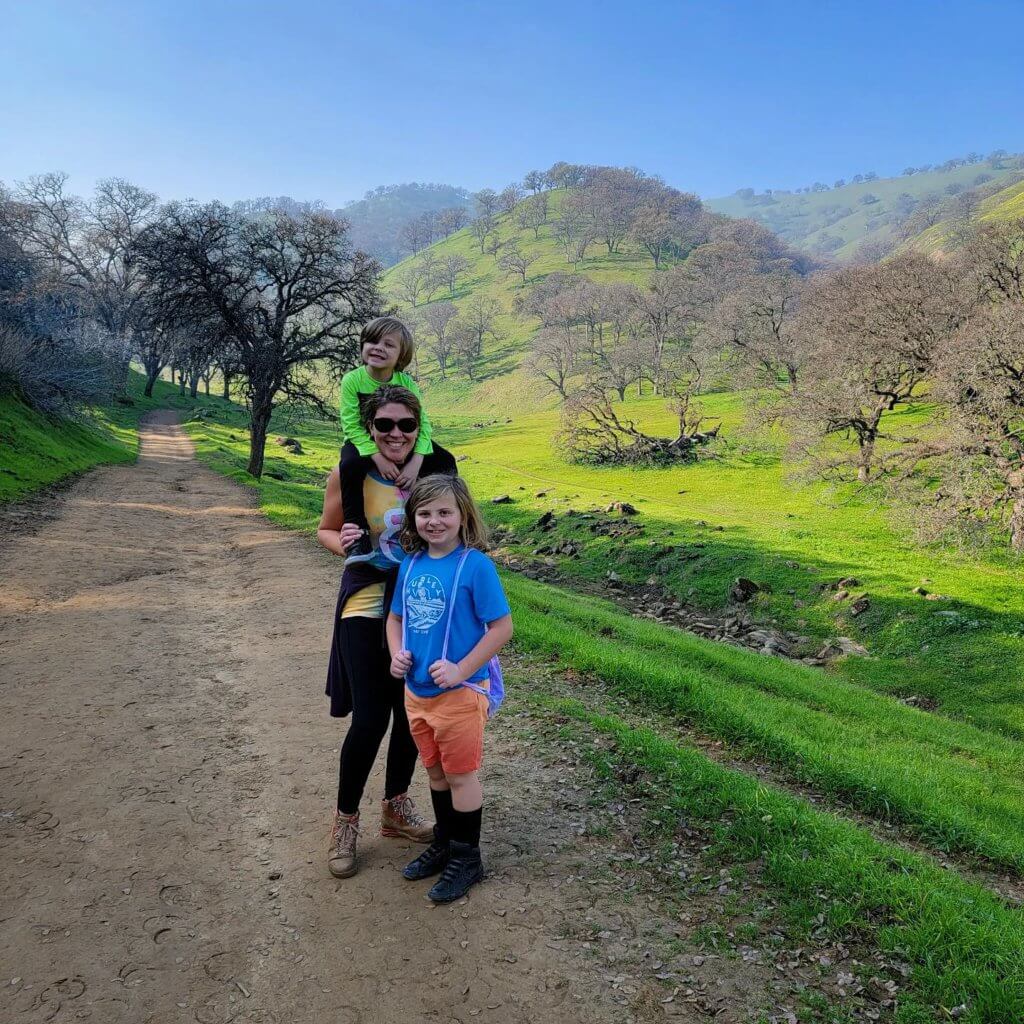 Round Valley Regional Preserve
The Miwok Trail will make you feel like you've stepped into a fairy tale. There are a few options you could choose with this trail. You can take it about 1.6 miles to meet the Hardy Canyon Trail and do a 5 mile loop back to the parking lot, or you can continue a few more miles and link up with the Adobe Trail.  The portion of the trail that we walked was about 1.6 miles out and then we turned around and back the same way. 
The second time we did the Miwok Trail, we venture further out toward Murphy Meadow Trail. It is absolutely beautiful out there! (See Photo Below)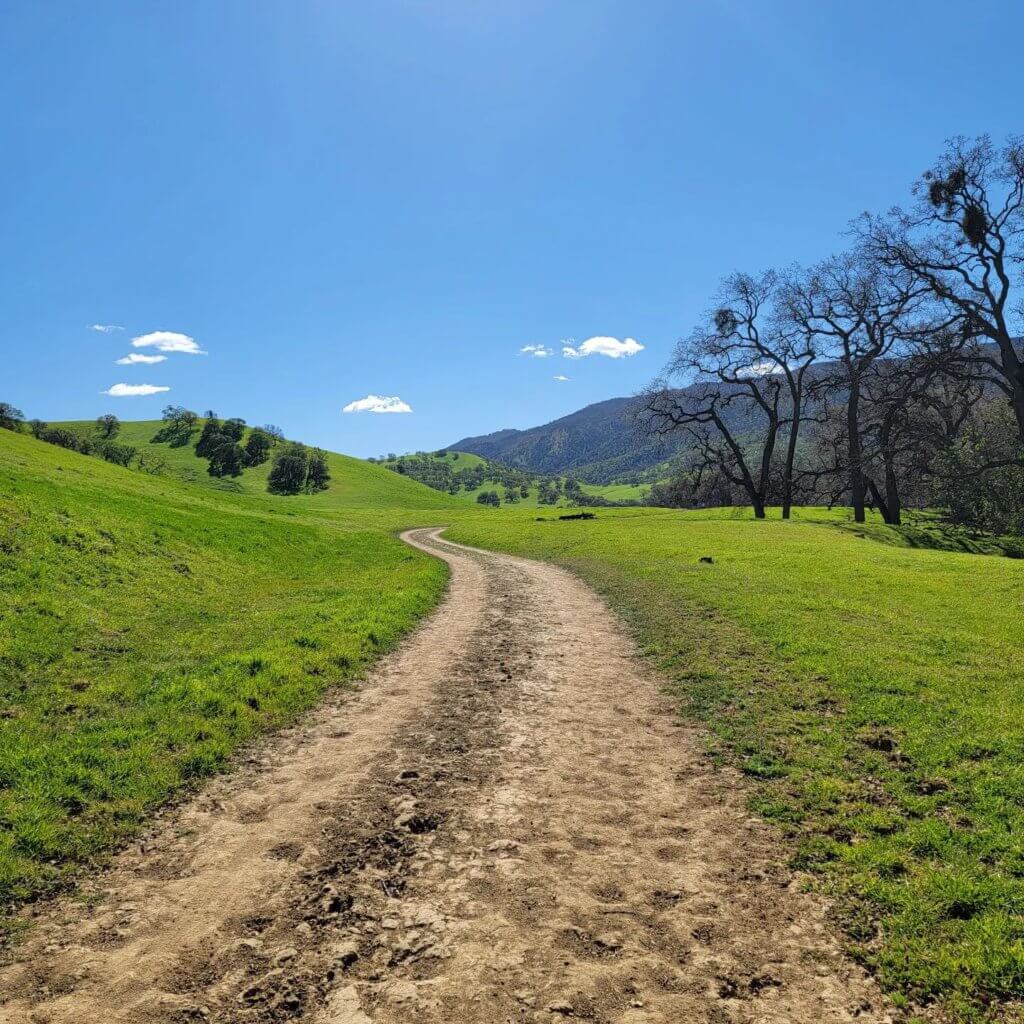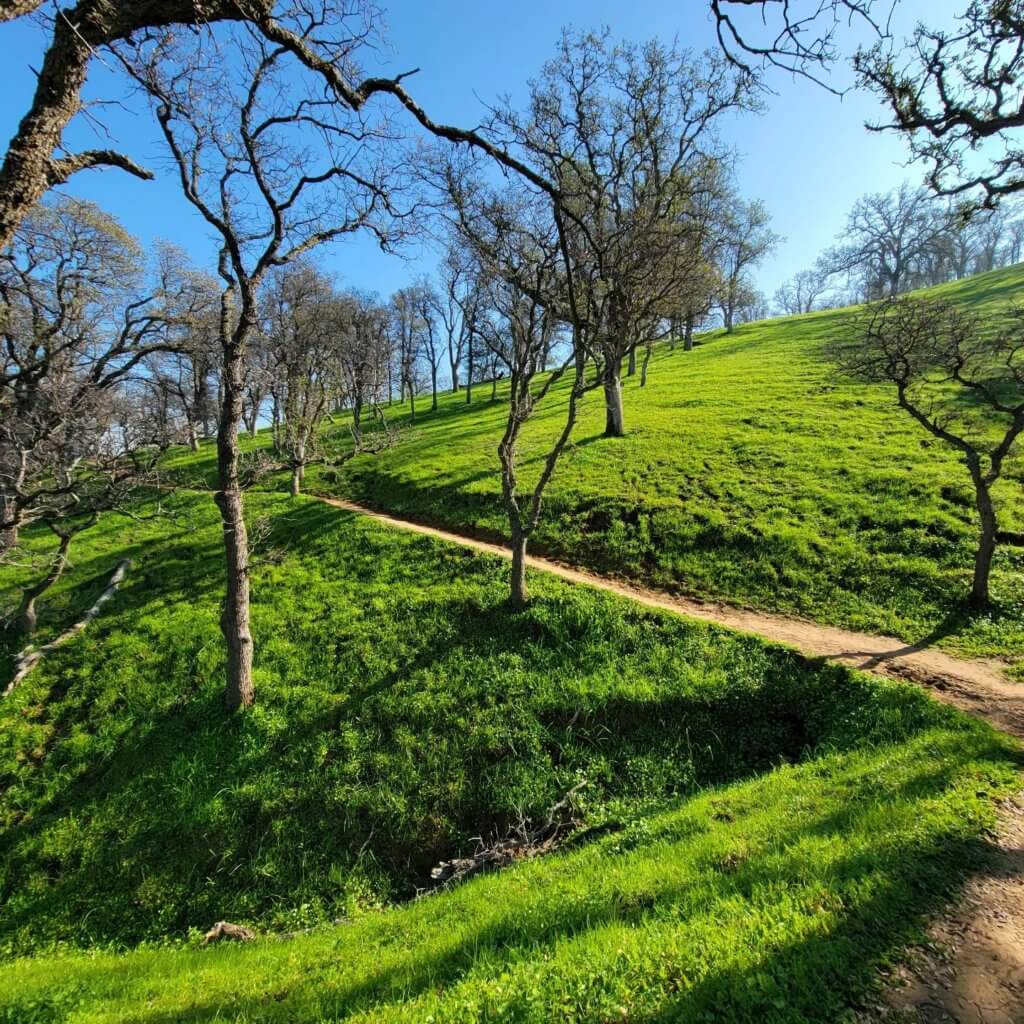 Round Valley Regional Preserve
From the parking lot, right after you cross the bridge, turn left down past the creek. Once you emerge from the creek and tree line, you'll follow the edge of a wide open field. A small incline up to and you'll head into the woods. This is a really neat hike with some great hills for a good workout. I'd eventually like to do the entire loop to include both Hardy Canyon Trail and the Miwok Trail.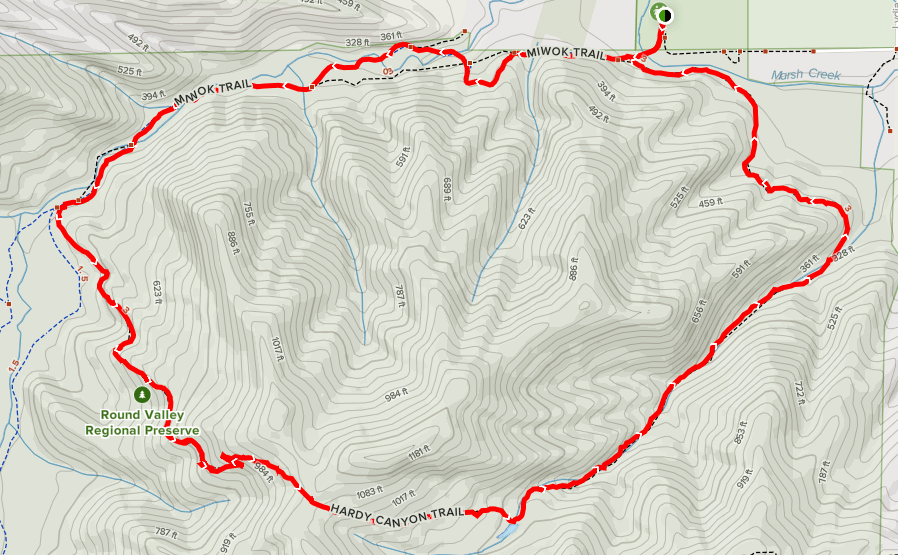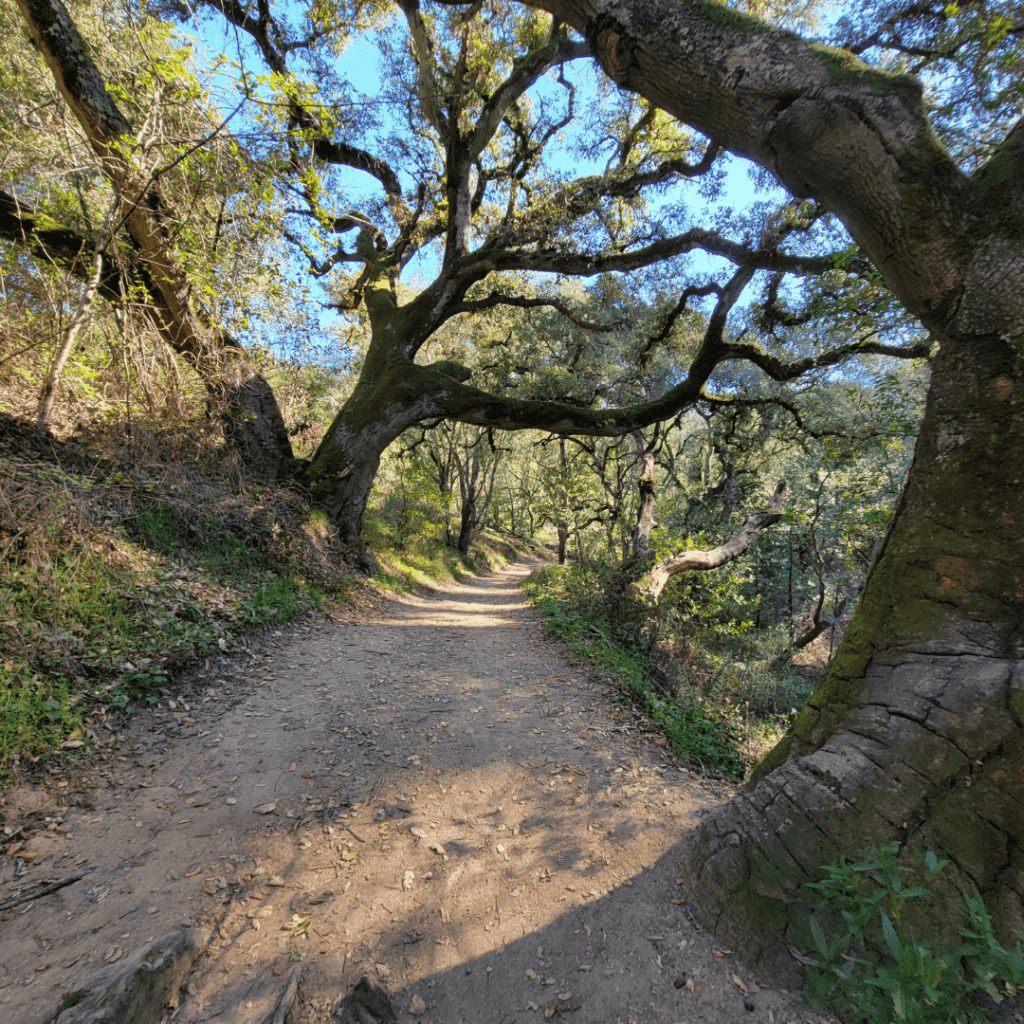 Sibley Volcanic Regional Preserve
Skyline Trail, Volcanic Trail, Quarry Road Loop ~4 miles
Can you believe this is in the hills right outside of Berkeley and Oakland?! It is made up of lava and volcanic debris from a 10-million-year-old volcano. The tectonic forces on two earthquake faults uplifted the hills and tilted the Round Top Volcano on it's side.
The 4-mile loop that we hiked had diverse landscapes from start to finish. We started and finished in the woods, hiked high on the hills for beautiful views, and made our way down a quarry road. This is a great choice for kids who show interest in geology! The Volcanic Trail has a self-guided geological tour with informative markers.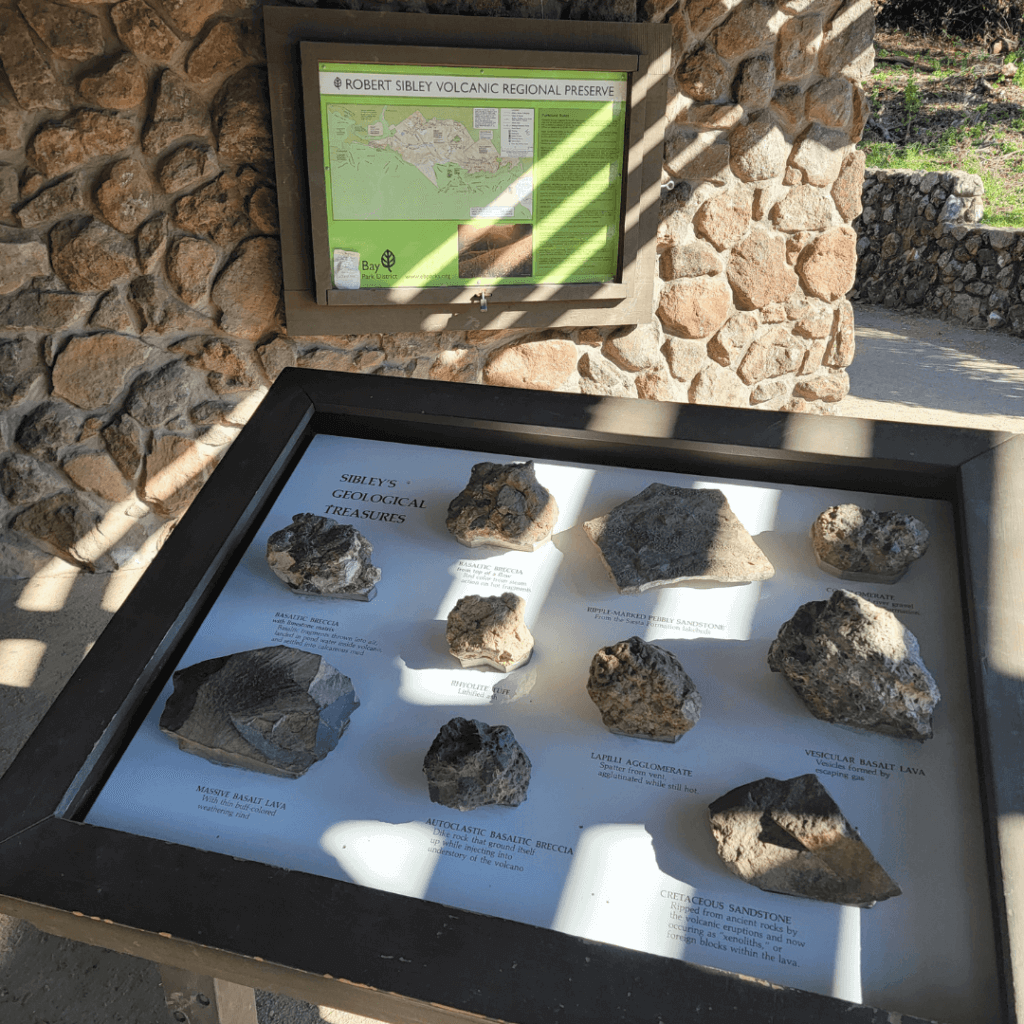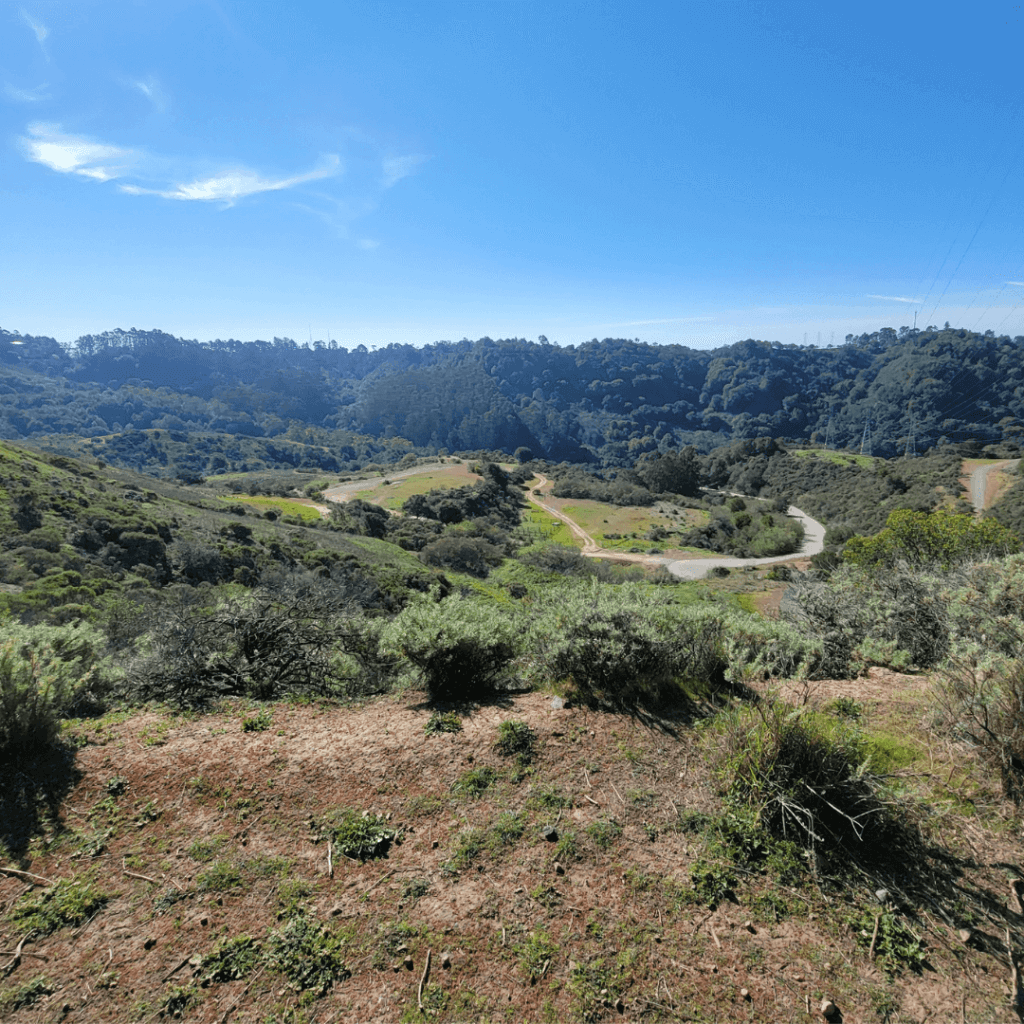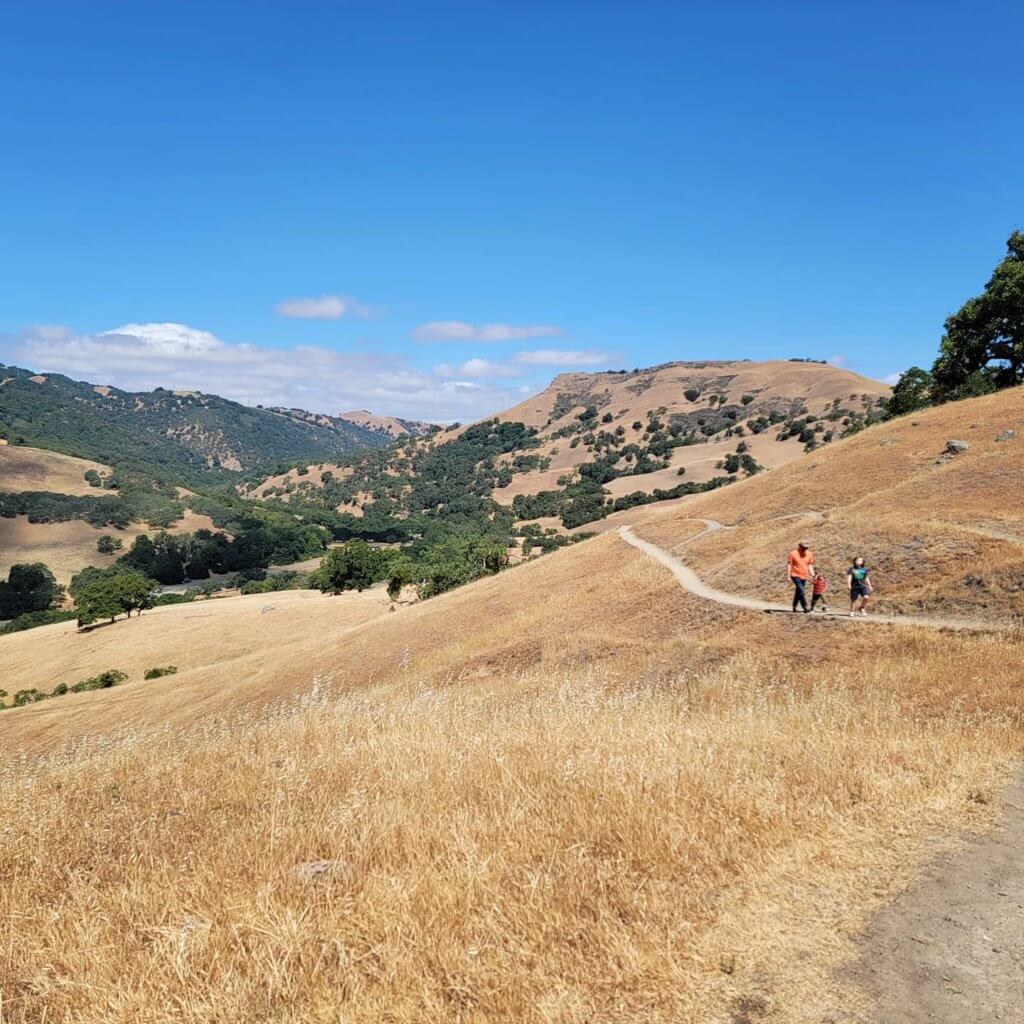 Sunol/Ohlone Regional Wilderness
Canyon View Trail to Little Yosemite ~3 miles
Little Yosemite is one of those unique treats that you can access in a few different ways. This is a popular destination so if you prefer a lesser crowd, then a morning weekday trip might be best for you. There are quite a few parking areas on Geary Road. We picked the furthest away from Little Yosemite right at the Canyon View Trailhead. We headed straight to Little Yosemite and decided to take Camp Ohlone Road back. I don't have the exact mileage but it was somewhere around 3 miles. If you would like to make this much shorter, you can park closer and take the fire road. That is about a 2-mile out and back, so 1 each way.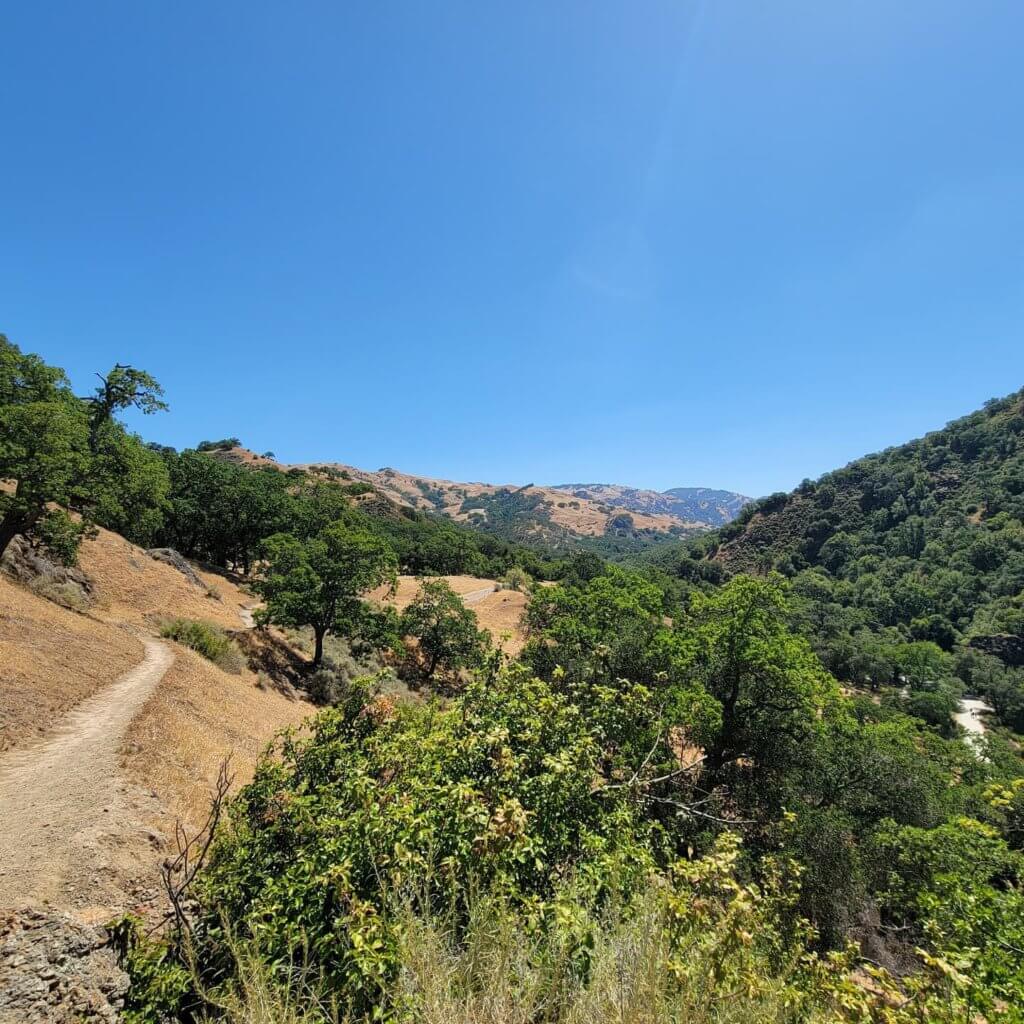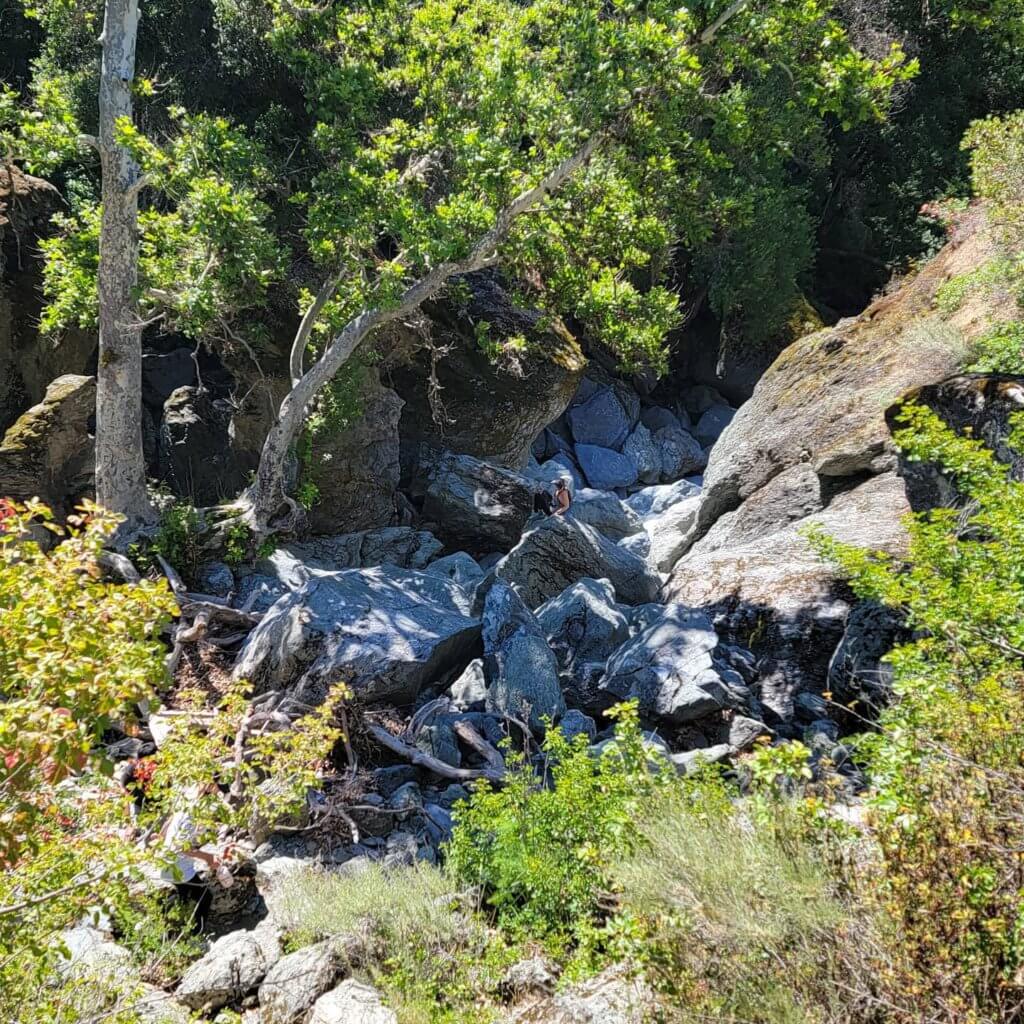 Thank you so much for checking out our ever-growing list of great family hikes in the Bay Area. We are really looking forward to more. If there are any trails you have questions about, please don't hesitate to ask! If I don't know the answer, I can find it for you. See you on the trail!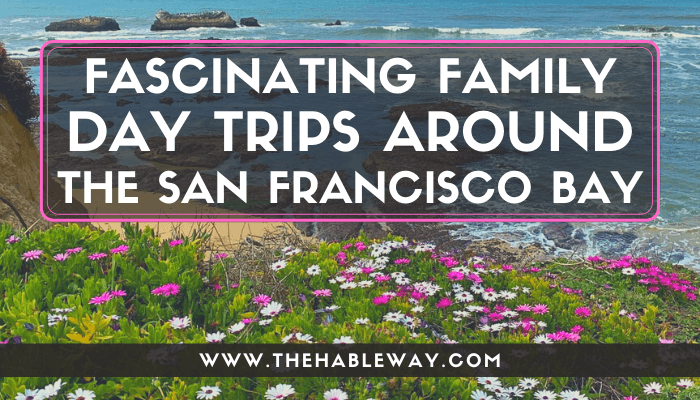 Fascinating family day trips around the Bay Area are easy to come by if you know where to begin! 2021 was the first year that
Read More »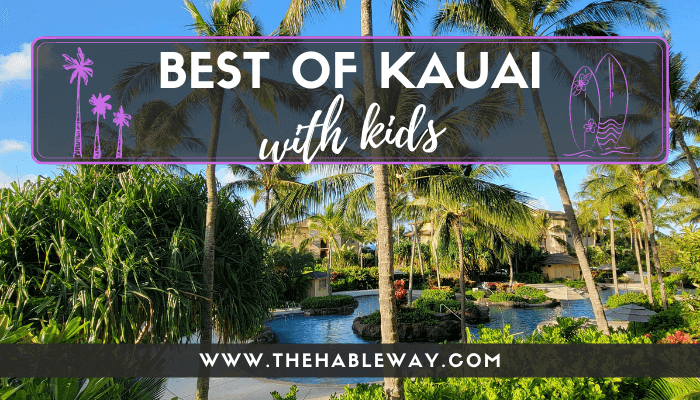 Planning a trip to Hawaii this year?Click here to head straight to the deal that can give you up to 40% off participating resorts!! *
Read More »