For a long time, I had been dreaming of a way to revisit the Hawaiian Islands and take my kids for their first visit! I knew they were going to love it as much as I do. So we planned a trip to celebrate our 15-year anniversary that was on August 4, 2021! We picked Kauai simply because Kyle and I had never been there before. In 2007, we had our wedding ceremony (on our 1-year anniversary) on the North Shore of Oahu and we went spent a week in Maui for a honeymoon on the same trip. I can't wait to take them to those islands too!
The kids were in school by early August so we weren't able to take the big trip until their Fall Break! Our new school district has a really nice calendar filled with big spaces for us to plan travel.
The flight was a quick, easy nonstop from Oakland to Lihue. It took about 5 hours and was smooth sailing the whole way. The timing was phenomenal because we had a beautiful sunset for over half the flight. We got into Lihue around 7:30 PM and quickly picked up our Hertz rental car. Being a member of their free Gold Plus Rewards program has saved us hundreds maybe even thousands of dollars over the years.
Check out our top picks for lodging, dining and activities below. I have included some great travel deals if you are ready to plan your next trip to the Islands too! We are affiliates of the businesses included in this post. All opinions are our own and we only share companies with our readers that we use and truly support. We may earn a commission if you click through any links and make a purchase, at no extra cost to you.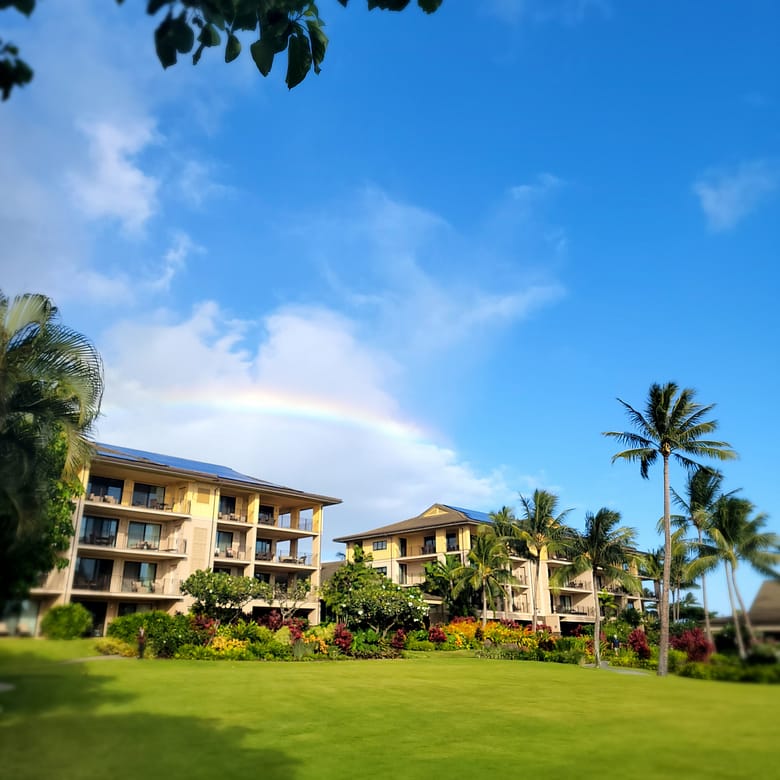 The first time I looked at Koloa Landing Resort, I fell in love. When you are looking for a place to stay in a new destination, it can be tough to decide what area to stay in. You have to consider it's location as a home base for adventures, and how many amenities are around like restaurants, shopping or nice beaches and/or pools! After determining that the Koloa area was the closest in proximity to the activities we wanted to do, Koloa Landing Resort was an easy choice. Since we were celebrating a big anniversary, we chose the 1 Bedroom Villa that they offer. We have spent TONS of time in tiny hotels (especially in 2021!), so we were looking to spread out and enjoy it! Upon arrival, we realized that we were upgraded to a 2 Bedroom Villa. It was a huge, beautiful space that was laid out well. We were greeted with a big box of chocolate covered Macadamia nuts, large water bottles and a reusable beach tote. At first, the kids favorite part was having their own elevator button! Then they saw the pool!
If you would like to see a quick walk through of the 2 bedroom Villa, head over to Instagram to check it out!
Koloa Landing Resort is approximately 15 miles or a 25-minute ride from LIH. Just minutes from the airport, in the town of Lihue, there are a lot of well known establishments like Safeway, Target, and Costco that you will pass on your way to Koloa. This is a great place to get groceries and any other needs on the way in and a great place to get gas on the way back to the airport.
After a turn off the main highway, you will find yourself under a tall canopy of hundreds of Eucalyptus trees called Tree Tunnel. Eventually you will pass through Old Koloa Town. This was part of town was the site of the first successful sugar mill in 1835. It set the precedent for sugar production across the islands. Now the Old Town plantation buildings are filled with charming shops, a Koloa History Center, and plenty of dining options. My favorite coffee truck, called Eden Coffee, is just around the corner too!
Just a few more minutes and you have arrived at the resort. It is conveniently located near a bunch of fun things to do with your family that I'll explain in the Activities section!
Koloa Landing Resort's Pool has been voted "The Best Pool in America" and I can see why. First, there are a bunch of them! The main pool has a kids area, slides, a huge rock cave to swim through, an infinity pool and tons (I mean tons!) of space. There is also an adults-only tranquility pool with waterfalls in another area and a lagoon pool across the property.
There is one restaurant onsite for dining, a gourmet marketplace, and a Shaved Ice Shack. The restaurant, called the Holoholo Grill, is located next to the pool. This is a very convenient option that we visited on a few occasions. The food and cocktails were great, they had a few options for the kids to choose from, and the desserts were delicious! They even have live music some evenings.
Top Lodging Picks For Other Hawaiian Islands
Port Allen Sunset Grill & Bar
Besides dining at the Holo Holo Grill on plenty of occasions, we did venture out and have a few great meals elsewhere. Before our Na Pali Coast Catamaran ride got canceled, we planned to have lunch down in Eleele near where we were to catch our boat. While waiting to determine our fate, we sat down and had lunch outside at Port Allen Sunset Grill and Bar. I was pleasantly surprised by the food as it looked more like a bar-centric spot. We tried it anyway and it did not disappoint. As you know, our boat tour did end up getting canceled so we ended up with plenty of time to go shopping nearby!
Kauai Island Brewing Company
Kauai Island Brewing Co is directly across the street from Port Allen Sunset Grill & Bar! We ventured down to Eleele a few times and this was a place we were excited to visit. They had good food and good beer! This place does get a little busy so you may end up waiting just a few minutes for a seat but it's worth a visit! If you are heading back to the Poipu area, you can swing by the Kauai Coffee Company where you can shop for gifts, take a stroll through their orchard, or just enjoy a complimentary cup of coffee.
Catch a Sunrise and view Marine Life at Poipu Beach Park
Poipu Beach is a must-see when visiting Kauai. It is a great place to watch marine life basking on the sand and beautiful for both sunrise and sunset. It is also a popular snorkeling destination. We hoped to snorkel but the water was a bit rough, causing low visibility. Kyle and Asher still had fun trying and are excited to return and try again!
If you are looking for a nice, relaxing day at the beach, Poipu is a great choice.
Visit the Spouting Horn Beach Park
Spouting Horn Beach Park is located in the Koloa district just minutes from Koloa Landing Resort! You can watch the blowholes spout big plumes of sea water into the air. The waves are forced under the lava shelf and up through openings in the rocks making a loud majestic display.
Take a Train Ride at Kilohana Plantation
This was one of the few activities that I scheduled in advance! It was a really fun, 45-minute train ride, with an excellent guide to tell us all about the 105 acre plantation. There is an opportunity to deboard the train and feed some of the animals at the farm. The kids really enjoyed this portion of the ride! It was rain or shine, and of course it rained a little bit but that didn't put a damper on our morning at all. Once you arrive back at the station, you can wander around the gift shops, walk over to the Koloa Rum Tasting Room and store, or have lunch at the Plantation House. There are a few other activities and events there that you can check out at www.kilohanakauai.com!
Drive up to Waimea Canyon State Park & Take a Hike
Waimea Canyon is often referred to as the Grand Canyon of the Pacific. It is about 10 miles long, a mile wide and over 3,600 feet deep. It almost doesn't feel real but it sure is and is a treasure that you cannot miss! From the town of Waimea, the drive is about 18 miles to the end and has a numerous lookout points that you can see from your car or a short walk.
If you would like to hike, there are plenty of options for novice and seasoned hikers. We were thinking of going hiking but didn't pinpoint a hike until we got out of the car and started walking. We ended up at Pu'u Hinahina lookout. It has a large parking lot and a few different directions you can go to see breathtaking views. We decided to stroll down the Pu'u HinaHina Spur Trail which ended up being really steep and fun! It eventually connected with the Canyon Trail and after a short distance, we took a left onto the Cliff Trail (Photo above). I'd love to revisit with the intent to hike a lot more on the island!
Drive to the North Shore to see the Kilauea Lighthouse & Rugged Coastline
When we learned that our Na Pali coast boat tour was canceled, we immediately got in the car and headed up to the Northern most accessible point by vehicle to see what we could find! First, we stopped at the Kilauea Lighthouse. The lighthouse is part of Kilauea Point Wildlife Refuge so if you would like to get up close to see it, you will need to make a reservation on recreation.gov, even if you already have a National Parks pass. If you simply want this view of the lighthouse, you can park before entering the refuge and walk up to the fence to check it out!
After viewing the lighthouse, we continued as far east Kuhio Highway as we could until we reached Ha'ena State Park. Non-Hawaiian Resident visitors are required to make reservations from the State Parks site here. I'd love to plan a day trip here in the future. There is access to the beach, sea caves and ancient sites to behold!
Save up to $500 on your next Southwest Vacation Package
If you are considering a trip to Kauai soon, bookmark this post so that you can check back to see what great deals are going on to get you there!!
Click the Southwest Banner below to find out all the details and book that trip to this Hawaiian paradise or one of the many other destinations they offer great packages for!
Choose Hertz for your next trip
Travelers 50+ save up to 20% off base rates every day
Save 15% off your daily or weekly rental through June 1, 2022
Save up to 15% off the base rate* when you pay now. Book by and pick up thru April 30.
We have been loyal to Hertz for over a decade now and we haven't had a single bad experience with them. Even in this weird, 'not sure if your car will be there' insanity that is being threatened in the news, Hertz hasn't let us down! I hope that if you decide to try out Hertz, you will have a similar experience.
2021 was the first year that The Hable Way has lived in California! Inside of that first year, we checked off a lot of exciting
Read More »
I have compiled a few of my favorite quotes about life and traveling to look to as we arrive at 2022's doorstep! Take a look
Read More »