October 2023 Fall break Part 2 was a visit to the Big Island of Hawaii! This was a new island for the whole family to visit so we were all excited to start exploring! Part 1 of our trip was on Oahu in Waikiki, you can read about that shortly.
The Hable Way is an affiliate of Hertz, The Polynesian Cultural Center, Resort Pass, and Southwest Vacations. We may receive compensation at no extra cost to you, if you click through and purchase any items through our links. Thank you!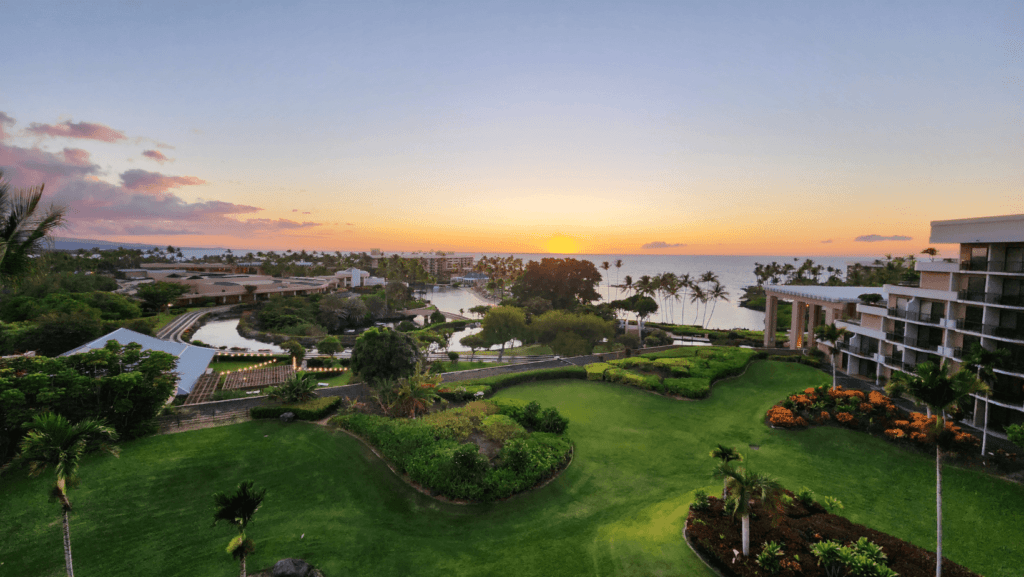 As you may have read in some of our other articles, we are currently loyal to Hilton for vacations since we have so many perks from an extended stay a few years ago. We chose Hilton Waikoloa Village for our Big Island adventure and it did not disappoint!
It is 62-acres of paradise located along the Kohala coast along with quite a few other resorts and condos. There are plenty of dining, shopping and activity options on the property and in the general vicinity. 
I was a little bit worried because it seemed like a huge resort. Huge resorts bring lots of people but I can say that it felt spaced out and never super busy. To get around the resort there are a few options.
Getting Around The Resort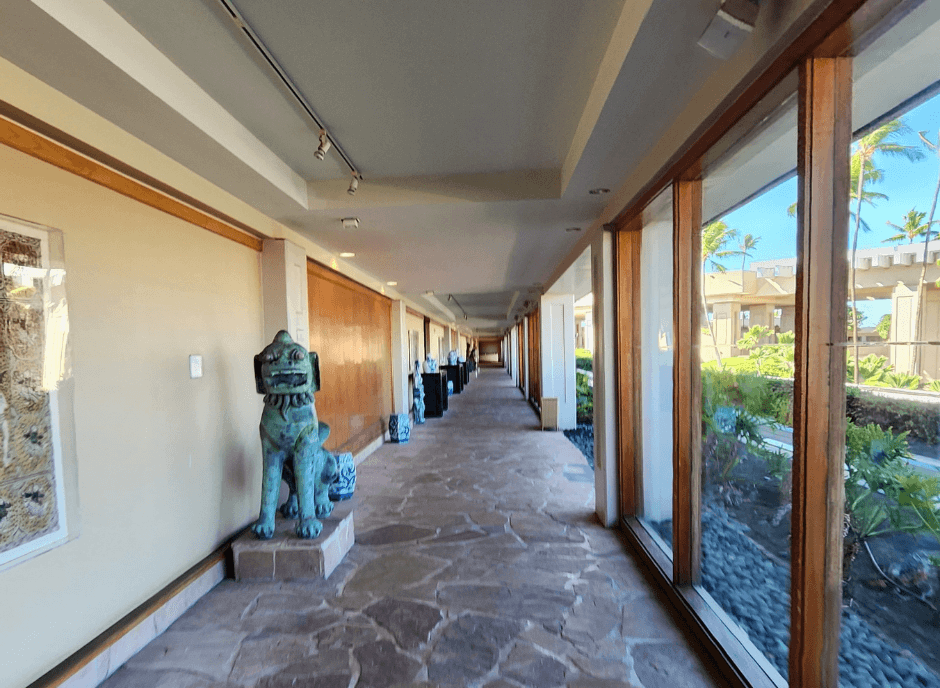 We did plenty of walking! Our tower was one of the furthest from the main entrance but still not unreasonable to walk to.
They have a beautiful display of art the length of the walkway with unique artifacts from Polynesia, Asia, and Europe.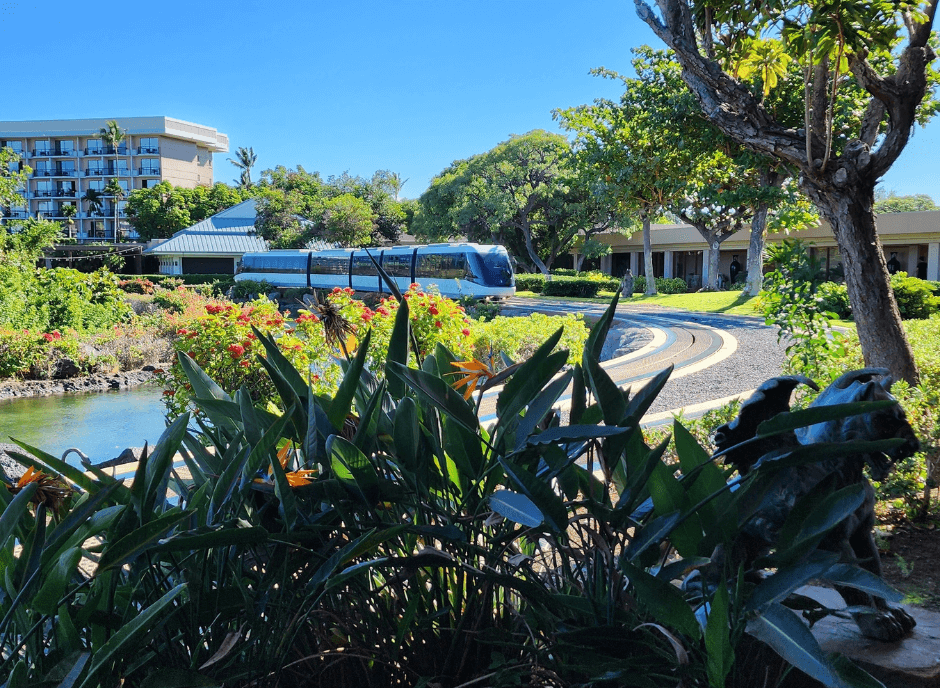 The trams are a great option for when you first arrive with all of your luggage, when you are ready to check out or after a long day of adventures! They had two in operation while we were visiting so no one appeared to be waiting for very long at any given time. 
Available from 6:00 AM – 1:00 AM Daily.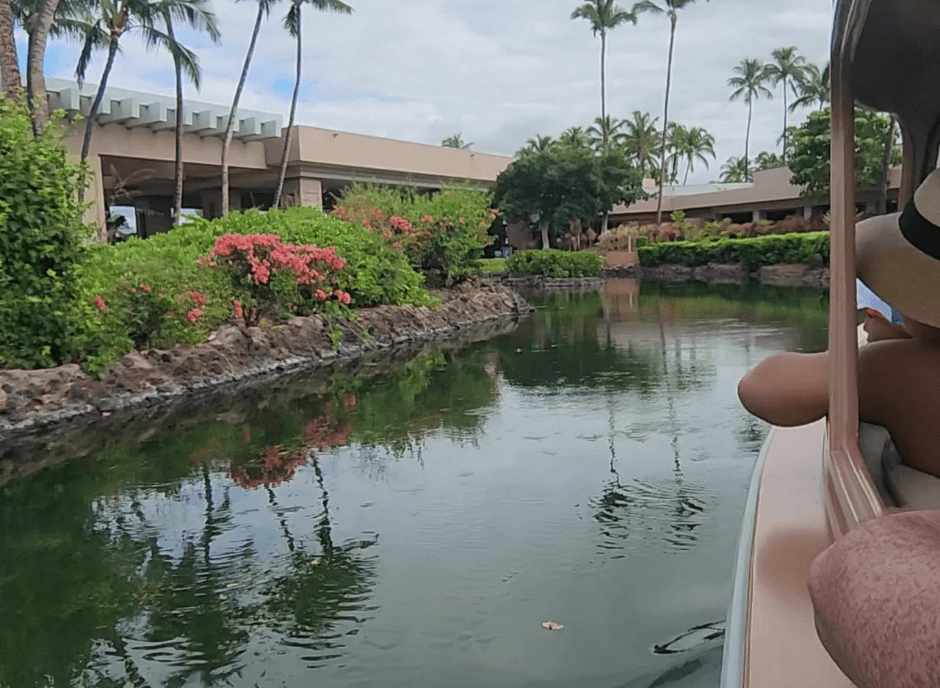 This was such a neat way to get around the property! These boats go the length of the property with stops at all of the tower entrances and main lobby.
Available from 6:00 AM – 1:00 AM Daily.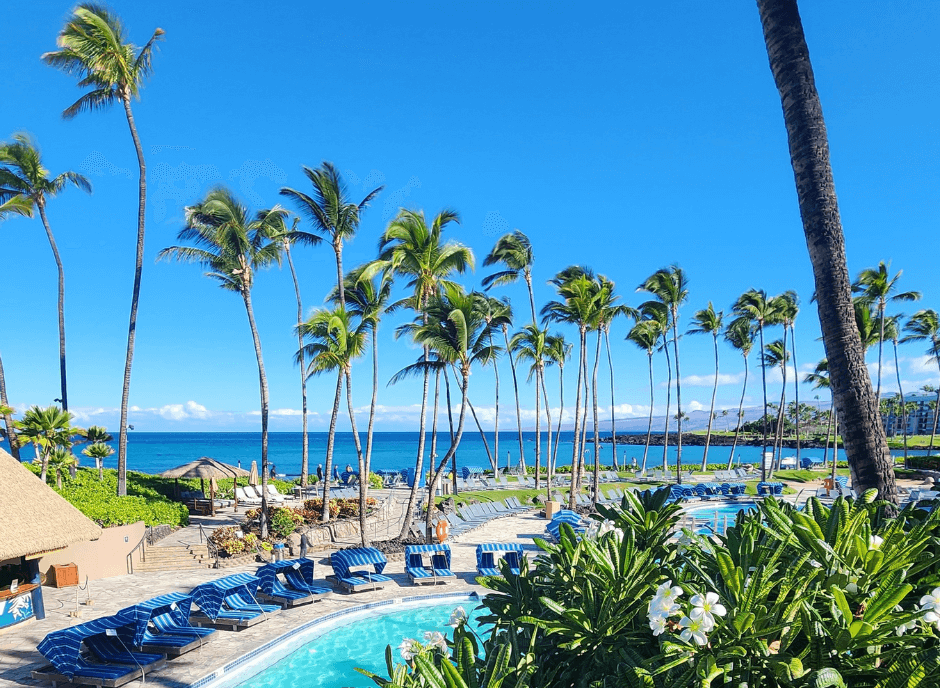 Kona Pool – The main Kona Pool was mostly opened but the grotto and large pool slide was being worked on. This didn't take away from our experience there but I would love to go back to see it updated! It has a neat rope bridge you can walk over and a sandy beach area for small kids!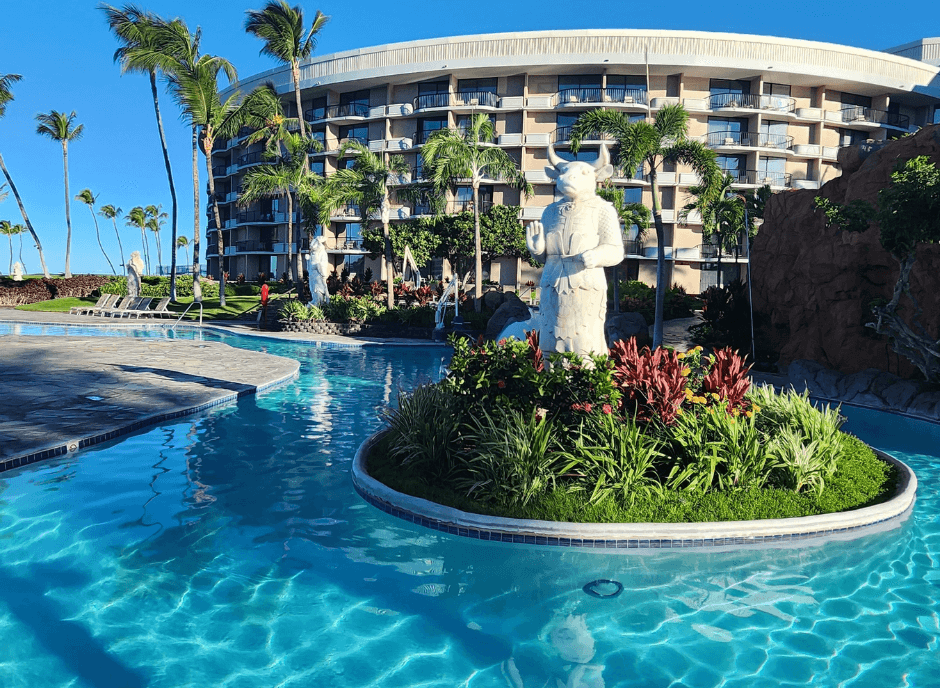 Kohala Pool – This Pool is on the opposite side of the property, closer to the Palace tower. It has a few junior waterslides and looks more like a wide lazy river. It was a neat, low key spot for relaxing and enjoying the water!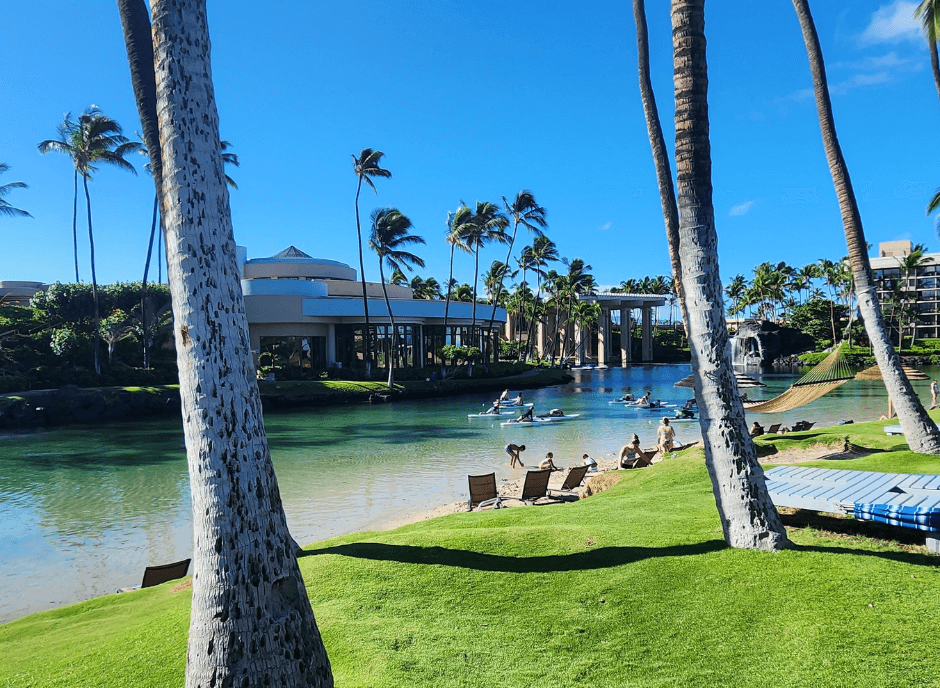 The Lagoon – This lagoon is definitely a highlight of the property. Sea turtles and other amazing (small) marine life can freely come and go through the lagoon and back out to sea. It is the perfect place to coexist with nature and enjoy a beach area, plenty of snorkeling opportunities and kayak/SUP rentals. They also have standup paddle board yoga some mornings!
Interested in checking out the Hilton Waikoloa Village without the price tag? Try Resort Pass
! Spend a day at the pools and lagoon without having to stay overnight. A day pass for Hilton Waikoloa village is $50 per person to relax and play from 10:00 AM to 5:00 PM. Parking is complimentary with a $50 minimum food and beverage purchase. Click the banner below for more information and you can even search for a resort near you!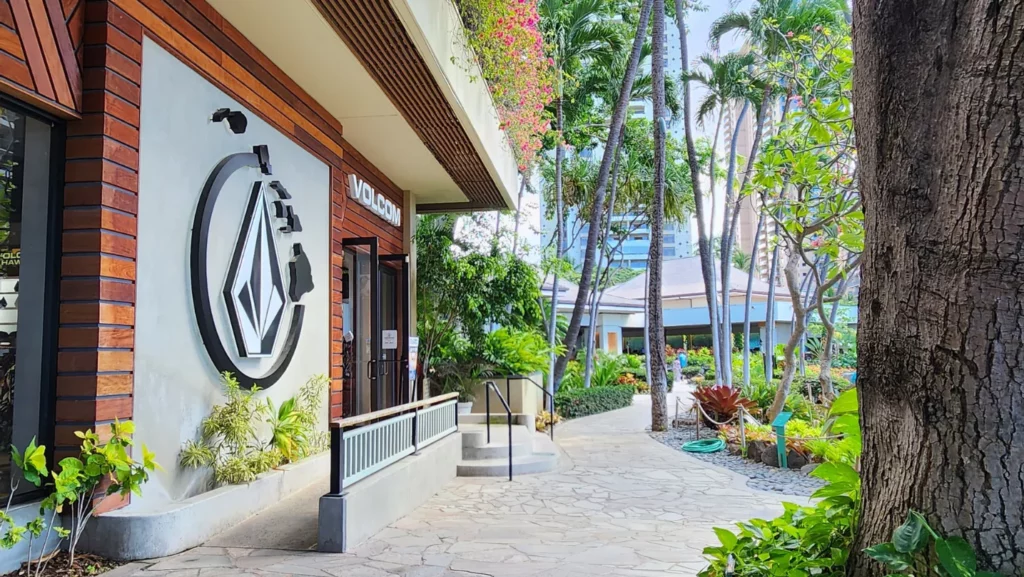 The Big Island Marketplace – 8:00 AM to 10:00 PM – A selection of snacks, drinks, sundries, island gifts and souvenirs.
Things Hawaiian – Opens at 9:00 AM, closing varies – Hawaiian gifts, clothing, and accessories. Open daily 9:00 AM – 9:00 PM in the Lagoon Tower.
Na Hoku – Hawaiian for "stars", this fine jeweler is the oldest and largest in Hawaii. It is located in the Makai tower and open daily from 10:00 AM to 5:00 PM.
Journey – Quality meets comfort at this women's luxury clothing shop. Open daily in the Lagoon Tower.
Queens' Marketplace & Kings Shop – Everything you need is about a mile from the resort! Shopping, dining, grocery, a movie theater and more. Open daily, hours vary.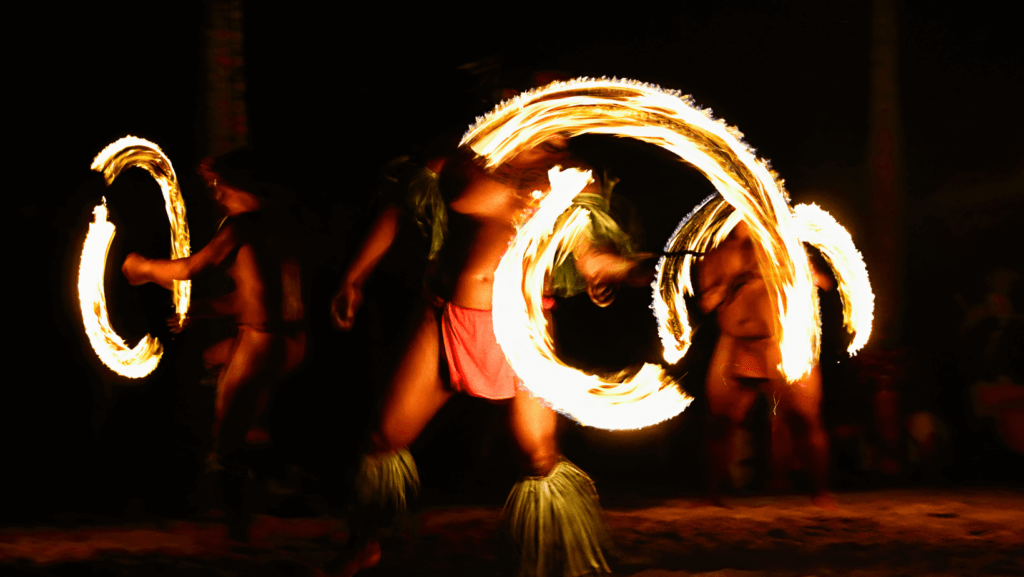 Legends of Hawaii Luau – The Luau features local-inspired costumes, live music, drummers, and delicious food presentations. We did not attend this luau on our trip but if we return, I will plan to. It is very conveniently located onsite near the Kona pool and Kamuela Provision Co.
Open Sunday, Tuesday and Friday 5:00 PM – 8:00 PM, and some Saturdays in July & August. Advance reservations required.
Other nearby Luau's include:
Waikoloa Beach Marriott Sunset Luau • Hawaii Loa Luau • Ho'omau -A Mai Grille Luau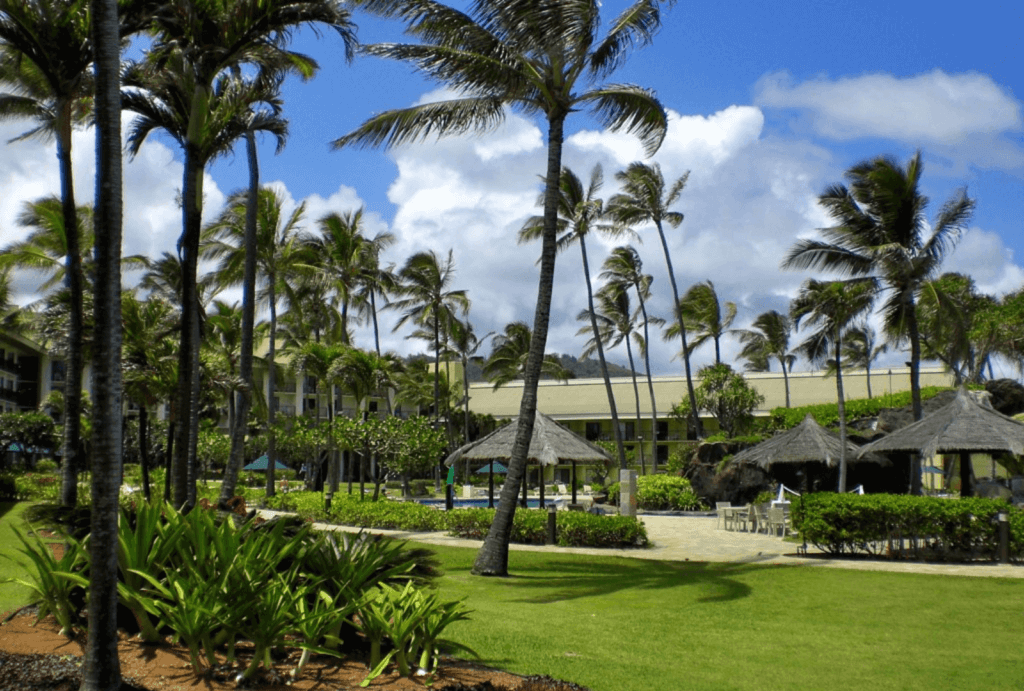 Top Lodging Picks For Other Hawaiian Islands:
Maui: Grand Wailea, A Waldorf Astoria Resort

Oahu: Hilton Hawaiian Village Waikiki Beach Resort (personal review coming soon!)
Kauai: Koloa Landing Resort • Read about our stay here: Best of Kauai With Kids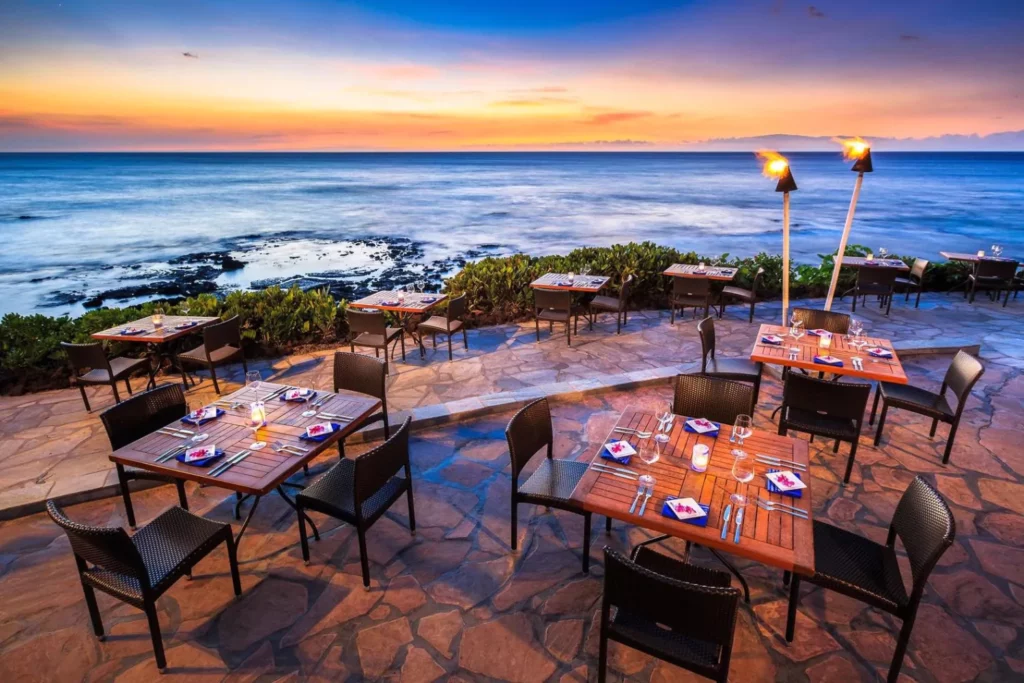 Photo courtesy of Hilton Waikoloa Village
Kamuela Provision Co. – Steaks, seafood and sunsets! Enjoy a three-course dinner on the oceanfront lanai or the indoor dining room. There is also The Bar at KPC with beverages and shareable plates and different views to choose from. Open nightly from 5:30 PM – 9:00 PM, advance reservations recommended.
Nui Italian – Pizza, pasta and other creative Italian specialities! We got room delivery the first evening we arrive and also ate dinner down in the restaurant! It is a Surfrider Foundation Ocean-friendly restaurant as they serve sustainable seafood. Restaurant open and in-room delivery available nightly from 5:00 PM – 9:00 PM.

Lagoon Grill – Located next to the Dolphin lagoon, it serves great tropical drinks, burgers, sandwiches, and salads for lunch and dinner. Open daily 11:00 AM – 5:00 PM weekdays, and 11:00 AM – 7:00 PM weekends.

Waikoloa Coffee Co. – There are two locations where you can fuel up with some great coffee and breakfast options. I LOVED the ham and cheese croissant here, I think I got it every single day! Makai tower open daily 6:00 AM – 3:00 PM Ocean tower open daily 6:00 AM – 12:00 PM.

Kona Tap Room – 16 craft and domestic beers on tap with sharable snacks and appetizers. Open daily 4:30 PM – 11:00 PM accessible through the main lobby.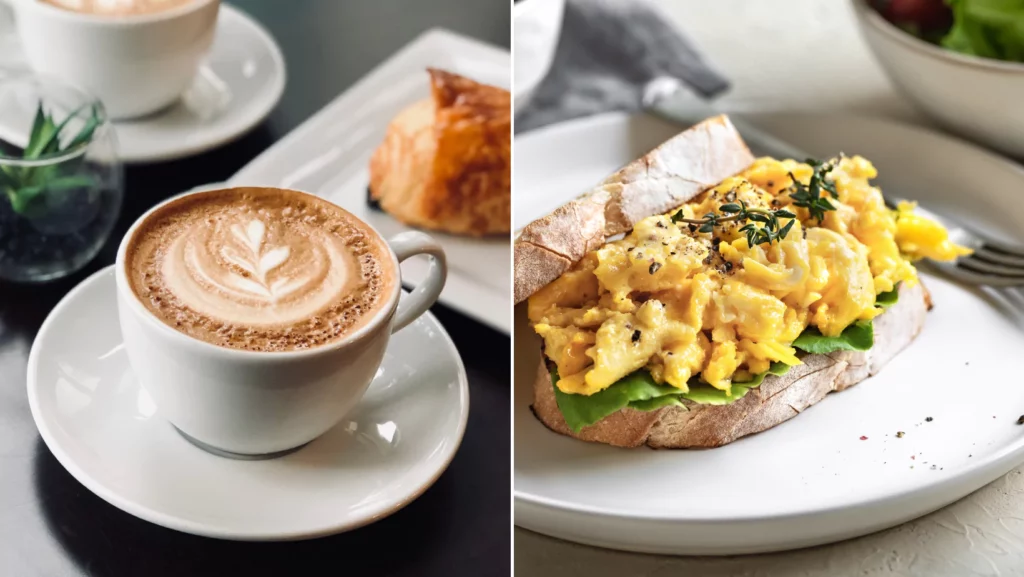 This little gem is a must visit! It is a great spot located in Opelo Plaza with delicious coffee and a good selection of food. We got a charcoal latte, a vanilla latte with an egg salad toast, and Nutella toast. They were all SO good. It is attached to a shop called Surf Camp for you to browse around when are you done with breakfast!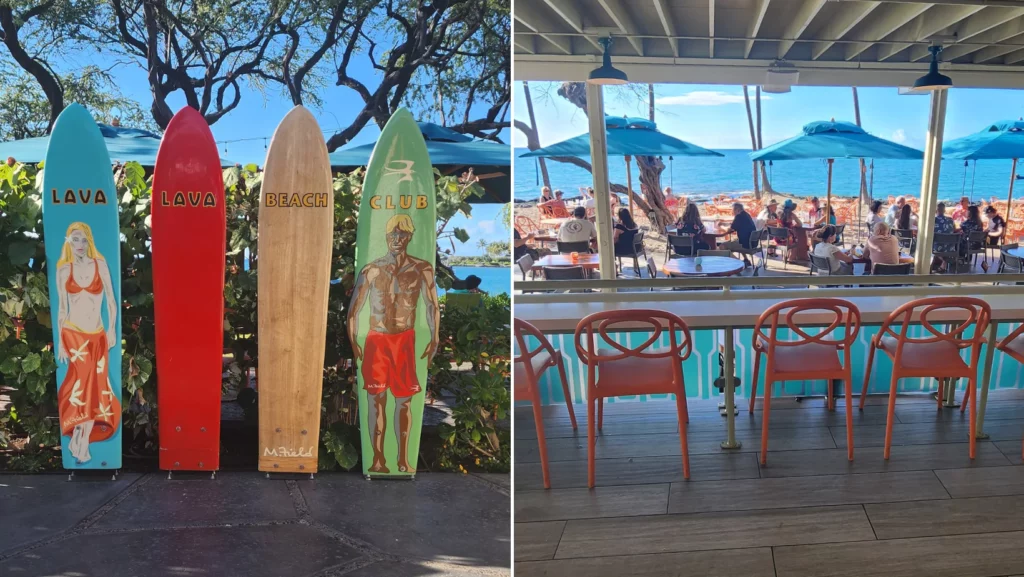 Lava Lava Beach Club is conveniently located just slightly over a mile from the Hilton Waikoloa Village. It has a super fun, inviting atmosphere with great views of Anaeho'omalu Bay. It is first come, first serve and has live music each night! We loved the vibe!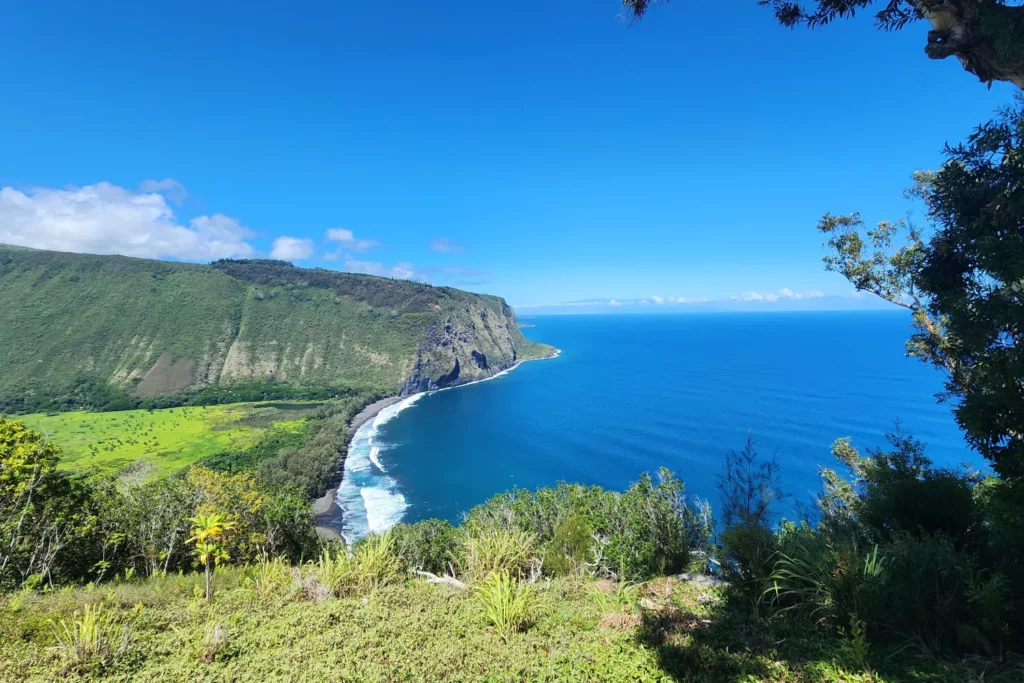 Visit the Waipi'o Valley Overlook
After grabbing some coffee and breakfast at ARVO in Waimea, we went exploring, with no particular destination in mind. Our first stop of the day was this beautiful, sacred, North coast valley overlook. Waipi'o valley, also referred to as "Valley of the Kings" was the boyhood home of King Kamehameha I. It served as an important center for political and religious life in Hawai'i where thousands of native Hawaiians used to reside. It now has less than 100 residents and the road down into the valley was recently closed to visitors without a guide.
There is an area where you can park and see the breathtaking scenery from the top. Take a short walk down to the lookout and read the informational signs to understand better what you are looking at.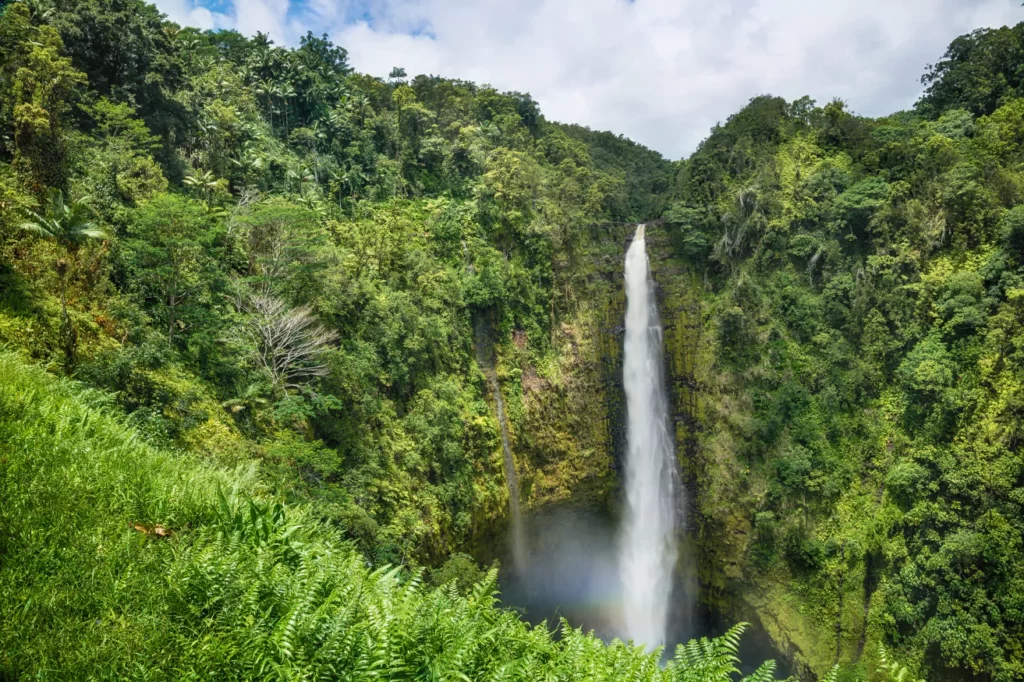 There are a few different iconic waterfalls that people love to visit! 
Rainbow Falls – Rainbow falls is about 80 feet tall and surrounded by a lush tropical landscape above the Wailuku River. The view point is an easy walk from the parking area and the best time to see the rainbows are in the morning! It is just outside of Hilo and plays an important role in Hawaiian Mythology.

Akaka Falls – Akaka Falls resides in a state park! It just takes a half mile, self-guided loop through tropical vegetation to see these impressive 440 ft tall falls. It costs $5 per vehicle and is open daily 8:30 AM – 5:00 PM.
Visit Hawai'i Volcanoes National Park
This National Park protects some of our most unique geological and cultural landscapes in the world, including two of the world's most active volcanoes Kilauea and Mauna Loa! It is a designated International Biosphere Reserve and UNESCO World Heritage site.
A large portion of the park that I wanted to visit was closed due to a large cluster of Earthquakes and volcanic unrest. I planned to hike the Devastation Trail and visit the Thurston Lava Tubes, but alas, that will have to wait until next time. There are plenty of hikes to choose from, including places where you can see the largest group of petroglyphs in Hawai'i, dramatic views and steam vents. 
The status of the park is everchanging. Visit Hawaii Volcanoes National Park for updates!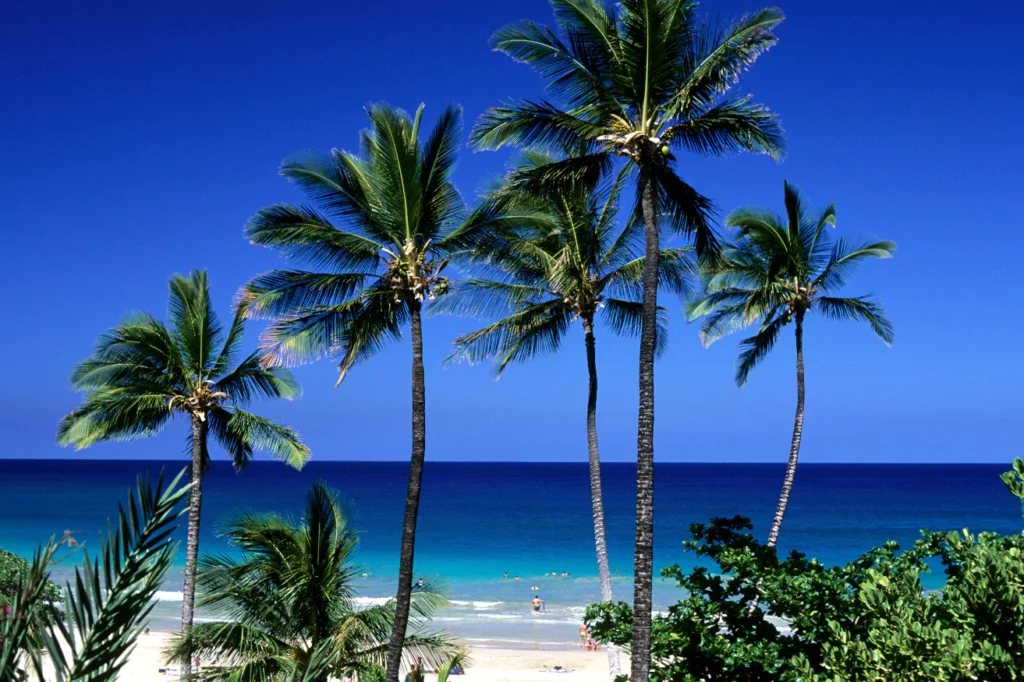 Spend the Day at the Beach
Hapuna Beach State Recreation area was our favorite place to swim in the ocean! It is an expansive, absolutely beautiful white sand beach along the Kohala coast. There are lifeguard stations, restrooms and picnic areas. When we visited, the daily fee per car was $10.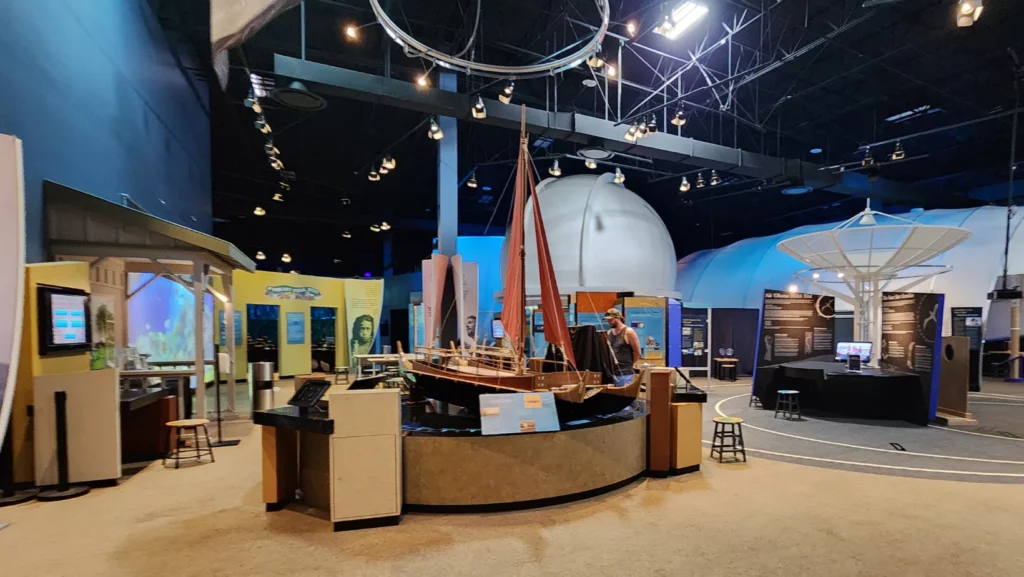 Visit the 'Imiloa Astronomy Center in Hilo
The 'Imiloa Astronomy Center was a pleasant surprise that we stumbled upon while in Hilo. We headed that direction early in the morning with no plan. Once we arrived in Hilo, we stopped for some lunch supplies and found the Astronomy center nearby. It was really fun for the whole family.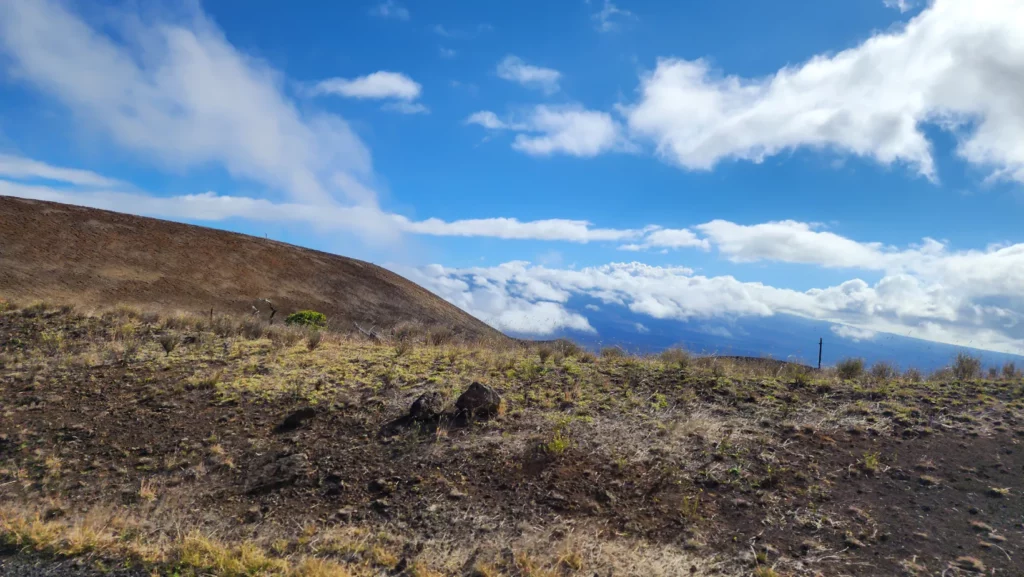 Drive up to the Mauna Kea Visitors Center
The Mauna Kea visitors center sits at 9,200 feet and you will certainly feel the thinner air! Everyone is allowed to drive up to the visitors center but if you plan to go to the summit of Mauna Kea, you must first check in with a ranger, stay at the visitors center for a minimum of 30 minutes to acclimate, and have a four wheel drive vehicle. They firmly discourage persons of poor health, pregnant women, and children under the age of 13 to go any further than the center. There is a gift shop inside, a large display of astronomy equipment, samples and information about the local geology, and a map of localized hikes that you can do nearby the visitors center!
Is it worth it to drive up to the visitors center if we can't go to the summit?
Yes, it sure is! There are lots of interesting things to read about, a few small hikes and amazing views!! Many people go to the visitors center to see the sunset.
Save up to $375 on your next Hawaii SW Vacation Package!
If you are considering a trip to the islands soon, bookmark this post so that you can check back to see what great deals are going on to get you there!!
Click the Southwest Banner below to find out all the details and book that trip to this Hawaiian paradise or one of the many other destinations they offer great packages for!
Choose Hertz for your next trip
Travelers 50+ save up to 20% off base rates every day
Go electric and save up to 30% when you pay now.
Join Hertz Gold Plus Rewards® for free.
We have been loyal to Hertz for over a decade now and we haven't had a single bad experience with them. Even in this weird, 'not sure if your car will be there' insanity that is being threatened in the news, Hertz hasn't let us down! I hope that if you decide to try out Hertz, you will have a similar experience. Here are a few of the cars we've rented from Hertz over the last year or two.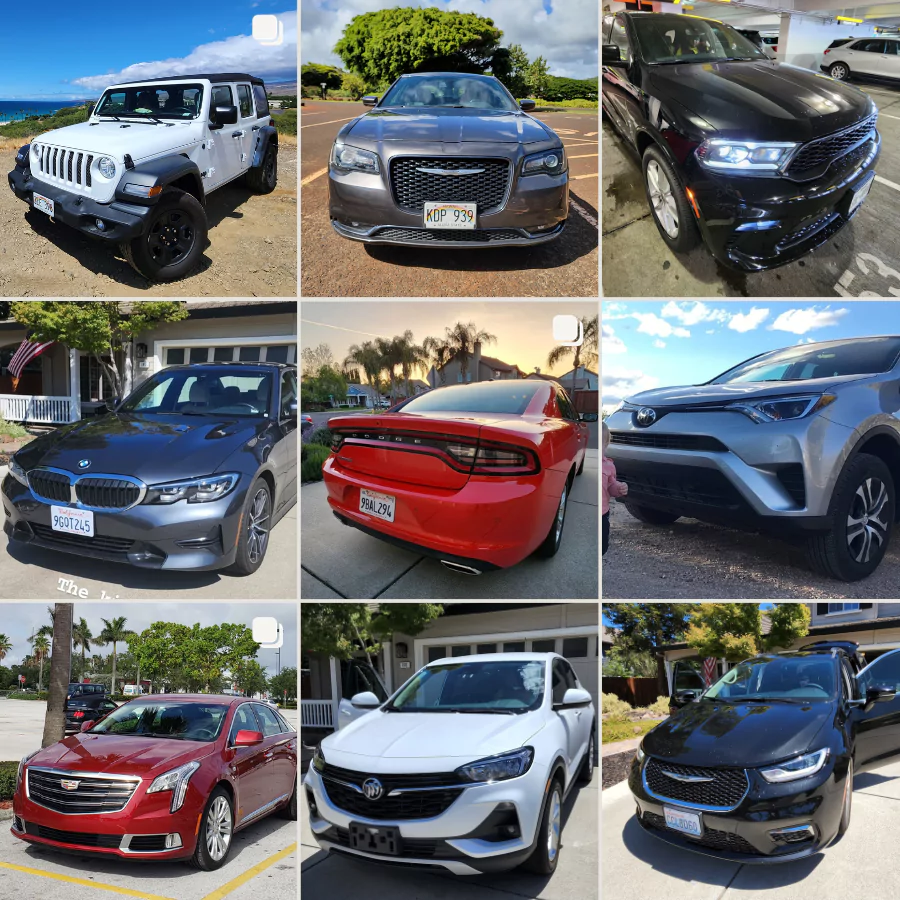 The Polynesian Cultural Center is a must when visiting the Island of Oahu! Save 10% on Bookings w/code "early10"