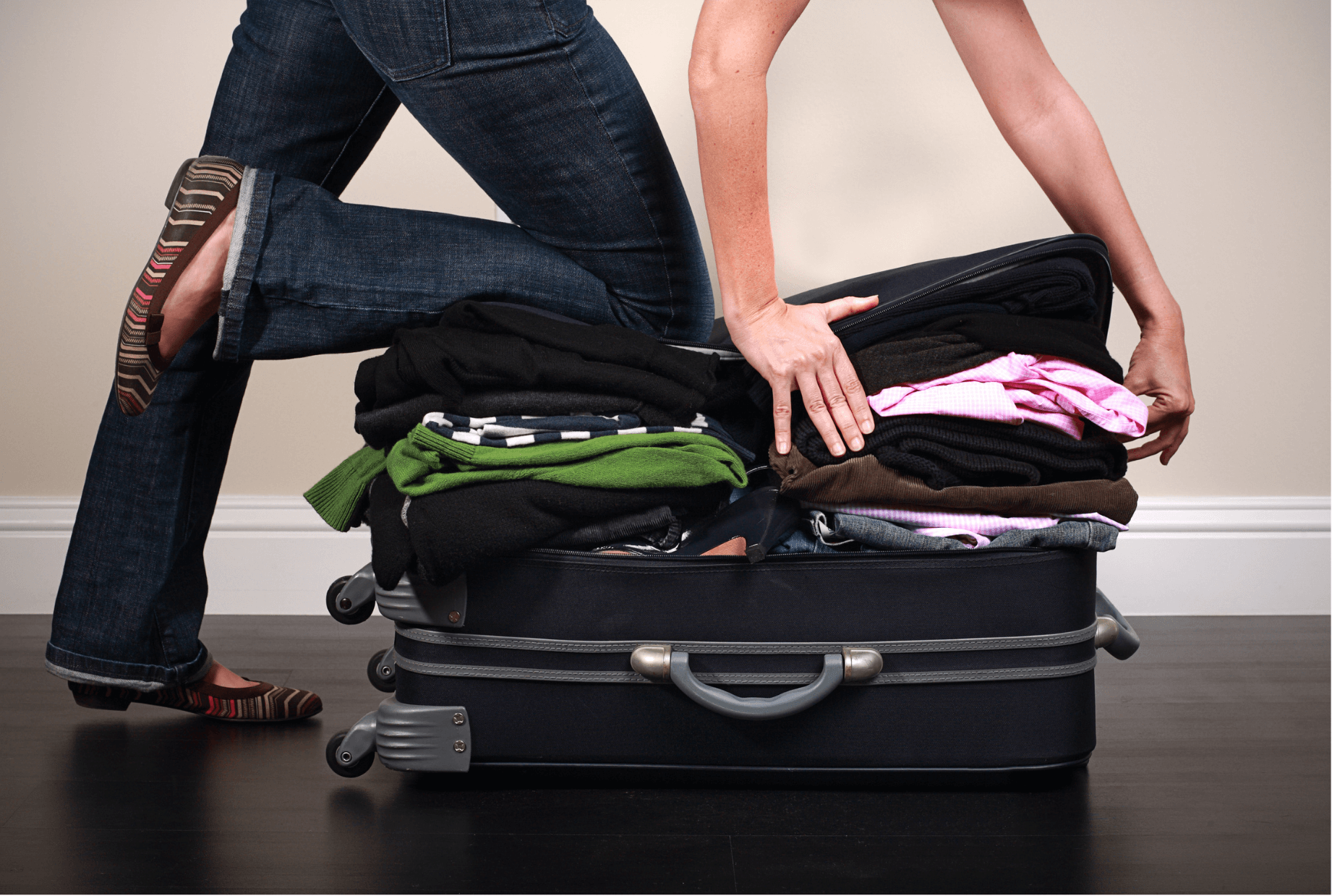 Still packing 20 pairs of underwear for a long weekend?
Wondering how many pairs of shoes is *too many*?
Of course, depending on your location, the weather, planned events, and the amount of time away, all has a bearing on what you pack and how much you take with you.
However, If you have been dreaming of the day you can fit all of your travel needs into carry-on luggage, I'm here to help! I've got some tips and tricks to have you strolling off the airplane, bypassing baggage claim, and off to your next adventure before you know it.
The Hable Way is an affiliate of Amazon. We may receive compensation at no extra cost to you, if you click through and purchase any items through our links. Thank you!
Let's Look at the psychology behind packing:
Even that friend who is a seasoned traveler can still find themselves overpacking. Lara Fielding, a clinical psychologist and author said "When we're traveling, our emotions can feel more polarized since we're experiencing a stressful situation." In my opinion, while you may not feel or think that traveling does add any anxiety or uncomfortable feelings, excitement and anticipation could potentially trigger a similar response, leading to overpacking. 
You want to take your comfort zone with you. Taking things with you that you probably don't need can be a way to cope with being so far from home. You may find yourself willing to take anything that would make you feel better in a higher stress situation, even things like hairdryers or some emotional support underwear! From a kids perspective, it's kind of like taking your favorite stuffed animal or a book you love to read. It's a security blanket! 
Past traveling experiences shape your mindset. It could take just one lost luggage experience to never want to check a bag again. Alternatively, feeling the freedom of a simple carry-on one time can do the same! Your subconscious is trying to protect you from having one of those bad experiences again. People don't generally like change so even if it the situation is not ideal, abandoning it and starting a completely different system may seem scarier or worse.
Whichever side of the aisle you are on, keep an open mind and consider trying something new.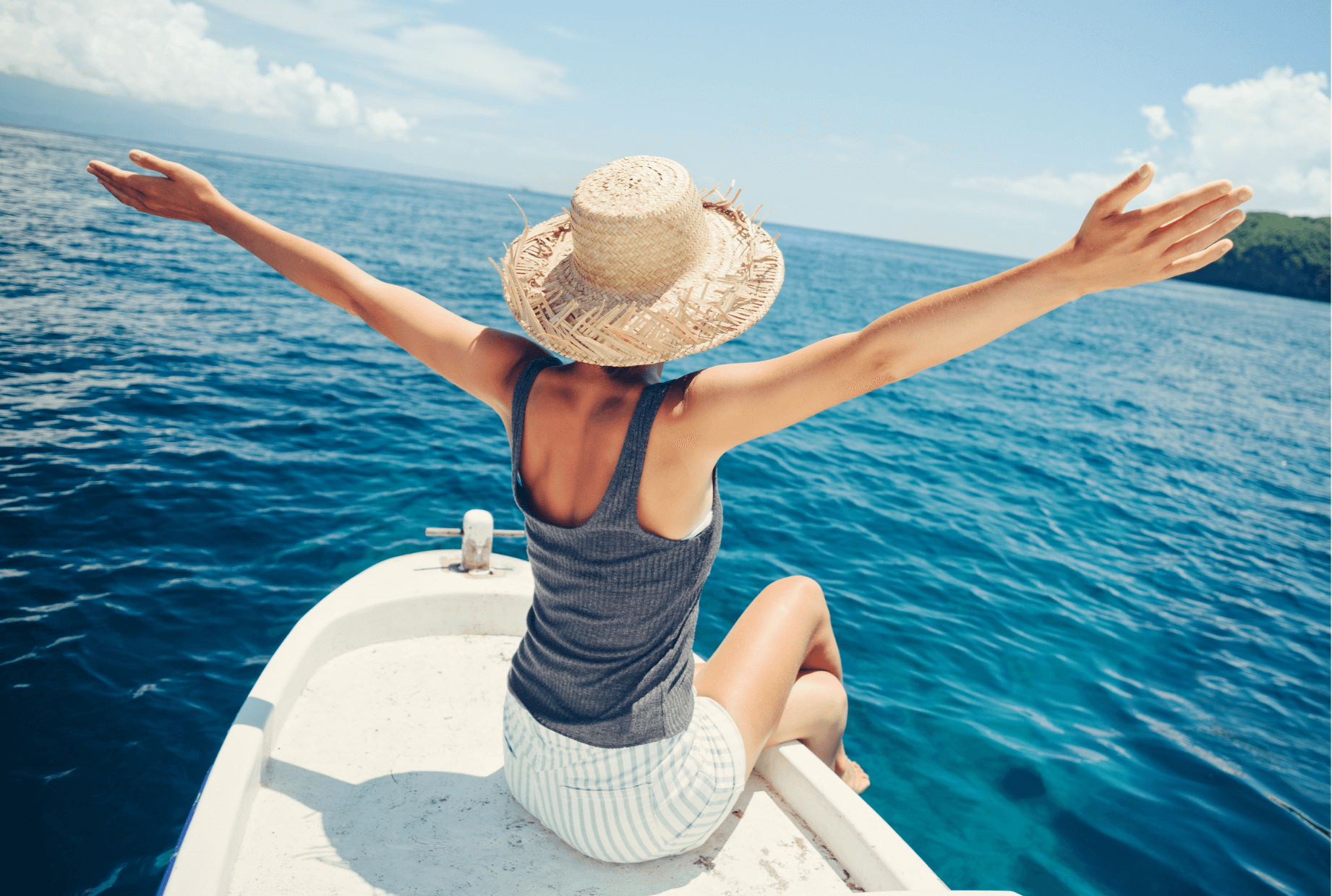 Why bother packing lightly? Let's look at the rewards:
Packing lightly will give you small freedoms that you may not realize!
You can bypass baggage claim. I've spent enough time waiting around the baggage claim, hoping that my bag would come, until I decided it wasn't worth it. The big energies surrounding the baggage claim carousel is just too much. I want to get this party started or be on my way home already. Nothing feels better than having your carry-on with you and cruising right out of the airport.
You can switch locations without feeling overwhelmed. I see this often in travel Facebook groups. When a traveler asks questions about how split time between multiple locations, there are always a handful that remind them "how difficult it is to pack everything up mid-trip". The opposite is true for light packers. You can switch up your location with ease, because you haven't essentially moved in to your space as if you were going to live there for an extended period of time.
In a hurry or running behind? No worries! If you are on a time crunch and need to hustle to the rental car shuttle before they take off, or can't get a taxi and need to pick a bus instead, you won't be weighed down or slowed down by your belongings. It leads to more flexibility in your transportation methods, especially if things don't go as originally planned. We've all been there! We've been there a lot lately, ha!
The airline can't loose your luggage and your favorite things! This has become a much larger problem over the past few years. Some have found different ways to track their luggage using air tags. This is great, but it doesn't mean you will get your luggage in a timely manner or at all. Losing it on the way home may be slightly easier to deal with but still irritating. Losing your stuff at the beginning of your trip could put a really bitter taste in your mouth and damper your plans especially if you brought some of your favorite clothing! That alone is worth carry-on for us.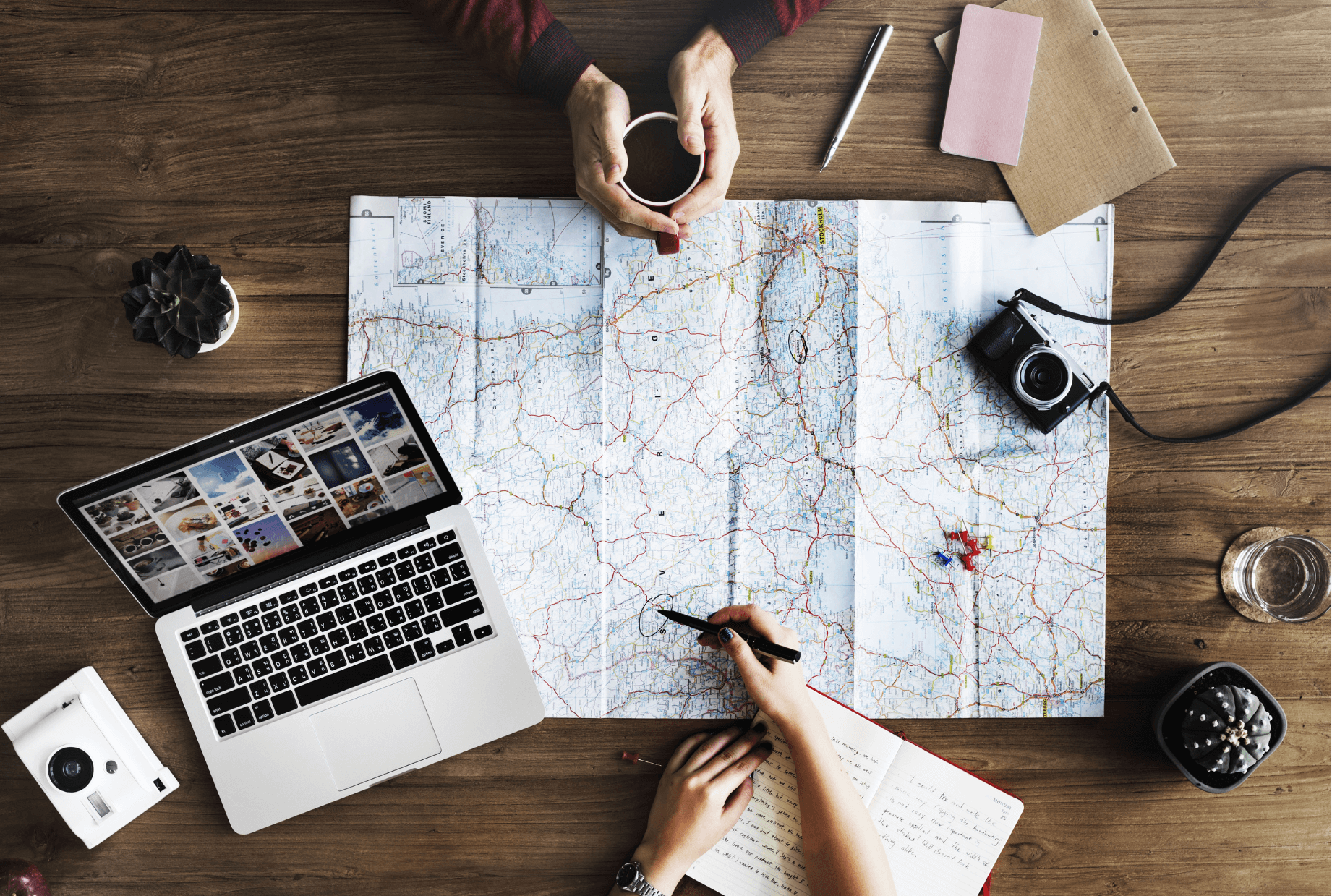 Ok great, but HOW can I fit everything I need into a carry-on suitcase?
Ah, I thought you'd never ask! Here is exactly how we fit our family of 4 into 2 carry-on suitcases and two backpacks.
Packing Cubes! I was a skeptic for the longest time. I thought that it was dumb and unnecessary. Boy, was I wrong. This really helps to visualize what is taking up the most space and keeps things organized in a way that you don't have to empty your suitcase every time you are searching for something. If you and a family member share a suitcase, consider getting two sets that are different colors, and assign each person a color. It will save you a lot of time!
A Capsule Wardrobe. I'm no fashionista so I can't comment on needing several outfits to choose from even if I don't end up using them all. I do like capsule wardrobes and layering for travels so that things can be mixed and matched and used more than once. Check out my favorite minimalist travel style picks here: Mastering Minimalist Travel Style

Utilize That Personal Item. Our personal items that we can stow under the seat in front of us are backpacks! Our kids use their school backpacks. This gives us a lot of extra space instead of using a small purse or a laptop bag!
What if I want to bring home souvenirs? Of course you do! I do too! A light packer will include extra space in carry-ons or personal items for just that. Technically, we could add two more carry-ons to our pile of luggage because our children only carry those backpacks I mentioned before. This way, if we get wild with extra purchases, we could add more space as needed.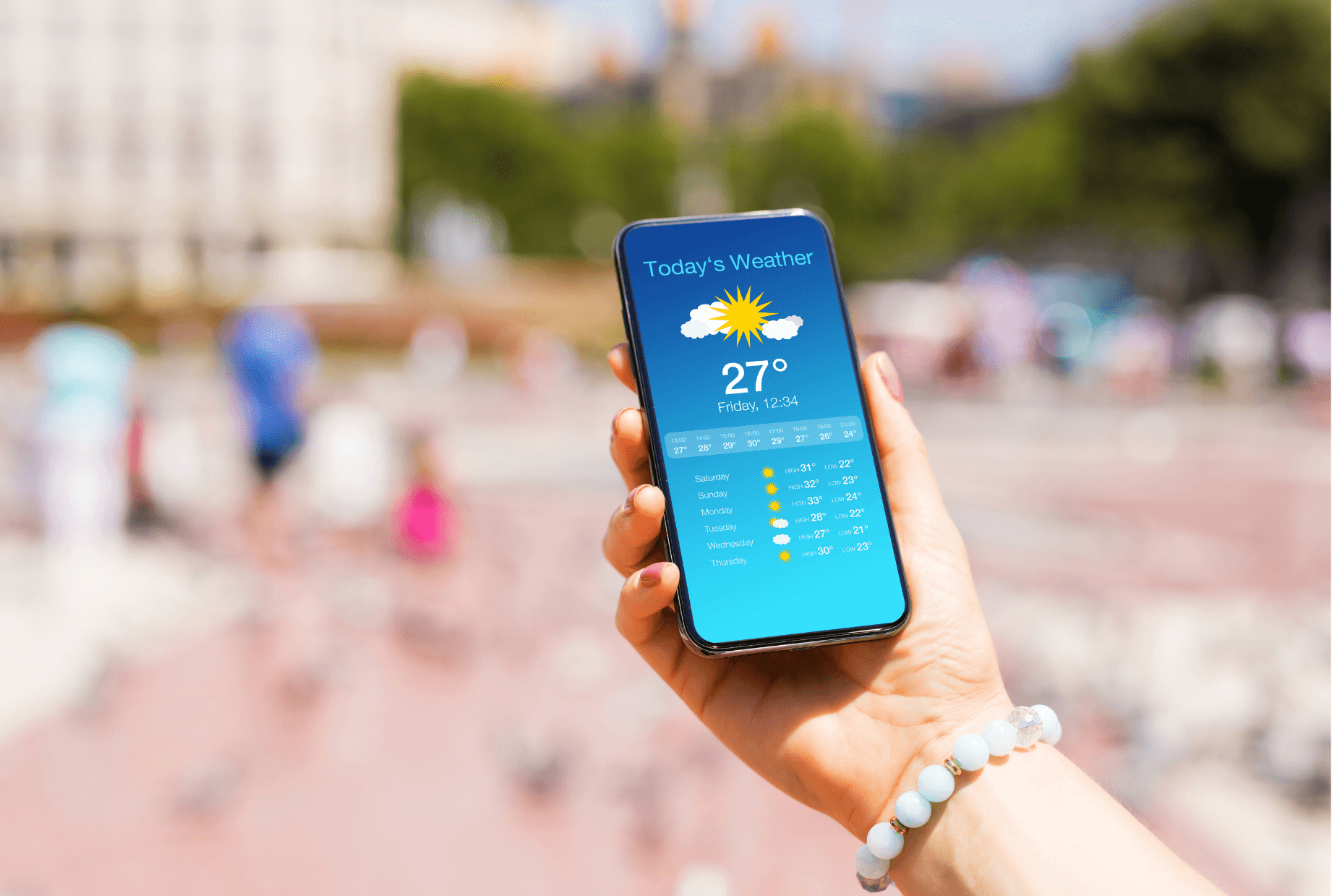 Are there any other tips or tricks to consider?
Check the weather. When you are just a few days out, check the 10-day forecast. Then deep dive, and check the daily, hour-to-hour forecast. Of course, the weather is subject to change but this will give you a good idea of the temperature swings and if precipitation is likely in your destination. This will help you hone your packing habits. 
Practice Ahead of time. Practice, practice, practice! I take quite a few things in and out before finalizing our suitcases. Each person in my family of 4 gets one half of a carry-on. Since our youngest is still in smaller clothing, he can sometimes lend a little extra space for others if needed. This would be a great time to arrange and plan out your packing cube situation.
Keep one outfit in your personal item. If you use a backpack, you will have space to add an outfit to it so that you still have something to wear in the event that you somehow get separated from your carry-on. If you don't feel that you have enough space for this, I'd still consider taking an extra pair of undergarments just in case. This is also a great tip for checked bag travelers too!
Consider buying/thrifting then donating. The only time I can see doing this is if you are going on a ski trip or somewhere cold where things are going to get a little bit bulkier. We have a fairly moderate temperature in the winter in the Bay Area of California, so we don't have big, bulky, warm jackets anymore. The first time we visited Lake Tahoe, after talking with some people, we realized that some visitors would go to the Goodwill to grab some ski clothing and then donate it back or pass it on to someone when they left. This is a low-cost way to get what you need without having to lug it back and forth then store it for an entire year before your next cold weather trip. It is also great to reduce, reuse and recycle 😉
In Hawaii, we were gifted a set of pool noodles from a couple who was leaving. When we were getting ready to go, we found a family who could take them too!
Any questions or ideas to share? Please comment below. I'd love to connect and hear your thoughts!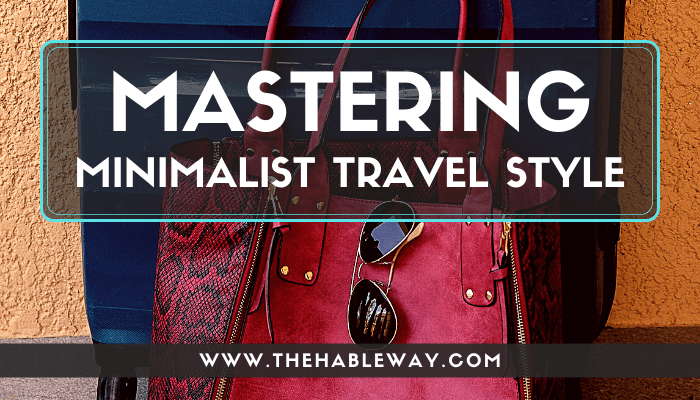 How often have we found ourselves wondering why we brought all of these items along only to wear a few of our favorite outfits the whole trip? A
Read More »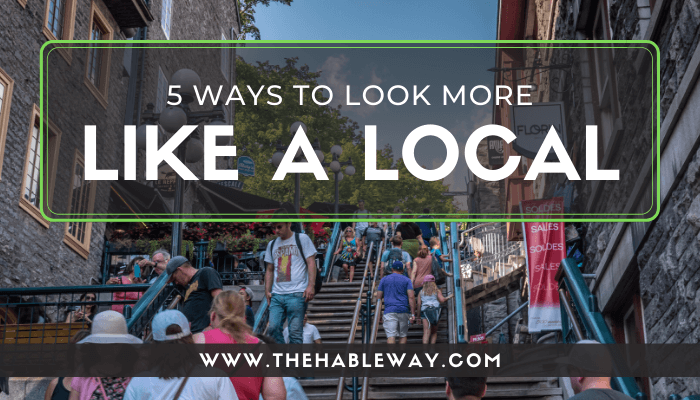 It is so important when you are traveling to keep the "tourist-target" off your back, especially for international travel. First and foremost, being aware of your surroundings is
Read More »