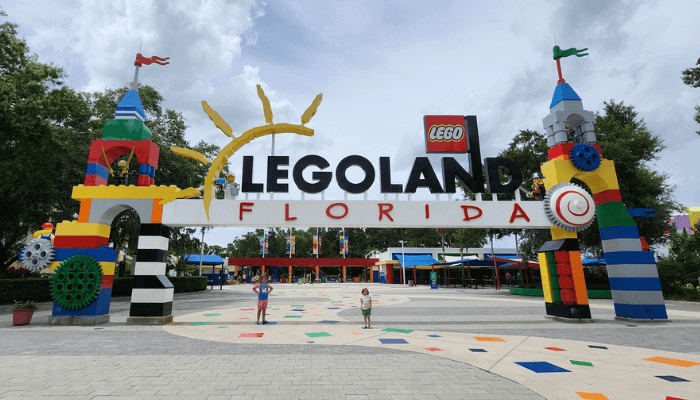 If you have been considering a trip to Legoland Florida, you have come to the right place. We have recommendations for places to eat, can't-miss attractions and other pertinent details to make your trip a smooth, unforgettable experience.
You have a few options for lodging! There is the main Legoland hotel, the Pirate Island Hotel, and the Beach Retreat. The Legoland and Pirate Island hotels are connected and use the same main entrance. The Beach Retreat is at the edge of Lake Dexter, an approximate 1-mile drive on the opposite side of the road behind a shopping plaza.
We absolutely recommend staying at one of the onsite hotels located at the entrance to the park. Since our time was limited, we didn't want to spend extra time traveling back and forth, and parking each day. We chose the Pirate Island hotel.
For onsite accommodations, check in is 4 PM, check out is 11 AM. All reservations are subject to a nightly resort fee that is $30 + tax. Resort fee includes standard parking, wi-fi, local calls, swimming pool and towels, Lego Workshops, character meet and greets if applicable, and nightly entertainment. All details provided are subject to change. Please see direct links to desired park for up-to-date information.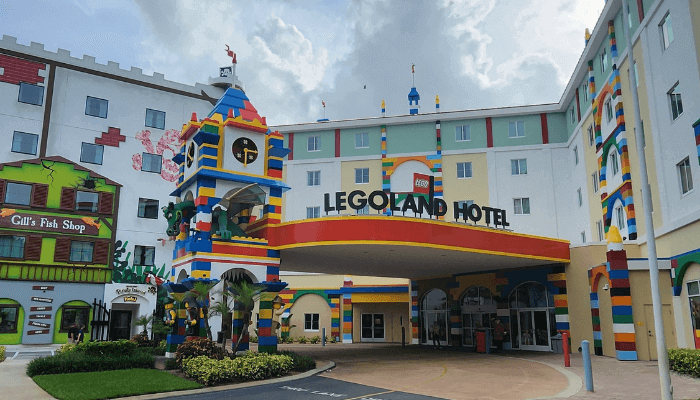 The Main Legoland hotel and Pirate Island hotel have the same main entrance. I am not sure what the complete list of differences is between this hotel and the Pirate Island Hotel but did note the latter to be a bit lower in price. There are a few different themed rooms you can choose from in the main hotel but the in-room amenities appear similar if not identical. I will update you on more details when we return!
Lego Theme
Free Breakfast
Kids Sleeping Area with Entertainment
In-room Treasure Hunt
Self-parking
Nightly Entertainment
Outdoor Pool

On-site Dining 
Safe
Mini Fridge
Coffee & Tea Maker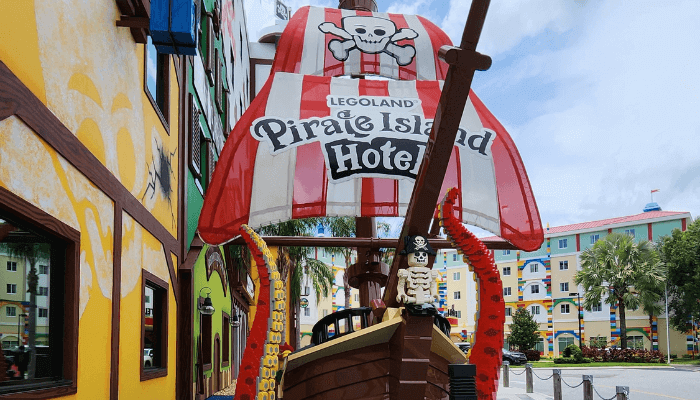 The Pirate Island hotel is just steps from the main entrance to Legoland. The rooms are so much fun for the whole family. There is a separate sleeping area with a bunk bed, tv, and Lego station for the kids and a main area for adults. We chose the Pirate Island hotel because it was slightly more affordable than the main Legoland hotel, very conveniently located, and a really fun theme!
Lego Theme
Free Breakfast
Kids Sleeping Area with Entertainment
In-room Treasure Hunt
Self-parking
Nightly Entertainment
Outdoor Pool

On-site Dining 
Safe
Mini Fridge
Coffee & Tea Maker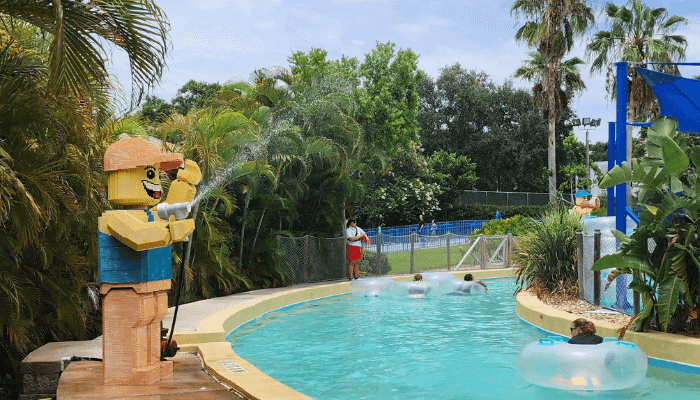 The Beach Retreat is a lakeview resort located about a 1-mile drive from the entrance to Legoland Florida. It is across the main street behind a shopping plaza, along Lake Dexter. These bunaglows look super cool, like they are made of legos!
There is a free shuttle that can transport you to and from the park but without personal experience, I cannot tell you whether that is very convenient or a pain. It looks like a neat place that I may consider when we return.
Lego Theme
Free Breakfast Buffet
Self-parking
Free transportation to parks via shuttle
Daily Activities
Outdoor Pool & Play Area

On-site Dining 
Safe
Mini Fridge
Coffee & Tea Maker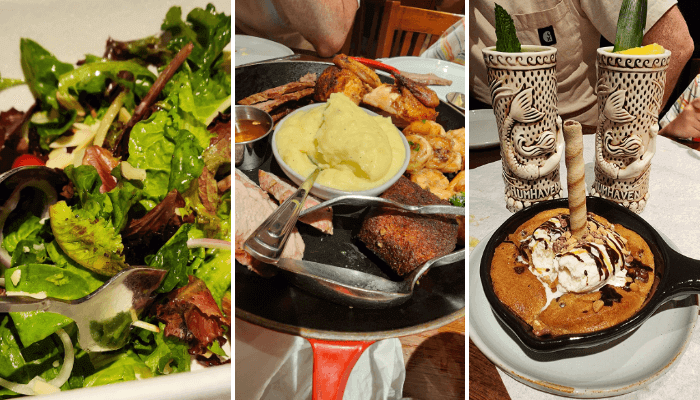 The Shipwreck restaurant is on the Pirate Island side of the hotel. At first, I wasn't convinced that we should plan a reservation for this restaurant but decided to the day before. We were impressed by the amount of food received for the cost and it was all pretty good! It is a family-style, three-course, shared meal with a few options to choose from. We chose the Seadog Skillet platter that included surf and turf. We also enjoyed a delicious salad, plenty of sides, and fabulous dessert. Soft drinks are included and they also have an adult beverage menu to purchase from if you would like anything else.
The first evening, we went to the super cute downtown Winter Haven for dinner. We found Bistro Pizza and enjoyed our whole meal, including garlic knots, pizza, and an Italian sub, from start to finish! It is a charming, cozy Italian spot with great service.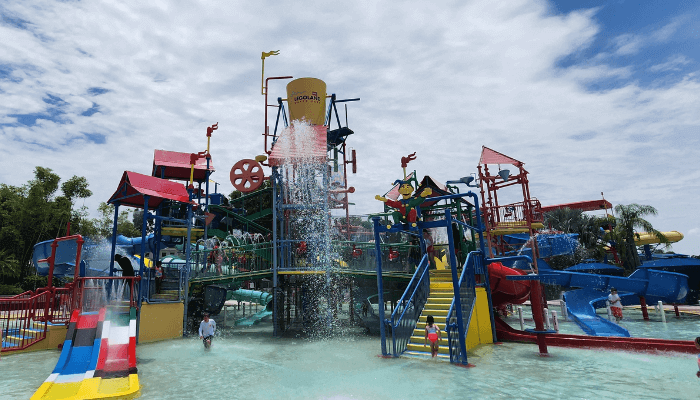 We were really looking forward to the water park and it did not disappoint! It has a lazy river, wave pool, 14 slides, and interactive Lego play areas.
The Water Park is not automatically included in your Main Legoland park ticket if you are visiting for only the day unless you buy a multi-park day pass. However, if you book the vacation package, it includes all parks and the hotel stay. Double check when booking to make sure that all desired parks are included in your purchase.
Plan to rent a locker for $15-$20 (depending on size) for the length of your stay in the waterpark. It was well worth it for us to spend $15 to keep our valuables safe and dry.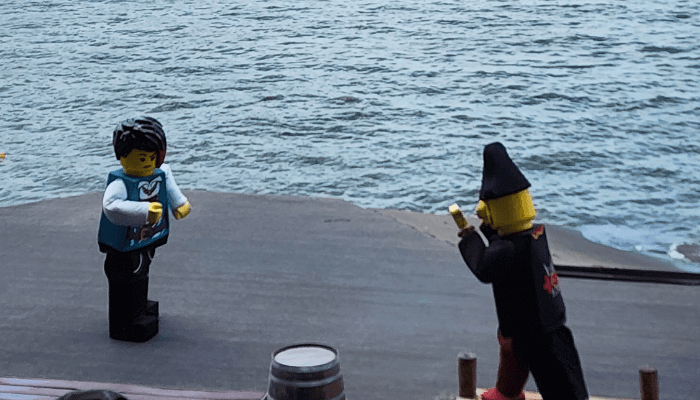 Brickbeard's Watersport Stunt Show
We only caught the last 10 minutes of this 25 minute show but it was a very adventurous, thrilling show to watch! It is put on 3 times daily through July 31st at 12:00 PM, 2:00 PM, & 4:00 PM, at the Ski Stadium in the Pirates Cove area of the park. It is perfect for all ages!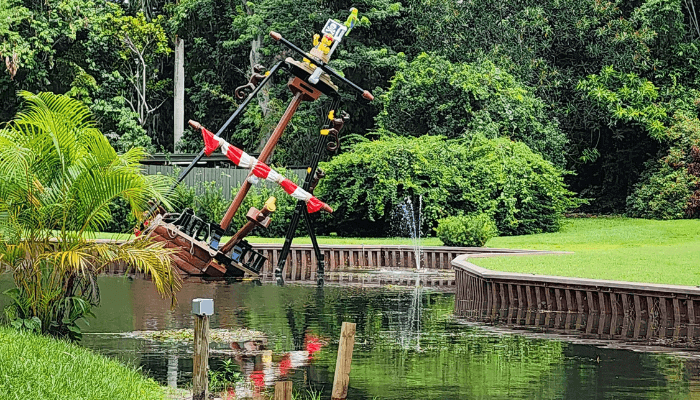 The All New Pirate River Quest Boat Ride
This brand new attraction is a 20-minute journey through the beautiful Cypress Gardens waterway. An interactive story-turned treasure hunt will keep everyone engaged and excited to see what is around each next corner!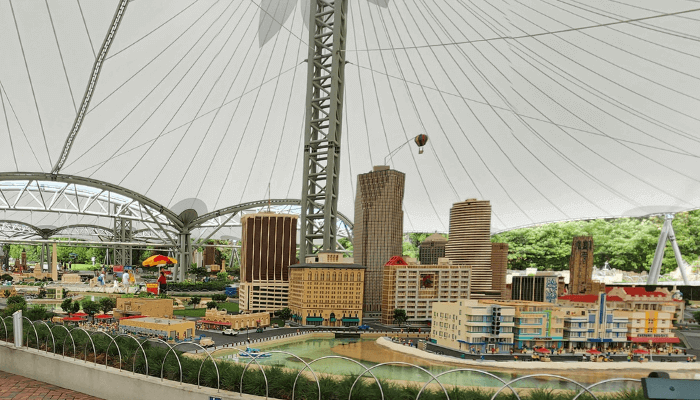 MiniLand USA is a huge display of cities and landmarks around the country, built by 32 million Legos, all under one roof. It is SO cool! You can stroll through the cities and see places that you've visited before, watch a Daytona International Speedway Race, or even countdown to a rocket launch! This is also a great place to take a break from the sun, as it has been recently updated with a large shade structure covering the whole area.
Things To Remember For A Fantastic Trip!
Download your park tickets onto your phone for quick retrieval at the gate. Each member of your party has their own page and unique barcode in your travel documents. They will all be scanned at the main entrance, the waterpark entrance, and the Peppa Pig Park entrance.
Book Early Check In! I can't recommend this enough! We paid $65 total for early check-in to be guaranteed a room by 1:00 PM. We received a text that our room was actually ready before Noon. This is a great way to make use of that first day in the park without having to worry about your luggage.
Take a look at the map ahead of time so that you can get an idea of how the parks are laid out. This will help you prioritize rides and attractions efficiently!
Don't forget your sunscreen, hats & sunglasses. Florida sun can be relentless until the afternoon storm arrives!
Arrive early to avoid larger crowds, especially on the weekend. I recommend going during the week for a much more enjoyable experience.
Stay hydrated and take plenty of breaks. There are plenty of opportunities to step out of the sun into stores, restaurants, giftshops and indoor attractions.
Wear proper shoes and clothing for lots of walking. Don't overpack and weigh yourself down with heavy backpacks or a large wagon to drag around.
Check show schedules so that you don't miss the live shows and performances throughout the day.
Legoland is cashless so you can leave your cash in the hotel room safe.
Have fun!!!!