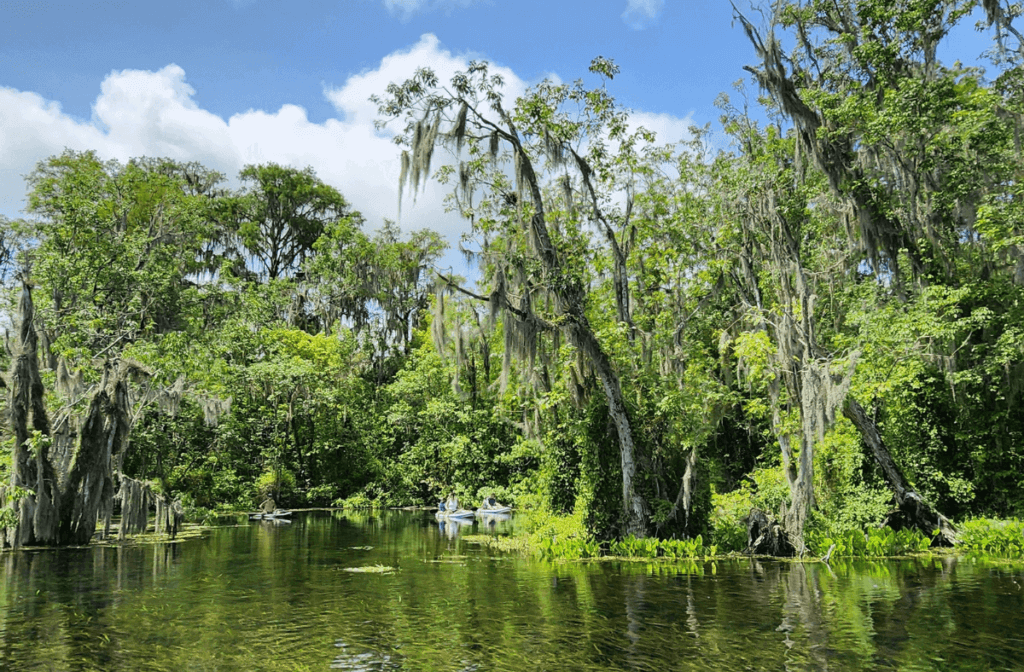 Silver Springs State Park is a fantastic natural attraction in Ocala, Florida, known for its crystal-clear springs that yield millions of gallons of fresh water every single day. It is spread over nearly 5,000 acres, with various habitats where you can kayak, boat, camp or hike to enjoy the unique wildlife and lush vegetation.
Silver Springs State Park History
This natural beauty has drawn humans to it's riverbanks for more than 10,000 years. It was inhabited by the Timucua, followed by Spanish explorers, and eventually, the Seminole Native American tribe. 
It had been a must-see for adventurous travelers for decades by the time it became a commercial distribution center for Central Florida in 1850. Barges and steamships would move supplies and crops like vegetables, tobacco and oranges as Ocala began to grow.
Following the Civil War, the Springs began attracting tourists from all over. Steamboat companies competed for the business. By the late 1870s, the Glass-Bottom boat was invented by Hullam Jones and Phillip Morrell and a new tourism-based enterprise was born.
In the 1930s, Silver Springs was discovered by Hollywood directors as a great backdrop for lots of movies! There were scenes from at least 20 movies and tv shows filmed there, including Rebel Without A Cause, Creature From The Black Lagoon and a handful of Tarzan movies!
In the 1960s and '70s, the area prospered as an attraction until Disney and SeaWorld moved into Florida. In 1985, the state purchased the land surrounding Silver Springs to ensure it would not be developed, creating Silver River State Park. In 1993, the state acquired the Springs as well, but allowed it to continue being operated privately for nearly 20 years. Finally in 2013, the state took control of the Springs and merged it with the adjacent parkland, creating what is now Silver Springs State Park.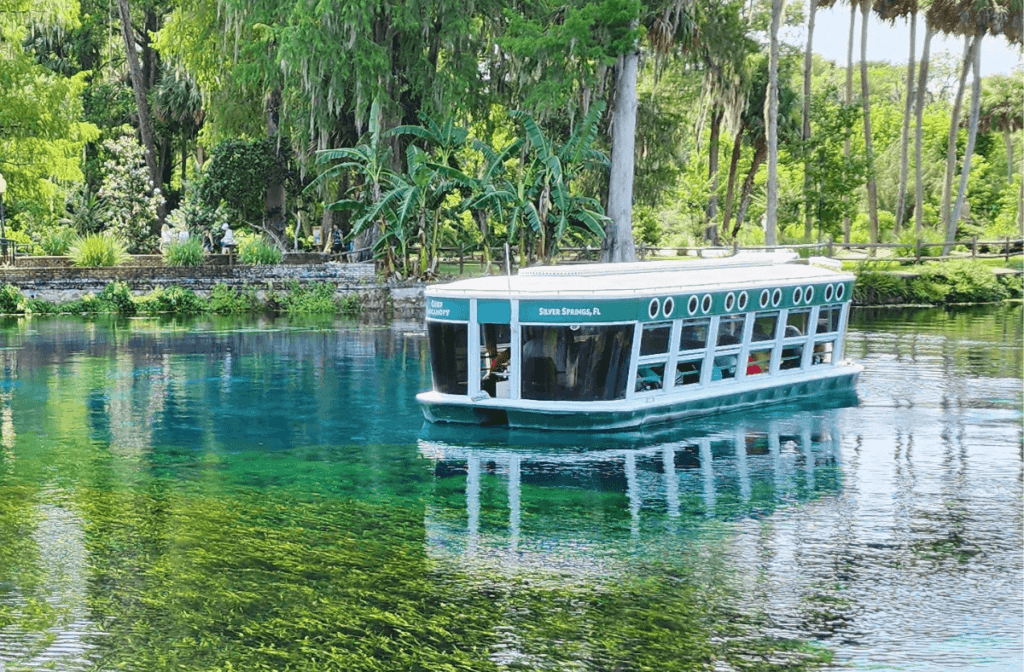 The Glass-Bottom boat tour in Silver Springs is a must-do if you are visiting the park. There are 30-minute and 90-minute boat rides. The 30-minute ride operates daily, 365 days a year. The 90-minute ride is offered Friday-Monday. Reservations are required for the longer boat ride and, while walk-in's are available for the shorter ride, reservations are recommended. 
While on your boat ride, you will be given a unique perspective of the vast underwater world of fish, manatees, turtles, plants, springs and historical artifacts. The view above ground is just as thrilling where you may see alligators, birds and maybe even the resident monkeys!
We highly recommend the longer 90-minute boat ride. You will see much more of the park and have a chance to spot more wildlife in and out of the water!
Adults – $13
Adults 55+ – $12
Children 6-12 yrs – $12
Children 5 & Under – FREE
Adults – $25
Adults 55+ – $20
Children 6-12 yrs – $20
Children 5 & Under – FREE
The park is home to an eclectic array of wildlife. A lot of people have high hopes of seeing manatees and we got to see a few on our trip! Keep your eyes peeled as you may be lucky enough to spot a monkey!
Around 1938, a tour boat operator released six Rhesus Macaques onto a small island in the Silver River with high hopes for a new, exotic attraction to bring tourists onto his boat. He believed that these monkeys would not be able to swim off the island but he was mistaken. The original six monkeys escaped the island immediately and set up home in the woods nearby. They thrived in their new environment and now, the wild monkey population at the park is several hundred!
Seeing a monkey was a highlight! You can also see deer, foxes, alligators, armadillos, turtles, bobcats, coyotes, bears, and our tour guide saw a Florida Panther once!