Our first visit to Naples Grande in Naples, Florida was in June of 2019. Since then, the ownership has changed. In 2022, the resort, golf course and tennis center sold for a total of 248 million dollars. My goal is to tell you about all that the resort offers, and what I feel the biggest differences were from our June 2023 trip to our June 2019 trip.
This high-rise resort is nestled along the Gulf coast in central Naples on 23 acres. It includes a spa and salon, fitness center, offsite 18-hole championship golf course and 15-court Tennis Center, 8 dining options, beach access, and 3 pools!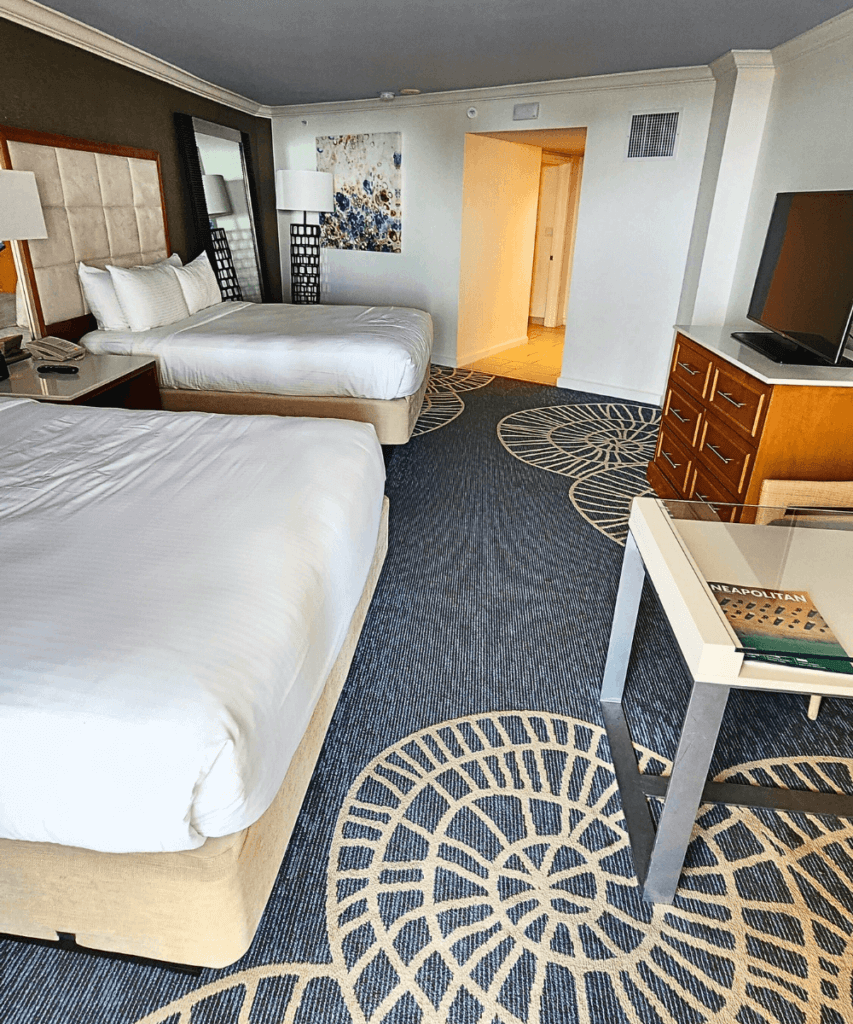 Funny enough, of the 395 guestrooms available, we stayed right next to the one we stayed in back in 2019! I laughed that they only put the coolest people on the (top) 18th floor so that everyone gets a chance to ride the elevator with them!
While you do need to be fairly patient for the elevator during busy times of the day, the views and sunsets are so worth it! 
The In-room amenities include:
465 sq ft rooms • One King or two Queen Beds • Separate walk-in showers & oversized tubs • Private balcony with coastal views • 47″ LCD TV • Mini Refrigerator • In-room safe • Individually controlled thermostat • Hairdryer, ironing board and iron • Keurig coffee maker with coffee and tea • Bottled water plentifully restocked during housekeeping • WiFi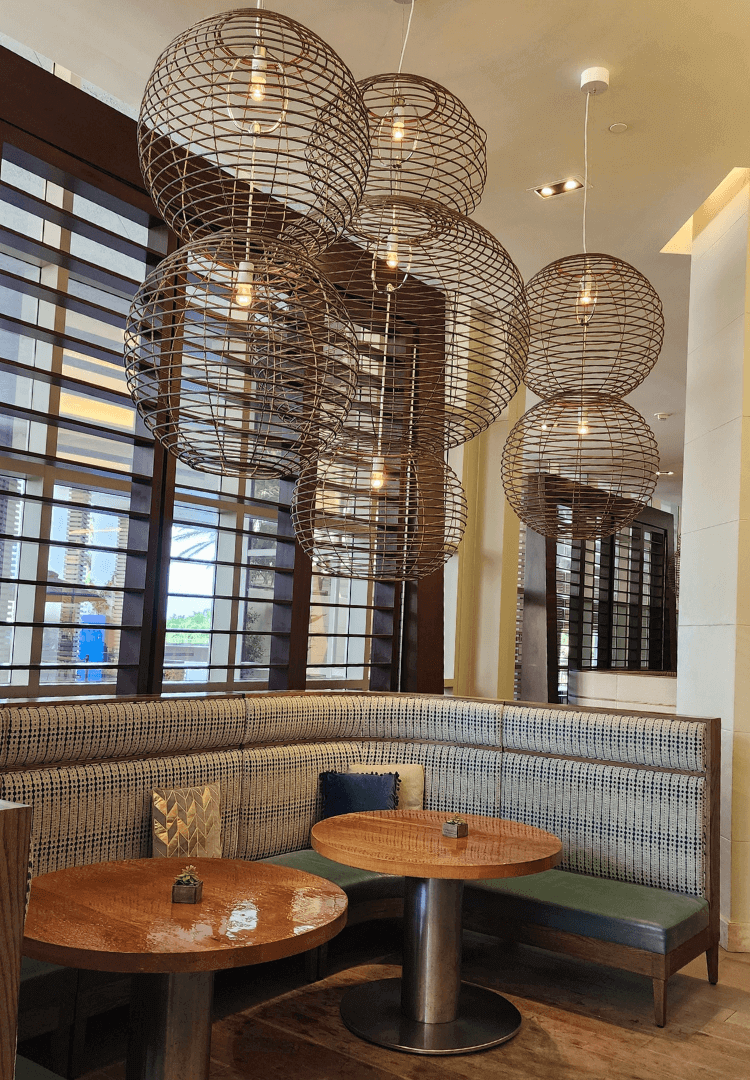 Naples Grande has 8 dining opportunities for guests on site: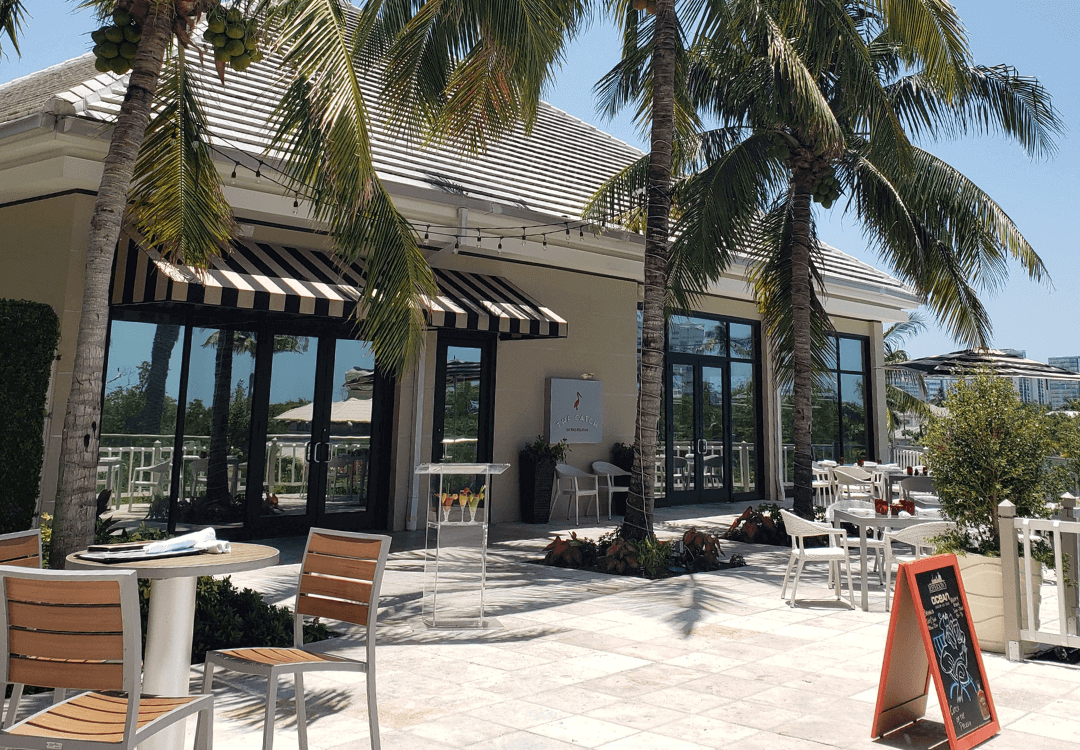 The Catch of The Pelican • Relaxed and sophisticated, locally sourced seafood and premium steaks, 5:00 PM – 10:00 PM, Wednesday-Sunday, Reservations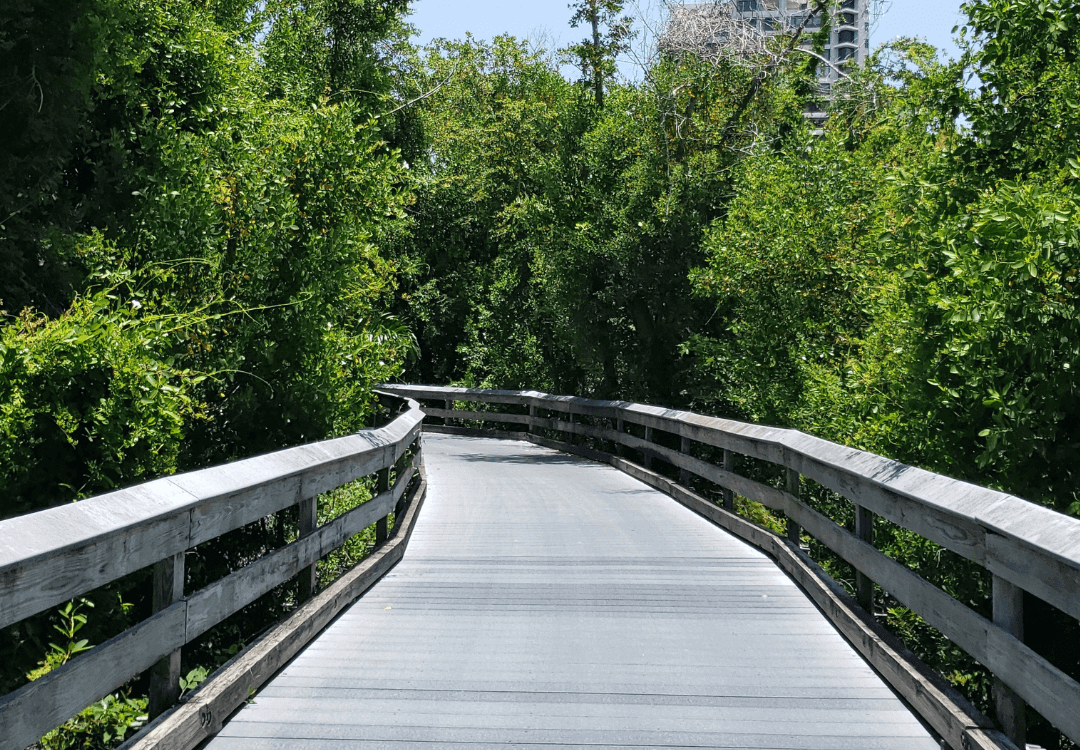 Rhode's End • Casual, beachfront, Greek-inspired food, 11:00 AM – 5:00 PM for food, open till Sunset for beverages, access via Boardwalk Tram or walking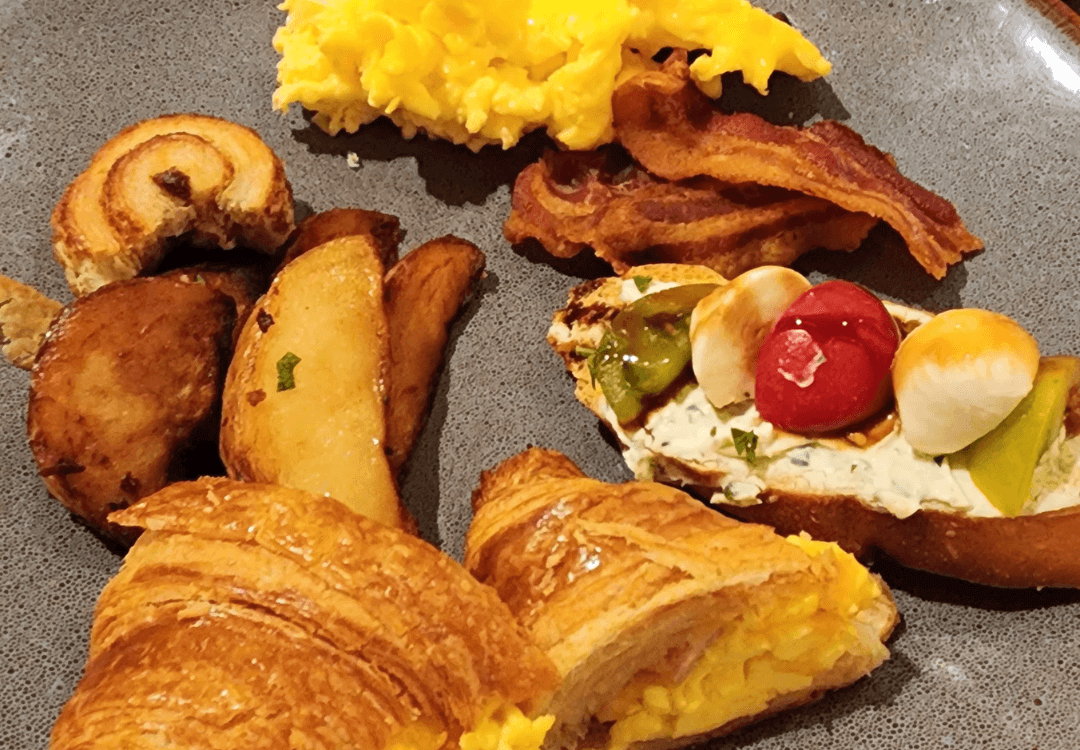 Aura Restaurant • located in the heart of the lobby, open for Breakfast, a la carte or buffet, 7:00 AM – 11:00 AM.
This is a great place to use your daily dining credit!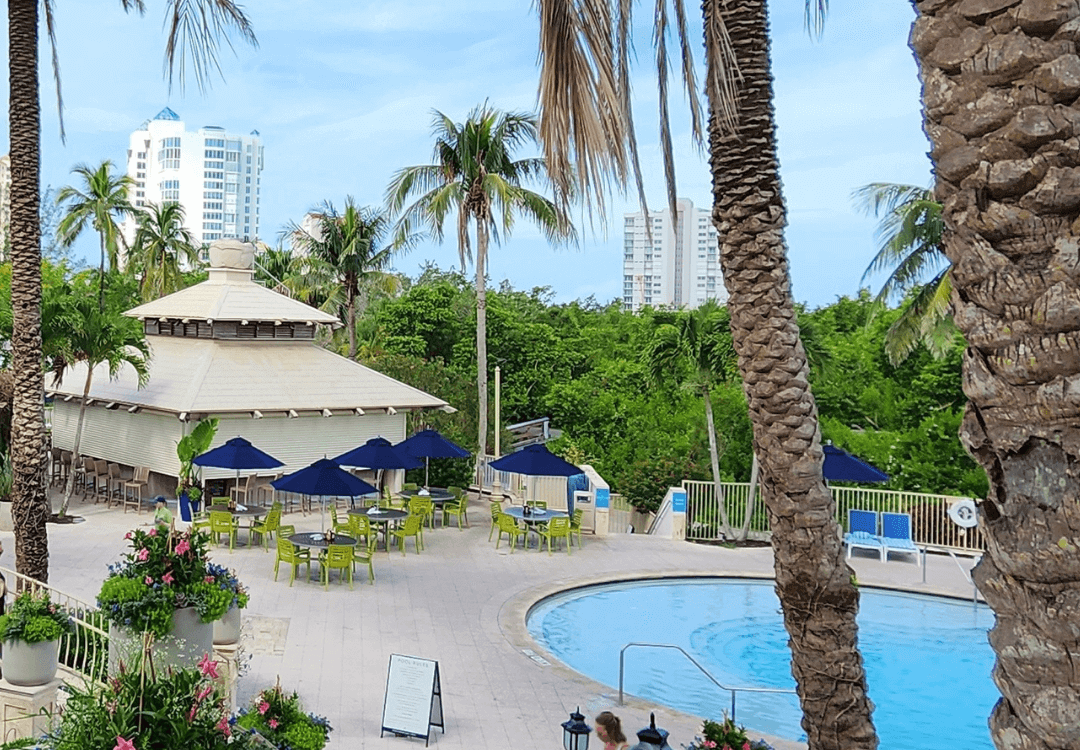 Gulf Coast Oasis Pool Bar • Casual poolside restaurant and bar, food served 11:00 AM – 5:00 PM (7:00 PM on weekends), Bar open 11:00 AM – 7:00 PM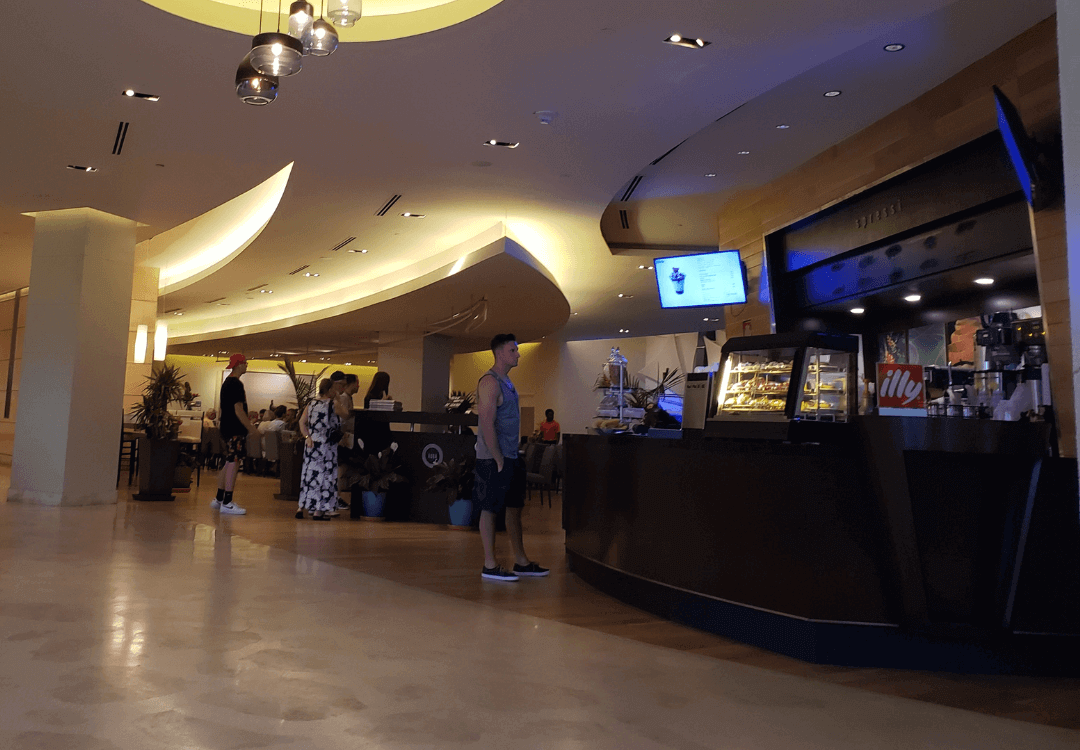 Spressi Marketplace • On-The-Go meals and snacks, coffees and gelato right in the lobby, 6:00 AM – 10:00 PM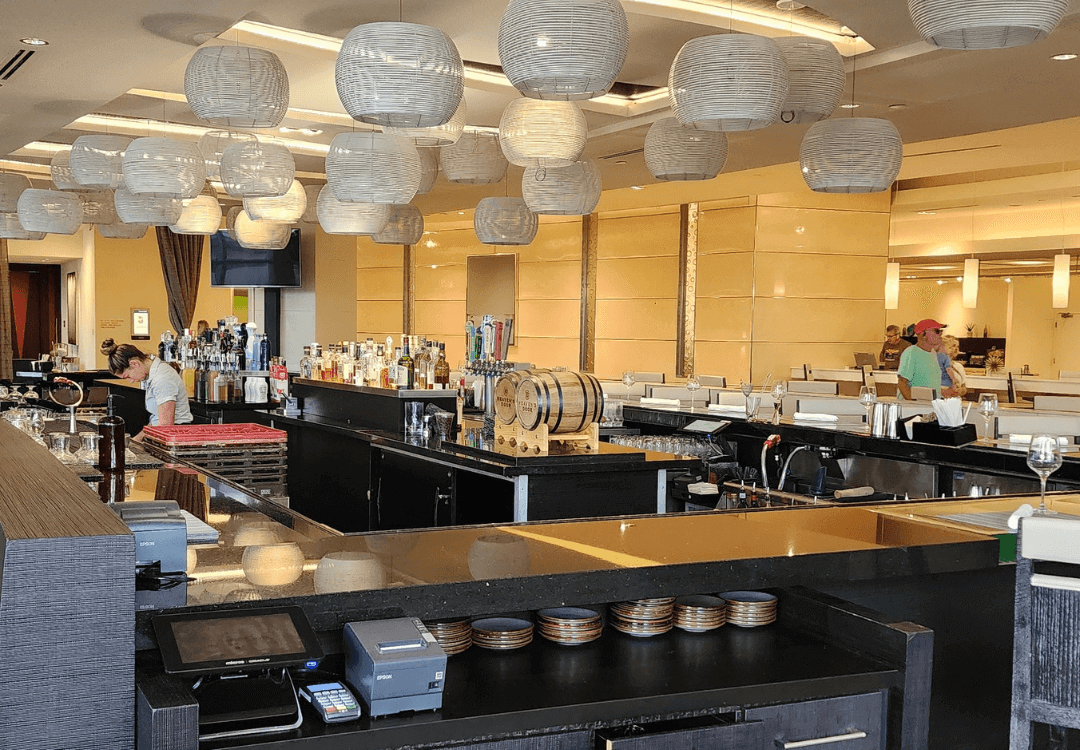 Mantra • Chic lounge, inventive cocktails with a worldly menu, Beverages 11:00 AM – 12:00 AM, food served 11:30 AM – 11:00 PM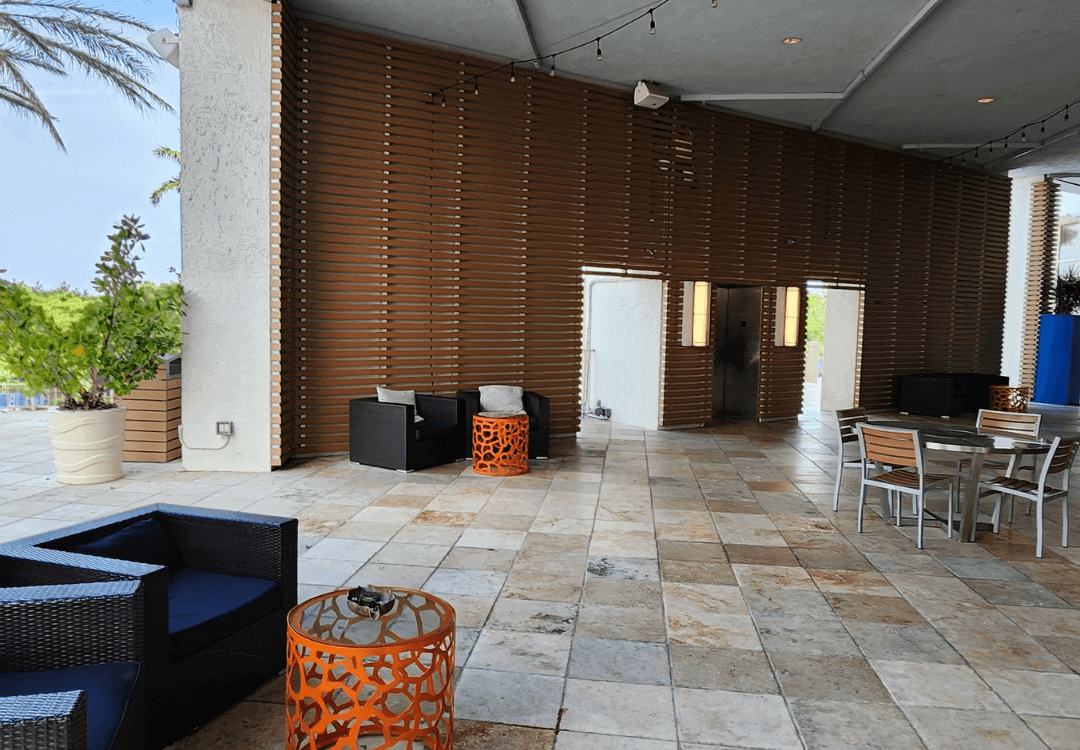 The Sunset Veranda • Enjoy morning coffee, grab-and-go options or seasonal wood-fire pizza & a cocktail on the veranda, 11:30 AM – 12:00 AM, Mantra Menu until 11:00PM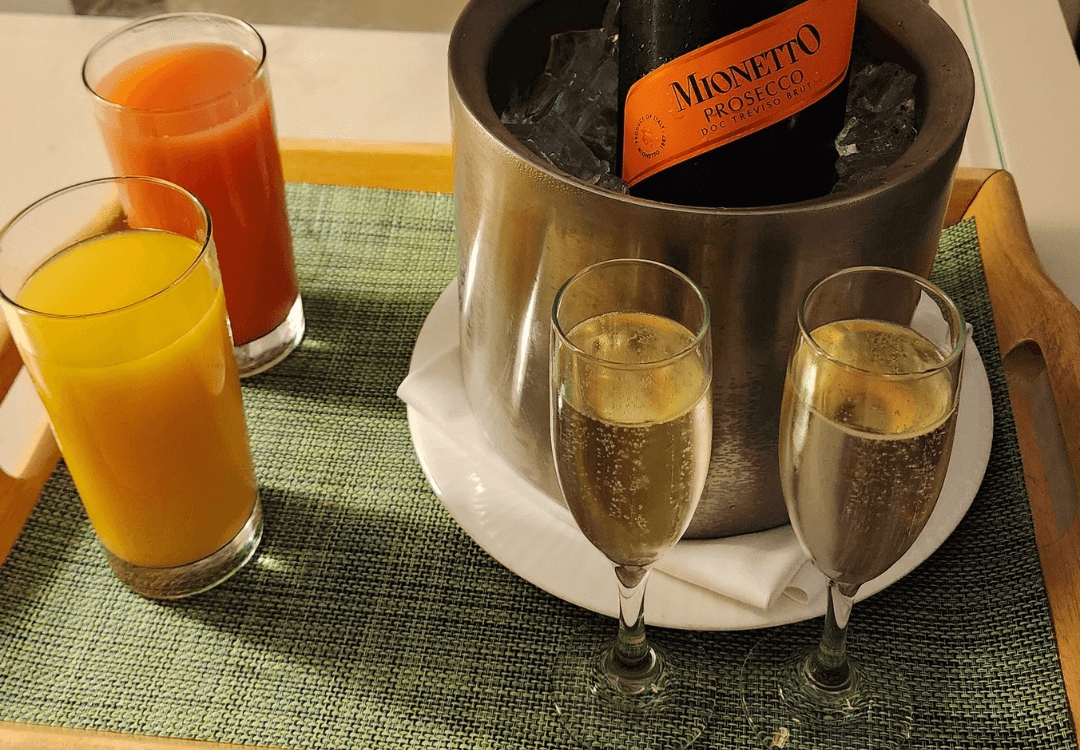 In-Room Dining • If you book a package with a $75 dining credit, this is another great option to use it, Breakfast 6:00 AM – 11:00 AM, All day menu 11:00 AM – 11:00 PM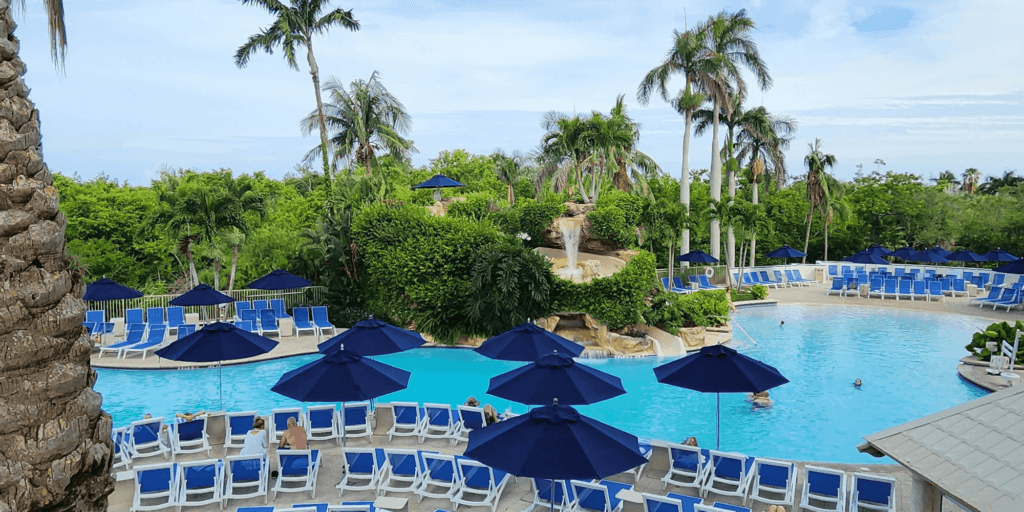 The Mangrove Pool • Family-Friendly beach style entry, twisting 100-foot waterslide, private cabanas available for rental. This is the pool we spend all of our time at. The slide is a lot of fun and there is plenty of space for everyone! You can get food and beverage service from the Oasis pool bar directly from your seats.
Palm Terrace • Adults only pool and whirlpool, private cabanas available for rental
Hibiscus Hideway • Garden Villa courtyard, secluded experience with water aerobics or lap swimming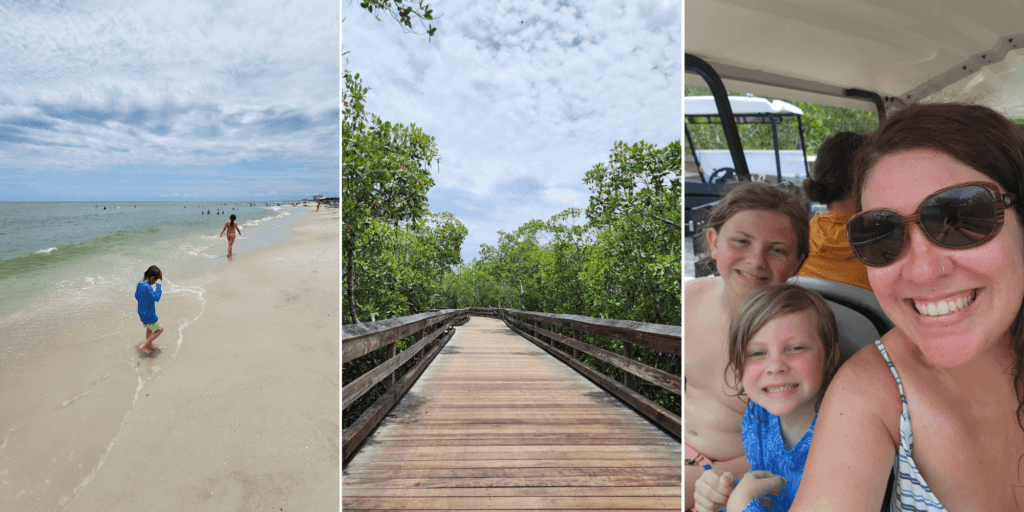 Beach access is available by walking or utilizing the open-air tram ride on the boardwalk. Behind the pool, there is a room-keyed gate that takes you to the boardwalk. There, you will wait for the complimentary golf cart to come pick you up. It is usually only a few minute wait since they are running constantly but if you would rather walk, it is approximately 15 minutes to the beach through a 200-acre protected Mangrove Estuary. We have done both and much prefer the golf cart ride when it is super hot and humid out! Of course, the kids love any opportunity to ride in a golf cart so they voted that we ride too!
When you reach the end of the boardwalk, you will see Rhodes End Beach Bar & Grill. Directly past that is the beach! There, you can speak with the attendants if you made plans to use the lounges, umbrellas, kayaks, or rented a cabana! Then, enjoy your beach day!
The spa provides an array of packages including body treatments, aesthetics and skin care, traditional and non-traditional therapies, nail services, and hair design and makeup.
Above and beyond a regular spa, you have the opportunity to book the Spa Villa, an indulgent experience that offers a private sanctuary, luxurious rain shower bathroom, beautiful outdoor garden and a whirlpool plunge pool. The Spa Villa is great for couples, small groups of friends and bridal parties and can be booked with a variety of treatment packages.
We have not utilized any of these services.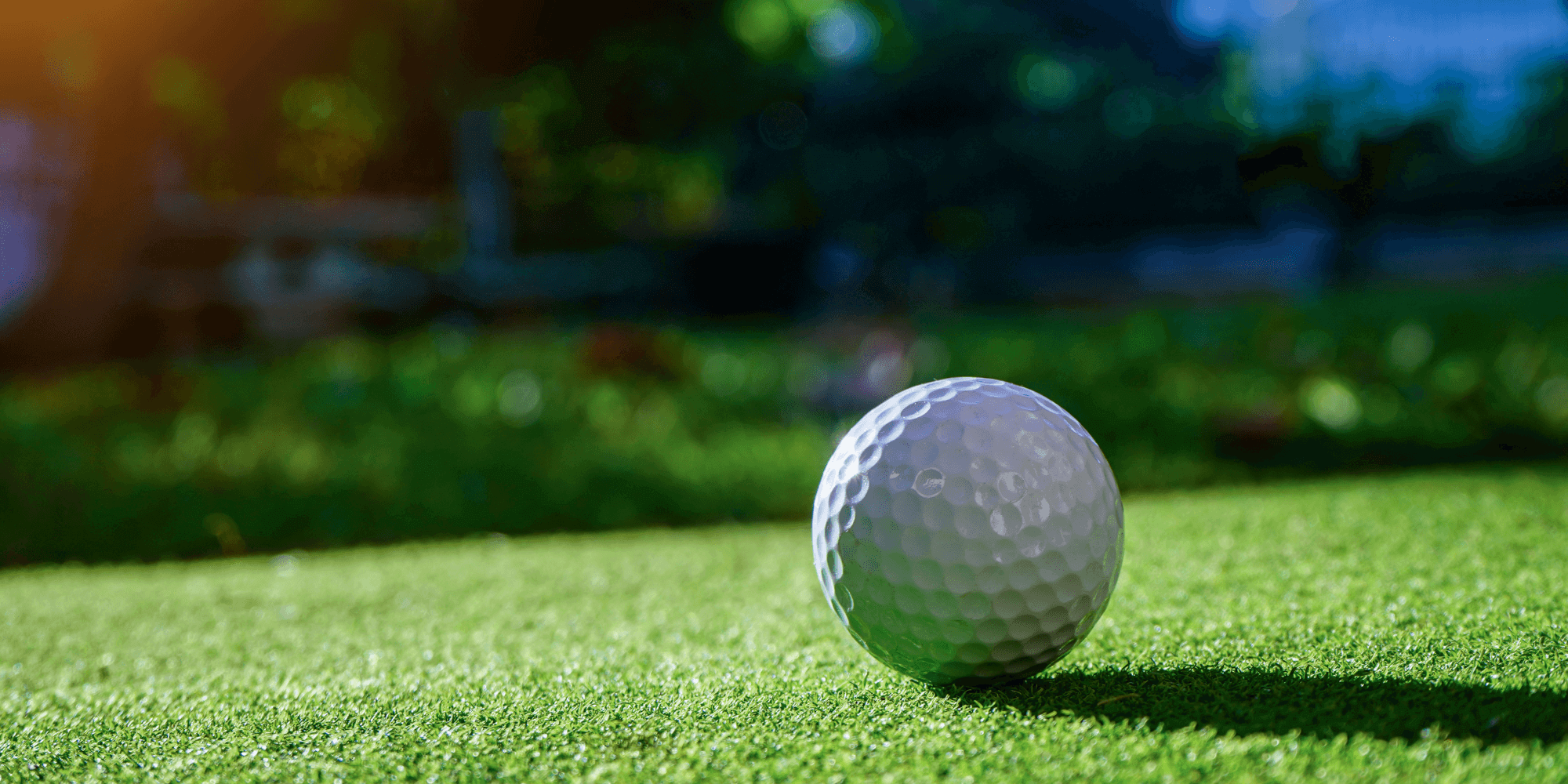 Attention, Golfers! Golf architect Rees Jones designed Naples Grandes' Par 72 Championship Golf Course. In 2016, an 8-million dollar clubhouse was built with a restaurant, pro shop, meeting space, and patio with course and lake views. It is home to the Durland Golf School which was established in 2005.
It is approximately 10 minutes from the main resort and was the first facility in Southwest Florida to feature a True Spec Experience. To reserve tee times, call 239-659-3710.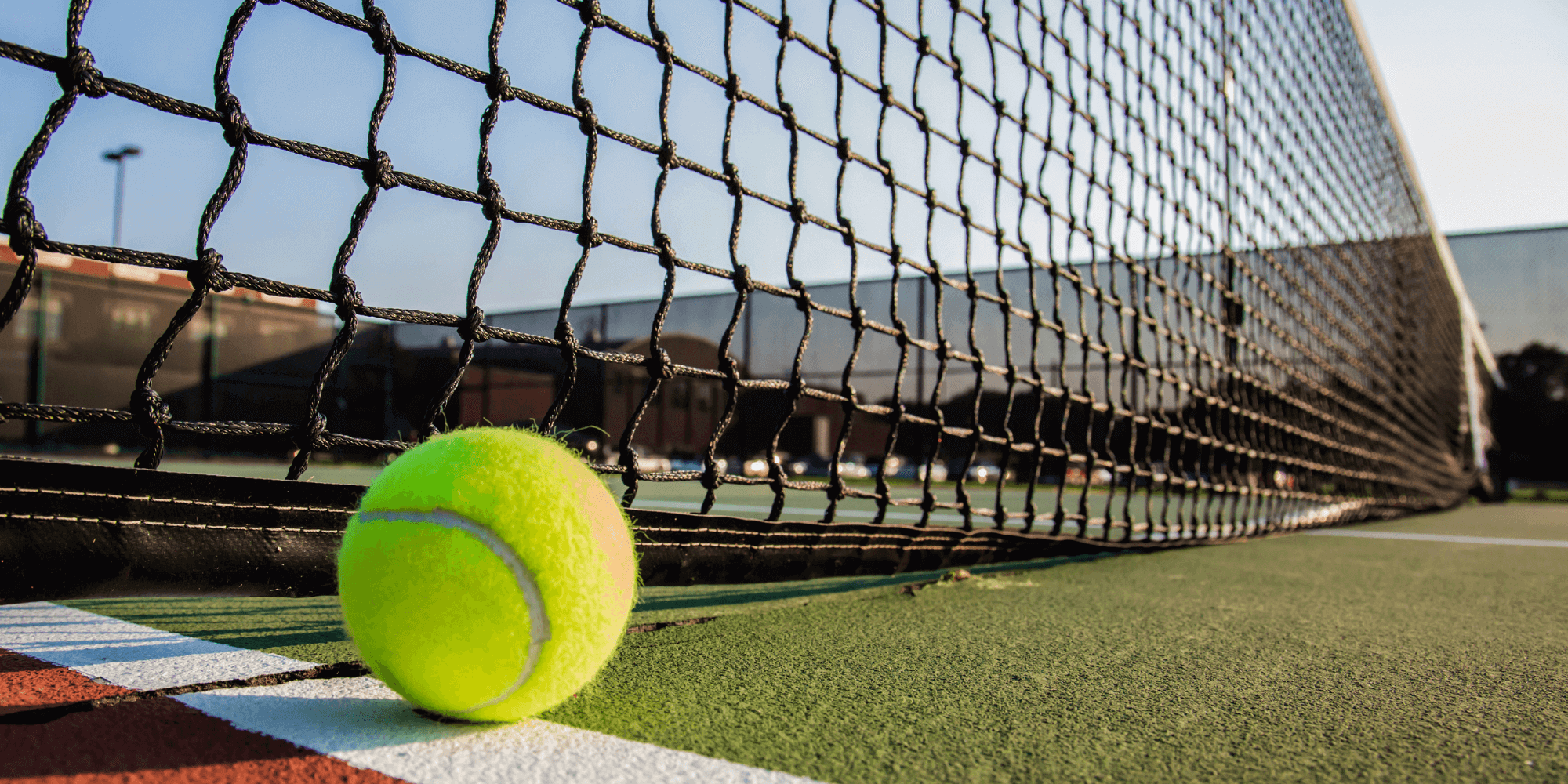 Tennis Resorts Online named the Naples Grande Tennis Center one of the top 50 tennis centers in the world! The program is designed for players of all ages and skill levels and is under the direction of Naples Tennis Academy professionals.
There are 15 championship tennis courts, a tennis shop, and private lessons available. To reserve a court call the Tennis Shop at 239-594-6033.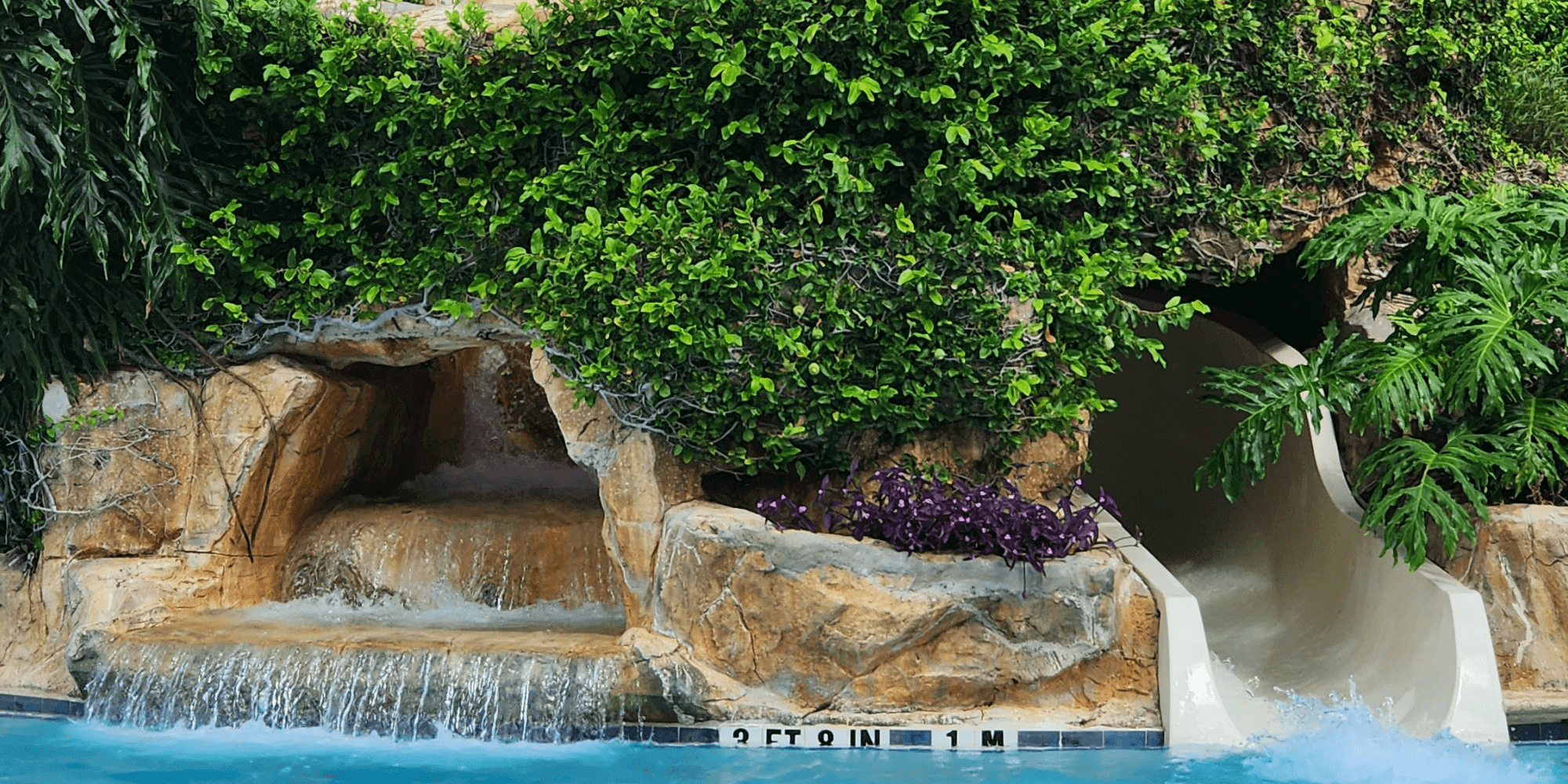 Naples Grande gives special offers throughout the year. We booked their Grande Beach Life offer that gave us 20% off 3 nights or more, a $75 daily resort credit, complimentary self-parking, and unlimited beach chairs and umbrellas.
They also have special discounts for Florida residents, AAA members, senior rates, and advance purchase offers. Be sure to go to their offers page and don't book without one!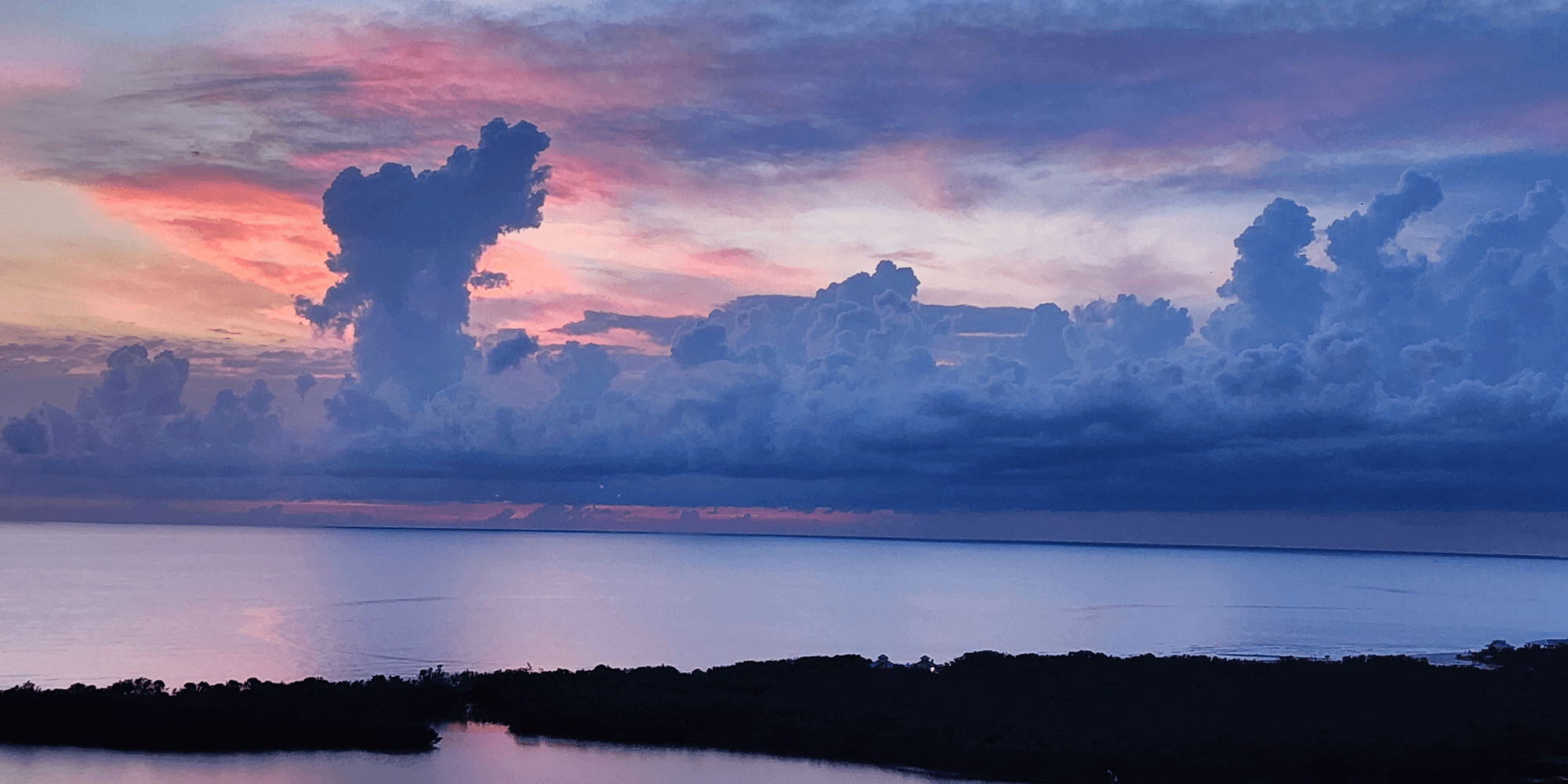 Thoughts on New Management
When we visited in 2019, we didn't have any complaints and the same is true for our trip this time. It is a fabulous resort with lots of amenities, space and activities. On our recent trip, I could feel the positive energy of the staff and we didn't run into a single employee who wasn't thoughtful and helpful to us. This may have been true in the past too, I just can't remember. We spent more time on our 2023 trip enjoying the amenities of the resort. I felt after our 2019 trip that we didn't spend enough time onsite. I think that the new management made it a point to keep the vibe similar to the way the previous owners operated the resort. People have always liked Naples Grande so changing too much could push some loyal fans away. They spent time and effort updating common spaces and details within their resort offerings. One notable difference was the requirement to wear a bracelet. This was kind of annoying for people like myself who don't like to wear anything on their hands. They understood that people may not want to wear it offsite or out on the beach though so made it a point to tell us that we can get replacements any time we want to take them off.
Overall, I'd say if you are in the Naples area, you should check it out! Stay long enough to get a good feel of the resort and all of it's amenities. You will have a great time!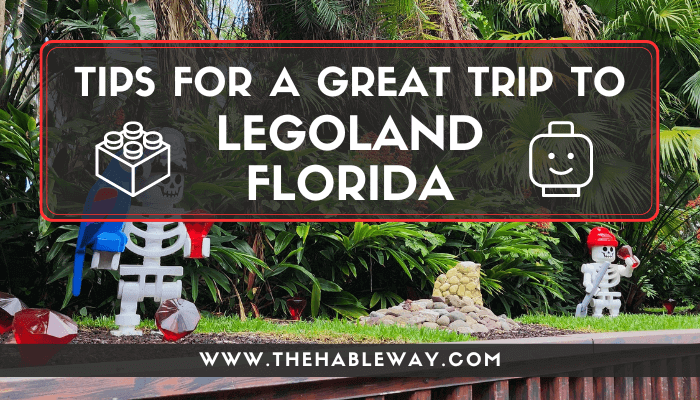 If you have been considering a trip to Legoland Florida, you have come to the right place. We have recommendations for places to eat, can't-miss attractions
Read More »
Silver Springs State Park is a fantastic natural attraction in Ocala, Florida, known for its crystal-clear springs that yield millions of gallons of fresh water
Read More »